Image: MMA Fighting
Robert Whittaker would have to go through some adversity en route to redeeming himself after a crushing title loss late last year, but he did so with flying colours as the UFC closed out Fight Island with a bang in Abu Dhabi. The Aussie got the better of Darren Till over five technically-fought rounds to keep his name at the very top of the middleweight shark tank.
The Brit Till had some success in the striking front before the former champion began to pull ahead on the scorecards with a well-rounded performance, mixing in his takedown attempts with strikes for the unanimous decision nod.]
Chimaev puts welterweights on alert with historic second win in 10 days
Khamzat Chimaev def. Rhys Mckee via TKO, round 1 (3:09)
Khamzat Chimaev mauled Rhys McKee to break the UFC record for quickest back-to-back wins - 10 days - in a stunning opener to the main card.
The Swede immediately went for a takedown attempt, getting under the hips of his opponent after feinting an overhand right. He carried him towards his corner, and eventually got his legs off the air for a takedown, and from there it was simply one-way traffic. He mounted him, landed some big strikes from the top, attempted a couple of chokes, and then a few strikes later the referee called off the action. Two wins in the space of 10 days, a UFC record - taking no damage, eating 0 strikes, and purely dominant throughout. You can't help but think that this individual is going to do some special things in the UFC.
Image: Insider

Oliveira brings the rodeo to Fight Island
Alex Oliveira def. Peter Sobotta via unanimous decision (30-27, 30-27, 30-27)
"Cowboy" Alex Oliveira put in some of his best work in recent memory, leaving Peter Sobotta with no answer over three rounds.
It began as a rangy kickboxing fight and stayed like that for most of the course, as Sobotta landed an early body kick before feeling one himself that came close to folding him. That set the blueprint for the Brazilian who continued to go for the kicks and prevented himself being closed down.
Sobotta went for an early takedown in the second round but received a big gash to the head as a result of some elbows. In a round paused twice due to a groin strike and eye poke from Cowboy, Oliveira again was taking the initiative with his striking, putting an exclamation mark on the performance as he dropped his opponent at the end of the round.
As Oliveira enjoyed a big lead going into the final round, Sobotta was unable to mount anything significant to convince that he could still salvage the fight. Oliveira stuffed a takedown, and landed more body kicks - with a brief scare as he appeared to tweak his foot momentarily - en route to a wide decision win.
Image: MMA Fighting
Craig brings out the triangle again
Paul Craig def. Gadzhimurad Antigulov via submission (triangle choke), round 1 (
Paul Craig picked up another submission win, outsmarting and catching Antigulov in a triangle choke.
Picking up from where they left off in an intense weigh-in, Craig was ready to go as soon as he stepped foot in the cage. He walked Antigulov down but soon found himself in the clinch of the Russian before a takedown. That would be his downfall though, because Paul Craig's submission acumen worked wonders. After an initial guillotine, he waited patiently to throw the legs up for a triangle choke - and the more Antigulov struggled, the tighter it got - soon the writing was on the wall as he tapped out.
Image: ESPN
Werdum spoils Gustafsson's return
Fabricio Werdum def. Alexander Gustafsson via submission (armbar), round 1 (2:30)
Fabricio Werdum gave the returning Alexander Gustafsson a disastrous welcome to the heavyweight division, as the former 265 lbs kingpin pulled off a slick armbar in the first round.
The Mauler was looking active and springy on his feet despite eating a few calf kicks early on, and his boxing was looking especially dangerous. Aware of the threat, Werdum went for a single leg and it lead to a scramble, and as the Swede attempted to flee, "Vai Cavalo" got his back and switched it to an armbar. Gustafsson tried to hold on but as the jiu-jitsu specialist adjusted, he was able to free the arm and it was an instant tap.
Image: MMA Fighting

Shogun and Nogueira close out the trilogy
Shogun Rua def. Antônio Rogério Nogueira via split decision (29-28, 28-29, 29-28)
Mauricio "Shogun" Rua completed his trilogy with Antônio Nogueira in the final fight of the latter's career, edging his compatriot by decision.
Image: Vox Media
For a third time, the warriors locked horns as they continued to stand the test of time, and it wouldn't take long before we would see more of the drama from the decorated history of this rivalry. Shogun was playing it safe, working on the outside and landing some leg kicks, before Nogueira got his attention with a clean left hand that backed up the former light heavyweight champion. He gained plenty of confidence from that, charging forward and landing a couple more left hands before Rua pursued a takedown to close out the first stanza.
Shogun's takedown was stuffed in the second round as he looked to take a cautious approach, with Nogueira's straight punches posing a threat. He once again backed him up and knocked him to the ground with a shoulder in the middle of a fiery exchange, working in the full guard.
In the final round of Nogueira's career, he continued to land the left hand however Shogun continued to pitch in his own work and do his bit to steal the fight. Body kicks and leg kicks were in abundance as Nogueira slowed down, and Shogun got a late takedown, working some ground-and-pound to close out the fight. We had another split decision on our hands, and it was once again Rua who got the best of Nogueira to end the trilogy. The legends had another war to remember. Even when the entire world was shutting down, Pride never dies.
Image: MMA.pl
Whittaker tames Gorilla in Fight Island finale
Robert Whittaker def. Darren Till via unanimous decision (48-47, 48-47, 48-47)
In the evening's main event, Robert Whittaker recovered from a first-round knockdown to outpoint Darren Till in a technical war over five rounds.
Image: MMA Fighting
"The Gorilla" was in no mood for pre-fight walkout music in front of the empty arena in Abu Dhabi, and got straight to work charging down the former champion. He ate a few stiff jabs for his early efforts, before taking a major confidence boost with a picture-perfect elbow that dropped Whittaker as he came forward. Whittaker got back to his feet but Till was in his element and found his range, landing a good uppercut later in the round followed by some clinching. Whittaker was able to steady the ship towards the end of the first round but it was the Brit who took the lead.
The former champion got just what he needed to start the second round, sneaking in a left hook before an overhand right put down Till. Till ate some big elbows on the ground but climbed back to his feet and attempted to get his bearings back. Whittaker was going through the gears though landing some good kicks as the fight was nicely poised after two rounds.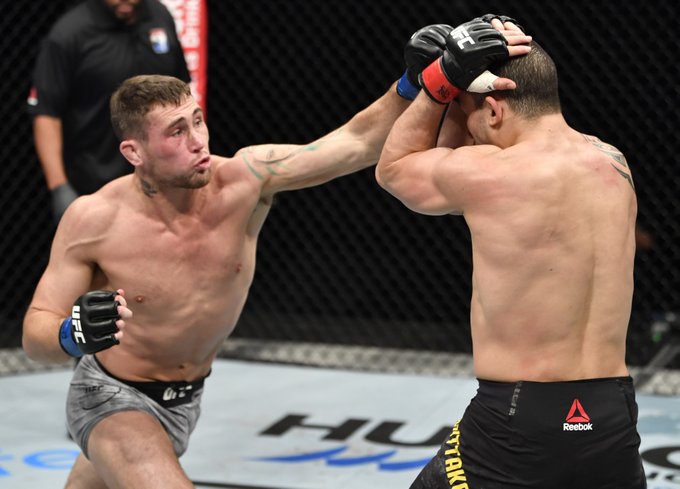 Image: Twitter
Whittaker opened up the third with some good leg kicks that further compromised the movement of the Brit, and he was beginning to load up his shots while Till looked to counter. Till's movement was good but it was the workrate of Whittaker that was making the difference, varying his offence and landing strikes.
As we ventured into the championship rounds, Whittaker got some more leg kicks on the tally, while Till was dipping his head just out of range from the bigger shots. Till did manage to sneak in another elbow, similar to the shot that dropped the former champion in the first round, but Whittaker rode that and the proceeding shots well. Whittaker was faking takedown attempts to open avenues for hooks, and he appeared to have a slight lead going into the final round.
After a quick embrace they once again went after it in the fifth and final round and Till was fighting like he needed a finish. He landed some straight left shots but the Aussie did well just to move out to negate the power. Some leg kicks from Whittaker slowed that train down, before a massive cut on the side of Whittaker's head was formed by another Till elbow. With blood streaming out he was able to get a takedown, and while the Brit got up, he controlled him against the fence in the final seconds to secure the victory.
Whittaker needed a win badly, and did so pulling through with an excellent performance. He wants that title back.
Image: MMA Junkie / USA TODAY Sports