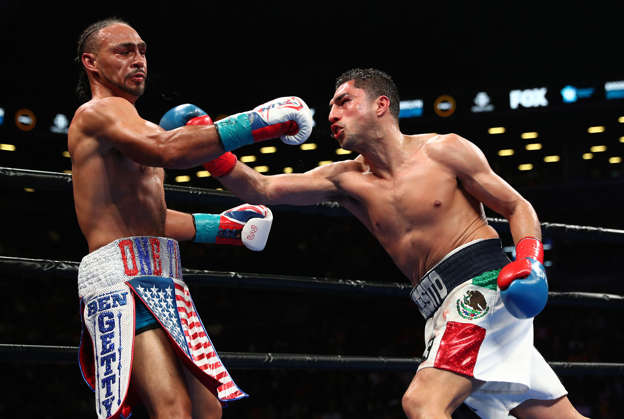 Keith Thurman expected to knock out Josesito Lopez within six rounds, but he went twelve and was almost stopped by Lopez in round seven. A very humbling moment.
It is convenient to blame Thurman's subpar performance on ring rust. But Thurman started well, looked sharp in the beginning, and fought as he always did. Instead, we ought to be questioning the alleged transition of Keith Thurman from a forward-moving boxer-puncher to an always backwards-moving "boxer." And, we ought to questioning whether Lopez did something different from others who fought Thurman.
We ought to be questioning why Thurman is always moving backwards when he possesses a strength and size advantage over his opponent.
Similar to when he fought Luis Collazo, Lopez clipped Thurman directly on the chin with a winging left hand that Thurman never saw. Collazo's was a left hook to Thurman's liver. The point is that these were perfectly placed shots by two non-punchers, so we should not jump to conclusions about Thurman's durability solely on the basis of that.
What is truly interesting is that when Thurman looked like he had nothing left in the seventh round, his movement was similar to how he moves when he is fresh. That is to say, Thurman's movement is always a retreat that really does not compliment his offense. Boxers use lateral movement to control inside and outside angles, not only to evade punches, but to create openings for offense. The man with the sexiest legs in boxing, Vasyl Lomachenko, does not move in the fashion of Keith Thurman. For Lomachenko is always in an offensive stance, whereas Thurman completely abandons the notion of offense and squares his shoulders and hips so he can shuffle his feet in either direction.
Thurman was exhausted at the end of his fight with Lopez. He was similarly fatigued when he fought Robert Guerrero.
Was Lopez's performance really that spectacular? Lopez looked very slow with his hands and feet, his punches were wide, he reached with his punches to compensate for his slow feet. Yet he frequently managed to catch up with Thurman and smother him. I would argue that if Thurman's movement was so good, Lopez would not ever be able to get near him.
It seems that if Danny Garcia had trusted his chin and walked towards Thurman, he could have had more success.
It seems that if Robert Guerrero had fought moving forward against Thurman – as he did in the twelfth round – he too would have made it a more competitive fight.
Leonard Bundu survived a first-round knockdown of Thurman by moving forward for the rest of the fight.
Luis Collazo backed away from Thurman the entire time. Maybe he could have had more success had he moved forward a bit more.
Lopez demonstrated that the way to beat Thurman is to back him up and not fear his power.