Bournemouth 4-3 Liverpool
Nathan Ake scored a stoppage-time winner to complete Bournemouth's incredible fight back and snatch all thee points away from Liverpool at The Vitality Stadium.
Jurgen Klopp's team dominated the first half and at one stage had a comfortable 3-1 lead, but a display of incapable defending and goalkeeping blunder allowed The Cherries back into the game.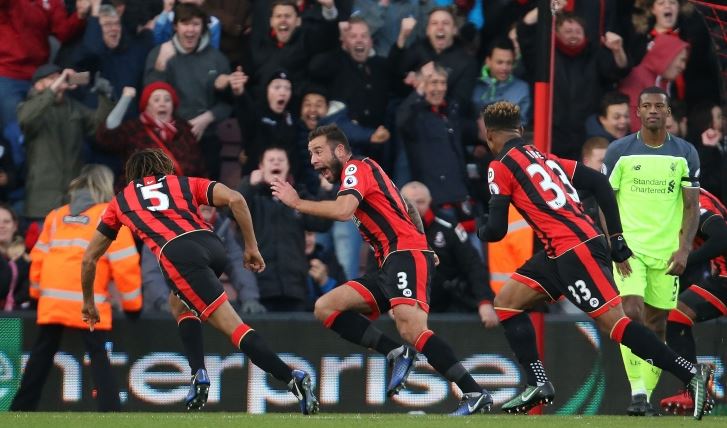 The Reds started with more attacking intent, and the edge in quality allowed them to force Bournemouth on the backfoot early on and make their intentions clear. Roberto Firmino created space and openings, as did Sadio Mane and the overlapping Nathaniel Clyne, but Firmino's chances were intercepted and Divock Origi was unable to complete the formalities of Clyne's inviting cross from the right flank.
Jurgen Klopp's men had an array of corner kicks, but their efforts were brought to no avail until a sudden link-up in team chemistry knocked the hosts' back a peg.
Liverpool blitzed their opponents in a matter of minutes; scoring twice with a combination of pace, penetration, chemistry killer insist. Emre Can hoofed a long ball over the top of Bournemouth's back line, and Sadio Mane latched onto it and dinked a low finish around the advancing Artur Boruc. It does feel like Liverpool are operating like a unit that Jurgen Klopp machinated at Borussia Dortmund.
The misery continued for Eddie Howe's side and, in a nightmare scenario within twenty-five minutes, changed the complexion of the match when Divock Origi, who missed a sitter beforehand, redeemed himself with a sublime finish to double his side's lead. Artur Boruc, at fault once more by over-compensating and advancing out of his area, he sees Origi dink the ball wide to the right byline and steer a fine finish into the far corner.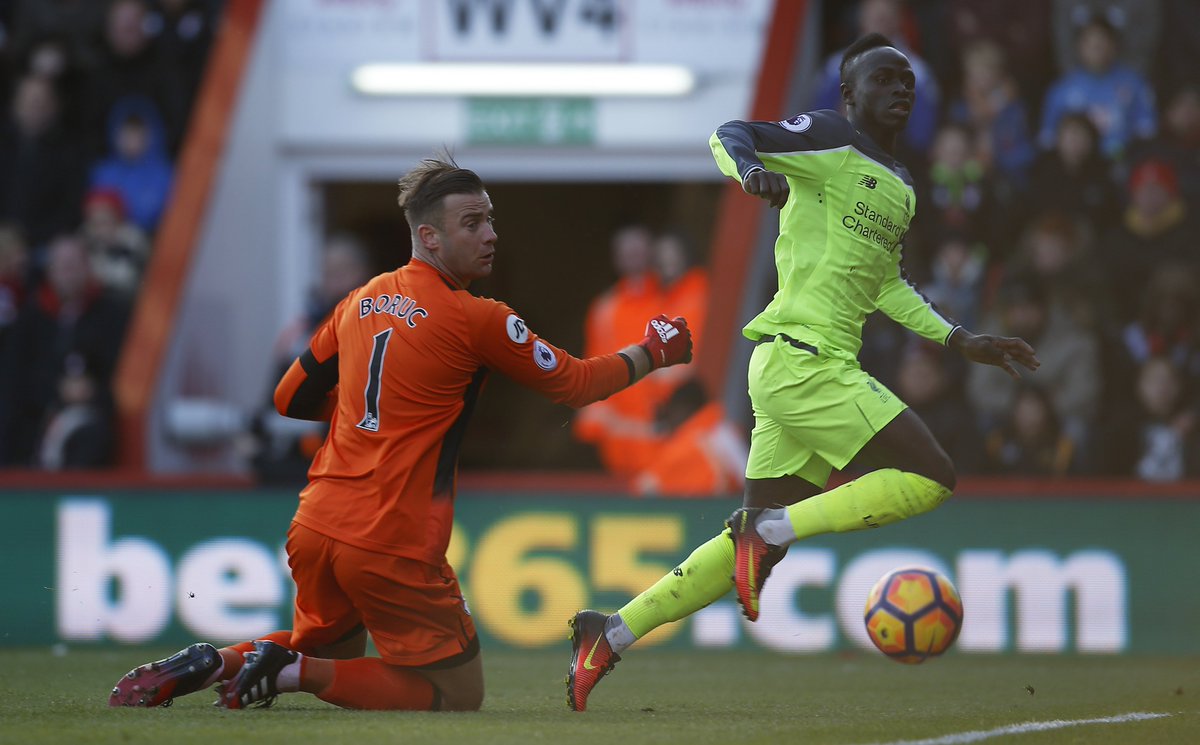 Liverpool were content soaking up the oppression of the home side, and were very fortunate not to concede a penalty late in the second half. An uproar of frustration sounded around the Vitality Stadium; referee Bobby Madeley waved off a blatant penalty appeal as Nathan Ake was bundled over by Roberto Firmino inside the area.
Eddie Howe was in disbelief, as were the fans and most observers.
The home side were evidently impelled to make their mark on the second half and, this time, the referee awarded them a penalty when fresh substitute Ryan Fraser was unnecessarily bundled over by the 'experienced' James Milner. He didn't protest, neither did his teammates, and Callum Wilson sent Loris Karius the wrong way to send Bournemouth right back in contention.
Jurgen Klopp was incensed with his team's indiscipline, and seemingly let loose his frustrations on the opposition's touchline team. In an exchange of heated words, referee Bobby Madeley warned him of his actions.
Subsequently, Nathaniel Clyne's effort on the right blootered high over the crossbar to further frustrate his boss.
The tension and nervousness ran through Jurgen Klopp's veins as Bournemouth obtained a dangerous foothold in the match. Callum Wilson's conversion from the spot brought the deficit down to one, but Emre Can cooled his side's nerves with an ice cool finish himself. Speedster Sadio Mane used his awkward dribbling and trickery; creating an opening on the right flank to then dink back to Can who steered a delightful finish into the top corner out of Artur Boruc's reach.
Artur Boruc, once again, was brought into action alongside much-needed goal-line technology. James Milner whipped in a curling cross and while Boruc claimed with both hands, he unwillingly took a step back over the line and 90% of the ball crossed while a mere fraction saved his side from conceding a fourth.
Once again having fallen to a miserable two-goal deficit, Eddie Howe's side used their strength and resilience to rebound in quick succession and draw level. Ryan Fraser, at the heart of the attack, ended up converting the final stage as he latched onto Benik Afobe's mistimed touch and rifled home on the edge of the area.
Perhaps the atmosphere contributed to Bournemouth's comeback, but more shambolic defending by Liverpool did too. A flock of soul-broken away jerseys failed to clear the danger of Fraser's cross and the ball is met in the air by Steve Cook, brought down by an authoritative touch and brilliantly fired low into the corner. Loris Karius didn't stand a chance.
Loris Karius was under immense oppresion from a home team of intent, and he managed to tip over Benik Afobe's strike from close range that, really, he should have buried.
Up the other end, Divock Origi sliced his effort inside the box and saw the ball float over Artur Boruc's crossbar, while Adam Lallana struck wide even with a plethora of options to either side on a dangerous counter attack.
In a remarkable turnaround, Bournemouth sent Liverpool's 15-match unbeaten run to a crashing halt. In another blunder from Loris Karius, he failed to properly gather Simon Cook's piledriver from long range and Nathan Ake was on hand to capitalise and dink the ball into the back of an open net.
Incredible scenes. Incredible match. Incredible turnaround. Will Liverpool's defensive frailties cost them the title?