Manchester City 1-3 Chelsea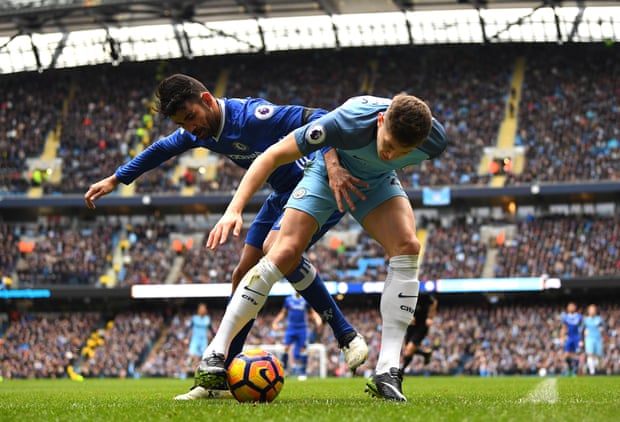 In a competitive, end-to-end affair throughout the first half, both sides exchanged attacks in the early stages. The atmosphere was lively as ever and, in a rare occasion, it seemed despite the odd empty seat that The Etihad was packed to the rafters in anticipation of one of the league's most fierce and skillful battles.
Usually in end-to-end games the defences aren't on their usual form; failing to track runs, attackers forcing mistakes in dangerous positions, and Guardiola and Conte's forward artillery feasted on both.
A handball appeal inside the box was aimed at Gary Cahill - although waved off - while Diego Costa out-muscled John Stones out of possession but Pedro's subsequent shot caused Claudio Bravo no harm.
Briefly, Conte's men were stuck under a series of oppression as Thibaut Courtois had to tip Sergio Aguero's 20-yard strike over the bar, and Fernandinho saw his header ruled out for offside.
Aguero, the Argentine menace, was at the core of Chelsea's defensive struggles as David Luiz struggled to comprehend his sheer speed and direction. Luiz, in an evident obstruction, knew he couldn't compete in a one-on-one sprint so he barged his opponent aside and to the ground. Bizarrely, although Aguero and his teammates appealed, referee Anthony Taylor waved it off to the dismay of the home fans.
Even though Conte's side responded well in the second half, there is a reasonable case to suggest Man City should have been home and dry before the interval. Kevin de Bruyne, not once but several times, was left ruing his chances when they were once screaming to be converted.
Leroy Sane's outstanding break through the middle - bewildering the Blues' defence with his acceleration, dribbling and instinctive decision making - was wasted by his teammate de Bruyune who struck straight at Thibaut Courtois who stuck out a leg to block and eradicate any danger.
Though Chelsea looked threatening on the counter up against an often vulnerable City defence at times, the match was finely balanced and Gary Cahill's 'calamitous' defending saw him ruin the scoreline, and his manager's half-time team talk. The Englishman, supposedly experienced but using nothing close to an ounce of it, diverted Jesus Navas' cross into the top corner of his own net and, to his side and their fans' dismay, changed the entire complexion of the game in the process.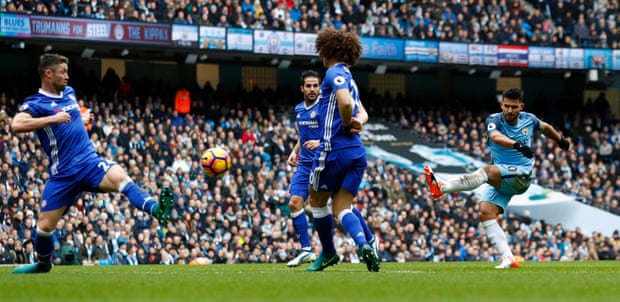 Ironically, having buried some difficult chances in his career, Kevin de Bruyne scuppered one of the easiest he will ever confront. The Chelsea back line was sent into disarray by Jesus Navas' inviting cross, but de Bruyne somehow clattered the crossbar from a yard out with Thibaut Courtois well out of sight to comprehend making a save.
That, to Pep Guardiola's inner frustration knowing his team could have won by two or even three with the extra momentum, became the turning point when Diego Costa brilliantly equalised up the other end.
The Spaniard missed a crucial chance when Victor Moses sent him through in the first half, but he ensured he buried this one at the expense of Nicolas Otamendi as he bullied his opponent, controlled the ball from the air and then brought it down well to fire past Claudio Bravo.
The momentum truly shifted towards Chelsea's favour and, in a killer blow to the hosts' hopes of turning the tide and finding a match-winner, fresh substitute William capitalised on Alexander Kolarov's tiring legs to steer a run into the six-yard box and slot into the bottom corner.
Anthony Taylor turned down yet another penalty appeal, and much to David Silva's discontent as he claimed the ball struck David Luiz's arm. Subsequently, Nicholas Otamendi's header blootered over the crossbar off a corner.
Eden Hazard then killed the match off in style. Similarly to Willian's goal, he sped in and around his marker and advanced down the field with a clear sight to a third. Claudio Bravo, very much helpless, saw Hazard fire home into the back of the net. But that wasn't the real talking point - it was the melee involving a despcciel challenge by Sergio Aguero on David Luiz at the death.
The Argentine stuck his studs into Luiz's knee, and his Chelsea teammates reacted angrily. Cesc Fabregas was involved in a tussle with Fernandinho in which he was forced over the billboard, and Fernandinho seeing red, while Aguero was also dismissed for his foul.