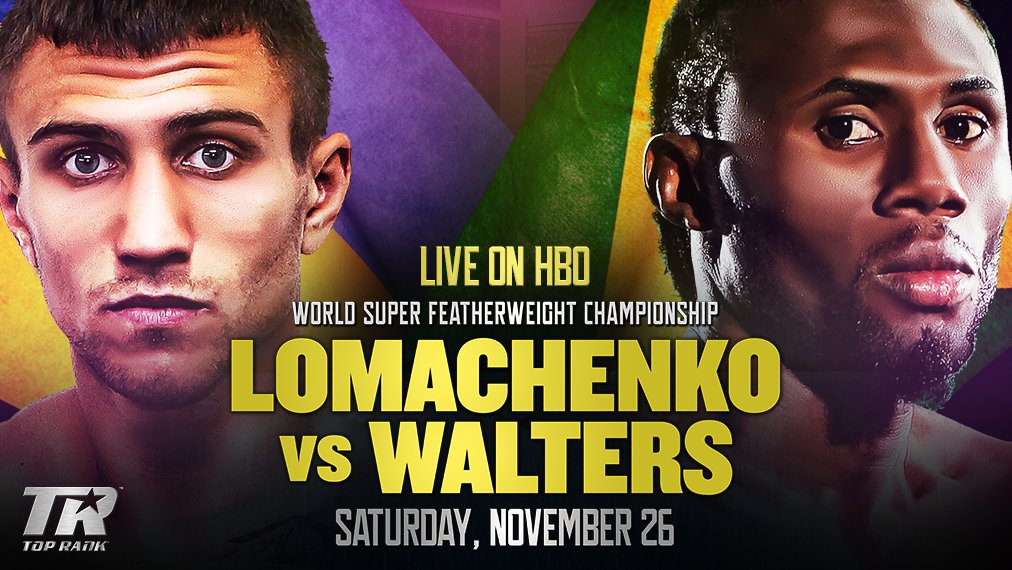 Vasyl Lomachenko vs Nicholas Walters was initially supposed to happen earlier this year, but negotiations fell through when Walters rejected the monetary offer in which Lomachenko was offered a significantly larger purse. Walters (26-0-1, 21 KO) and Lomachenko (6-1, 4 KO) are signed to Top Rank, Inc. and are promoted by Bob Arum.
Arum regarded Lomachenko as the A-side of the promotion, not based of professional accomplishments or television ratings, but because he believed Lomachenko was more skilled than Walters and one of the best fighters in the world pound for pound.
While Lomachenko's skills cannot be denied, this was blatantly disrespectful of Bob Arum towards Nicholas Walters. Moreover, such claims are made on accomplishments. Arum has a track record of openly snubbing his fighters, most notably Guillermo Rigondeaux.
The turnaround in negotiations for Walters-Lomachenko appears to be the failure of Gennady Golovkin-Daniel Jacobs to materialize this year, as well as the fact that Saul Alvarez injured his hand in his most recent match sidelining him until early 2017. Without Alvarez or Golovkin, more money was available for Lomachenko-Walters, and thus more money for Nicholas Walters.
Current chatter appears to regard Lomachenko as the favorite. In fact, Lomachenko's loss to Orlando Salido is long forgotten from people's minds after his easily handling of Gary Russell, Jr. in 2014. Moreover, his monumental upset (in retrospect) of Lomachenko notwithstanding, Salido's competitive fights thereafter have not earned him the kind of regard amongst the general public that makes him top priority for Lomachenko.
Indeed, Lomachenko steamrolled through Roman Martinez for the WBO junior lightweight title, an opponent to whom Salido has one draw and one split decision loss since having fought Lomachenko. There was also the the fact that Lomachenko demonstrated, even in defeat, that he was a better pure boxer than Salido who relied on fouling and being physical with a significant weight advantage while also missing weight.
Lomachenko is the favorite because his athleticism and speed appear otherworldly compared to his competition. Gary Russell's hand speed surpassed Lomachenko's, but Lomachenko was the rangier fighter with greater foot speed, making Russell's hand speed inconsequential.
Frankly, until an opponent can offset Lomachenko's speed, pre- and post-fight analyses are not worth the time. We potentially have this in Nicholas Walters because of his 8-inch reach advantage. Lomachenko will attempt to use angles, feints and footwork to slip inside Walters to land combinations – the success of these tactics falling heavily on the disparity in speed. To add, Lomachenko also has the advantage in hand speed.
Image:

Marilyn Paulino
In addition to his reach advantage, Walters needs to offset Lomachenko's speed with his timing and the angles of his punches. Particularly, Walters must anticipate where Lomachenko will attempt to move and have Lomachenko walk into his shots. The left and right hooks and straight right hands to the body will be critical for Walters in order to slow down Lomachenko over the twelve rounds.
Lomachenko will inevitably get within range to land punches. Can Walters shorted his punches at those times and land one or two hard shots to offset Lomachenko's attempted combinations. Indeed, with his reach, Walters can afford to land one punch at a time, so long as Lomachenko remains on the outside. Lomachenko, however, will need to land mostly in combination during those moments where his is inside Walters' reach.
When Lomachenko was not giving up as much reach on previous opponents, e.g. Gary Russell, Jr., there was less need for him to throw in bunches, further taking advantage of his ability to move in and out with his foot speed. The need for combination punching gives Walters more time to land than previous opponents, if he can effectively shorten his punches. Walters should also capture on opportunities to hit Lomachenko as he transitions back to the outside.
Finally, Walters needs to be effective in tying up Lomachenko and walking him back to the ropes. In addition to tiring out Lomachenko, it will disrupt his rhythm, reduce his punch count, and fatigue him.
Lomachenko-Walters airs on HBO Saturday, November 26 at 10p.m. US Eastern and on BoxNation in the UK. Lomachenko's WBO junior lightweight title is at stake.