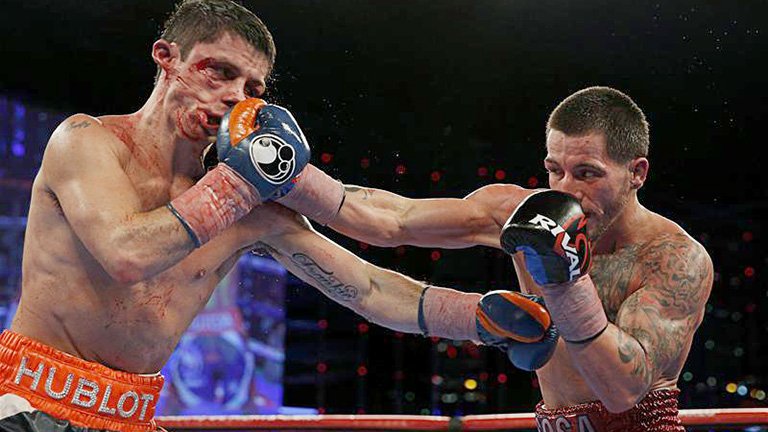 Jason Sosa, Luis Ortiz, Jamie McDonnell and Martin Murray all secured unanimous decisions in their respective bouts in a night marred by controversial scoring and bizarre tactics.
Sosa outlasted Smith in a sensational 12-round battle to retain his WBA super-featherweight title, while Luis Ortiz dominated Malik Scott over the distance in an anti-climax heavyweight battle.
To the observer's delight, Smith (24-3, 14 KO's) abandoned his skill and succumbed to a toe-to-toe war. Jason Sosa (20-1-4, 15 KO's) obliged. He dropped the battered, bruised and bloodied Smith in the second stanza before outclassing the challenger down the stretch. The judges scored the contest 116-111, 117-110 and 116-112.
Both fighters were hurt at different stages, too, as Smith rallied in the later rounds. He banked the 9th and while Sosa remained well in the fight, and, in the lead, he was forced to fight for every minute of every round.
He delivered in style and further opened up the cut on Smith's right eye caused by earlier onslaughts. His hooks were the main source of success, while the overhand right was seemingly the most successful and hurtful shot in the arsenal of the challenger.
The champion, though, to his credit after a turbulent ending, battled hard and ensured he departed Monte Carlo with his world title intact.
In the co-main event, Luis Ortiz (26-0, 22 KO's) and Malik Scott (38-3-1, 13 KO's) served up 12-rounds of sluggish, eventfulness dross as The Cuban secured a 120-105, 120-106, 119-106 unanimous decision.
Malik Scott's tactics were apparent and absurd from the opening bell. A fighter with immense style but zero substance, his reluctance to engage became the influential factor in the fight as Ortiz's counter punching style did not bode well against a defensive, survival-minded opponent.
In a rather dull affair, there was one mission accomplished by Scott. He made Luis Ortiz look bad and, somehow, managed to turn The Cuban's adoring admirers into hesitant naysayers as Ortiz sluggishly overreached on wide, inaccurate shots despite his often elusive target succumbing to a stationary spot on the ropes.
36-year old Scott went down twice in the fourth, once in the ninth, all rather easily to the dismay of the evidently disgruntled crowd. Luis Ortiz coasted to a decision and perhaps we'll see better days of 'King Kong' when his opponents are more offensively-minded and his slick, accurate counter-punching style is brought into play.
Further down the card, Jamie McDonnell (29-2-1, 13 KO's) defeated Liborio Solis (25-5-1, 11 KO's) by unanimous decision to retain the WBA bantamweight title, while Martin Murray (34-4-1, 16 KO's) returned to action as he outpointed the impressive late-replacement Nuhu Lawal (23-1, 13 KO's) in a close, competitive 12-rounder.