Neither Sergey Kovalev (30-1-1, 26 KO) nor Andre Ward (31-0, 15 KO) impressed in Las Vegas, but that is a consequence of the competitiveness of the bout. Ward emerged as the victor in a hotly contested decision; all judges had it scored 114-113 for Ward, i.e., it was perceived that Ward edged out the rounds 7-5 but was deducted a point for being knocked down by Kovalev in round two.
My overall perception of the fight was that Kovalev had some decisive rounds early, particularly round two where he scored the knockdown, but I would not argue that he won the majority of the rounds decisively. However, I would make the same case about Ward – that he clearly controlled several rounds but he did not win a majority of the rounds without argument. The rule of thumb for rounds that could be considered "toss ups" is that they can be scored 9-9 in the case that there is not a 10-point must scoring system. When it is required to give ten points per round to either combatant, to be fair, the "too-close-to-call" rounds should be divided up evenly. When the number of unclear rounds is odd, then each fighter has a fifty percent chance of winning the majority of those rounds, with one round of separation. Awarding the number of clearly-won rounds to the number of toss-ups gives the fair total number of rounds awarded. This, ad-hoc scoring, is the most fair manner in which to allocated rounds won. However, live scoring close rounds is inherently biased because it does not use the principle of fair allocation. Instead, either fighter is preferentially awarded the round based on how closely the round mirrored his expected strategy, the current momentum, etc.
Round 1
Ward began by establishing the jab to the body, which served three purposes: (1) to fatigue Kovalev; (2) to score points; (3) to slip Kovalev's right hand. The landmark moment, however, was when Kovalev and Ward traded jabs to the head at one point: Kovalev's jab was much heavier due to his much naturally heavier skeletal frame, and it backed up Ward. That is the consequence of moving up in weight class.
As an aside, I strictly oppose awarding rounds to the heavier puncher for simply being the heavier puncher. Punchers are already favored in scoring through technical knockouts and knockdowns. Beyond that, effective punches should show their effect by reducing the activity of the opponent. Simply put, combatants are less active when they are hurt.
Moreover, especially in instances where one fighter has moved up a weight class, it is expected that the naturally larger opponent will land harder punches. In any competitive contest, each fighter will land punches in all rounds. If the heavier puncher is awarded rounds simply for being the heavier puncher, without regard to total punches landed, then there is no technical way in which the smaller or less powerful opponent can win. By default, that is technically unfair.
I initially saw this round as a "toss up."
Round 2
This was Kovalev's best round. He was very accurate with the right hand and was backing up Ward with it. With thirty-five seconds left he dropped Ward with a 1-2 combination that Ward was not expecting. Ward was expecting a single jab, attempted a rolling counter of the presumed single jab, and his right hand was late relative to Kovalev's. Floyd Mayweather was similarly stunned by Marcos Maidana in the fourth round of their rematch for miscalculating a pull counter.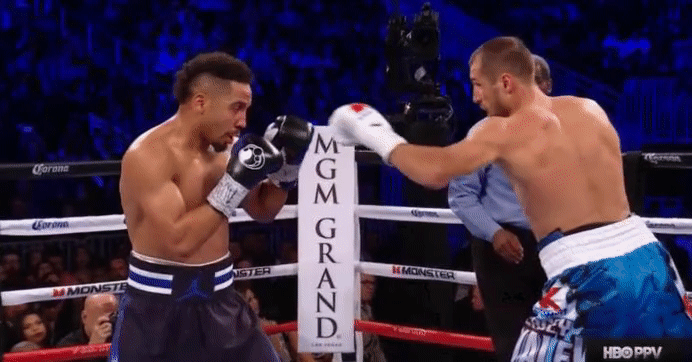 GIF: HBO PPV
Credit to boxer/commentator Paul Malignaggi on excellent analysis of the failed pull counter which can be seen in his post-fight interview with EsNews:
Kovalev won this round handily.
Round 3
Ward clearly won this round on very clean punches. The pivotal moment was with 50 seconds left where Kovalev's head bopped back twice from a double left hook.
Round 4
Frequently Ward began leaping towards Kovalev with lead left hooks to the head. Ward was obviously looking to land something significant, for he is naturally left handed and has his greatest power in his left hook. This was a gamble, however, and it was bad technically. For in leaving the ground, Ward was effectively reducing the power of his left hook, thus Kovalev could have countered with anything at this point and likely would not have been severely hurt if the left hook landed. As the smaller fighter, the left hook from Ward would have been most effective thrown to the liver of Kovalev. This would have allowed Ward to plant his feet and use his legs, hips, and trunk for leverage. Fortunately, this was surprising Kovalev so that he was unable to time it.
Ward lingered on the ropes momentarily but Kovalev was adverse expending his energy here as Ward was not hurt.
Image: HBO Boxing
Round 5
Another round for Ward on clean punching. Again Kovalev's head was being bopped back, but this time from Ward's up jab. Ward began throwing his punches with more conviction, looking to hurt Kovalev, and he was beating Kovalev to the punch.
Round 6
This was a close round. Ward was jabbing to the body. The most striking moment was when Kovalev just missed a right hand at the end of the round – Ward rolled away from the punch.
Round 7
This is another round that I felt Ward clearly won on clean punching. Again, Kovalev's head was bopping back from jabs and straight right hands midway through the round. Kovalev's most significant punch was a hard stiff jab to Ward with seventeen seconds left.
Image: HBO Boxing
Round 8
Yet another round that I felt Ward won clearly on clean punching. At 1:30 left, Ward landed jabs and left hooks, then right and left hooks at 25 seconds left. Kovalev was very inaccurate with his left hook and right hand as Ward consistently slipped underneath them.
Round 9
This was also a great round for Andre Ward. Right hook landed by Ward at 1:24 left, then another right hand at 51 seconds left. Kovalev was visibly tired and slowing down.
Round 10
Ward landed some telling left hooks and right hands in this round, but Kovalev did appear to outwork Ward in the latter half of the round. Kovalev may have stolen this round with a good second half.
Round 11
Left hook by Ward landed at 1:52 left, returned by jabs and right hands by Kovalev at 1:15. Ward closed the round well, landing left hooks at fifty seconds left and some more jabs in the last 10 seconds.
Image: German Villasenor
Round 12
This was a close round. Initially Ward landed single punches at a time but, similar to round ten, Kovalev finished stronger in the second half of the round with more activity. Kovalev frequently walked Ward back to the ropes to reduce Ward's activity and momentum.
Kovalev loses fight in latter half
To reiterate, Kovalev needed to win six rounds, because of the knockdown, to win 114-113. Not only could I not decisively give Kovalev at least six rounds, in my opinion Ward had more total convincing rounds. If the remaining toss ups are evenly distributed, it is reasonable to give Andre Ward the decision.
However, Ward left considerable room for doubt and was knocked down. On most occasions, that is not enough for a challenger to dethrone an undefeated crowd-pleasing champion. Therefore, it is perfectly reasonable for Kovalev to think he was slighted by unfair judging.
Image: News Summed Up
Getting back to the inherent bias of live-judging close rounds. No one disputes that Ward won the latter half of the fight beyond a reasonable doubt; that is to say, Ward had the momentum. Therefore, it is not out of the question that he was given the benefit of the doubt on close rounds because the momentum was decisively in his favor. Moreover, it is also reasonable that if Kovalev is supposed to be the naturally larger and more powerful opponent, and if the skill level between Kovalev and Ward was similar, then Kovalev should have been able to establish control of the bout in a better fashion than what he did. That he did not implies the skill gap between Ward and himself that allowed Ward to make up the difference for what he lacked in size and power.
In any case, we now have strong evidence that Ward is not a natural light-heavyweight and is better suited for super-middleweight. Both Sullivan Berrera and Sergey Kovalev dwarfed Ward in stature. Even Kovalev, not very muscular, looked much bigger than Ward who muscled his weight up to light-heavyweight. But one can argue that maybe Ward is simply more compact and therefore more dense. However, the physically strong – at super-middleweight – Andre Ward was unable to impose himself on either Barrera or Kovalev, and the very non-muscular Kovalev frequently backed up Ward during their match.
Image: GRTX
Ward's apparent diminished strength at light heavyweight caused him to be ineffective on the inside against either Barrera or Kovalev. I do attribute some of this to Ward being very upright and not using his legs, thus not having good stability when these larger men leaned on him.
Regarding Ward's lack of head and trunk movement – for someone who everyone thought would be more effective – on the inside, several analyses can be made. For one, Ward is an excellent counter puncher, and it is easier to time counters when one is not engaging in exaggerated movement. But, a more stable target allowed Kovalev to plant himself and commit to hard shots, which of course Ward hoped to avoid and counter. This was even more apparent when Ward fought Barrera. Ward stood on the outside much more than anyone expected, but he was able to slip much of what Barrera threw because Barrera's punches were wide and lacking in velocity. Therefore, I attribute Ward's lack of movement to the fact that his strategy was more to counter – that is, to stay on the outside where he could see Kovalev's punches more clearly, allow him to miss and close the distance for Ward, whereby Ward could counter him after Kovalev's momentum was forward.
But again, Andre Ward and Virgil Hunter felt that Ward's physical strength would make the difference on the inside. If that is so, Ward's lack of head and trunk movement was not conducive to working at close range.
As most champions do, Kovalev had a rematch clause in the contract for Ward which he is expected to exercise immediately given that he felt he won. In the rematch, Kovalev should show less respect for Ward. With Bernard Hopkins especially, Kovalev seemed to think that since Hopkins was a "world class" fighter, he had to be patient, avoid getting frustrated, but this also allowed Hopkins to coast along. Kovalev respected Ward too much, especially considering that he has been on record showing no regard for Ward's power.
In a rematch, I cannot favor Ward as much as I previously did. Until I see it, I cannot give Ward the benefit of the doubt that he will work effectively on the inside. Frankly, in Ward's case, since he is the smaller fighter lacking the power and size to impose himself on Kovalev, I find it safer to assume that any round he wins against Kovalev will be a close round won on clean and precise punching where he is being conservative and picking his spots. Such a strategy does not lend itself to a high punch output nor doing any significant damage. Furthermore, it will not deter Kovalev in the least.
Image: HBO.com