While the weather wasn't the best, the Olympics continued to light up Rio and beyond reaching a fifth day of action.
On what was a gloomy day in southeast Brazil, two sports would suffer. Heavy rain in Rio for most of the morning and afternoon lead to the postponement of tennis, while the Lagoa Stadium was in no fit state to host the rowing - with torrential conditions leading to delays for the sport for the second time in the games.

Archery
Samiuli pulled off one of the best comebacks of the day, overturning a two-set deficit to defeat Khairul Mohamad 6-4, with a perfect score in the last set as he moved to the Round of 16. Adding to the upsets, 69th seed Bombayla Devi Laishram stunned Taiwan potential favourite Lin Shih-Chia.
Little could separate Baard Nesteng and Yu Guan-Lin as they squared off in a shootout after a tie-up in the fifth sets, with Nesteng's near-perfect arrow enough to take him forward, where he would succumb to Takaharu Furukawa.
Two major contenders squared off in the women's individual with Kristine Esebua and Deepika Kumari of which the Indian closely won, before going on to defeat Guendalina Sartori.
Image: James Lang / USA TODAY Sports
Basketball
Diana Taurasi broke a three-point record as the United States' women once again ran rampant with a destruction of Serbia to continue their run in unstoppable form. Things were far tougher for the male side, who were pushed to the limit by a spirited Australian effort which fizzled out towards the end of the game. But thanks in part to a 31-point effort from Carmelo Anthony, the medal favourites kept on track.
Spain edged out China by just a point, while Canada defeated Senegal in the other women's games. As for the rest of the men's action, France just got by Serbia in another close game.
Image: OregonLive.com
Boxing
Yet another British boxer exited the competition as Qais Ashfaq was outpointed by Chatchai Butdee, unable to deal with the awkward stance of his opponent and crashing to the canvas in the second round. Ireland's Joe Ward departed the light heavyweight bracket after a split-decision los to Andres Carles Mina.
American Nico Hernandez prevailed in his light-flyweight quarter-final showdown against Carlos Quipo Pilataxi, securing the minimum of a bronze medal by winning all three rounds by unanimous decision.
India's Manoj Kumar pulled off the upset as he topped London 2012 bronze medallist Evaldas Petrauskas in the Round of 16.
Canoeing
Britain's Joseph Clarke narrowly secured a gold medal from the men's single kayak slalom as he edged out Slovenia's Peter Kauzer and Czech Republic's Jiri Prskaev. The 23-year-old came third in qualification, but had just enough in the tank as he pushed himself to defeat the nearest competitor by 0.17 seconds, during a nervy wait as his opponents followed his attempt.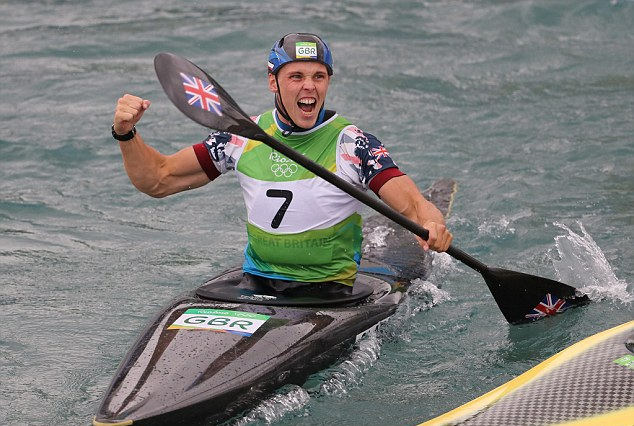 Image: EPA
Cycling
Kristin Armstrong won gold in the women's road time trial for the third consecutive time, with a time of 44:26.42 keeping her more than five-and-a-half seconds clear of silver medallist Olga Zabelinskaya. A day before turning 43 years old, the American fell to the floor in exhaustion after completing the cycle, yet again giving it her all. Winner of the road race Anna van der Breggen took the Bronze medal. Britain's Emma Pooley, who came out of retirement just like the time trial winner, had a day to forget, finishing in 14th place.
Swiss cyclist Fabian Cancellara went out on top as his 16 year career came to an end with a gold medal triumph in the men's time trial. With damp conditions across the 54.5 km circuit, he succeeded on the climbs and won by a total of 47 seconds at the end. Tour de France champion, Britain's Chris Froome, was slow out of the blocks and never was able to reach the times of "Spartacus", taking a bronze medal after a late surge.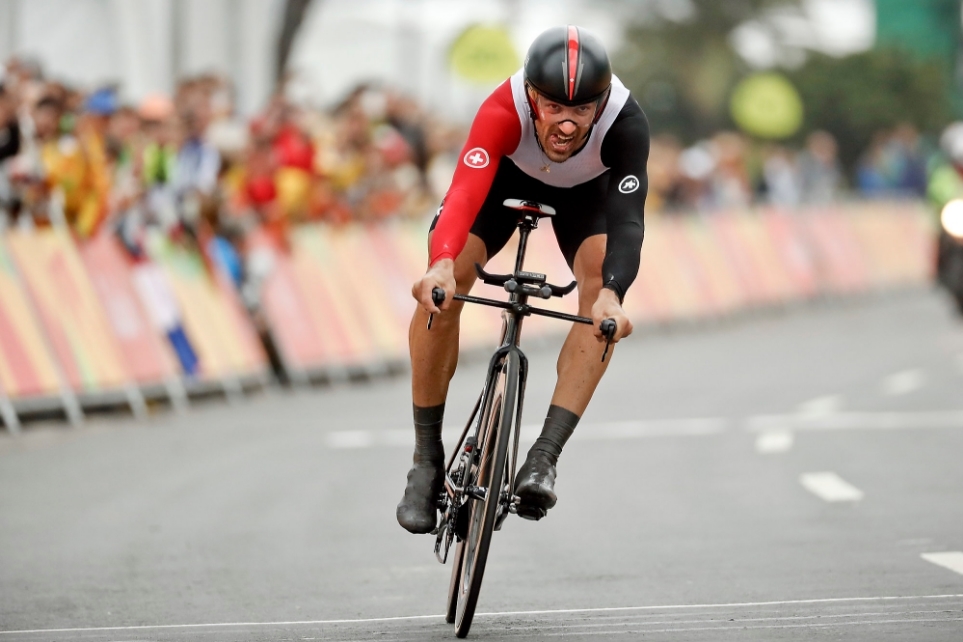 Image: CourierPress.com
Diving
Jack Laugher and Chris Mears won Great Britain's first ever diving Olympic gold medal as they prevailed from a thrilling synchronised 3m springboard final. China's Qin Kai and Cao Yuan finished with a points total of 443.70, making it the first diving event of this summer's games where China didn't win gold - settling for bronze instead. The USA surprised many when Tom Dorman and Mike Hixon won a silver medal.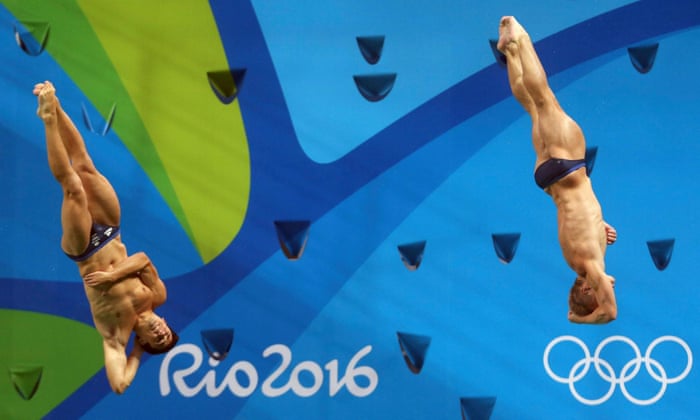 Image: Pilar Olivares/Reuters
Equestrian
There was some more cause for concern around the equestrian venue as police discovered a second bullet close to the stables. No one was injured, and the dressage continued as schedule, as police delivered a statement explaining that they are investigating the origin of the bullet.
Fencing
Russia's Inna Deriglazova ended the Italian stranglehold on the foil individual for the women, as she toppled Italian Elisa De Francisca in a thrilling final. She had to deal with trailing in the early stages, before coming back to dominate and subsequently be in the lead by the end of the time limit, although the silver medalist did get within a point.
Áron Szilágyi retained his Olympic title by dispatching a courageous effort by American Daryl Homer, dousing any hopes of a miraculous comeback by charging forward and getting the final point for 15-8 and another gold medal.
Image: Google Olympics
Football
Germany pulled off one of the most destructive wins in Olympic football history as they ruthlessly scored 10 goals without reply against Fiji. Nils Petersen had a field day with 5 goals after Serge Gnabry opened the scoring and got a brace for his efforts, as the world champions - who famously dominated Brazil 7-1 in the same stadium - sent alarm bells ringing across the tournament.
In a must-win game, Brazil finally responded under the pressure as they defeated Denmark 4-0, scoring their first goals of the games after a long wait. Jesus and Jesús Vieira's goals were sandwiched between a Barbosa brace as captain Neymar lead a rejuvenated side.
In group B, Colombia and Japan were victorious over Nigeria and Sweden respectively, while South Korea edged the reigning Olympic champions Mexico. Later on in the day, South Africa and Iraq played to a draw.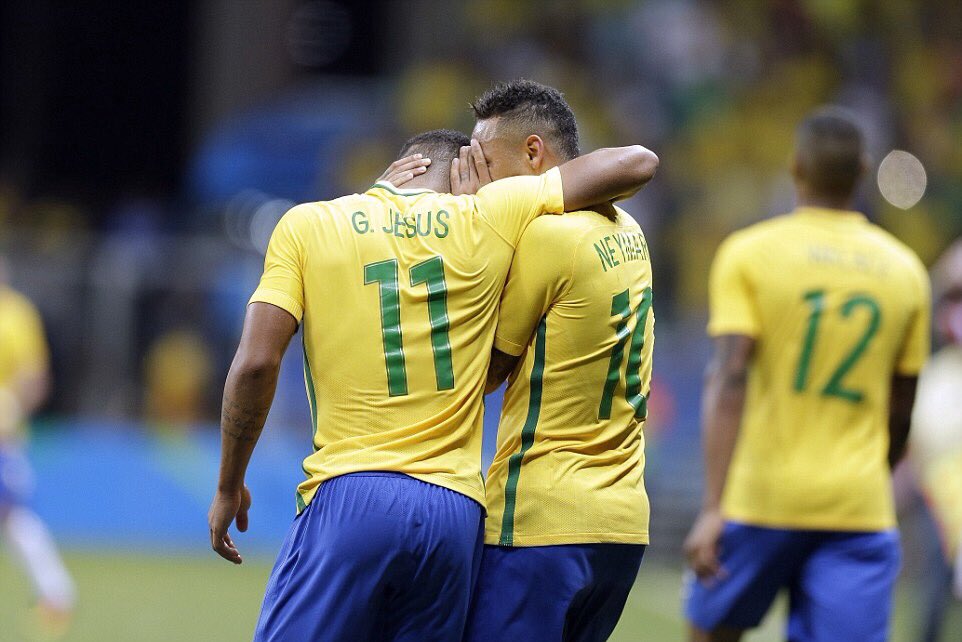 Image: MailOnline
Gymnastics
Japan's Kohei Uchimura retained his Olympic crown in the men's individual all-around final in an event to remember. He was pushed to the limit by Oleg Verniaiev, but the Ukranian was just pipped to the top prize as he hopped after landing. There was more success for Britain too with Max Whitlock's total of 90.641 awarding him a bronze medal. Gold and silver were seperated by just 0.099 points, with Uchimura being bettered on the pommel horse, rings and parallel bars.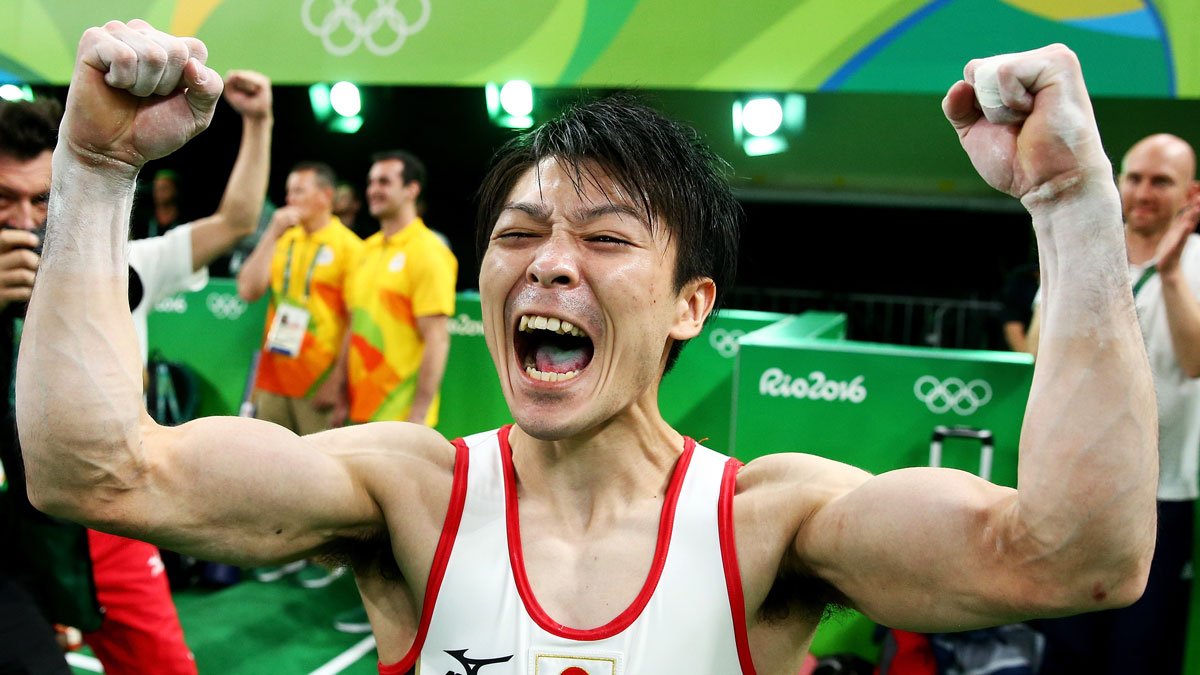 Image: Los Angeles News
Handball
Women's preliminary action continued with hosts Brazil losing by 5 points to Spain while Netherlands and Korea were tied at 32 points apiece. Norway made light work of Angola, 30-20.
Hockey
Great Britain's women reached the quarter finals and kept their unbeaten record in tact as they defeated Argentina 3-2. They survived a late scare when, after going 3-0 up, Florencia Habif's brace opened the game up, but it wasn't enough to phase them.
Things were looking bleak for the men's side however, who are on the verge of elimination after a defeat to Australia. The Aussies two goals in the second half were responded by a strike from a corner late on, but it wasn't enough.
New Zealand made light work of Brazil with a simple 9-0 win, while Netherlands' women edged China 1-0.
Judo
Haruka Tachimoto defeated Yuri Alvear in the final of the women's 70 kg, bringing more hardware for Japan as she beat her opponent with an Ippon, on an evening where her home country swept the medals for the sport. In the bronze medal match, Sally Conway of Britain got their first judo gold of the games.
Baker Mashu took gold for the final of the men's 90 kg, getting by Varlam Liparteliani of Georgia. He scored early on, and with the glory in sight, walked the tightrope that is the referee's discretion, taking two penalties as he brought the clock down to end a day of domination with an Olympic title.
Image: Google Olympics
Rugby Sevens
Great Britain booked their spot in the semi-finals of the Rugby Sevens tournament after edging by Argentina in extra time. They survived a stoppage time scare in which their opponents missed a penalty, before a try by Dan Bibby took the sudden death win. They will meet South Africa, who made a statement in their thumping of Australia.
Fiji toppled world champions New Zealand 12-7 to set up a semi final against Japan, who continued their dream run by defeating France by the same scoreline.
Image: Mirror.co.uk
Sailing
Britain's Giles Scott took the lead in the men's finn class on the Niteroi course at Marina da Gloria, improving significantly from his torrid fist day.
The Nacra 17 mixed made a return with Catamarans back in use, with the first time that males and females were swimming together in the Olympics.
Shooting
Fehaid Aldeehani became the first ever athlete to win an Olympic gold medal under the independent banner, winning the men's double trap final. Residing from Kuwait, who are currently suspended by the IOC for government interference in sport, he edged Marco Innocenti's 26 points by just 2 more.
An all-British bronze medal match saw Steven Scott and Tim Kneale duke it out to decide who would take the medal with the home nation it was going to already guaranteed. A perfect score of 30 by Scott went unmatched by his opponent.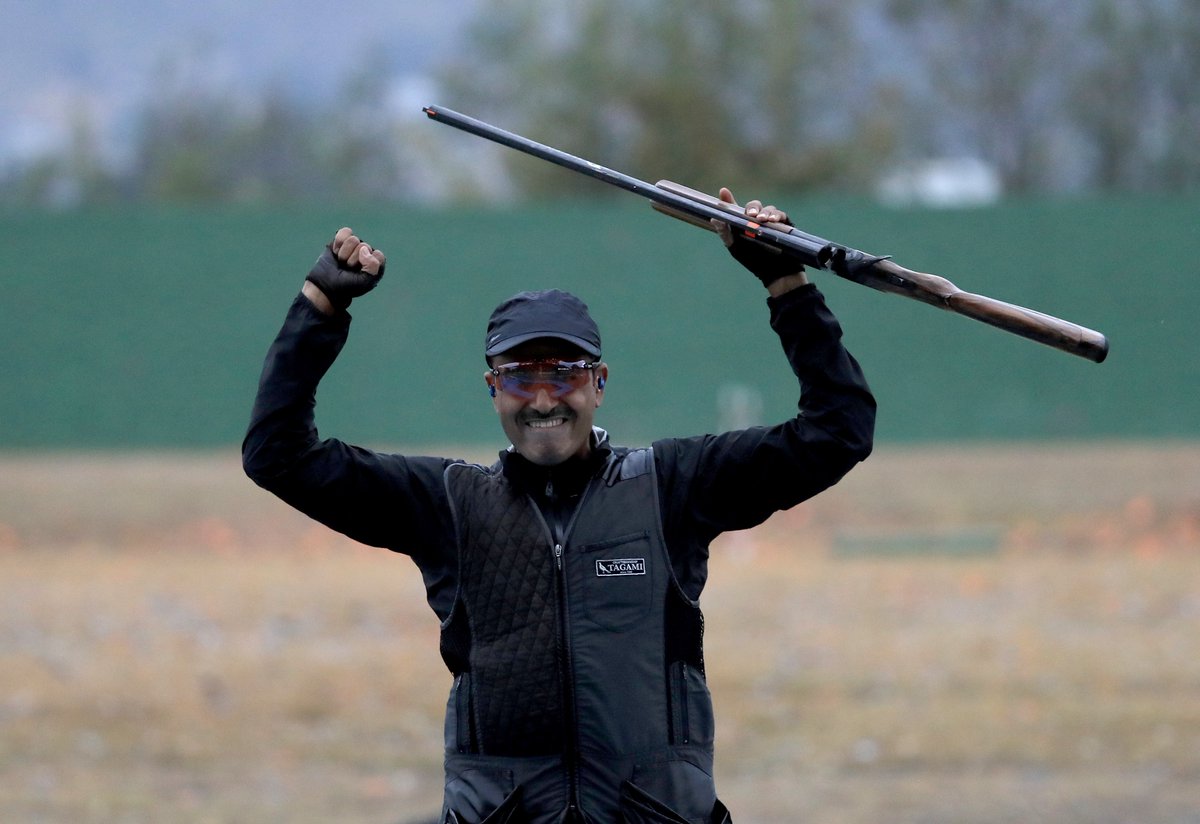 Image: CBC Olympics
Swimming
Mireia Belmonte took the women's 200m butterfly crown in an insanely close final with the silver medalist Madelina Groves just 0.03 seconds behind, clinching Spain's first gold medal in the process.
18-year-old Kyle Chalmers surprised many with a victory in the 100m freestyle, stunning previous champion Pieter Timmers who took bronze while Britain's Duncan Smith finished in fifth place.
Michael Phelps continued winning once again as he prevailed in the men's 200m individual medley, defeating teammate Ryan Lochte and Brazil's Thiago Pereira, who was roared on by a raucous home crowd.
The USA added another swimming medal to their growing collection when their female team stormed the 200m freestyle relay, with Katie Ledecky finishing it off with a strong final run.
Image: The New York Times
Table Tennis
Ding Ning avenged her 2012 loss to Li Xiaoxia as she completed her career list of accolades with an Olympic gold medal, defeating her fellow Chinese compatriot by 4 games to 3 in an epic final. For large parts of the contest, it appeared that the reigning champion was poised to secure the win, however, Ning rallied and survived a late resistance effort in the 7th game, following with an out pour of emotion after the triumph.
Song I Kim of North Korea got the final podium spot with a far more straightforward victory over Japan's Ai Fukuhara in the bronze medal match.
Water Polo
In group A of the men's preliminary round, Australia beat Japan 8-6, while Greece and Hungary played to a 16-goal draw. Hosts Brazil got something more than participation when they edged Serbia.
Group B's games featured United States flying by France, Italy skipping past Montengro and Spain outdoing Croatia.
Weightlifting
Kazakhstan's Nijat Rahimovic broke a world record to win gold in the 77 kg weightlifting category, stunning Lyu Xiaojun with a clean and jerk of 215 kg. The competition also featured a rather gruesome dislocation sustained by Andranik Karapetyan, with his elbow giving way when attempting to clean and jerk 195 kg.
Earlier in the women's 69 kg, Xiang Yanmei secured first place and topped Zhazira Zhaparkul and Sara Ahmed - the bronze medallist of who became only the second Egyptian woman to have won an Olympic medal.
Image: NBC Olympics
Volleyball
Brazil's male duo saw off their Italian counterparts, although Bednarczuk and De Freitas lost out to their Spanish opponents.
The Copacabana was rained upon but it remained a unique atmosphere on the beach.