Four days in and the Olympics just keep getting better.
On what was a glorious day for the United States, Michael Phelps proved exactly why he's the greatest Olympian of all time winning his 20th and 21st gold medals.
A gymnastics clinic, fencing comeback and major tennis upset don't even begin to scratch the surface - but below we have a full roundup of all the sports from day 4 of Rio 2016.
Image: NBC New York
Archery
16-year-old Ricardo Soto, the youngest in the Olympic archery competition, progressed to the third round after dispatching Bernardo Oliveira, 7-1.
Hosts' archer Marcus D'Almeida was sent out of the tournament by American Jake Kaminski, who nailed it en route to a 6-2 win. But he would stumble into Brady Ellison, who beat him in the second round.
India's only male archer, Atanu Das, gave his country their best archery result since 2004 as he moved into the last 16 defeating Adrian Puentes.
Basketball
Brazil had mixed fortunes as the men's team edged Spain with some last-gasp glory, capitalising on Gasol's missed free throws to tip in a shot and give the hosts a one-point victory. Their women, however, lost out to Belarus 65-63.
Australia got by France in the other notable women's fixture.
Boxing
Professional boxers Carmine Tommasone and Amnat Ruenroeng exited their respective boxing competitions when they were uprooted by amateurs meaning no professionals remain in the Rio 2016 boxing.
Another British athlete bowed out as Joseph Cordina lost out on points to Hurshid Tojibaev, unable to truly press on the front foot with the Uzbek making it difficult.
USA suffered their first loss on the boxing scene as Charles Conwell lost by 3 rounds to India's Vikas Krishan.
Ireland lightweight David Olivier Joyce was eliminated by decision, while his compatriot Michael O'Reilly was kicked out of the competition after deciding not to appeal a suspension handed down to him for a positive drugs test.
Canoeing
Frenchman Denis Gargaud Chanut secured Olympic gold in the men's single canoe slalom, with a time of 94.17 seconds, 0.85 seconds ahead of silver medallist Matej Benus as he inherited the crown of previous winner and compatriot Tony
Sideris Tasiadis topped the semi-finals but finished fifth in the final, while David Florence of Team GB finished tenth.
Image: Tuxboard.com
Diving
China replicated the men's feat in the 10m synchronised springboard final as they saw off a strong Malaysian effort in a close contest. The duo of Cheno Rholin and Lin Huixia were pushed, but ended up taking gold in convincing fashion.
Britain's Lois Toulson and Tonia Couch lost out on a bronze medal after their risk didn't pay off in the final dive, finishing 5th.
Some discussion was sparked during the contest regarding the appearance of the waters in the diving arena, appearing a peculiar shade of green which had everyone bemused or concerned.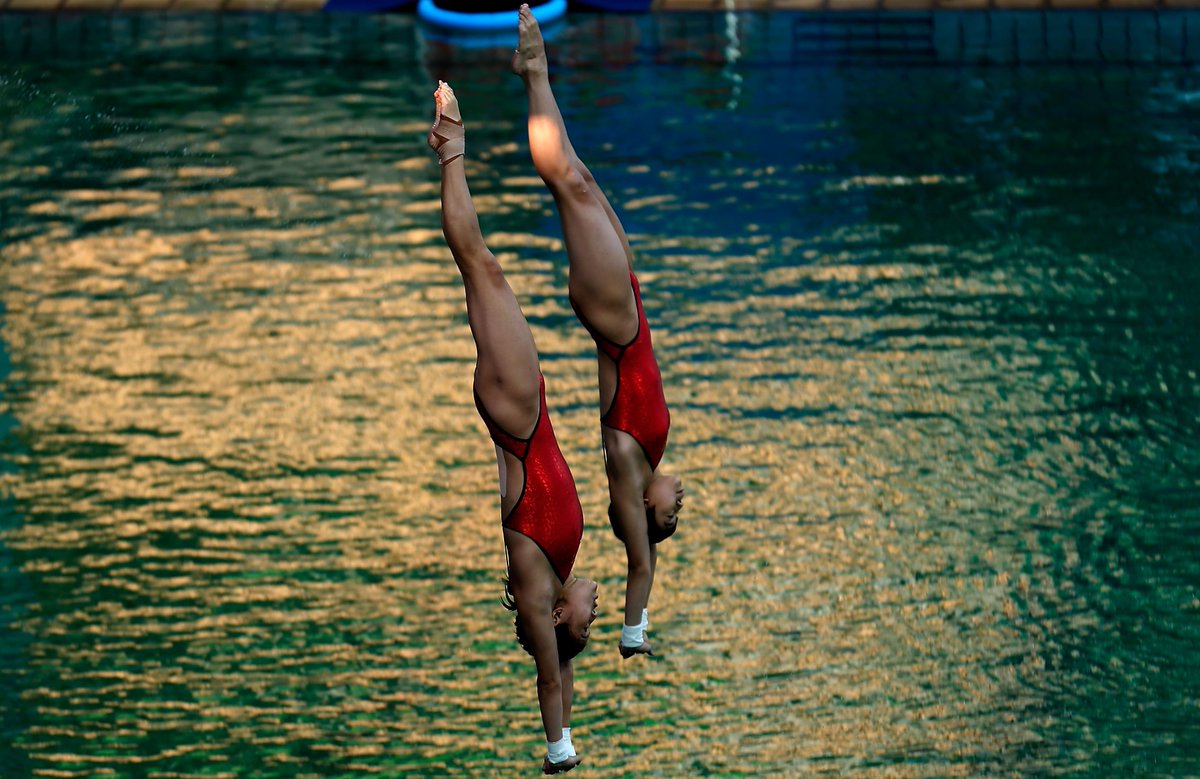 Image: China Xinhua News
Equestrian
France show-jumped their way to equestrian gold as they beat out Germany and Australia in the team eventing competition. Nicolas and Piaf De B'Neville rode incredibly with little penalty to break out ahead, while Team GB were unable to recover, failing to win a medal for the first time in six Olympics.
Michael Jung and horse Sam Fbw once again won Olympic gold in the individual eventing, as the German finished with a comfortable 7-point margin to give his country their first gold of the games.
Image: TimesWV.com
Fencing
On his Olympic debut, 20-year old Sangyoung Park took the Épée individual gold with an inspired comeback against Géza Imre. The South Korean was 4 points down when his Hungarian counterpart needed just 1 hit to win the gold, but 6 consecutive points lead him to glory for South Korea.
Gauthier Grumier of France took home a bronze medal for a 15-11 victory over Benjamin Steffen.
Image: Google Olympics
Football
United States' women's football team squandered a draw to Colombia in their final group stage fixture, after goalkeeper Hope Solo made two errors when attempting to thwart the free-kicks of Catalina Usme including an equaliser in the 90th minute in Manaus. However, they still topped their group and have a spot awaiting in the quarter finals.
Canada recorded a historic win over over Germany after a brace from Melissa Tancredi, while France eased past New Zealand.
The day was concluded by goalless draws between the hosts and South Africa, and the China vs. Sweden fixture.
Gymnastics
Team USA continued their dominance in women's gymnastics as they won gold in the team final, capped off by a truly marvellous floor performance by Simone Biles in a spectacular final.
China put up a fierce fight but a fall by one of their competitors late in the floor spelt an end to their chances as they took Bronze, behind Russia in second. Team GB finished fifth.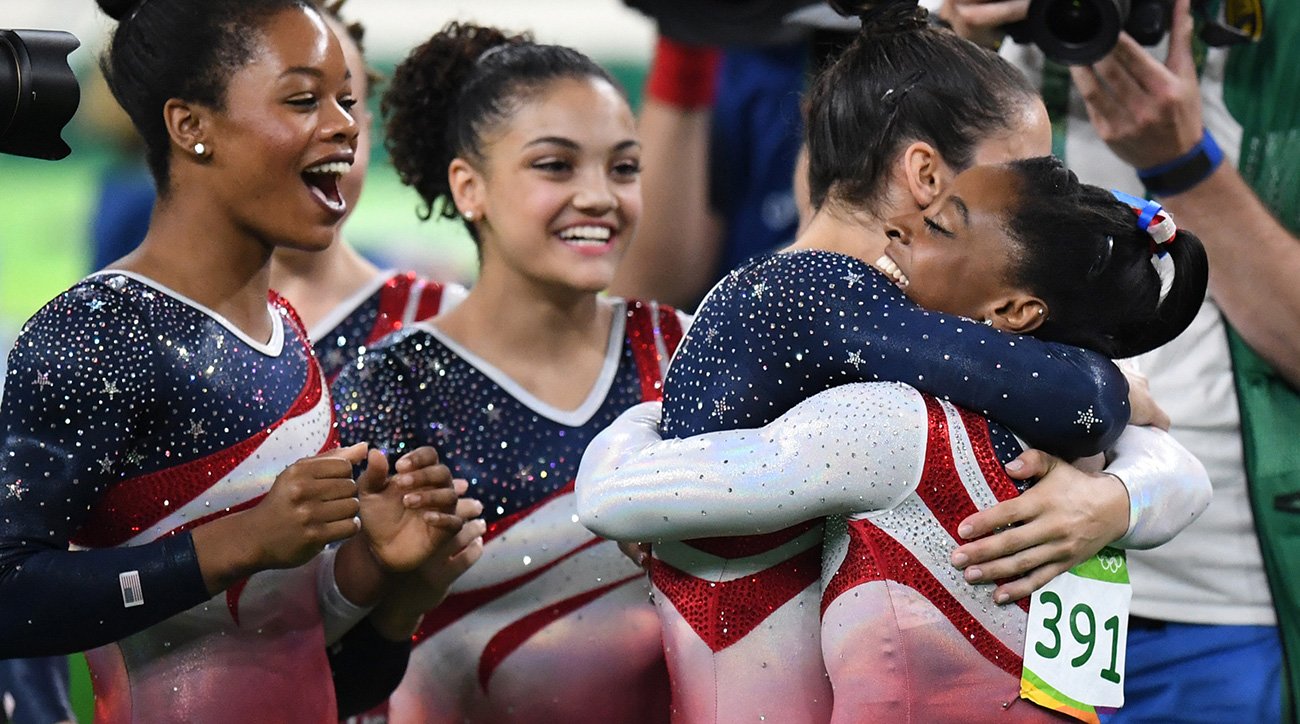 Image: Sports Illustrated
Handball
Hosts Brazil lost out to Slovenia 28-31, while also in group B of the men's preliminary, Germany edged Poland and Egypt beat Sweden 26-25.
In group A, Qatar's bid to build a strong handball foundation was dealt a major setback when France breezed past them with a 15-point win. Denmark comfortably defeated Tunisia, while Argentina were shut out by Croatia.
Hockey
Brazil's men saw their hockey nightmare continue as Team GB smashed them, responding with 9 goals after the Samba nation opened the scoring.
India got their second win as they beat Argentina 2-1 in pool B, while Netherlands destroyed Canada 7-0.
Judo
Slovenia won their first gold medal of the Rio games thanks to Tina Trstenjak's triumph in the women's 63 kg contest. She was able to overpower and subsequently hold down Clarisse Agbegnenou to get her hand raised.
Russian Khasan Khalmurzaev ended Travis Stevens' great run in the 81 kg competition, with an ippon midway through regular time to add a gold medal to Russia's collection.
Image: Google Olympics
Rowing
Australian, Italian and French duos all progressed along with New Zealand and Great Britain in the coxless-pair semi finals, while the double sculls for the women featured world champions Eve Macfarlane and Zoe Stevenson fail to reach the final.
Croatia comfortably won the double sculls with 6:12.17, while Angel Rodriguez, Mahe Drysdale (men) and Knapkova and Twigg (women) impress in the single sculls quarter finals.
Rugby Sevens
Sonny Bill Williams' Olympic dream was brought to an abrupt end during Japan's stunning upset over New Zealand, with the world champions' talisman suffering a partial achilles rupture.
Great Britain would go on to beat Japan, after they defeated Kenya to open the men's campaign on a very positive note.
United States' side did suffer a loss to Argentina, but then rebounded with a 26-0 hammering of the host nation Brazil.
South Africa had it easy going, not conceding a point in their games against Spain and France, winning 24-0 and 26-0 respectively.
Image: AP
Sailing
A total of 12 races along the Guanabara Bay were featured on day 4, starting with Great Britain's Giles Scott finishing poorly in 17th place as Facundo Bazan Olezza won the first race. Giles finished third for the sequel though.
In the women's laser radial, China's Lijia Xu performed exceptionally with third and first-placed finishes which sent her straight back up the standings.
Julio Alsogaray won the men's laser, while Flavia Tartaglini was dominant int he women's RS:X.
Image: Google Olympics
Shooting
Greece's Anna Korakaki outscored Germany's Monika Karsch in the final of the women's 25m pistol to bring a gold back to the founders of the Olympics. It was her second medal in the event, where she let go off a three-round lead for things to be tied up at 6-6, but she would finish it off when Korakaki missed her fourth shot.
Heidi Diethelm Gerber defeated China's Jingjing Zhang for bronze.
Swimming
Katie Ledecky was on red-hot form once again as she stormed the 200m freestyle, defeating Sarah Sjöström in a race where she just went from strength to strength.
Michael Phelps was overcome with emotion when he won the 200m butterfly final, returning to capture more Olympic gold as he went in with a point to prove. After working well on the first 3 lengths of the pool, he began to fatigue with Japan's Sakai almost catching up to him - just 0.04 seconds short. When receiving his 20th gold medal, Phelps even had a tear in his eye.
Katinka Hosszú continued her incredible success in the games after a flawless performance in the 200m individual medley, although she was pushed by Britain's Siobhan-Marie O'Connor, who came in silver as she edged in with a relentless final 50m freestyle.
Capping off a great night for the Americans in the swimming was their freestyle relay team. The USA would start strong and continue throughout the duration of the race, despite Lochte fading and Phelps being exhausted towards the end. Team GB also had a little more success, coming in second place.
Image: Reuters
Table Tennis
Just 4 remain in the men's and women's table tennis tournaments after the quarter-finals on day 4, as the competition truly reaches the crunch stage.
China were once again dominant, with Jike Zhang and Long ma of the men getting to the semis with victories over Koki Niwa and Aruna Quadri respectively. Meanwhile, two Chinese women also got through to the last 4, in Ning Ding and Xiaoxia Li.
Vladimir Samsonov of Belarus kept his run going as he meets Zhang in the semis.
Tennis
Serena Williams was stunningly upstaged by Elina Svitolina as the defence of her Olympic title came crashing to an end, with the American not her usual self, serving 5 double falts in one of the concluding games, along with a host of unforced errors as she succumbed to her 21-year-old opponent.
Britain's Andy Murray did however preserve his defence for the Olympic title, dominating Juan Monaco - his compatriot, Johanna Konta also progressed when she edged Svetlana Kuznetsova.
Rafael Nadal continued his busy schedule with victories in the singles and doubles contests, although his fellow Spaniard David Ferrer would surrender 2 match points in a defeat to Russia's Donskoy.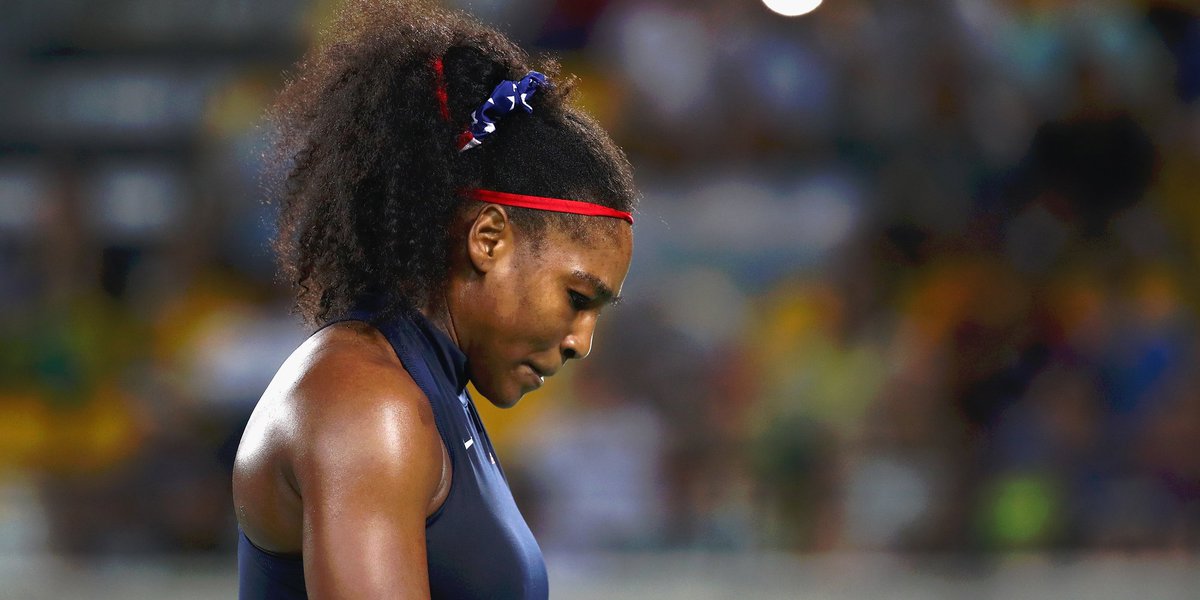 Image: Huffington Post
Volleyball
Brazil's women ousted their South American rivals Argentina on the court, while on the beach surface their duo knocked off the Americans.
For the men, Argentina rolled on, France destroyed Mexico while the USA struggled against Italy.
Water Polo
The women's water polo kicked off on day 4, with a fiercely contested opener between Hungary and China, tied at halftime, ending two points in favour of the Europeans.
The hosts' women had a frustrating start with former gold medallists Italy showing why they came third in last year's championships, beating them 9-3.
Team USA began their title defence in a rematch of the previous Olympics gold medal match, topping Spain 11-4.
Weightlifting
China swept the weightlifting medals on day four, starting in the women's 63 kg category when Deng Wei broke her own world record with a total weight of 262 kg, thanks to a phenomenal clean and jerk of 147 kg. In the silver medal position, North Korea's Choe Hyo Sim made an Olympic record - only for her opponent to break it moments later.
Later on in the men's 69 kg, Shi Zhiyong failed in an attempt to break an Olympic record, but despite that he was once again crowned Olympic champion with his total of 352 kg proving enough.