Eleven days have flown by.
As the Summer Olympic games rolled on around Rio de Janeiro, fans turned out in their numbers to witness heartbreak and history: the misery from a semi-final football elimination was softened thanks to a first ever boxing gold medal for the hosts.
Meanwhile, the velodrome, on its final night, created more incredible moments - and leading the pack, again, were Team GB - who broke their record for most medals in an overseas Olympics.
But it wasn't just about a select few nations. Really, everyone got involved - some dominated their sports, others couldn't contend, but whatever the fate of individuals - day 11 collectively became something spectacular.
Here, we round-up all the action from where the medals went, and beyond.
Athletics
Christian Taylor made a successful defence of his triple jump Olympic title as the American leaped 17.86 metres, winning the competition on his very first jump with closest contenders Will Claye and Dong Bin unable to catch up.
Usain Bolt ran a time of 20.28 seconds as he looked sharp in his 200m heat, while Justin Gatlin similarly breezed on the final straight as they qualified for the semi-finals. Britain's AdAm Gemili also progressed.
Image: SportsKeeda.com
Croatia's Sandra Perkovic recovered from 2 fouled attempts to win a back-to-back gold medal in the final of the women's discus throw. 69.21m was enough to topple France's Melina Robert-Michon, who broke a national record.
Canada's Derek Drouin cleared a height of 2.38m to take the men's long jump crown.
Kenya's Faith Chepngetich Kipyegon snatched the 1500m gold medal in the last lap, usurping reigning champion and record holder Genzebe Dibaba.
Omar McLeod stormed his way to victory in the final of the 110m hurdles, going over without clipping any of the obstacles to continue Jamaica's high-speed dominance. Spain's Orlando Ortega had a good showing, taking a silver medal for his efforts.
Image: Google Olympics
Basketball
United States' women continued their winning run to reach the final four in the Olympics, decimating Japan 110-64 after a second half breakaway. While struggling to deal with the early space, they would soon acclimatise and prove once again unstoppable - with Japan even acknowledging that with an applause after the game, as all players assembled together to take photos. USA will face France for a spot in the final after they dispatched of Canada.
Things were far more closer between Spain and Turkey, with the Spaniards winning 64-62, while Serbia pulled off the upset to send Australia out of the competition.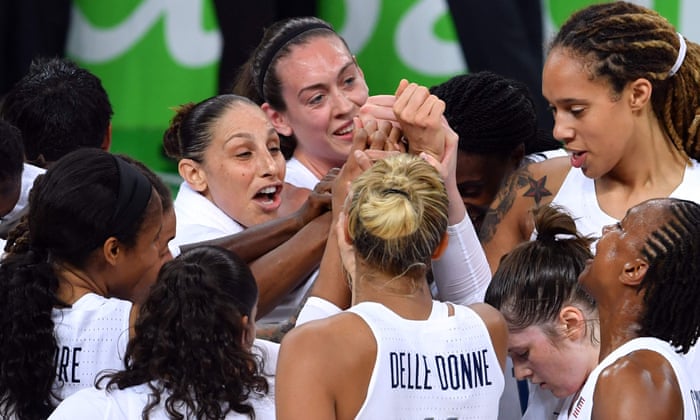 Image: AFP / Getty Images
Boxing
Robson Conceicao was crowned Olympic lightweight champion in front of a rapturous home support as the Brazilian outworked France's Sofiane Oumiha with a blistering performance. In his third games, he finally achieved a boyhood dream as he stood in the centre of the ring and took the fight to his European counterpart, willed on by an unbelievable support.
Britian's Joshua Buatsi saw his run come to an end after suffering a frustrating unanimous decision defeat to Kazakh Adilbek Niyazymbetov, unable to really connect as he was outwitted by the superior movement of his foe. The other semi final of the light heavyweight tournament saw Cuba's Julio Cesar La Cruz get by Mathieu Albert Daniel Bauderlique
Fortunes were far different in the biggest weight class on the Olympic boxing scene, as Joe Joyce, also of Team GB, pummelled Adilbek Niyazymbetov in their super-heavyweight quarter-final en route to a clear-cut decision victory.
Michael Conlan unleashed a scathing rant on the amateur boxing scene after he lost a very controversial points call to Russian Vladmir Nikitin, exiting as the last Irish boxer at the games.
Image: Google Olympics
Canoeing
Sebastian Brendel of Germany notched the first gold medal of the day's action as he retained his title from four years ago in the men's 1000m canoe single event. The Braziian fans were rapturous in their responses as their very own Isaquais Queiroz dos Santos took the silver medal.
The Hungarian duo of Gabriella Szabo and Danuta Kozak secured the gold medal in the women's kayak double, holding off the closest contenders from Germany by five hundredths of a second over the course of the 500m race.
Four-time world champion Lisa Carrington defended her London 2012 title as she eased to victory in the single 200m kayak race.
Spaniard Marcus Walz took the final medal on the paddling waters as he came from behind to win the men's 100m single kayak event with a time of 3:31:447, helped by an inspired late surge to turn the race around.
Image: Rio2016OlympicsWiki.com
Cycling
Laura Trott secured her spot as Britain's most successful female Olympian as she stormed her way to victory in the omnium event. Her tally was brought up to four, after winning three races over the course of the competition and coming runner up in two other races. She ended up building a lead that grew to 24 from the nearest competitor, Sarah Hammer, who won silver.
Kristina Vogel powered her way to individual sprint gold as she held off Britain's Rebecca James - and lost her saddle in the process - with 2 straight wins handing her a big victory over two Brits - Katy Marchant also got on the podium with a win over Elis Ligtlee.
Jason Kenny tied Chris Hoy for the record British gold medals as he prevailed from a chaotic and dramatic keirin final featuring not one, but two restarts. Racers were eager to get on the sprint and the race was stopped twice as officials reviewed athletes overtaking the pacer - after a nervy wait the first time, Kenny survived and would go on to sprint his way to a heroic and historic gold.
Image: Rio 2016
Diving
Chinese domination on the diving scene ensued as Cao Yun breezed his way to the gold medal in the 3m springboard final. Totalling 547.60, it was enough to fend off Britain's Jack Laugher - who added a silver to the gold he won in the synchronised duo version of the event.
Football
Brazilian hearts were crushed in the semi-finals of the women's football tournament as Sweden stunned the host nation in a penalty shootout after 120 goalless minutes. The Maracanã Stadium fell silent when Andressa Alves missed the penalty, setting up Lisa Dahlkvist who swept home and guaranteed the Europeans a medal.
Meeting them in the final will be Germany, who dispatched Canada in much more straightforward fashion, as goals from Behringer and Daebritz helped them to a two-goal victory.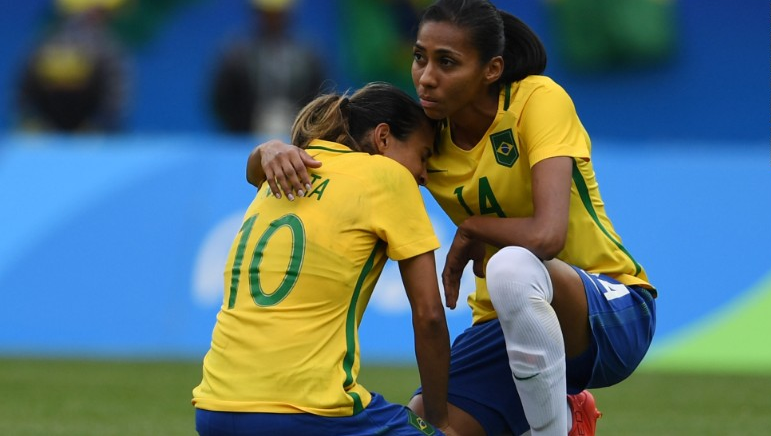 Image: AFP / Getty Images
Gymnastics
Oleg Verniaiev topped a high-class parallel bars final as the Ukranian capitalised on a fall from a top Chinese contender to pull off a sensational, high-difficulty routine. He bettered USA's Levya in silver and Russia's Belyavskiy in third place.
Simone Biles restored order from her hiccup the previous day in the beam by elegantly twisting and turning her way to a fourth gold medal in the final of the floor exercise. The American topped her compatriot and previous Olympic champion Aly Raisman who claimed a silver medal, in what was yet another spectacular display of artistic gymnastics.
A score of 15.766 was enough for Germany's Fabian Hambüchen to claim a gold medal in the final of the men's horizontal bar, after a nervy wait which ended with a stunning performance by Danell Leyva which was enough to secure a silver. Great Britain's fantastic run on the apparatus continued, with Nile Wilson taking the bronze medal.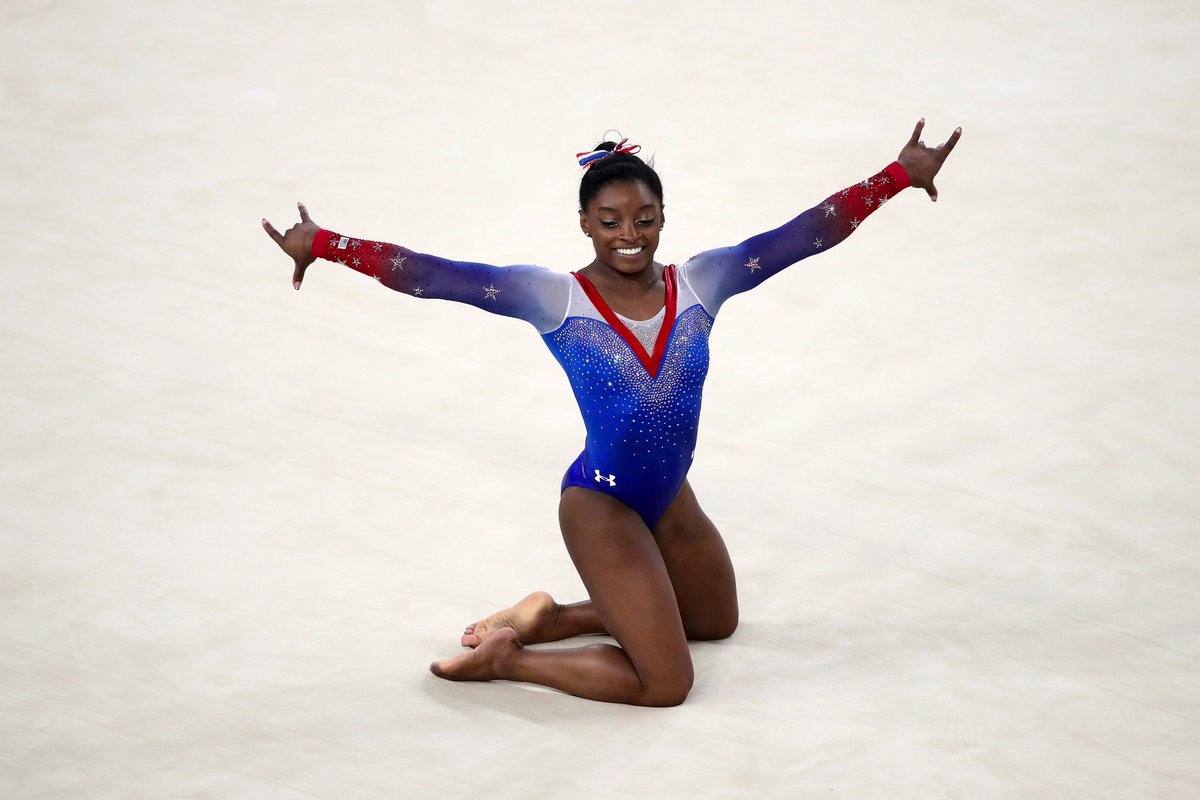 Image: Olympics
Hockey
Goals from Jerome Truyens, Florent van Aubel and John-John Dohmen sent Belgium to their first ever Olympic hockey final, as their men dealt with the second seed the Netherlands with a clinical performance.
Battling them for the gold medal will be Argentina, who made light work of Germany, the champions from the 2012 games.
Sailing
Gold medal favourite Marit Bouwmeester lived up to her billing as gold medal favourite, sweeping the top prize in the women's laser, while Ireland's Annalise Murphy found a stunning silver medal.
In the men's laser, Tom Burton prevailed in a race full of twists and turns in the elements, extraordinarily moving downwind to pass Stipanovic to get in front - staying there to win gold.
Giles Scott of Britain finally sealed his tag as Olympic champion in the Finn class, having clinched it before the race even began. His points lead made things easy going for himself, although the bid for a bronze medal was hotly contested and topped by Caleb Paine.
Santiago Lange and Cecilia Carranza won Argentina a huge gold medal in the mixed nacra 17.
Image: Google Olympics
Swimming
Despite 10 kilometres of swimming across the Copacabana coast, Ferry Weertman was separated by only the smallest of margins as he edged Spiros Gianniotis of Greece in a dramatic conclusion where both recorded the same time. Britain's Jack Burnell was involved in some controversy after he was disqualified, initially finishing third, for tussling with opponents and receiving a second yellow card.
Synchronised Swimming
Natalia Ishchenko and Svetlana Romashina defended their Olympic title in the synchronised swimming duets as they gave Russia another gold medal and continued the country's streak of winning in the event since 2000.
Table Tennis
China thrashed Germany and truly solidifed themselves at the very pinnacle of Olympic table tennis through a sensational performance in the final of the women's team event. Joining the two finalists from the women's singles was Liu Shiwen, and she was part of an impeccable assembly who only dropped one game.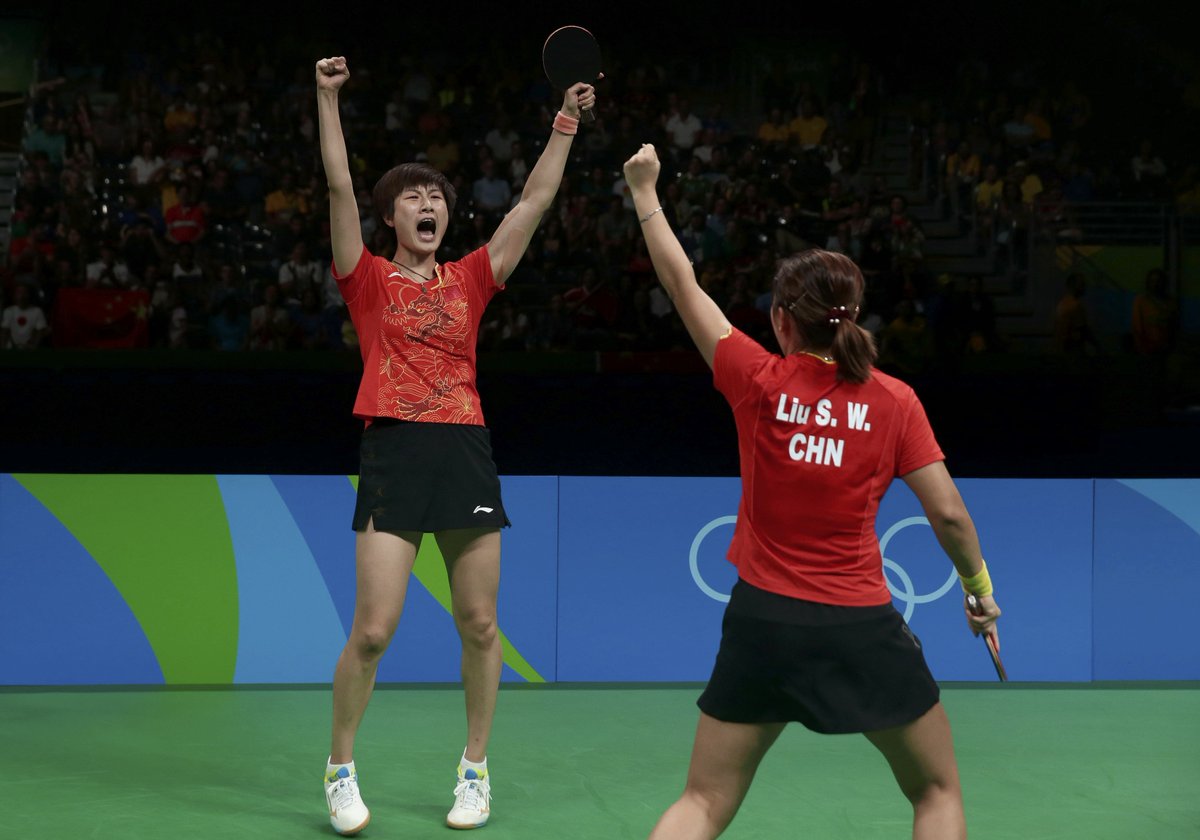 Image: ST Sports Desk
Weightlifting
Georgia's Lasha Talakhadze set a new world record with a total of 473 kg over the course of a gripping +105 kg category final, where the gold medallist would see his world record for snatch beaten. Winning silver was Gor Minasyan of Armenia.
Wrestling
Davor Štefanek edged Migran Arutyunyan in the 66 kg category of Greco-Roman wrestling, scoring last and crucially capitalising on the Armenian's penalty to win a gold medal on behalf of Serbia.
Artur Aleksanyan defeats Cuba's Yasmany Daniel Lugo Cabrera in a physical gold medal match, taking the top prize as his Cuban opponent was unable to repsond to the 3 points scored.
Others
Britain's Ellis and Langridge crashed out in the semi-finals of the badminton, after losing to China's Fu and Zhang, ruling them out of contention for a gold medal.
China stunned Olympic champions as they sent them crashing out at the quarter-finals to end their hopes of winning three straight gold medals.