Following 51 fixtures played around France, one team emerged as the kings of the continent. Portugal scaled the mountain to conclude the 2016 European Championships, although the tournament won't exactly be considered a classic in years to come.
Yes, there were late winners and a handful of goals that were out of this world, but the final was almost indicative of the competition. It was a tough watch for most of the time, with neither side able to capture the imagination even in the depths of the extra 30 minutes - until Éder made himself a hero when he won it for Portugal.
Unfortunately, this tournament may be remembered more for moments of fan violence than what played out on the pitch. In the group stages, clashes broke out between England and Russian fans, while Croatia and Czech Republic supporters halted their game with flares and fighting in the stadium. While it may have simmered off towards the business-end of the championships, there wasn't much in hindsight to divert from it.
Image: Sky Sports
UEFA had introduced some major changes prior to this tournament, increasing the number of teams in the final from 16 to 24. This did make way for some teams to shine, but it also left a lot of baggage scattered all around the place - instead of going for the win, many teams felt inclined to get a draw, with a 3rd placed finish in the group stages potentially being enough to progress.
Even though it brings more people together, and helps grow the game, UEFA may want to consider doing the same in the future. Talk of expanding it should be shut down at the nearest opportunity, because the quality may be diluted even more.
The lack of goals was also very noticeable. Euro 2016 showed we may be witnessing a mass shortage of the European striker. Finishing was unimpressive throughout the tournament, and that combined with tactics that directed emphasis on stronger defence made for a lot if insipid football. Everyone was waiting for the goals to start flooding in, but they were rarely satisfied.
Image: Metro
Underdogs did have a breeding ground to flourish, from Iceland's stunning ascent to the quarter-finals, Wales' trip to the top four and Hungary's impressive group stage run. But they were found in a heap of teams just there to make up the numbers.
Dimitri Payet's magic made for a promising tournament, when his late stunner toppled a game Romania in the opening fixture, before a 10-man Albania fell to Switzerland. Wales then flew by Slovakia before England, for all their domination, started a disappointing tournament with a draw to Russia at the hands of a stoppage time equaliser. That was after the French police had a nightmare in Marseille, trying to quell the violence as chairs were thrown and teargas was distributed during battles between fans.
Image: Independent
Luka Modrić then added his goal to the list of wonder strikes when he thwarted the Turks on the same day where Poland's Milik eventually broke the resistance of Northern Ireland. World champions Germany didn't exactly inspire, but then got the job done against Ukraine.
Reigning European champions also left it late - a recurring trend especially in the group stage of the tournament - to defy the Czech Republc, then Sweden just survived against Ireland. Although for the Swedes, it was disappointing to say the least - and Zlatan Ibrahimović will most likely be left with a sour taste in his mouth after bowing out with an uninspiring tournament. His lack of success was representative of how the continent's strikers were faltering.
Italy and Belgium's first round group stage fixture was built as one of the biggest games of the tournament, but instead would end with the Azzurri staking their huge claim as favourites when they dispatched them with a masterclass, leaving Wilmots' men with some soul searching to do. Hungary marked their major tournament with a return, before Iceland's dream run began when they drew with Portugal to close off the first batch of fixtures.
Image: GOAL.com
Marek Hamšík delivered one of the finest individual performances of the stage in Slovakia's second group game, exclaiming his performance with a goal of the tournament contender as his nation topped Russia. As the football continued to thickly flood in, Admir Mehmedi helped Switzerland to a draw over Romania, preceding the hosts France, who booked their spot in the knockout round in quick time with Griezmann and Payet's killer blows against Albania.
One of the biggest European Championships in the history of British football would then transpire as England collided with Wales in Lens, providing some drama from start to finish. Joe Hart's blunder allowed Gareth Bale to score a free-kick in the first half, but the Three Lions rallied with Vardy and then Sturridge - in the dying moments of the game - stole the victory from the Welsh Dragons. There was also plenty of history for another home nation, as Northern Ireland recorded their first European Championships win with a strong victory over Ukraine, not only overcoming the tough nation but also bearing the elements.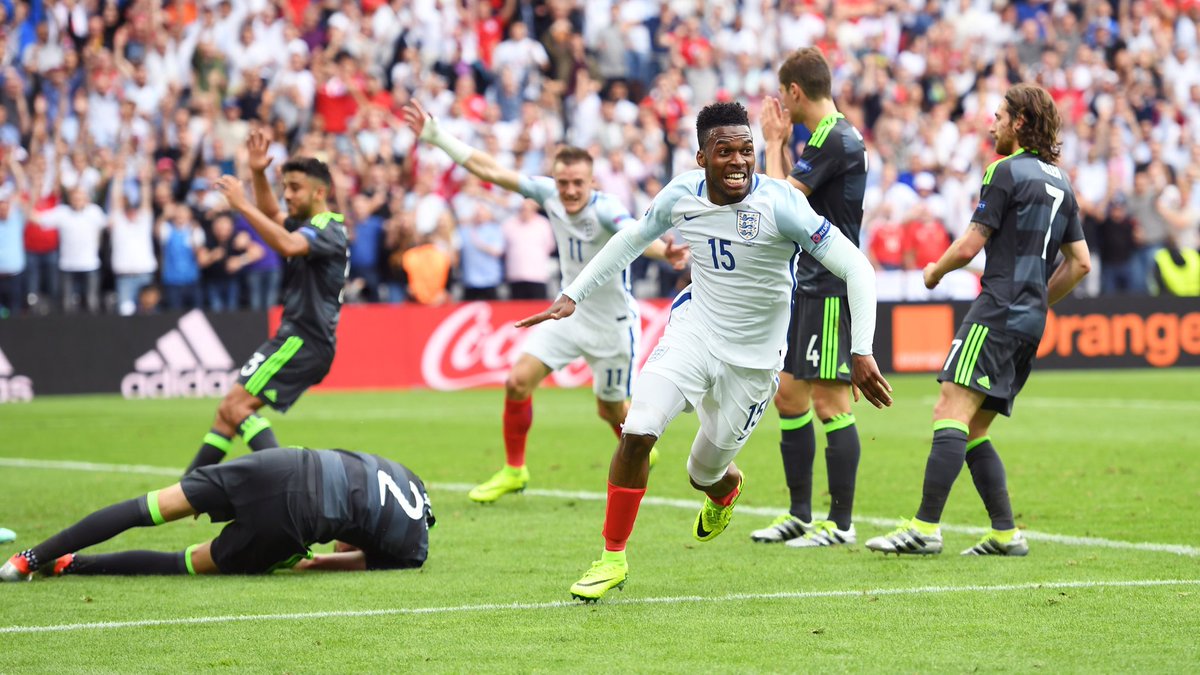 Image: Football-Talk.co.uk
Wherever you'd look in the group stage, teams had struggled to inspire or really set the world alight. Germany would fall victim to similar as they played to a goaless draw with Poland, while Italy and Sweden's game on the Friday - one which promised so much - offered little, as Zlatan failed to get off the mark while Eder won it for the Italians.
Just when you thought that we'd seen an end to all the fan violence due to UEFA warnings and suspensions, Czech Republic and Croatia would engage in the highest scoring game of the tournament so far - although not without controversy. Flares being thrown on to the pitch and clashes between Croat and Czech supporters delayed the game of which the Republic made a late stunning comeback.
In terms of the tournament though, hopes would only be raised as more goals continued to flood in. A sensational Spain performance - one highly deviated from their drab opener - saw them hit three goals past Turkey, and just a week into the tournament, the goals were finally coming in. Belgium followed suit, finally showing themselves with a three-goal battering of Ireland thanks to Lukaku's double and Witsel adding to the tally.
Image: GOAL.com
The flood gates would be abruptly closed from then on in, though, as Hungary left it incredibly late - more reference to the theme that was prominent in the early legs of the competition - to get a point from their battle with Iceland. There was misery for Cristiano during a goalless draw with Austria, missing a penalty on his record-breaking appearance for his nation, showing yet another star who was unable to live up to expectation, closing out the second round.
With simultaneous kick-offs, you could be sure that on the first night more eyes were fixed on Albania, who stunned the Romanians with a lone goal as oppose to Switzerland's match with France, which was nothing like their World Cup thriller two years prior - with both teams secured going forward, they played out to a very dull affair. There was similar spectating 24 hours later in Saint-Etienne, with a similar ending for England: despite all their dominance, they were unable to breach the Slovakian defence. However, Wales couldn't have been more opposite, constructing a masterclass to destroy Russia and top group B.
Image: Mirror
Poland and Germany then moved on to the Round of 16 with one-goal wins over Ukraine - in a match between the previous tournament's co-hosts - and Northern Ireland respectively. Turkey would provide some late hope with a win over Czech Republic, meanwhile a wonder strike from Perisic helped Croatia past the reigning champions Spain.
In group F, Iceland with possibly the last kick of the game booked their spot in the knockouts with a last-gasp goal against Austria, while in possibly the best group stage game of the lot, Cristiano Ronaldo's heroic double forced a six-goal draw with Hungary. And, to close out the stage, it was a routine win for Belgium as Nainggolan fired them past Sweden, but the Republic of Ireland gave them some third-place hope when they stunned Italy.
Barring the odd few thrillers, and a scattering of golazos, the group stage had everyone waiting for more quality. The format of the game did clearly make for such events, and aforementioned many teams were willing to go for the draw knowing that the insurance policy of making a third-placed finish still lingered. 69 goals scored over the course of 36 games didn't exactly scream entertainment, and the tactical evolution of more sides to defend made things stale at times.
It was almost a given, then, that penalties would make regular appearances in the knockout stages. Right off the bat, a nail-biting shootout would see Poland edge Switzerland in a game which featured one of the strikes of the tournament, an acrobatic volley from Xherdan Shaqiri. Later that day, in yet another colossal clash of the British home nations, an own goal from McAuley would send Wales moving on past Northern Ireland. In the evening came one of the most dreary games of the lot, when Quaresma sent Portugal through with an extra time goal after some terrible action.
France survived a scare from an early Ireland penalty thanks to Antoine Griezmann who fired the hosts onwards right before world champions Germany finally kicked into top gear when they ran rampant in a three-goal mauling in Lille. The weekend would be concluded with Belgium, who produced the biggest win of the tournament when they thrashed Hungary, showing the whole continent what they were truly capable of, featuring a moment - or moments - of magic from Eden Hazard.
Image: TodayOnline.com
Making up the last two quarter finalists were first, Italy, who, in one of the more memorable games, saw off the reigning champions with yet another fine masterclass. They hit early, and survived an onslaught before another late sucker punch by Pelle sent them rolling on. It was an opposite emotion for England though, where disaster struck against the Icelandic minnows who eliminated them with a 2-1 win, not only causing uproar back in the shores, but sending their opponents famous thunder clap viral.
Portugal's theme of being unable to win in 90 minutes would continue when they survived the penalty shootout against Poland after being tied two goals apiece, then their opponents would be revealed as Belgium who made history to reach the final four. They ended up pummelling the Welsh with a comeback after Nainggolan's belter, delivering another tournament shock.
Image: Getty Images
There was some cause for concern in the following evening, when even the quality of German penalties had deteriorated - something you don't hear often. After a 1-1 draw over the course of 120 minutes, at times a bizarre, but mostly nail-biting shootout would present Germany as winners, finally ousting Italy when it mattered. France were much more cool and collected, against Iceland of all, hitting five past the courageous underdogs after running wild in the first half. With that, the final four was set: Germany, France, Portugal or Wales would emerge as European Champions.
Image: USA TODAY
Portugal would be first to book their spot in the grand-final, ending the dream of Wales with two second half sucker punches in quick succession from Nani and Cristiano Ronaldo. It was their first win in regular time, while Wales, although defiant, fell to their opponents, but were able to leave the tournament with their heads held high.
24 hours later in a rapturous Marseille, France would be confirmed as their opponents as a delightful double by Antoine Griezmann doused the Germans after a tactical stand off. The prolific Frenchman continued to break ahead as the tournament's very best. So it was set: Portugal vs. France, in the final of Euro 2016.
Talk about an anti-climax. Over the course of 90 minutes, a moth on the injured Cristiano Ronaldo was the most interesting thing to happen. Without their captain, the Portugese marched on to extra time, after Griezmann came close with headers, opening up for Eder to unleash a terrific driven effort midway through the added allocation, which would separate their sides. Portugal had done it, becoming the kings of Europe. However, that final did little to restore the reputation of the competition itself; ending it all on a very sour note.
Image: TheStar.com
UEFA have stated that a similar format will continue in the future, and should they stick by their guns then excitement for the next European Championships will be heavily reduced. As much as their were great moments, there were just too many minutes and too many matches where spectators regretted the time they wasted. The format, combined with the emphasis on defensive tactics, didn't spell the best of football. It speaks volumes when Portugal finish third in their group and then go on to win the tournament.
But regardless, they are the champions and deserve the credit. What's more at blame is the format and the natural evolution. Maybe this wind of defence will blow by; maybe it won't. Unfortunately though, Euro 2016 will soon be forgotten.
Complete Euro 2016 coverage