Hungary 0-4 Belgium
Belgium overcame a resolute opposition to demolish Hungary and make a huge statement en route to the quarter finals, following a superb performance in Toulouse.
Toby Alderweireld found goal after 10 minutes as he knocked on De Bruyne's set piece, before Hungary stood firm and tested Courtois on several occasions.
But they would soon wither, as Batshuayi came off the bench to place a simple tap-in home after Hazard's sublime assist, before provider turned scorer by dazzling defenders and pocketing Belgium's third.
Carrasco finished the rout late on, as the "Red Devils" showed the continent what they are truly capable of.
Image: UEFA EURO
On what was a spectacular evening at the Stadium Municipal, Belgium came surging out of the blocks as they forced their opponents on the back foot. Controlling the ball at ease, the Red Devils were eager to open up channels down the wings before Kevin De Bruyne registered the first shot of the contest, firing over the bar from beyond the area. Minutes later, the Manchester City man forced a stop from Gábor Király, albeit an easy one as the keeper held it low.
Romelu Lukaku subsequently had himself a cluster of chances as his nation looked to ramp up the intensity. He was stopped at the near post after turning to shoot when a ball was knocked down, moments after Hazard's fizzing cross was almost converted. It was one-way traffic from the outset as Marc Wilmots' men.
Just ten minutes in, and an already inevitable goal would come to fruition. Fouled around 30 yards out, Kevin De Bruyne stood over a dangerously free-kick from the left. It was curled in over the defenders and Lukaku, to where a freed Toby Alderweireld was poised to thump a header over the keeper and put the Belgians ahead.
Image: UEFA.com
Hungary had a mountain to climb, but the task was becoming increasingly more difficult as their foes were not taking their feet of the pedals any time soon. Barring a few long balls forward which were adequately dealt with and an uncharacteristic slip from Courtois which gave away an ineffective corner, they just couldn't get a foothold on the game. Instead, Lukaku slipped a pass to put De Bruyne through but the keeper kept it out as Belgium looked to extend their lead.
Toby Alderweireld, however, wasn't too close to doubling his tally after he blasted well over the bar after Lukaku held it up and rolled it outwards. Nonetheless, chances would continue to come, with the counter attack allowing the leaders to flex their proverbial muscle, outnumbering them at all areas. Dries Mertens found space to run in behind on the right, but crossed early straight into the hands of the keeper, who then caught De Bruyne's header after he was picked out with a pass over the defence.
Image: Getty Images
Hungary continued to sigh with relief after more chances were squandered, this time after good link up play between Nainggolan and Lukaku ended with the latter having a stab which was never threatening goal. They'd also have their 40-year-old trouser-wearing keeper to thank, as Gábor Király produced a fine save to tip De Bruyne's peach of a free-kick on to the bar. It came about after Mertens was fouled a few yards from the box, where it got up and over the wall towards the corner.
Nainggolan then fired wide from far out before De Bruyne was stopped on the right again by the keeper, as hints of frustration began to emerge. That opened up a couple of opportunities for the Hungarians late in the half, providing Courtois and teammates with a stern reminder of their threat, as Gergő Lovrencsics' attempt whistled over the bar. Not so long after, Dzsudzsák dragged his shot wide, but the captain lead his team into the interval still behind, while Belgian came close on a final occasion.
Mertens again left his teammates groaning after Hazard played him on in the right of the box, giving him plenty of time to have a strike but it was denied, with a chance after the ball ricocheted getting blocked. It could have been more than the one-goal margin at the half, but either way, Belgium were on top.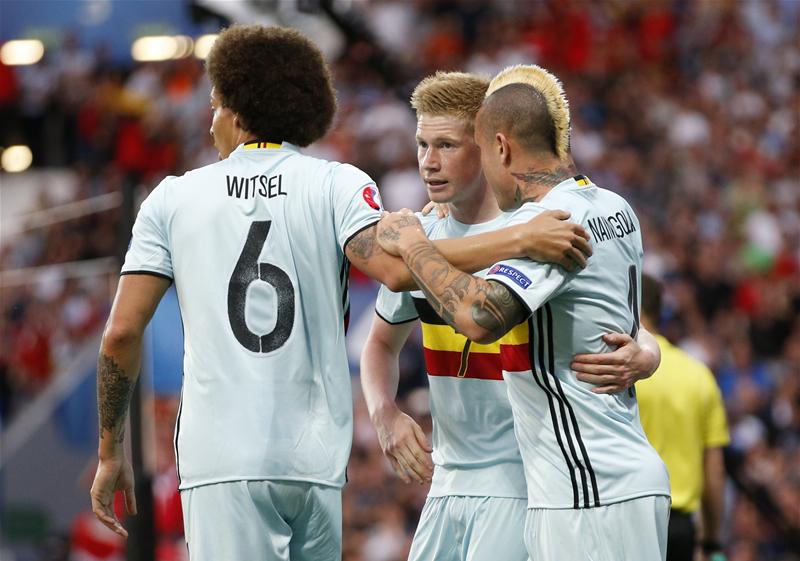 Image: Squawka
In the early minutes of the second half it looked like things would just be a replica of the second, as Eden Hazard stung the palms of Király, cutting in on to his favoured boot after a dazzling run down the left flank, before Mertens tried to volley from a corner but it bounced into the hands of the keeper. However, after that, Hungary began to push forward with their chances still alive and kicking.
Without the ball, an aura of vulnerability surrounded the highest ranked FIFA side going into the competition. Ádám Szalai couldn't keep it down as he fired off target, before attacking a dangerous cross from the captain Dzsudzsák which was courageously stopped by Vermaelen, paying the price for his courage as he painfully played on.
Thibaut Courtois then tipped away a deflected swerving effort from Pintér, as Hungary refused to give in while Belgium were doing all they could do extend the lead and stamp out the dwindling flames of a comeback. That save happened after Lukaku's audacious attempt to duplicate what Ronaldo did against Hungary a few days prior, flicking it on at the near post, was well off.
Roland Juhász then had Belgian hearts racing when the ball dropped to him after a free-kick, and he unleashed a strong strike that fizzed past the post. It remained a lively affair, with Belgium then having a go themselves as Hazard's crosses caused all sorts of trouble, as did De Bruyne who missed the mark.
After Lovrencsics scuffed his lines after a bursting run down the right, Michy Batshuayi would have a tournament debut to remember after he replaced Lukaku before scoring with his first touch. Hazard was the architect, after a cross from the right came back out to him on the left, where he exploded down the wing to set up a perfect cross to his compatriot, requiring a simple tap-in to double the lead and extinguish the Hungarians.
Eden Hazard would then deservedly get a goal to add to his own collection, scoring his first ever at a major tournament in some style. Yet again, Belgium were rampant on the counter attack, blitzing down to the Chelsea man who came in on the left before unleashing a superb strike to the far corner to put an exclamation mark on a sensational performance by the skipper and his teammates.
Image: UEFA
Courtois preserved his clean sheet with a fine save, before another break saw Carrasco plot a spectacular fourth goal as he placed it past the keeper to the far corner, giving them the highest tally in a single game in the tournament, while blitzing their way to the quarter-finals.
More Euro 2016 coverage