Griezmann Startles Bayern as Atletico Reach Champions League Final
Bayern Munich 2-1 Atlético Madrid (Aggregate: 2-2)
Antoine Griezmann stung Bayern Munich on the counter attack to pay dividends with a crucial away goal as Atlético Madrid punched their ticket to the 2016 UEFA Champions League final through a spirited denial of the Germans at the Allianz Arena.
Penalties were missed from both sides as Jan Oblak palmed away Müller's effort in the first half while Fernando Torres was denied by Neuer to finish the opposition off later in a thrilling game where referee Cüneyt Çakır had his work cut out.
Bayern's domination in the first half was palpable and ultimately defined by Xabi Alonso's free kick which deflected in the wall and past Jan Oblak as the Germans controlled at will.
But in the second, a changed attitude and a difference making counter attack as Torres played Griezmann through before he placed it past Neuer with a one-on-one opportunity would prove the difference, even when Lewandowski nodded in from close range to set up a nervy conclusion.
Image: Getty Images
Bayern fans made for some spectacular pre-match visuals as the visitors kick started the action, although were chased down within seconds and surrendered possession as the Bavarians looked to impose themselves. Guardiola watched on intently from the sidelines as they worked some space down the right to no avail.
However, Atlético were still embracing the lead that they had, on aggregate, while potentially looking to add to it. While Torres was offside when he took a swipe at Neuer's goal, Filipe Luis worked well on the counter before Gabi forced Neuer to make a comfortable save from long range.
In the grand scheme of things, however, those attacks would be dwarfed by the amount of attacking initiated by Bayern as the first half progressed. As navy shirts set up shop to do all in their power to keep the hosts out, Koke charged down Ribéry while Vidal's shot flew off target and Lewandowski was unable to get a clean connection on Costa's cross.
Still it was far from domination at that point, rather just a cluster of half-chances that could have developed into more threats, as was the case with Vidal forcing Oblak to clutch on to his shot from afar. When their opponents did attack, the instances were few and far between, but sometimes got the pulses raised, especially when Gabi managed to fire a shot at goal, only to be stopped by Neuer.
The game's first major chance was registered by Robert Lewandowski, but the man who gave him that opportunity should certainly have scored. A perfect ball over the top to Müller helped him get in front of 3 defenders onside, with just the keeper to beat, but instead he scooped it back to Lewandowski's whose shot was from a tough angle and was saved by Oblak.


Image: Getty Images
While this game was being contested in Europe rather than the states there was an impromptu Block Party, to quote the term differently. Godín got in the way to stop Vidal's shot while other Atlético defenders did similar to throw their bodies in the way to thwart the chances from the German champions.
Bayern Munich were handed a dangerous opportunity just after half an hour of play, after captain Philip Lahm saw his shot fly over the crossbar. Positioned on the outside of the semi circle outside the area, and with a wall of bodies proving a tough obstacle, Xabi Alonso stepped up for the duties.
The Spaniard struck it low and it took a significant deflection of Giménez and found its way into goal to spark celebrations across the city with the Bavarians now poised and ignited to inflict further damage.
Image: UEFA
With the visitors struggling under the pressure, Giménez was let off by the referee on a first penalty appeal for taking down Lewandowski, which many agreed with. But, he rode his luck and it didn't pay off, as a push in the area gave a penalty to Bayern, and an opportunity to really take the wind out of Atlético's sails.
But Jan Oblak had other ideas. The Slovenian went to his right and kept out Müller's penalty while the danger was eventually cleared as his team managed to keep up the fight. At this stage the Allianz Arena was a pressure cooker, even the managers were hot headed as Simeone and Guardiola were separated.
Atlético's passing grew sloppy and Bayern were able to chase them down at every opportunity, but they wouldn't find another goal to add to their collection despite a dominant half. Atlético needed the interval badly while Bayern were smelling blood - but would have to wait 15 minutes to act on it.
Lopsided possession stats and 16 attempts by Bayern to Atlético's 2 typified the first 45, but Simeone made the changes necessary to give them a chance to stun the Bundesliga champions. They played with little fear to start the second half, chasing down the Germans in possession and defending sufficiently on all occasions.
A slice of luck by the bounce of the ball was to thank, or Lewandowski would have had a clear cut chance. What was initially a clearance from Xabi Alonso evolved into a long ball opportunity, which the Pole couldn't keep in control as Godín was chasing him down - soon enough though, Atlético absorbed enough and came back with a counter of which Atlético never really recovered from.
Fernando Torres and Antoine Griezmann linked up brilliantly with a perfectly timed pass to send the Frenchman one-on-one with Neuer, holding his nerve throughout the duration and subsequently silencing the Munich stadium. While it may have been marginally offside, Torres knocked it through the gap and it was down to Griezmann to wait for Neuer to rush out, and slotted a left footed finish low past Neuer.


Image: Getty Images
With extra-time now out of the equation, Bayern were indeed winded. But after a short silence the fans were soon back in full voice as their side controlled possession to try and claw their way back to the opportunity to play in the final in Milan - and Lewandowski was as potent as ever when the opportunity came knocking.
Despite struggling with his first touch on some occasions, when he needed a first-time header into an open net, no more needed to be asked. A perfect cross from Alaba to the far post was knocked back across the face of goal by Vidal, to Lewandowski where he simply guided it in and put Bayern back within touching distance: a goal away now from progression.


Image: Getty Images
Time is precious - Atlético wanted to make it go as fast as possible though as they ran down the clock much to the chagrin of the Munich players. Coman was wasteful on multiple occasions as the clock ticked down, from firing over, to making a poor touch when the ball came to him from a corner, while Carrasco came to Oblak's rescue when the keeper managed to stop it but not eradicate its presence from the area.
Just as Bayern turned up the heat, another swift counter attack opened up a huge opportunity. Yet again, referee Cüneyt Çakır was the subject of much fury from the players when he awarded a penalty after Fernando Torres was felled by Javi Martinez on the edge of the area. On further observations it appeared that the challenge took place just outside the box. Thankfully for Bayern, Neuer did them justice.
Almost identical to the Müller penalty missed earlier in the game, Torres went for the left but the keeper went with him and kept it out, igniting passions and setting up for a photo finish at the Allianz Arena, with Bayern loading their artillery in a do or die attempt to end the curse of dropping out at the semi final stage of the tournament.
Image: Getty Images
David Alaba's shot took a cruel deflection when it bounced on to his path from a corner kick, and Lewandowski couldn't scoop it back into dangerous territory in the dying seconds - both were unable to beat Oblak nor get Bayern in the final, thanks to some courageous defending by Atlético who refused to let up in their defensive effort, nullifying the attacking and greeting the final whistle with pure emotion as they once again reached the finals of the Champions League - where they will get another shot at winning the tournament for the first time after an unsuccessful attempt in 2014.
Talking points and analysis
Cüneyt Çakır under fire:
The Turkish referee certainly didn't have an enviable position when put in charge of this match, and there were plenty of debatable decisions throughout. The most significant instance was awarding Atlético a penalty, had that decided the game then the backlash towards him may have been amplified. The penalties given can be discussed for days to come - that's if they would have been scored. But there's two reasons why they weren't...
Image: DFB
Keepers shine even with no clean sheets:
Jan Oblak may have conceded one more than his counterpart, but he was just as good if not better where the penalty saves typified the matter. Manuel Neuer helped lift spirits by stopping Fernando Torres from the spot while Oblak made save after save, keeping reliant on all situations even with deflections or tough bounces. The Slovenian helps to summarise the true spirit of his club, when their defence was infiltrated he was there to be reliant as ever.
Atletico startle another superpower:
Bayern Munich became the next name to join the list that have been beaten and nullified by Atletico. Since they lost it shows that it wasn't dominant, but they did enough to win - they held firm and kept the chances out, and regardless of how much Guardiola loaded his team on an attacking standpoint, they were unable to break them to the extent of winning the tie. With their bags packed for Milan, one more team could join that list in the final.
Déjà vu for Guardiola and Bayern:
For a third successive season, Pep Guardiola's Bayern Munich were knocked out of the Champions League semi finals by a Spanish team. It means that he leaves the club and moves to Manchester City without having brought European supremacy for the Bavarians, something that the media will be quick to nitpick and criticise. They've been consistently within that elite bracket, just not the best of it. Each time they have fallen to a different type of challenge.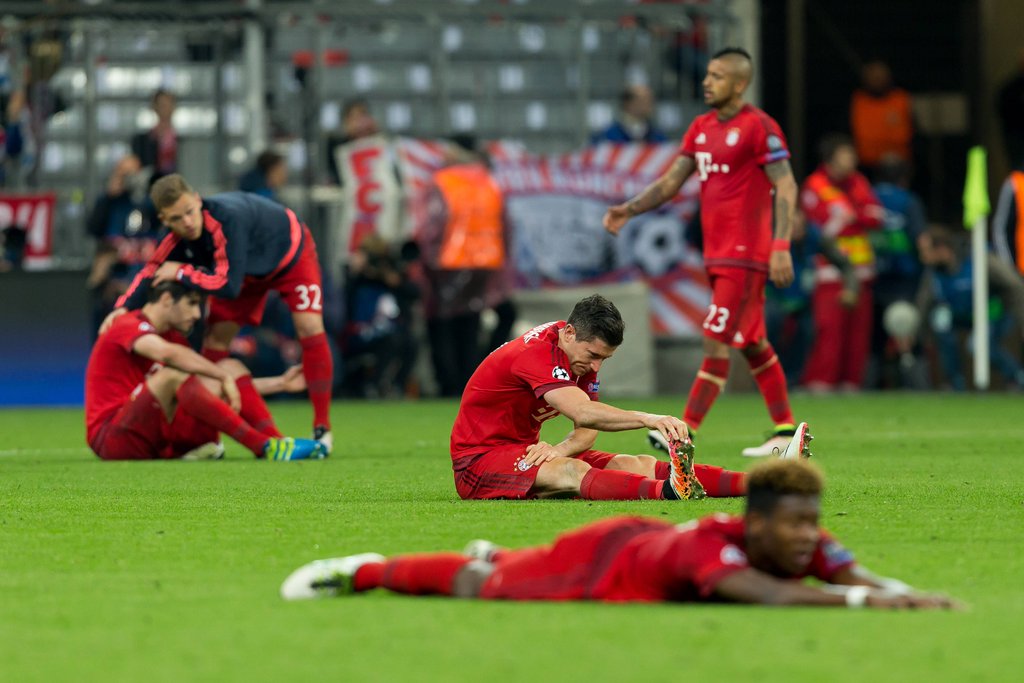 Image: Getty Images
Attack vs. defence:
This is how it was billed and on most parts played as well tactically. Bayern tried to force Atletico to spread wide but Simeone was on the ball with changing the team's shape throughout the game and piling the numbers at the back to make sure nothing sneaked through in the final few minutes. Bravo to Simeone, one footballing genius trumps another over the course of two legs.
Reaction
Writer's reaction:
That was a thoroughly enjoyable game from start to finish. Bayern's fans made the whole situation that little more special, it evolved into a spectacle and while Manchester City and Real Madrid may attract more viewers, this tie definitely deserved the bulk - there was that essence of bad blood and the way Atletico kept out till the very end was just testament to all that they personify: Win at all costs. Bayern came close but not close enough, Guardiola may be subject to backlash of that. Brilliant game with a bit of it all, good to see the penalties didn't have a definitive impact on the game as they were contestable. —
Nisar Khan
Fernando Torres:
"It was very intense. I'm so proud of this team and group. It's fully deserved."
Jan Oblak:
"Everyone played well. We knew it would be difficult but we fought until the end."
Pep Guardiola:
"I am proud of my team. We played very well in Madrid and in the match here."
Diego Simeone:
"The missed penalty gave us life. We showed our strength as a team. We also played our part on the counter attack. In the end, it was like a movie. I'm proud of what is happening to the club, we're beating the best teams in the world. I hope that destiny will help us this time too."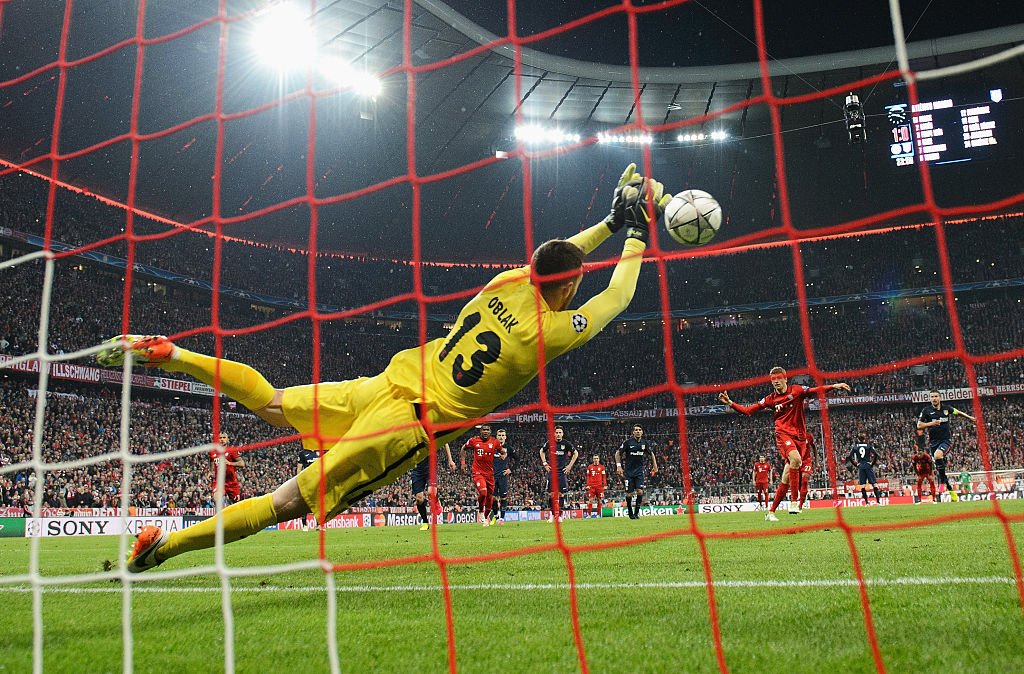 Image: Getty Images
Match stats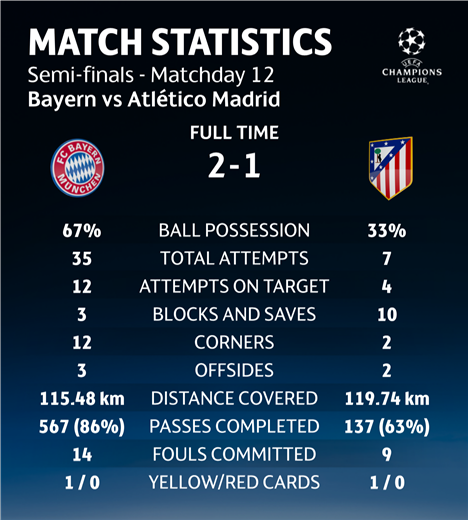 Graphic: UEFA
As it happened