Atletico Madrid 1-0 Bayern Munich
A magical moment of individual brilliance from Saúl Ñíguez gave Atletico the advantage in their semi final tie against Bayern Munich, as the hosts held firm in front of an energetic Calderon attendance.
The Spaniard sliced past multiple opposition players before unleashing a low attempt past Manuel Neuer's goal after 10 to separate the sides, while Fernando Torres and David Alaba rattled the woodwork in a frantic second half.
Referee Mark Clattenburg certainly had his work cut out with two teams packed with players willing to leave it all on the pitch. Bayern Munich set the pace early when they got the action under way, holding possession until Filipe Luis thwarted a move between Alaba and Vidal down the right flank.
Revved up and ferdent with the spirited Atlético fans spurring them on, the hosts weren't afraid to run forward and create some early opportunities. Saúl Ñíguez let fly from long range which Neuer stopped comfortably, as Diego Simeone's men pressed with little fear and unsettled the Germans.
Antoine Griezmann and Fernando Torres were getting plenty of service in the early minutes, as the Frenchman was unable to convert Filipe Luis' long ball, before Torres' shot was eventually tame when trying to sneak it past Neuer at the near post.
It took just over 10 minutes for the Rojiblancos to reap the rewards of their early hard work. But it wasn't from any fine build up, instead, it was the magical brilliance at the hands of Saúl Ñíguez, who eluded five players in total when he weaved in and out with hypnotic footwork to breach into the box, and then clip a left footed low shot off the far post and into goal.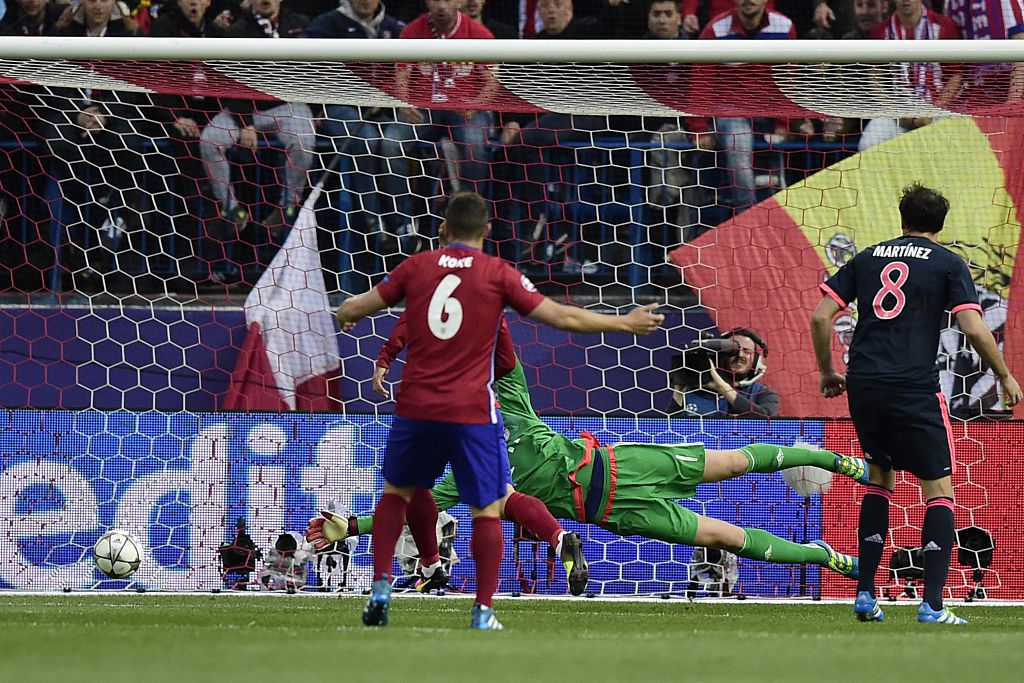 Image: Ge
Jubilation was echoed around the Calderón thanks to the special talent in Niguez, who left Bayern's defending men with no option to stick a foot in with the risk of giving away a penalty. But the lead may have been short lived had it not been for the heroics of José Giménez, heading the ball out from underneath his own post after Vidal's header almost drifted into goal. He put his life on the line later in the first half too, receiving a boot to the face for his efforts when looking to head away a ball that was eventually volleyed by Robert Lewandowski.
With the wind behind their sails, Atlético continued to attack while Bayern were not their usual selves up to that point. While they did make the net bulge - only the side of it though as Douglas Costa was unable to find the gap with Oblak off his line, it remained in Atlético's favour.
When Pep Guardiola's side attempted to encroach into the final third, they were blockaded with a rigid wall of Atlético men to keep them out. The pressure seemed to be overwhelming them at times, when it resulted in a counter attack, and had it not been for the two remaining defenders, Griezmann would've been through. The striker had another opportunity which was stopped at Neuer's feet at the near post when he just beat Martinez on the right side of the area.
Philip Lahm's appeals to the referee for a suspected hand ball on the part of Augusto Fernández, but it remained more an echo of frustration as the World Cup winning captain looked to drive it from far out. For a team that can be savage goal wrecking machines on their best day, Bayern did seem uncharacteristically wasteful on the counter; first with Coman crossing it into the hands of Oblak when Vidal headed away a free kick on the other end, and then when Thiago's free kick was missed by all targets and fell into the hands of the Atlético shot stopper.
Image: Getty Images
Diego Simeone vigorously waving his arms at the referee in stoppage time showed how good Bayern looked to end the first half. They stepped it up a notch and began to pile up the attempts as Atlético constructed a fortress around their area. They did make it to the half-time whistle with their lead in tact.
The home fans showed no signs of letting up when the second half began, but Bayern did have more of an attacking presence to them, and the pattern for the remainder of the game would soon become clear: Atlético would need to defend their one goal lead with their best efforts while Bayern compiled their best resources at them.
Robert Lewandowski was hovering in dangerous territory as the wingers looked to serve him with a game changing opportunity. David Alaba was incredibly close to scoring with an absolutely rifling attempt from the 35 yard region, swerving menacingly and just hitting the underside of the woodwork.
Oblak was then called into action when he gratefully clutched onto Javi Martinez's dipping header which almost crept in low en route to goal. Atlético had their resources under a major strain and now were experiencing a bit of a possession drought; and their attack attempts were few and far between - Juanfran's run down the right was short lived and it was back in Bayern hands.
Pep Guardiola recognised the changing of momentum in the contest and did something to facilitate it, by bringing on Ribéry and later Müller to help change the contest. But it was Douglas Costa who created the next worrying moment for the home fans through a clever lobbed effort that just landed on the roof of goal.
Image: Getty Images
Arturo Vidal then let fly, a similar region from Alaba's shot a few minutes prior, looking to find the top far corner with a strong effort, but Oblak palmed away. Bayern were throwing a lot at Atlético now, but the Spaniards were absorbing it, and then inches away from killing the game off.
Fernando Torres was fed through by Griezman on a lightning fast counter attack by the Madrid contingent, and he skipped past Alaba on the right of the box, and got a shot off with the outside of his boot before another defender got to it, making its way past Neuer but coming back out off the inside of the post, and the subsequent shot was deflected safely into the keeper's path.
Atletico had their late opportunities but they remained committed to an outstanding defensive effort, leaving Bayern void of ideas in stoppage time. Benatia and Vidal were both stopped by Oblak late on, and the Calderon roared at the full time whistle with a crucial first leg win.
Image: Getty Images
Talking points

Relentless pursuit:
Atletico's desire to win the game certainly shone through at the Calderon, with Diego Simeone's men showing just how well drilled they are in terms of keeping disciplined and winning at all costs, putting it all on the line to defend and so on. That's the hallmark of champions, although there remains a heap of work to be done. Their pressing really overwhelmed Bayern in the first half and forced errors, with the goal changing the whole balance, while in the second they prepared for a big hauling of attacking from Bayern, and when it came they defended with resilience. They neutralised Bayern just as they did Barcelona, two of the best teams in the world and when its played in Atleti's favour, their attacking power is simply nullified.
Super Saul:
If there is ever any goal worthy of winning a game, its that one from Saúl Ñíguez. At just 21 years of age the Spaniard justified exaclty why the big clubs are gunning for him, as he left Bayern bystanders by weaving in and out before a superb shot towards the bottom corner. It was an iconic moment in front of the Calderon and one that will go down in the history books and potentially, part of a special European triumph for Rojiblancos.
Image: Getty Images
Guarding Guardiola:
In a battle of tactical masterminds, Simeone trumped Guardiola on the night. They did both - attack and defend, pressing en route to a huge win and preserving the lead that was cultivated by Ñiguez. Bayern do have their struggles away from home, and it showed that when the two subs came on in Ribery and Muller had no convicting effect on the game. He has work to be done to leave a lasting legacy at Bayern, it may not last long sans a European title.
Post match reaction
Fernando Torres: "It was a fantastic night and I'm happy for all Atléticos. We've got the lead we wanted. We kept fighting, that's what we do. Bayern have a level few teams have but we kept on doing our thing."
Manuel Neuer:
"We weren't at our best in the first half. We were more aggressive and courageous in the second, though."
Image: Getty Images
Match stats
Atletico 1-0 Bayern FT:

Shots: 11-19

Possession: 37%-63%

Chances created: 7-16

Pass acc.: 64%-87%

No way through.

pic.twitter.com/UHyAHxNBff

— Squawka Football (@Squawka) April 27, 2016
As it happened