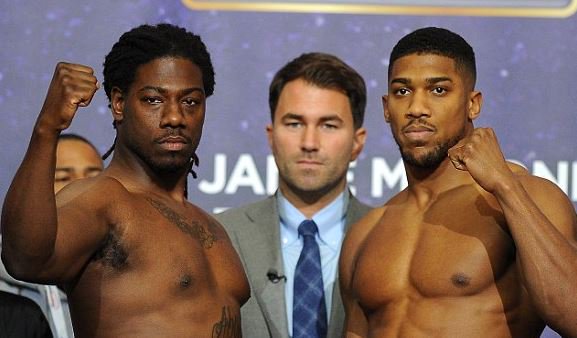 With the ultimate prize comes an almighty gamble as Britain's heavyweight prospect Anthony Joshua (15-0, 15KO's) quests to become the heavyweight champion of the world when he locks horns with IBF titleholder Charles Martin (23-0-1, 21KO's) at London's O2 Arena on April 9.
A stacked card of pay-per-view boxing featuring George Groves, Lee Selby and Jamie McDonnell is headlined by the IBF heavyweight title showdown - comprised with unpredictability, obscurity and ultimately, two forcible giants duelling it out for the biggest prize in boxing.
Charles Martin, standing at 6ft 5ins tall, acquired the IBF heavyweight title in peculiar circumstances when his opponent Vyacheslav Glazkov suffered a torn ACL in his right knee - subsequently handing Martin the victory in the third round of their January bout.
The title challenger Joshua, 6ft 6ins tall, is unbeaten in 15 contests with 15 knockouts and has rapidly emerged as the sole figurehead of British boxing which is apparent through the immense yet daunting expectations on his shoulders; widely held by millions under one nation that envisage him to become the country's eighth world heavyweight champion.
Joshua, renowned for his lean and muscular structure, weighed in at at 17st 6lbs, one pound lighter than Charles Martin who tipped the scales at 17st 7lbs ahead of his first title defense at the O2 Arena on Saturday night.
Martin, born in St. Louis, boasts an impressive undefeated record in 23 as a professional, but similarly to Joshua, is yet to defeat a truly world class operator and cement his spot as one of the heavyweight's finest talents. There is an array of imponderables concealed within both men, but ones that promise to be explosively unlocked once that opening bell rings.
29-year old Martin, father of four, will earn an estimated $8.5 million, which is more than Andre Berto made to fight Mayweather, and Tim Bradley and Amir Khan are making against Manny Pacquiao and Saul Alvarez, respectively. This fight - regardless of the outcome - will bolster the family's financial security for generations to follow.
Therefore - it's a risk well worth taking - even in Martin's first title defense since beating Vyacheslav Glazkov in January. A year ago prior to Saturday night, Martin was miles off the heavyweight map. Ultimately, the plaudits should go to Tyson Fury. The man who pumped new, exciting life into the division by defeating the undisputed champion Wladimir Klitschko, was stripped of the IBF title over mandatory issues, and to Martin and Joshua's delight, allowed this title fight to proceed.
"I'm going to knock him out. It's not going to go the distance," the calm, assured American said. I got dynamite in both hands. I'm a killer inside the ring."
While many would be inclined to agree, I don't. In fact, one could argue that Martin's knockout ratio is a false reflection of his true power. A prime example - Raphael Zumbano Love - absorbed barrages of straight lefts, a mix of hooks to the head and body - and didn't fold over. Martin, who portrays a relaxed, laid-back character outside the ring, implements it inside the ring, too. Slick on the feet, he calculates the opponent and seizes the best opportunities to strike, whether it's on the back foot counter-punching, or bombs away on the inside.
Martin measures the range well; he can dictate the pace of a fight to his propriety. But he lacked a ruthless zip, and a fearful killer instinct against Zumbano Love who, yet still failed to go the distance, took Martin into the final round and succumbed to clubbing but sloppy strikes. After 10 rounds, it required a sustained attack - without reply - to finally dismiss the Brazilian.
Anthony Joshua, 26, and confirmed to pocket a staggering £10 million in his world title challenge, brutally knocked out Zumbano Love in two rounds. Joshua capitalised on his physical superiority, and applied constant pressure. Yet, with calculated patience intact, he hunted like a lion in purse of its overdue feed and thoroughly battered his opponent in the opener. Everytime he landed upstairs, the legs helplessly sagged.
Within four minutes of domination, Joshua countered the 'lazy' jab with a fast, pummeling straight right that floored Zumbano Love and caused the referee to stop the fight. The different in power - one punch power - is apparent. Joshua can end this with one shot.
However, the longer it goes, the better it becomes for Martin. He is yet to box the 12 championship rounds, but his stamina and durability is proven. Joshua has never fought past seven rounds - and against Dillian Whyte - he gassed midway through the contest after a brief but torrid two-round shootout.
Martin doesn't carry as much muscle than Joshua - therefore going the distance is a much more viable option for him than Joshua - who has a ginormous body frame that despite so far working to his advantage, could haunt him in the latter stages of fights where he potentially begins to tire.
Look for Martin to box off the back foot early; standing upright attempting to counter Joshua's 'expected' onslaught in the opening rounds. Much like Vyacheslav Glazkov, the champion used his sharp reflexes to avoid shots, and regularly scored with his own left hand on the back foot.
Joshua's best chance of victory is an early knockout, but with such high stakes, expect both men to cancel each other out in the early stages. The battle of the jabs will be key; Joshua uses it to set up the dreaded straight hand.
Against Dillian Whyte, the body of Joshua looked extremely vulnerable and was one of the big opportunities for Whyte to score shots. Martin noticeably switches to the head and body throughout fights, and he may target Joshua's midsection early in an attempt to extract his stamina and take the contest into the trenches, where Joshua is untested.
However, that is and only could be a gameplan. Martin won't be able to execute that plan for 12 rounds - at some stage in the fight Joshua will connect with the right hand - and that's where I feel he will come unstuck. Joshua has knocked out every victim on his resume, so back him to add Charles Martin onto the list.
The fifth round seems like a viable bet. After potentially cancelling each other out with the jabs, Joshua will unload, and win the International Boxing Federation title in the process.
The UK bookmakers price Joshua an overwhelming 1/5 favourite, with the rather unappealing option of backing a knockout available at odds of 3/10 in the majority of markets. Meanwhile, the undefeated champion, though many seemed to have backed him at wide prices, remains the underdog at 7/2.
Final prediction: Anthony Joshua def. Charles Martin by fifth round TKO