As the French trump the English in a battle of the champions, the winners look to finally step up to another level while its effectively over for the opposition
Chelsea, Paris Saint-Germain, UEFA Champions League knockout stages. Those words have been assembled in so many sentences over the past few years that even déjà vu doesn't do justice to summarise it. But when the French and English champions met for another time with European hopes on the line, it was another harrowing recurrence for one, and a seismic opportunity for the other.
Replicating the result in the first leg from the Parc des Princes, Laurent Blanc's men were spearheaded by the irresistible force that is Zlatan Ibrahimović, a man ageing just like fine wine as his stellar performance sunk Chelsea at Stamford Bridge.
The Swede continues to prove that he has few limits - every boundary crossed, every odd defied. But what appears to be a little more stagnated is the club he currently leads the attack for, the Ligue 1 champions. Last season they overcame the Blues in thrilling circumstances only to stumble into eventual champions and crash out. Parisiens wil clutch on to the same faith that the side can go even further this time.
Of course, no progress is yet to be made. They nervously await the quarter-final draw in the hope that it brings more fortune this year, even if it doesn't, Les Rouge-et-Bleu should be ready to take on all comers in the continent.
But for their opposing numbers, the last glimmering light in a disastrous season fizzled out too quickly, just like their title hopes fell apart at such an early stage in the season. What Guus Hiddink has done to steady the ship remains admirable, but now it's a waiting game - these next few months are a period of transition, as the manager said, albeit a painful one.
Their fight back was as short lived as their Premier League title defence. Diego Costa responded adequately to the "fraud" claims by PSG's social media comrades with an equaliser, but when their Swede superstar netted the winner, that was all she wrote to the tale of the Londoner's spell in Europe - they may not be back for more than a year or so.
Eden Hazard was swarmed by the media sharks after a subdued performance in which a half-time shirt swap was his most notable highlight. The Belgian winger was yet again unable to light up the game like his past-season self, instead lighting more rumours that he's headed out of the club.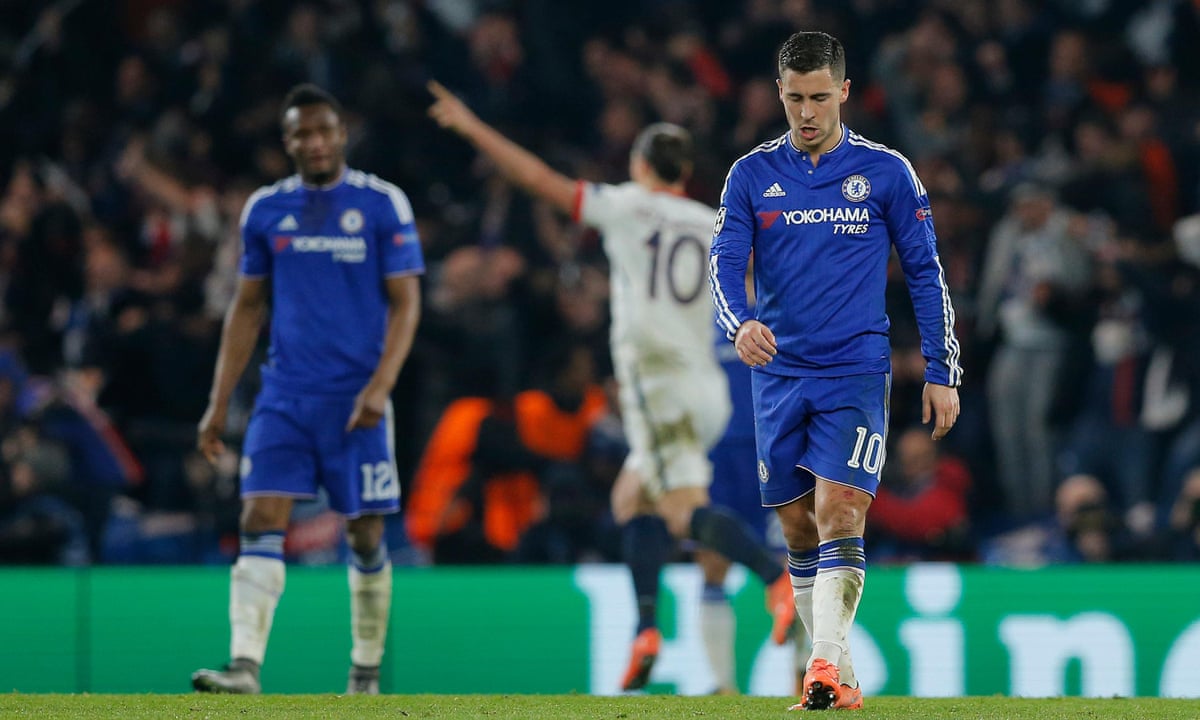 Image: The Guardian
Despite causing the away fans some early nerves as Costa stung the hands of Trapp after some shaky play round the back, Paris grew in their enthusiasm for the game just as progressively as Chelsea felt themselves being barged out the contest; first Di María's shot was taken away from goal by Ivanović, a sign of worse things to come for the hosts.
Ángel Di María continued to probe, and soon catalysed a swift attacking move for the opener. Slipping it through to Ibrahimović, he opened up the move which was finished by the Swede placing a ball across goal and numerous bystander Chelsea defenders, before Rabiot was able to smash it in from close range. Just like that, through a personification of a killer instinct - essential for European success - the lead was extended, juxtaposing with the lapse in concentration from the Blues - not exactly champion material.
The second 90 minute instalment to the tie wasn't all doom and gloom for Chelsea however. Diego Costa finished of a slick move in which prompted a reaction from fans that showed they were down but not out, but like we've seen far too many times this season, they were unable to strike again while the iron was hot. It just cooled down too quickly.
Some poor finishing and hesitation stopped them from punishing Paris for their errors. It showed that Blanc's men still have some tightening up to do when scaled up with the big dogs, but time is on their side. After managing to grind it through the times in which Chelsea opened up the chances, they came out with the all important winner, and finally they can march on.
But the whole tie was in excess of symbolism. Chelsea were close but far from close enough, Paris did the job but at times it was far from flamboyant, and again one of these sides would leave at the other's expense.
In the weeks that follow, Paris will want to break out from the top eight in Europe to may be the top four, and from there things really do step up. Are they capable? Certainly. Will they need luck? Everyone needs luck. If things go their way, they could be asserting themselves for European dominance,
just like our partners at DerSuarezBite predicted
.
For Chelsea, their season is effectively over. Of course they can now look to rebuild, but it ended without much of a fight. The final part to their tragic ballad has been written, but at least now they can move on.
But we will have to wait and see whether that will soon turn to regret, maybe if they did one or two things differently, they will rue it dearly: it could have been them that end up making history, not their French counterparts.