The Irish star suffers a devastating loss as he taps out to Nate Diaz at UFC 196
Nate Diaz became the first man to defeat Conor McGregor inside the Octagon after he forced the Irishman to tap out to a rear-naked choke in the second-round of their Welterweight bout in Las Vegas.
Taking the fight on 11 days notice, the UFC veteran wobbled The Notorious with a strong combination, and continued to push the pace until the Featherweight champion - in a rare desparation mode - shot for a takedown and felt the wrath of Diaz's esteemed ground game.
After managing to escape a Guillotine choke, McGregor would find himself on the receiving end of a pummelling when mounted, turning on to his back where Diaz locked in the choke, and the world was stunned as McGregor tapped out.
Image: Getty Images
It was part of a remarkable night, ending a quite remarkable fight that featured the outspoken European controlling the fight in the early exchanges, through the first round. Battle scars would show quickly for Diaz, sporting a cut on the right eye after numerous left hand shots.
But with both trading relentlessly on the feet, something had to give - and eventually it was McGregor, drained after pressing forward throughout the fight, and eventually being finished when the fight hit the mat.
That stunning submission finish was however one of two on the night, the other which featured an amazing comeback victory for Miesha Tate who finally got her hands on UFC gold. In Holly Holm's first defence as champion, The Preacher's Daughter used effective striking to control the first round, but she would be relieved to hear the sounding of the buzzer for the second round after a dangerous choke attempt by the challenger.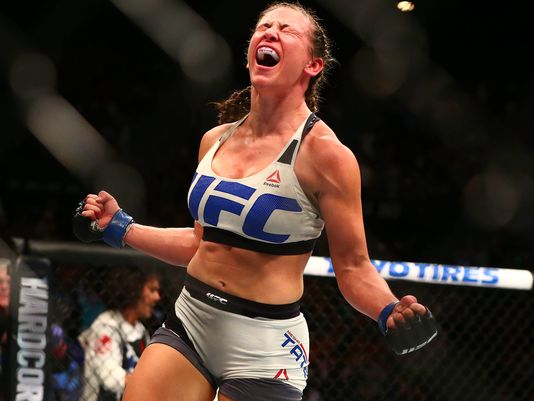 Image: USA TODAY Sports
It looked like it was locked in at times but Holm refused to give in; and she would keep Miesha at a distance right up until the fifth, with patience paying off well as Tate wrestled her to the ground, clung on to her back, and despite attempts by the former boxing champion to flip her forward, Tate would get the body hooks and vice on the choke, with the champion passing out leading to a very dramatic switch of the titleholders.