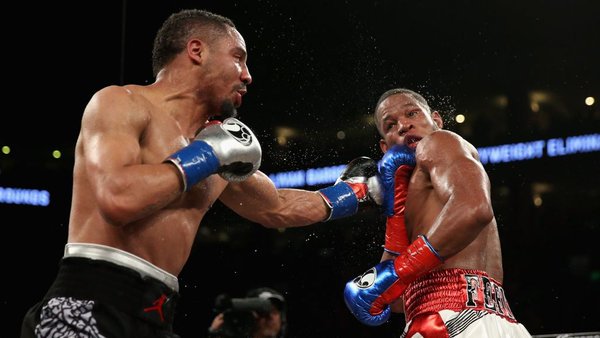 In masterclass style, Andre Ward (29-0, 15 KO) won a unanimous decision over Sullivan Barrera (17-1, 12 KO).
It is unremarkable that Ward out boxed Barrera. What is more significant is that his power was effective at light heavyweight. Although I credit Ward's knockdown of Barrera in the third round – from a left hook to the temple – more of a flash equilibrium connect, the effectiveness of his power was a contributing factor to Barrera's hesitation to throw a larger volume of punches.
From the beginning Ward was countering Barrera with jabs and left hooks (and occasionally a short right hand).
HBO commentators observed that Ward appeared flat-footed with less movement than usual. As Ward explained, his experience allows him to gauge his opponent such that excessive movement is not necessary and would only serve to drain his energy.
I would also add that excessive movement would have helped Barrera, as counter-intuitive as that may seem. For what Ward needed was small quick movements – particularly of the head and torso - to slip Barrera's initial offense and smother any follow up sequences. This is more easily achieved when the lower body is firmly grounded.
Moreover, rather than smothering Barrera's attempted combinations, moving around the ring would have allowed Barrera to follow up with punches in which he could fully extend. The movement that Jim Lampley sought for in Ward was more suited to Arthur Abraham – a more stocky and compactly built fighter - than Sullivan Barrera.
In the preview, I stated that Ward's vulnerability would be with Barrera's right hand as well as potentially getting countered when attempting the body jab. Ward eliminated the right hand in two ways, by either stepping back out of range or bending underneath after allowing Barrera to come too close to him.
This required keen awareness of range.
He several times feinted the body jab anticipating a counter, and used it cautiously by never dipping into the path of a counter when he used it.
If there were a warning that Andre Ward could have received, it would have been for bending below his belt line. This alleviated Ward from having to do any guesswork about where to position himself. The taller Barrera would not be able to land anything if Ward kept going to that position. But by no means was this Ward's only means for defending himself: as mentioned before, he stepped out of range; he also used his rear guard to catch Barrera's right hands; he used his lead shoulder to roll away.
Rather than moving in and out to land his signature left hook, he allowed Barrera to close the distance for him by over-extending himself.
It was Barrera – the taller man with the greater reach – who needed to move his feet to create angles. Ward forced the bigger man to have to move like he was smaller in order to penetrate his slick guard, something that Barrera is not hardwired to do.
One would have liked to see Ward do more on this inside in the way of offense. He was so effective slipping in that range that it made sense to be offensive there too.
Anyway, Sergey Kovalev and Main Events will push to make Kovalev-Ward as quickly as possible. The longer it is delayed, the more time Ward is given to acclimate himself to light heavyweight and the extra tuneups will only make him sharper.
On a final note, Kovalev, as the champion, should fight all top contenders, and that still includes Sullivan Barrera.