In his relatively short career inside the Octagon, Conor McGregor had done things never seen before, changing the fight game, revolutionizing the industry and asserting his place in history. But just when you thought The Notorious was about the unthinkable, Nate Diaz went and conquered all those mountains when he stunned the world with a second-round submission of the Irishman.
A massive blow to his stock value would be initiated at the hands of just two taps in response to a vicious rear-naked choke in the main event of UFC 196, throwing up a number of questions about his fighting game, and choices - it appeared that Welterweight was a step too far.
Report:
Conor McGregor vs Nate Diaz as it happened
With the media circling like sharks ready to pounce and trash his name throughout the internet, a painful few weeks if not months of recovery will follow for the Featherweight champion as he looks to rebuild from a crushing upset.
Image: Getty Images
Now we shall see what he's truly made of. He last suffered a loss in 2010, and that certainly wasn't followed by a catastrophic fall - he went on to become the Featherweight champion and dethrone the pound-for-pound king in just 13 seconds.
But a loss, on this stage, and with this much exposure is going to take a lot more to get back. Despite the loss he remains champion of the Featherweight division and will be thrown into the deep end upon his return, and what should follow before that point is going to be a rigorous change of his ways.
The Notorious did remain humble, even in defeat. He knew he was beaten and accepted it. While he told Joe Rogan that he would take it like a man, it's much easier said than done - this loss will take a lot of damage, and not just financially.
When you have an athlete like McGregor whose words often proceed him; and a man who polarises masses of people, its hard to remember the true person behind it rather than the larger-than-life character.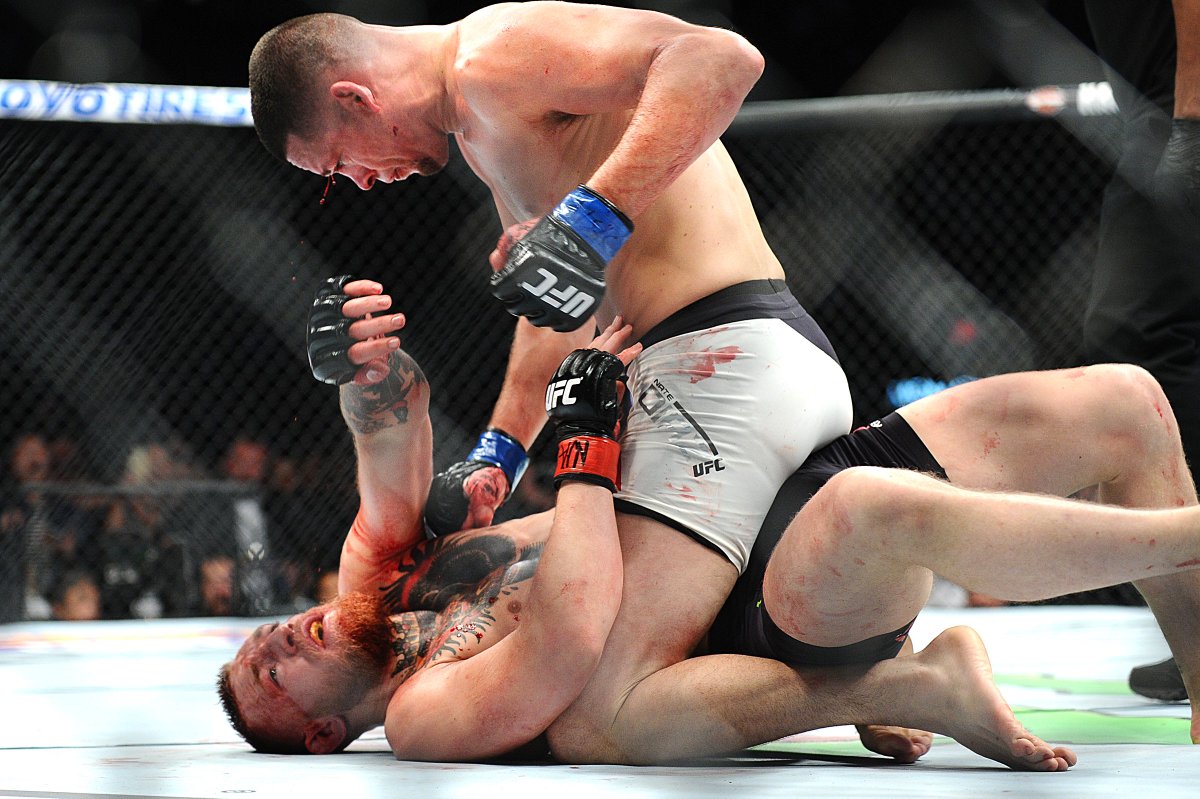 Image: LA Times
For now, you can expect Conor to take a few weeks off before even rumours of a rematch circulate. In that time period, McGregor may have to re evaluate what the future holds and how he can change his training and his approach to fights.
Nate Diaz, the lesser prepared fighter, ended up submitting him. The jiu-jitsu defence on the ground faltered, and McGregor suffered his first loss inside the Octagon.
The Featherweight belt is the next priority. 145 pounds could determine his future fate after a devastating loss at Welterweight, which shows maybe why weight classes are involved in mixed martial arts.
At the end of the day, we know almost for sure that Conor is not going to retire. Its about setting off on the right foot. There is no doubt that McGregor can bounce back; its just a case of how quickly - the Featherweight title still waits to be defended, but before it can be, The Notorious has a painstaking road to recovery.