Image: UFC.com
Dominick Cruz completed one of the most inspiring comebacks in the history of mixed martial arts as he reclaimed the Bantamweight Championship which he never lost, edging TJ Dillashaw in a close yet spectacular fight in Boston's TD Garden.
A showcase of the very best footwork in the sport, we also got to see the heart of champions. Coming off a lay-off from another ACL injury, Cruz looked in his element, thwarting Dillashaw's game although it was no plain sailing, as the champion would not give his belt up without a fight.
"Nobody is retiring me except for me. I've been there too much," the champion told Joe Rogan after his phenomenal victory. "There's no such thing as rust. Rust does not exist unless you don't train hard enough."
There certainly was no ring rust, Cruz's trademark movement was at its very best, drawing TJ in with footwork and landing shots fluidly.
"I felt like I won decisively. I felt like I won the fight. I want to do it again," the former champion Dillashaw explained. Remaining classy in defeat, he congratulated Cruz but claims for a rematch are viable - even though the Bantamweight division is really hotting up at this moment in time.
Anticipation reached fever pitch in Massachusetts as it was finally time for one man to step up and fully claim the Bantamweight throne. There was certainly no love lost between the pair, with Dillashaw shunning Cruz's attempt to touch gloves before the battle. When they did engage, it was a thing of beauty, sequences, spectacular movement and elite level mixed martial arts. Both contenders were having success but also missing on a few occasions, with the Champion finishing the round with pressure up against the cage.
TJ Dillashaw would continue to push the pace and pursue a knockout with his renowned aggression, looking for head kicks as his opponent circled to the left. However, Cruz would land two huge takedowns within quick succession as both continued to be closely matched.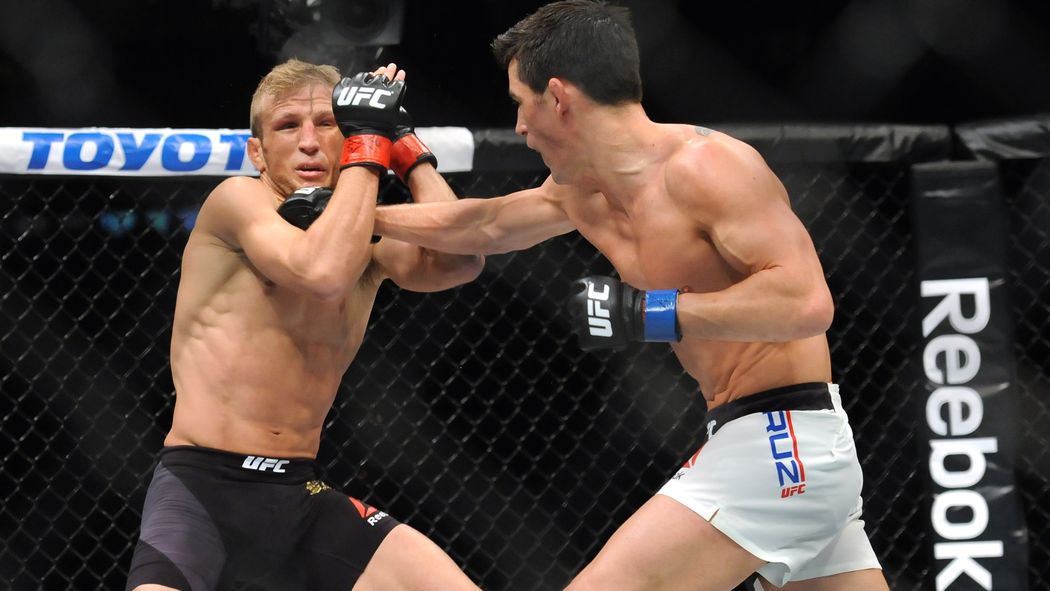 Image: BloodyElbow.com
Dominick Cruz would begin to gain comfort and demonstrate his best skills when his opponent's game plan was abandoned. Looking nothing like the fighter in the first round, Dillashaw went head hunting, chasing the challenger around the cage while mixing it up with a few leg kicks to slow him down. But it was all playing into Cruz's plan, making his opponent miss and clipping TJ late on the sound of the bell.
Elusive as ever, Dillashaw was made to miss, and there were signs of frustration from the Elevation Fight Team athlete. But mobility was also reduced with big leg kicks taking out the spring of Cruz's step and making him go for the takedown. Dillashaw then would land a takedown for himself and get Cruz's back, but the experienced challenger managed to scramble out, although it wouldn't make him immune of a big combination to end the fourth.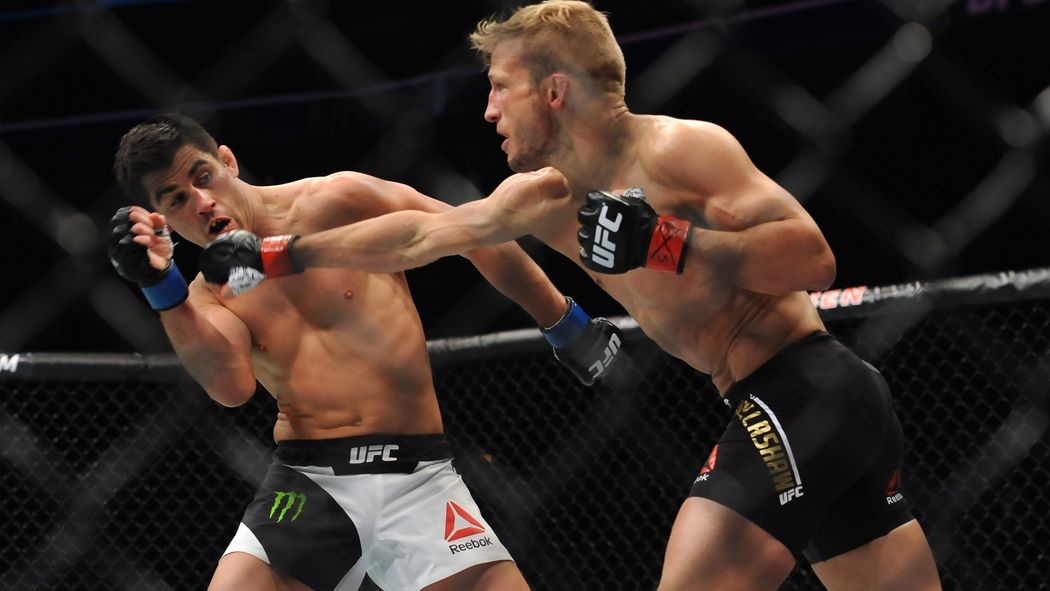 Image: BloodyElbow.com
With one round left, it was all to play for. Dillashaw had a sense of urgency with him as he attempted to ensure defence of his championship. Landing a massive right hand and huge kick, TJ was setting up for a thrilling finale, finding the mark with crisp body kicks while leg kicks would continue to slow down Cruz's moment. In the final seconds of the fight, everyone in the arena was on their feet and applauding, as the two traded before showing respect to each other at the end of the bout.
What followed was a nervous wait from both camps with the fight being so close that the result was unpredictable. One judge scored the fight in favour of the champion, but the other two claimed that Cruz edged it, and with that the career odyssey was complete: Dominick Cruz had overcame all types of adversity and reclaimed the championship belt which he never lost.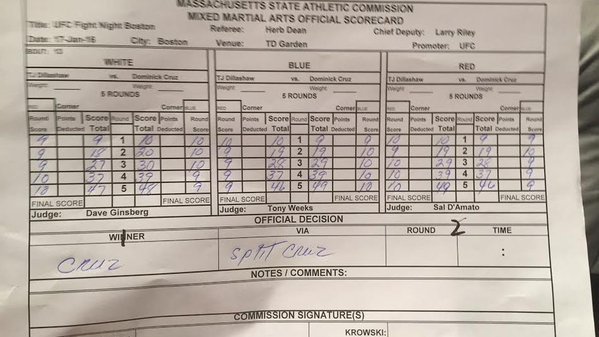 The judges scorecards after the fight.
In a featured Lightweight showcase, Eddie Alvarez would continue his march up the rankings as he edged Anthony Pettis in a razor close contest. "Showtime" showed that he had learned lessons of the past early on, defending well against the seasoned fighter as he pushed against the cage in search for a takedown. With the fight on a knife edge Pettis' striking remained effective although he didn't have much space to work with as Alvarez pressed forward and eventually found a takedown, but conflicting scorecards weren't just common with fans - the judges felt the same, with two scoring it in favour of Alvarez hence he walked away with the split decision victory.
Image: Yahoo Sports
Travis Browne marked his return to the Octagon by finishing a very game Matt Mitrione in the final round prior to the co-main event. The fans in Beantown did however pour scorn over "Hapa" early on for not one but two eye pokes on his opponent, which resulted in momentary pauses to the first two closely matched rounds. In the third, however, Browne would step it up a notch, landing flush and creating swelling on the right eye of Mitrione, before gaining full mount when the fight hit the mat and unleashing ground and pound for the stoppage.
Image: Esther Lin / MMA Fighting
Francisco Trinaldo outworked Ross Pearson for a majority of the main card opener utilising effective movement to counter the Brit's relentless pressure, finding the target on multiple occasions to ensure that his opponent's late third round surge would not sway the judges scorecards. The knees and kicks in the first two frames proved more than enough.
At times the main card may have been tepid, but the main event was anything but. Dominick Cruz has completed what many thought was an impossible comeback. The belt that he never rightfully lost is back in his possession.