Image: Zuffa LLC via Getty Images
Nothing encapsulates the fight business more than what goes down inside the Octagon. That's undisputed. Who else is undisputed is the new Featherweight Champion Conor McGregor, who dethroned Jose Aldo within a shocking thirteen-second knockout at UFC 194 in Las Vegas.
That switching of the hands of belt owners was one of two on the night, the other which saw Luke Rockhold capture the Middleweight strap through a domination of previously undefeated Chris Weidman right up to a fourth-round technical knockout.
Had it not been for mistakes made by the former champions, the scenarios may have been very different when the dust settled on the Vegas Strip.
But mistakes are what makes fighting what it is. If neither fighter made a mistake, it would hardly be a fight. In fact, nothing would really happen. Perhaps rather than mistakes, it is poor decision-making which lead to the end of Aldo and Weidman's seemingly untouchable reigns as world champions.
For the All-American Weidman, one spinning wheel kick allowed his opponent to take him down, and eventually mount him before some vicious ground-and-pound which left him a bloody mess and vulnerable to a fourth-round finish. Meanwhile the Brazilian Featherweight king Aldo left his chin wide open as he recklessly came forward, allowing McGregor to land flush with a counter left-hook and bring an abrupt end to his reign.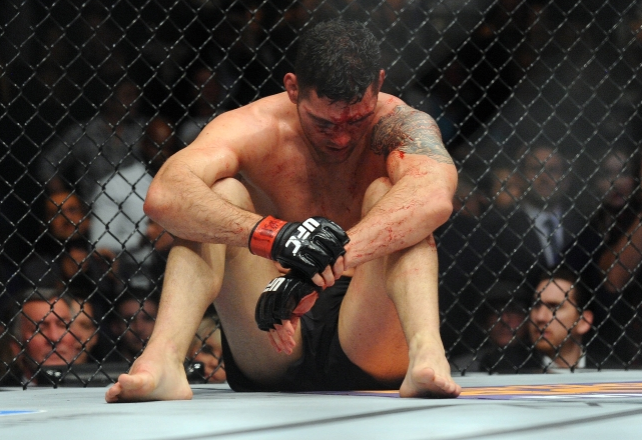 Image: FanSided
Take nothing away from the challengers and new champions though, they are deserving holders of the belt. Mistakes happen in the fight game, its about how you minimise those mistakes and pounce on your opponent's errors. UFC 194 was yet another demonstration about how delicate and volatile the fighting industry is.
Yet again, it's a night where the entire complexion of the mixed martial arts scene changes. It's such a calculated sport that every decision, every move, step, punch, kick, elbow, fist, takedown or whatever you do will either have ramifications or rewards. UFC 194 was another exemplification of this.
In the evening's co-main event, Chris Weidman made the mistake many minutes before he was actually finished. But had he not thrown that spinning wheel kick, perhaps Rockhold wouldn't have had the chance to pummel him on the mat and we would have seen a much closer fight, or maybe not. This beautiful game of fractions was at work once again.
Image: Boston Herald
Whether it was to prove a point about his athleticism and flexibility, or just to genuinely hurt his opponent, it was poorly thrown, ill-advised and quite reckless. On another day, the Californian may not have capitalised on that, but he did on the night and that's what counts. Either way, he remains a true and deserving champion, the fight remained close, maybe even in Rockhold's favour before but Weidman's decision to go for the wheel kick took all the chances away.
Of course that wheel kick also opened the former Strikeforce champion to become the first man to take down Weidman, and eventually gain top control. It was not wise, but who knows how Weidman's mind was working; if we knew how it worked his mind would be ordinary, and not a fighting one. To be a fighter, your mentality is unrecognisable.
"It probably wasn't the smartest move," the ex-champion told Joe Rogan following his devastating loss. At that moment though, even if it was a split second of the thought process, it seemed like a good idea at one small point. Maybe it would have worked on other occasions, but not on the evening.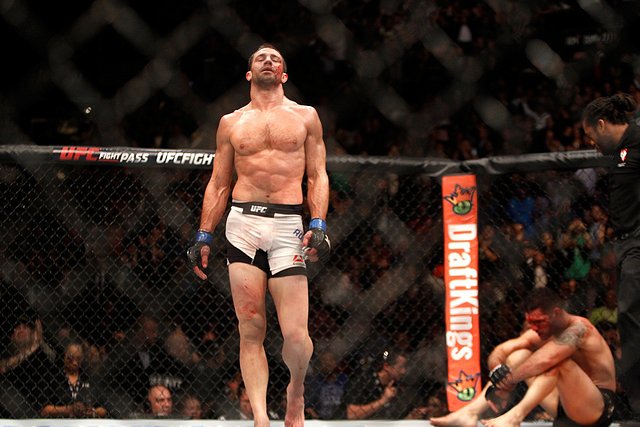 Image: LukeRockhold
Over in the long-anticipated main event, mistakes may have been made even before the fight began. Jose Aldo and Conor McGregor had looked into each others eyes more than a dozen occasions, allowing the Irishman to flourish with mental warfare. Aldo's mistake may have been letting McGregor inside his head, and that prompted another ill-advised decision when he took on his arch rival.
For many first-time watchers, they believed that Aldo refused to look into McGregor's eyes, but he does that for each fight. What did look quite unfamiliar from the Brazilian was his tension and lack of patience. Normally a calculated, ice-cold killer, his constant twitching, as McGregor described in his post-fight media obligations, allowed the Irishman to anticipate the right-hand feint then left-hook combination and act accordingly.
— TheSportMatrix (@TheSportMatrix) December 14, 2015
After watching the replay of the fight almost fifty times over, if not more through the abundance of Vines and social media coverage of the quickest title fight in the history of the organization, Aldo's centre of gravity was forward when he came in with the combination.
It wasn't that much of an error of his own though, you can bet that the former Featherweight king has attempted similar combinations in previous fights, but McGregor's reaction to it is what makes or breaks winners in the fight game.
Perhaps he rushed in to it slightly, too. In other fights, Aldo would calculate an opponent but leaving his chin wide open to a shot like that so early is where the mental aspect of the fight kicked in. It was however no lucky punch, McGregor's skill prevailed over all those other factors.
Image: Independent
More:
McGregor now the real deal in MMA
UFC 194:
Should we see the rematch?
13 seconds:
Aldo dismantles McGregor quickly