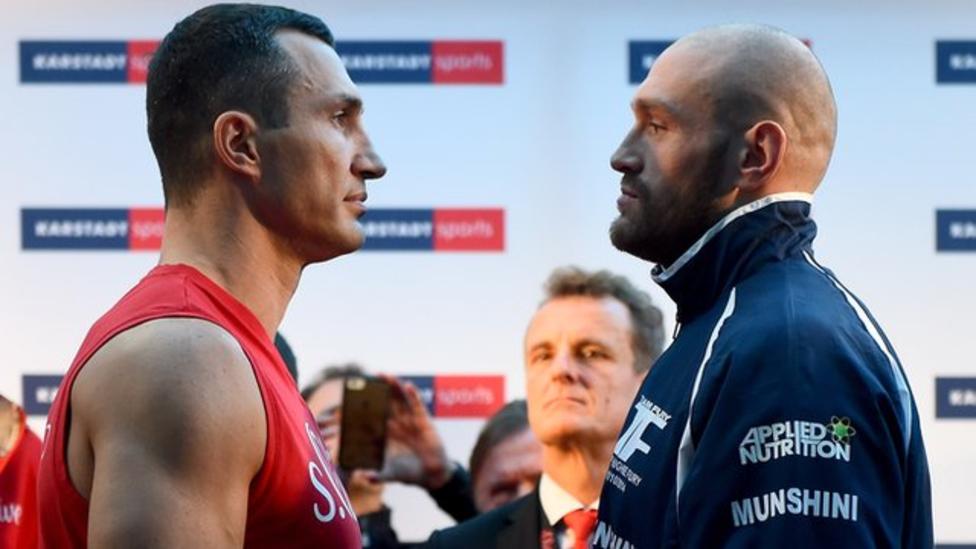 No prediction is safe; therefore, this must be a good matchup. There might be those who know Wladimir Klitschko (64-3, 53 KO) and Tyson Fury (24-0, 18 KO) so well as to know the smell of their breath and armpits – maybe those people can predict with certainty.
I am inclined to believe that it will go the distance.
For once something different: Fury has a height and reach advantage over Klitschko. For once no more clinching from Klitschko: Fury will try to box and dance around on the outside.
Klitschko, who has depended on his size advantage, will finally lose to a larger opponent? Let's go back to the bread and butter, things that are measurable.
Fury is large, but his height elevates his center of mass and slows down his footwork. When he moves at his pace, Fury is graceful because he is fluid and effortless. If he is forced to move any faster, his balance and defense may become compromised.
By contrast, Klitschko is very stiff and robotic from the waist up, which has not hindered him with shorter opponents. If anything, it made fighting tall quite natural for him. If Fury's footwork fails him, there is always the possibility that Klitschko will be a stationary target. (Last weekend, a slow-footed Saul Alvarez relied on counter-punching accuracy to negate his deficiency in foot speed.)
I would be inclined to give Tyson Fury a clear advantage were it not for the fact that his punches do not appear as devastatingly heavy as Klitschko's. The Ukrainian might experience a fist in the mouth, but I think he will still press forward.
If Fury absorbs punches from Klitschko well, it would seem academic for him to win a decision by outworking and landing cleanly on Klitschko who does not move his head.
Klitschko, who has gone entire fights not landing anything to the body, will want to land on Fury's midsection. It is hard to predict that he will do this, because he does not do it at all. Deciding that Klitschko will win relies on predicting that he will do things against larger opponents – move forwards, slip, move his head – that he never does against his smaller opponents.
Everything points to Fury winning by decision or Klitschko hurting Fury at some point and winning by knockout.