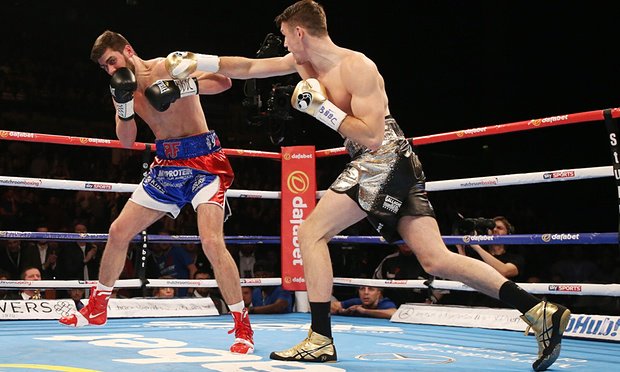 Callum Smith stopped Rocky Fielding in one round to secure the British super-middleweight title at the Echo Arena, Liverpool.
Smith, 25, put fellow Liverpudlian Fielding down three times before eventually finishing him off at the end of the first round.
The Echo Arena roared in anticipation. Two undefeated fighters, former amateur teammates from the same city locked horns in a battle for supremacy.
Callum Smith entered the ring looking calm and relaxed - the surprising boos didn't hesitate him one bit. Rocky Fielding, contrasting to that, was surrounded in raucous cheers and chants of "Rocky!"
The city divided - a crowd buzzing - the fighters announced - it was time for war. Both fighters took the centre of the ring immediately; Fielding initially looked to get the jab pumping but all of a sudden, his world came crashing down. The Liverpudlian was caught flush by a brutal right, then followed by a left hook from Smith and the crowd exploded as Fielding crumbled to the canvas.
With a smile on his face, Fielding got up at eight but he was badly shaken. Smith went for the finish, cramming in any shots he could to catch his rival clean but wisely, Fielding grabbed hold and bought himself a few extra seconds.
Then, in a terrific show of heart and determination, Fielding gritted his teeth and launched his own attack on Smith, who was also willing to trade bombs. Fielding switched to the head and body, but was caught flush again and soon found himself backed up on the ropes, guard high, just trying to get the head clear.

Smith pummeled the 27-year old with solid right and left hooks upstairs, then he varied his punches to the body to remind Fielding of his superb shot selection. Fielding showed immense heart, but he was way out of his depth.
The referee broke the hold which allowed Fielding to buy a few seconds, and then after enduring more attacks from Smith on the ropes, he showed character to bounce back and fire off his own shots. Smith backed up, showcased his tight defence while Fielding unloaded and then caught him flush with a stinging left hook.
After it seemed Fielding was slightly turning the tables, Smith impressed with his patience and control when under fire. Fielding tried to mount offence, but the legs looked horrible and it showed as he backpedaled against the ropes and Smith systematically sent him down for a third time. The crowd was red hot, and despite Fielding reaching his feet at the count of eight, the referee had seen enough and waved it off.
Ruthless and sensational from Callum Smith.
Smith: "Credit to Rocky Fielding, he came out and had a shootout and that's what the public wanted so it was a good fight while it lasted and I'm pleased to get the win.
"I said in the build-up he came across as a bit arrogant, but I am the better fighter and I just needed the chance to prove it. I think I showed that.
"I do believe 2016 is the year I do become world champion."
Smith's trainer Joe Gallagher: "Very pleased. Great win. It's great that both kids were willing to put it on the line.

"Rocky can come again. He's a good kid and a good talent, but the future is Callum Smith and I'll be pushing Eddie Hearn to get him that world title shot next year."
Fielding: "I'm gutted. Hats off to Callum, he's a good fighter. One punch changes the game. Fair play to him."
Analysis
Callum Smith was sensational. Simply sensational. As already seen in his previous fights, he showcases freakish power but also maturity that was expected tonight if the fight went further.
His shot selection was superb and he picked the right punches to really hurt Fielding and it worked. Smith will be looking to push on for the world title shot next year and he should definitely be confident of winning it.
As for Rocky Fielding, he said he was gutted and rightly so but perhaps along with Smith's unbelievable show of power and accuracy, the atmosphere could have gotten to him and played a part in his loss.
He showed amazing heart not only to survive brief attacks from Smith, but to unload his own attacks and try and put his 25-year old rival under pressure. Despite losing, like Joe Gallagher said, he is a good talent and can certainly come again.
It's a setback, but one he will learn from and use to bounce back in style.