Nico Rosberg beat teammate Lewis Hamilton to secure his third consecutive race win at F1's season-closing Abu Dhabi Grand Prix.
Rosberg lead for the majority of the race despite resurgences from Hamilton, eventually coasted to race victory and confidence heading into the winter break.
Kimi Raikkonen secured a podium, while Vettel, Perez, Ricciardo, Hulkenberg, Massa, Grosjean and Kvyat completed the top 10 positions.
Maldonado was the only retirement of the race after his collision with Fernando Alonso on the first lap while Jenson Button had a pit stop scare as Williams wrongly released Valtteri Bottas from the pit and collided into the rear-end of the McLaren.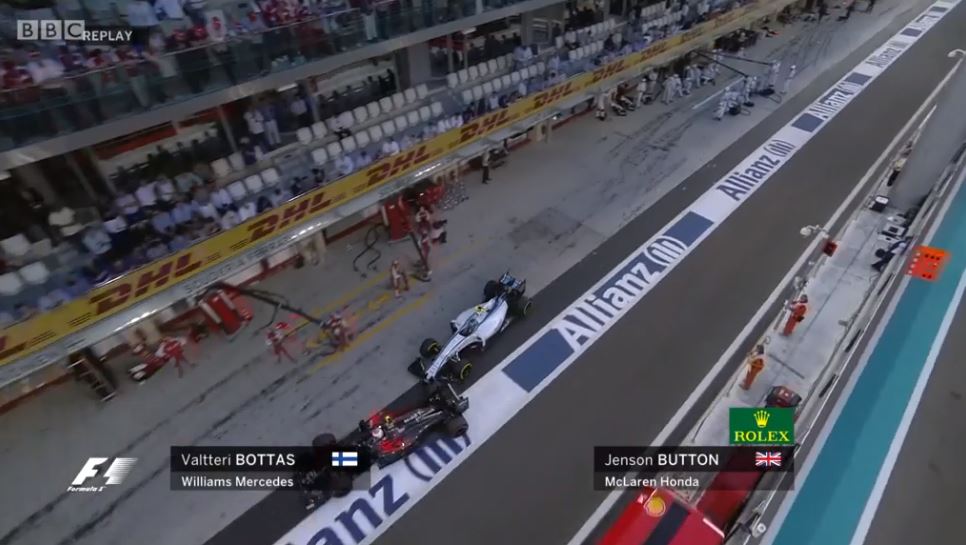 Nico Rosberg made a brilliant start and blistered down the pit straight while teammate Lewis Hamilton struggled to match him. Under pressure from Kimi Raikkonen, the Briton valiantly retained his second place.
Further down the field, Pastor Maldonado's race was brought to a halt after colliding with Fernando Alonso, who rebounded off a Sauber into the Venezuelan on the first corner. Alonso managed to escape, but immediately pitted for a new front wing. Sebastian Vettel made a fantastic start; pouncing from an initially dismal 15th place to a brighter looking 12th as Rosberg lead Hamilton and Raikkonen, followed by Perez, Hulkenburg, Ricciardo, Massa, Sainz (who leaped three places forward), Kvyat and Bottas filling the top ten places.
Prior to his pit stop, Daniel Ricciardo's intense battle with Nico Hulkenburg place resulted in a brilliant exchange of places before The Australian finally prevailed and secured 5th place. Meanwhile, Fernando Alonso, clearly at fault for Maldonado's retirement, was penalized with a drive-through penalty and a poorly-made call from Williams caused Valtteri Bottas to clip Jenson Button's rear-end; damaging his front wing and eventually returning to the pits for a new one.
On Lap 11, race leader Nico Rosberg switched to the soft compound tyre; allowing Lewis Hamilton to briefly overtake into first position but then eventually lost the lead, and even his initial second place before Rosberg's stop due to a flying Sebastian Vettel who hadn't pitted. Just over 10 laps later, Sebastian Vettel, Max Verstappen and Fernando Alonso also made their respective stops; marking Alonso's third of the race including his drive-through penalty and also Vettel's first pit of the race.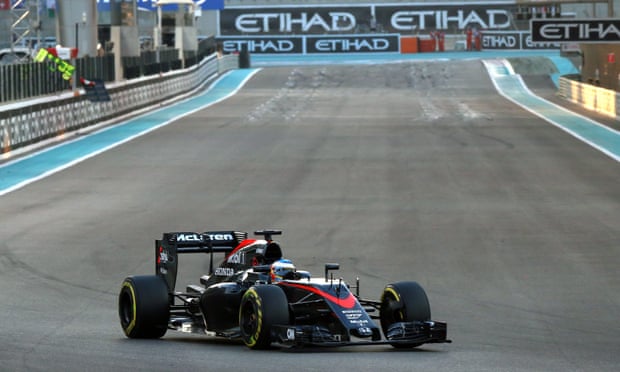 Further up the field, Lewis Hamilton gradually took chunks out of Nico Rosberg's lead and brought it down to a second and eventually took the lead for a second time when his German rival stopped. For Ferrari, though, Kimi Raikkonen lost valuable time in the pits after struggling to remove the front right tyre.
Lewis Hamilton, after retaining his lead, eventually made a pit stop himself and dropped first position to Nico Rosberg again. With just over 10 laps remaining, The Brit fell behind by 10 seconds but then gradually closed the gap to 7.5s. Meanwhile, on the penultimate lap, Romain Grosjean ended his Lotus career on a nice high with a swift overtake of Red Bull's Daniil Kvyat.
Subsequently, Max Verstappen was penalized five seconds off his race finish after an intense battle with McLaren's Jenson Button. Racing side-by-side, Verstappen was forced wide and re-joined the circuit ahead of The Briton but meant nothing in the end.