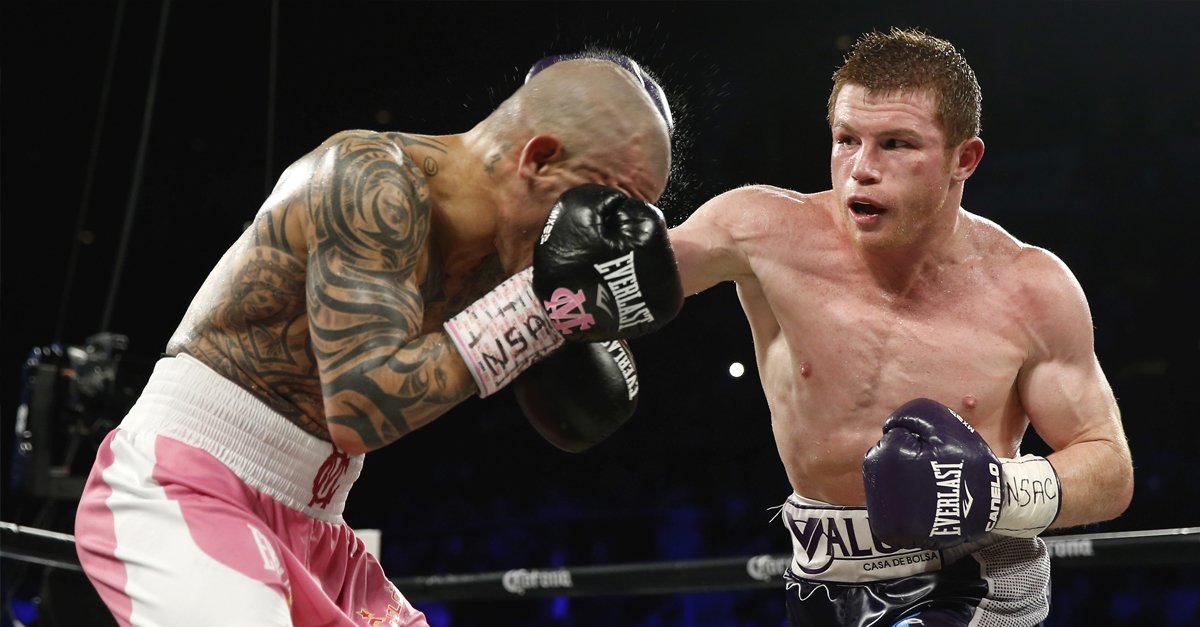 In every respect, Miguel Cotto was at a disadvantage against Saul Alvarez. Cotto is therefore more deserving of praise than either Alvarez or Gennady Golovkin for the mere fact that he was willing to challenge himself by even taking this fight against Alvarez.
HBO has taken great pleasure in denigrating the character of Cotto for his seeming unwillingness to fight Golovkin. Able to squeeze into 155 pounds, Alvarez is truthfully a small middleweight. Rehydrating only to around 157 or so pounds, Miguel Cotto is a small junior middleweight.
Golovkin's skeletal frame is clearly bigger than Alvarez's, even if they walk around at a similar weight due to Alvarez being a more huskily built athlete. Therefore, the size difference between Cotto and Golovkin is at least one-and-a-half weight classes, to be conservative.
In any case, the outcome of Cotto-Alvarez followed from logic. Alvarez was taller and longer, had better hand speed, was two-fisted.
But I offer a critique of these alleged great technical skills of Cotto. I would argue that Cotto does not show great technical skill other than great timing with his left hook. Cotto never misses an opportunity with his left hook. When he scores with the left, it is a beautiful sight; but he is always trying to score with the left hook, so sometimes it ends up being well timed.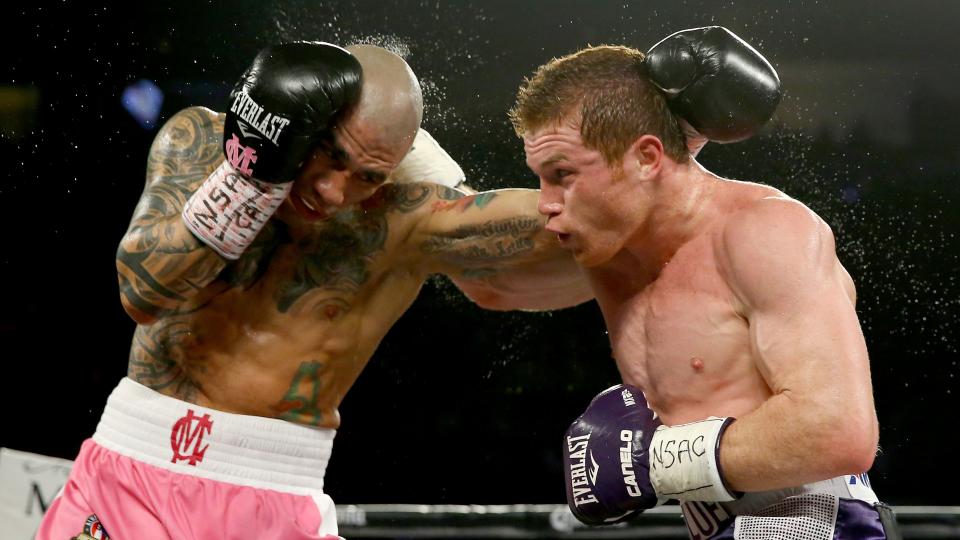 Cotto's technique is well-honed, but his tactics are questionable. For example, Floyd Mayweather's signature offensive weapon is the right hand; his shoulder roll defense facilitates use of his right as a counter. Miguel Cotto's use of the half-guard and shoulder roll inhibits his preferred left hook.
Mayweather has exceptionally long arms for his size, so he does not need to close any distance. Cotto, on the other hand, wants to land a compact left hook in close quarters; but his version of a shoulder roll causes him to move backwards. He wants to dance around the ring like Muhammad Ali, but he has short arms.
How Cotto fought Daniel Geale foreshadowed the problems he had with Saul Alvarez, and would have with Gennady Golovkin.
Round one was even, some body shots were landed.
Having felt out Cotto, Alvarez increased his activity in round two and began landing counter right hands over Cotto's jab. Cotto landed some lead right hands that scored but were not powerful. Alvarez began flashing uppercuts by round three.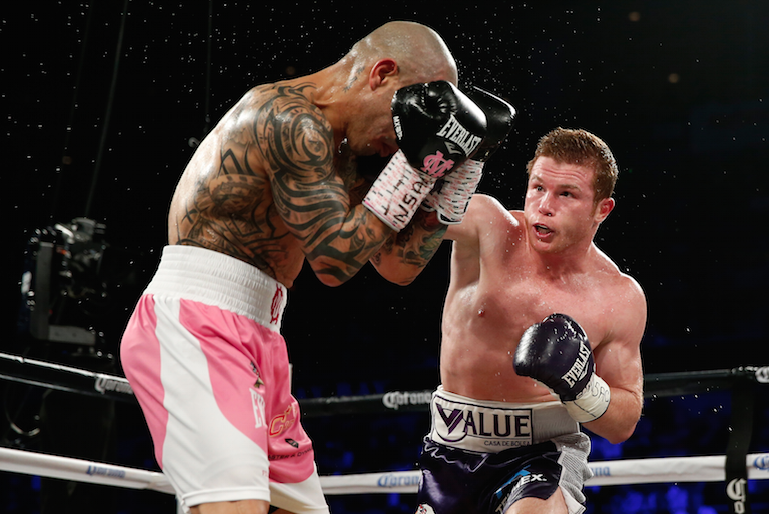 By round five, Cotto starts to look shaken up occasionally by Alvarez's clean shots to the head and body. In round eight, Cotto wobbled from a counter left uppercut to his jab. Cotto then desperately tried to fight back and slug it out momentarily as to end the momentum Alvarez was building.
Really, it was wrap by round three. The fact that Alvarez was throwing uppercuts at this point indicated that Cotto was timed and figured out. Cotto fights at one speed, does not feint, and is looking to land one specific punch. Alvarez was able to land the full arsenal of what was legal in boxing on Miguel Cotto by round six. Alvarez impressed with his timed counters – right and left uppercuts, left hooks, right hands – given that he was still new to just moving his head when he fought Austin Trout.
Saul Alvarez won via unanimous decision to become WBC middleweight champion. The scorecards were 117-111, 119-109, 118-110.
Alvarez has been given 15 days to decide whether or not to fight Gennady Golovkin or vacate the title. In the past week or so, Alvarez has stated that he would be willing to fight Golovkin if Golovkin came down to 155 pounds.
This indicates that Alvarez is not comfortable fighting larger men than himself and much of his success relies on his power advantage over smaller opponents. To be sure, defeating Golovkin would be more worthy of respect than beating a smaller Floyd Mayweather.
Of all the junior-middleweights moving up in weight, Alvarez has the best change to beat Golovkin. If Alvarez fought Golovkin two or three years from now – so that his skeletal frame could grow some more pounds, for Alvarez can get down to 155 – I would favor him to beat Golovkin.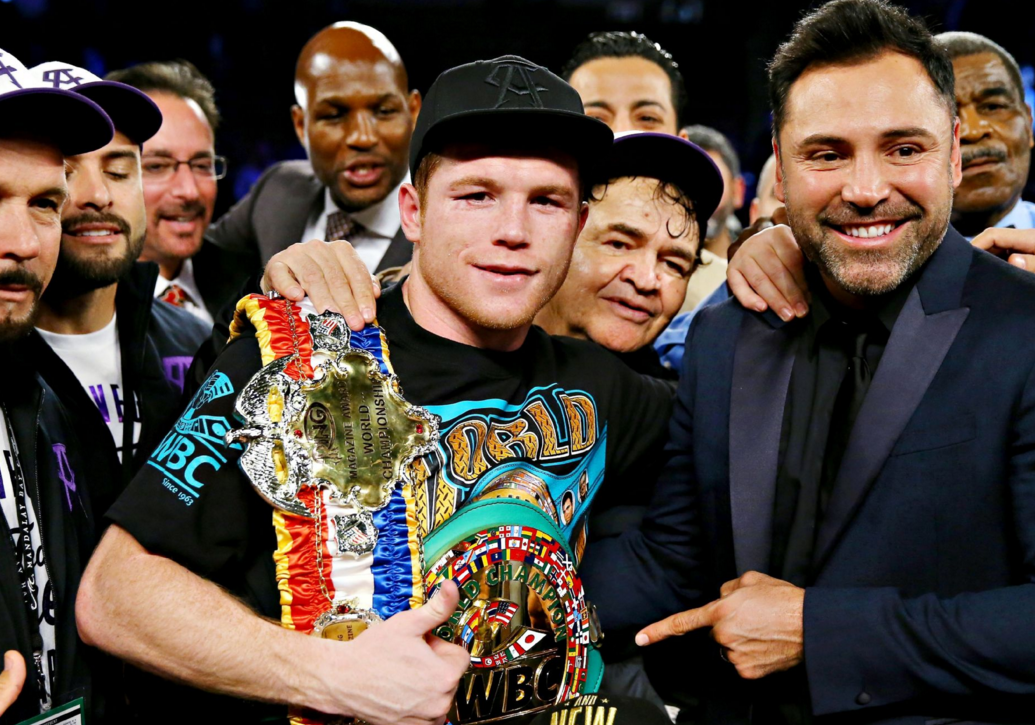 Whether Alvarez can beat Golovkin can not be decided on the basis of his dismantling of Miguel Cotto. Alvarez did not show incredibly fast feet or great head movement. His reach and hand speed advantage negated any need for him to move his feet. But the reverse would be the case if he fought Golovkin. He'd be the smaller man having to use his footwork and head movement to get inside and force Golovkin backwards.
As for Cotto, he needs to fight junior middleweights who do not have significant speed and reach advantages over himself.
Again, Miguel Cotto has challenged himself more so than Saul Alvarez or Gennady Golovkin ever have. Cotto sought the fight despite having an uphill battle to win while Alvarez and Golovkin put on a fearless exterior challenging fighters that reinforce their own physical advantages.
Miguel Cotto has no business fighting a middleweight with the size and power of Gennady Golovkin, especially given the amount of blows to the head he has already incurred throughout his career. And Miguel Cotto is right for not allowing Golovkin to use his hard earned popularity to build himself up.