Image: Getty Images
The Santiago Bernabeu not only played host to the biggest club game in the world, but also to a severe humiliation for Real Madrid as Barcelona ran riot in a convincing 4-0 victory.
Luis Suarez opened the scoring and secured a brace later in the match, Neymar shone in another dazzling performance and Andres Iniesta bagged his first goal in 40 minutes as Rafa Benitez watched on helplessly from the touchline.
The Santiago Bernabeu played host to the highly-anticipated return of Lionel Messi, Isco was dismissed for a reckless foul on Neymar, Javi Mascherano limped off due to injury and the overall result epitomised Cristiano Ronaldo's match.
Early in the game, Barcelona gained the possession advantage and roamed around Real Madrid's box; the home side defended well until the breakthrough in the 11th minute. Sergio Ramos and Raphael Varane had full concentration on the run of Ivan Rakitic they forgot about Luis Suarez on the edge of the box, who received the ball and fired past Keylor Navas to begin the rout.
Unfortunately for Barcelona after their terrific start, Javier Mascherano limped off injured and was replaced by Jeremy Mathieu. Meanwhile there was hope for Madrid as moments after Rodriguez went close with his shot, Claudio Bravo underwent a scare as he failed to claim a dangerous cross from Ronaldo, but then made a dogs dinner of the return effort that he let slip out of his hands.
Luis Enrique's side would then fire a devastating blow to the hope Real Madrid still retained as a beautifully timed through ball from Andres Iniesta found Neymar who only needed one invitation to guide the ball past Keylor Navas. Barcelona doubled their lead and put Rafa Benitez's men in absolute turmoil.
Real Madrid had their chances in the second half as Cristiano Ronaldo's header was superbly saved by Claudio Bravo and James Rodriguez saw his shot turned past the post but Barcelona remained the real deal in attack. Neymar beautifully back-heeled to Andres Iniesta who thrashed home to put an even bigger exclamation mark on Barcelona's brilliant performance, and ultimately, Real Madrid's severe humiliation.
Real Madrid continued to create chances but Claudio Bravo would always stand firm for The Catalans as Dani Carvajal's neat effort at goal then Raphael Varane's solid header were both kept out by successive saves. Meanwhile, things went from bad to worse for Rafa Benitez's side as substitute Isco was dismissed for a dangerous challenge on Neymar.
At 3-0, the patience of Madrid gradually ran out and Barcelona feasted on their poor mistakes and mishaps in the middle of the park. Helpless on the touchline, Rafa Benitez watched a superbly timed pass split through the line of his defence for Luis Suarez to meet and then help over Keylor Navas into the goal and complete the utter rout.

The Santiago Bernabeu went from complete silence during Barcelona's ruthlessness to whistles and waves of white handkerchiefs at the final whistle as Los Blancos dejectedly exited the pitch but Barcelona rightfully embraced.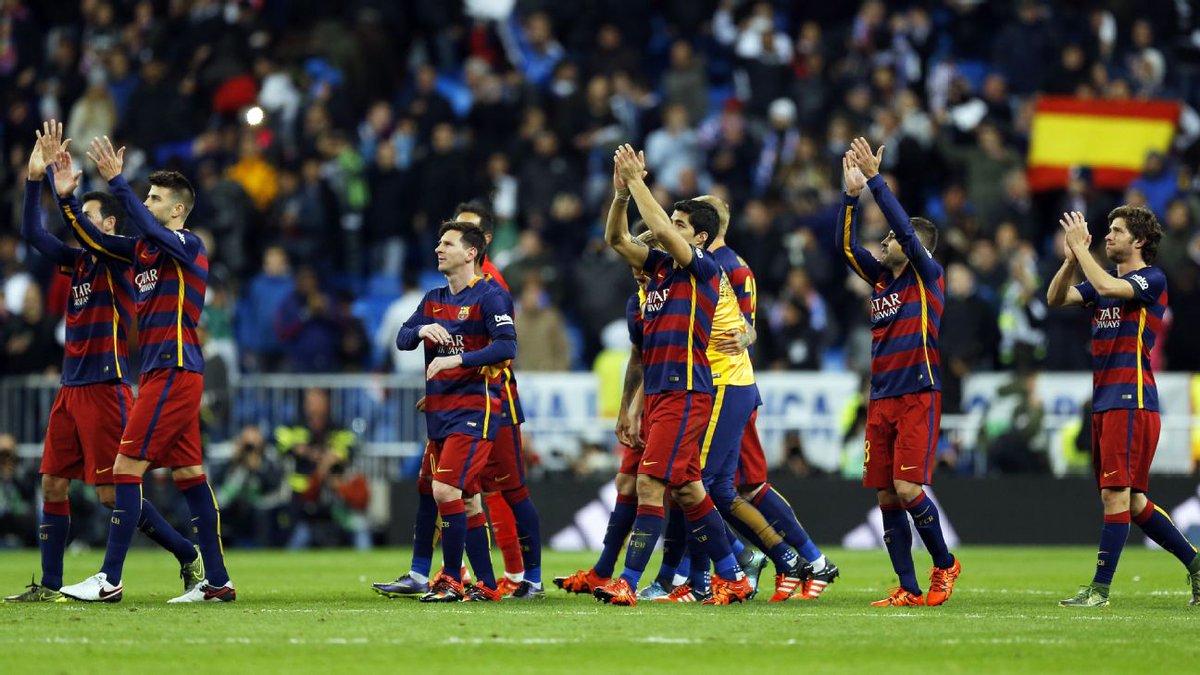 As it happened