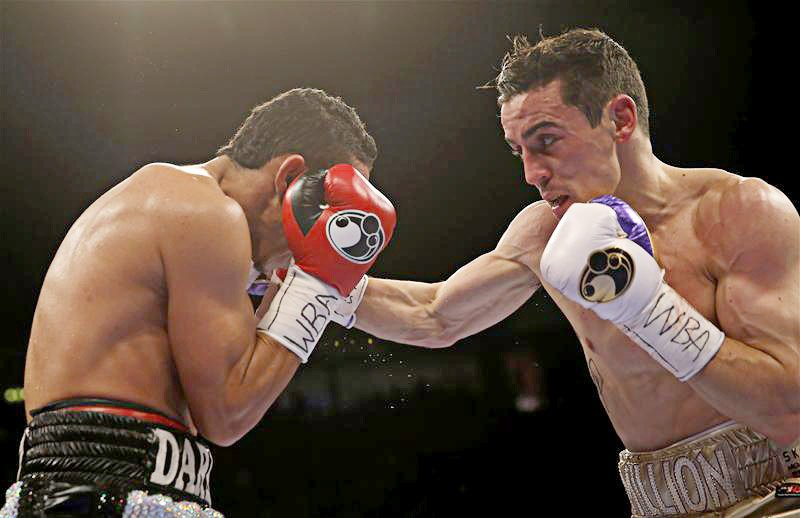 Anthony Crolla achieved his world title dream in devastating fashion as a wicked body shot was enough to stop Darleys Perez in the fifth round.
A spine-tingling atmosphere in Manchester gradually increased as firstly, the challenger Anthony Crolla made his way to the ring looking calm and focused. A nation rested on his shoulders. Then, the champion Darleys Perez entered to an expected echo of boos.
Crolla and Perez both started tentatively with the jab; Crolla also regularly tucked his chin and landed stinging left hooks to the body. The crowd began to get behind the home fighter, but Perez's success with the jab often quietened the Manchester fans down. Early on, the fight had a recipe to grow in speed and intensity.
In the second, Perez found his range with the jab and began to redden the nose of Crolla. Winding his punches up, the champion looked to land big shots early but Crolla's tight defence prevented him from doing so.
Early on, there was a mixture of different opinions and scorecards. It was that tight. Crolla's workrate may have secured him the advantage, but Perez's patience and abundances of success could have been enough to win the majority of the rounds.
Going toe-to-toe on the ropes in a once tentative battle heating up, Crolla winded up the body shot heard around the world. Landing upstairs initially, he sunk a vicious left hook into the ribs of Perez and The Colombian slowly crumbled to the canvas.
Crolla patiently waited in the corner, rightfully and probably expecting the tough champion Perez to rise to his feet, but more and more optimism grew as the count advanced. Perez, on his knees with the head facing the canvas, stayed down for the full count and Manchester exploded.
Anthony Crolla became world champion. Joe Gallagher rushed into the ring and embraced with his fighter as the crowd raucously cheered in elation of the newly born Manchester hero.
The next Ricky Hatton?