Crunch time in the Champions League descended upon the continent, and when all was said and done in the first night of Matchweek 4, both Manchester City and Juventus had stamped their ticket to the Round of 16.
But that may only be a drop in the ocean after the superb action on Tuesday 2 November 2015. Wayne Rooney lifted the roof off Old Trafford as he ended Manchester United's drought, while Stephan Lichsteiner, a month after having heart surgery, returned with a bang to put the Serie A Champions on the brink of qualification.
As usual, TheSportMatrix is on hand to run down all the action from the evening, with analysis, reports, media and much more.
City outgun Sevilla to seal qualification
Sevilla 1-3 Manchester City
Three goals in the first half helped Manchester City to qualify for the last 16 stage of the Champions League as they found a huge victory away at Sevilla.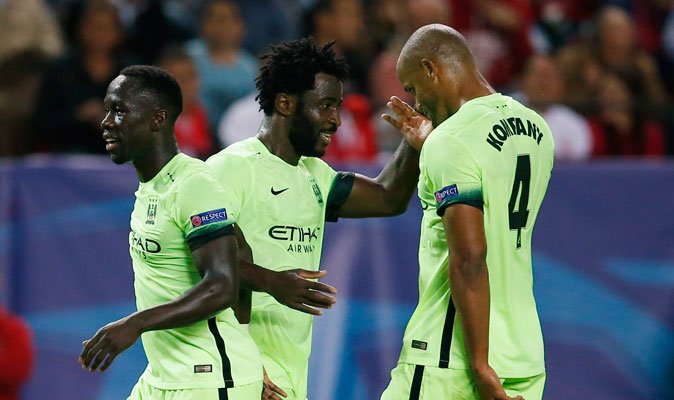 Image: Express Sport
Manchester City's luminous green strip certainly reflected their intensity early on as they pressed right into Sevilla's attacking half from the outset. They would reap the rewards for that positive play within just 8 minutes as Raheem Sterling scored his first ever Champions League goal.
The English winger ghosted into an onside position where Fernandinho slotted the ball through a void in the defence, and on his left side, Sterling was left to side-foot it past Sergio Rico and give the visitors the edge.
Image: BPL Zone
That edge would broaden significantly when 3 minutes later, when provider would turn scorer. Wilfried Bony forced a save as he let fly from long-range, and Fernandinho was lieing in wait to guide it in from close range.
Benoît Trémoulinas certainly prevented the Citizens from truly rocketing off as his simple header, which was Sevilla's first attempt on target in the game, pegged one back after Coke's cross had eluded Joe Hart and the City defence.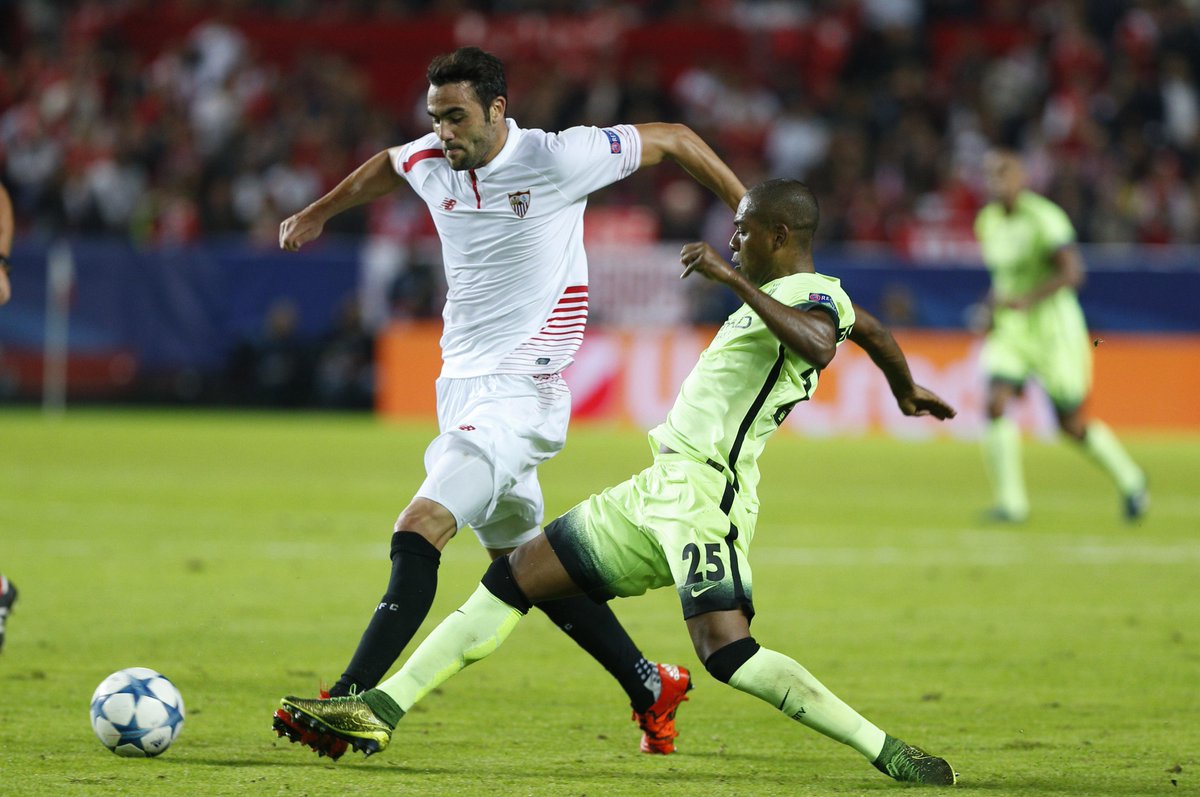 Image: LaLiga
But with the goals continuing to tumble in at the Ramón Sánchez Pizjuán Stadium, City would soon reinstate their two-goal lead. Wilfried Bony finished simply after Jesus Navas did all the work to find him with a low cross and the English contingent were back in a commanding position.
The second half hardly retained any of the lively entertainment as its predecessor but Sevilla put on a much stronger showing, not enough, however, to stop City of qualifying for the next stages.
Rooney sets Old Trafford alight to beat Moscow
Manchester United 1-0 Moscow
WRITTEN BY MIKEY (Extracted from full report)
Wayne Rooney ended his goal drought and equalleed Denis Law's all-time goal scoring record as Manchester United recorded their first win in four games against CSKA Moscow at Old Trafford.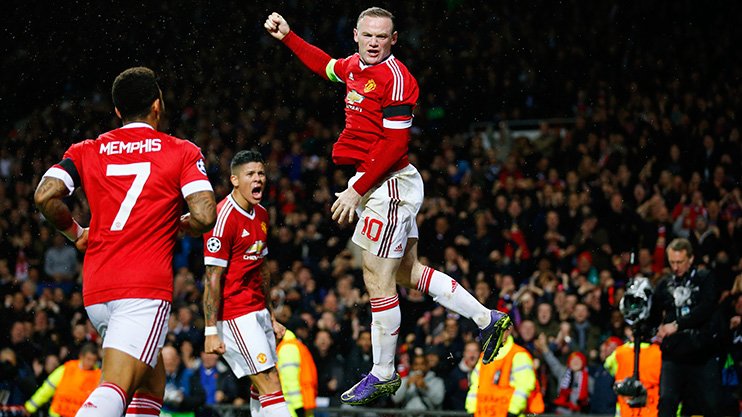 Image: The Sun
The Red Devils, playing in their vibrant home kit, surprisingly started brightly with much more direct play and forward runs. Wayne Rooney, especially, looked promising with his sharp movement in and out of the box. He EVEN got a shot away! Yes, you read that right. Wayne Rooney shot inside the box.
At half time, with a plethora of chances falling for United, they still somehow walked into the dressing room without a goal. CSKA Moscow, on the other hand, had executed their clear plan of holding a strong defensive line to keep out any United attacks in the first 45 minutes.
After many chances fell and attempts were made but to no avail, Louis van Gaal resorted to Plan B and brought on Marouane Fellaini for Anthony Martial, which was greeted with an echo of boos. Long balls were hoofed forward to the Belgian, but no success was to be found. Meanwhile, Ashley Young continued his ridiculous attempts at trying to earn penalties with his unbelievably bad diving, and the referee shrugged off his and United's claims for a penalty.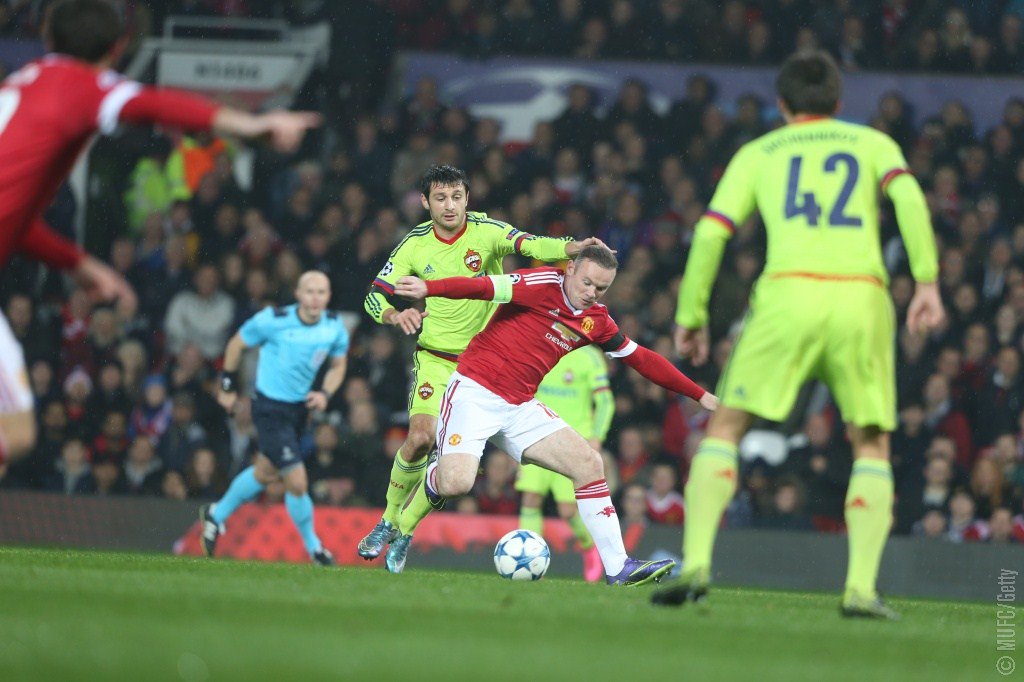 Image: Getty Images
Then, finally, after history, for all the wrong reasons, beckoned, Manchester United FINALLY scored! Jesse Lingard latched onto a long pass on the right side of the area, then side-footed into the middle for Wayne Rooney to meet with his head and guide the ball into the net.
Old Trafford erupted, and rightly so! Wayne Rooney and Manchester United's goal-drought came to an end and Louis van Gaal's team picked up much-needed three points.
Shakhtar rip apart Malmö
Shakhtar Donetsk 4-0 Malmö
Having lost their first three group stage games, Shakhtar Donetsk finally showed the brute force that they can deliver as they put four past
Malmö.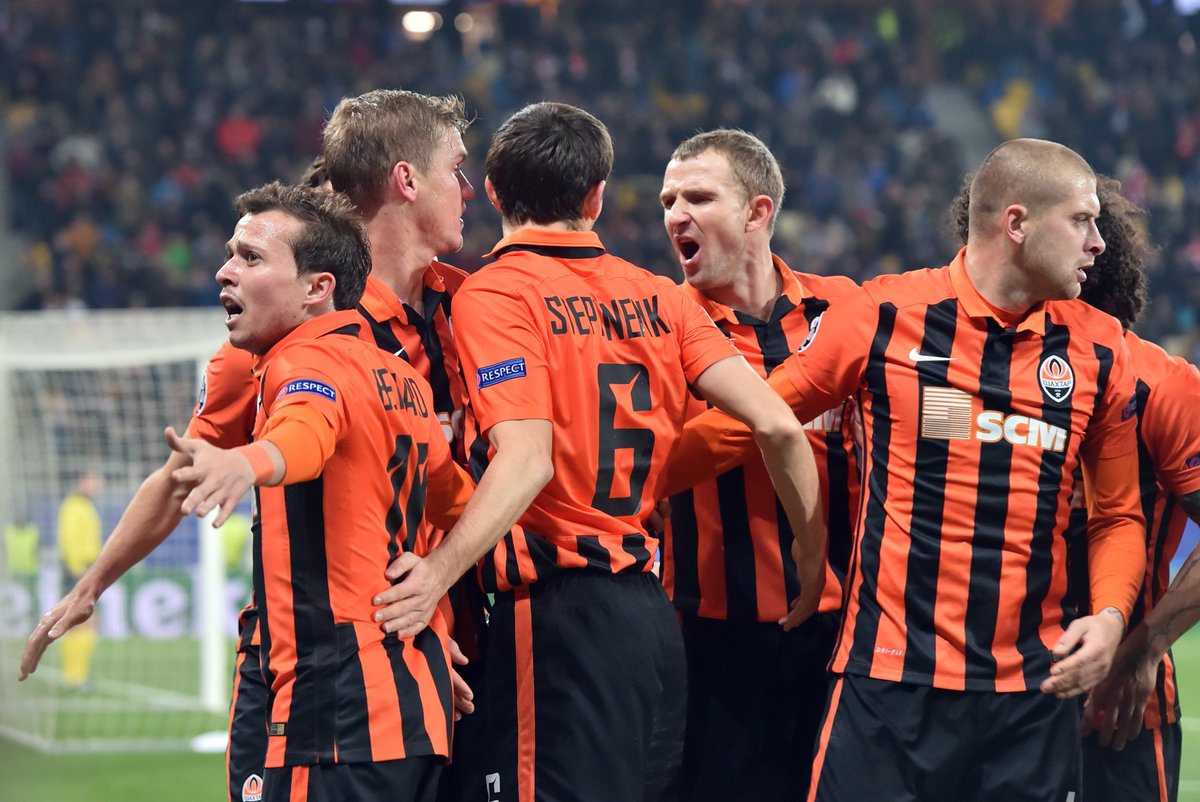 Image: UEFA
After almost half-an-hour in Ukraine, Shakhtar Donetsk finally found their first goal of this season's Champions League campaign, courtesy of Gladkiy. Moments after he missed a huge opportunity by smashing it wide when Srna's volley was pushed back out, he followed up on his stopped header to put Shakhtar in front. And from there on in, the flood gates would open. It was about time.
Darijo Srna converted cooly from the spot a few minutes into half-time as he drove it down the centre to double the advantage, and by that point the hosts were really in control.
Malmö were now clearly reeling, and their inability to eliminate the danger from a free-kick epitomised this. The ball rolled towards Bernard outside the area who lashed at a volley which was going wide until Eduardo got his head to it and made it 3.
Alex Teixeira then got in on the act for himself, getting on to the rebound as Taison's shot was stopped well by Wiland who was hardly at fault for the downpour of goals in between the sticks. Srna set up for the initial effort but when it came out, Teixeira was there to meet the rebound with his head.
We hadn't seen the Shakhtar of old but this team certainly brought back memories of it, it could just be too little too late though.
Lichtsteiner, Juventus show great heart
Borussia Mönchengladbach 1-1 Juventus
Stephan Lichtsteiner marked his return from heart surgery in emphatic fashion as his first-half volley helped Juventus to a point over Monchengladbach in a spirited definition of heart - timely.
Patrice Evra threatened earliest but it was a very pacey opening to the contest at Borussia Park—both teams were more than up for the contest and looking for a win that could bolster their chances.
But within minutes the visitors would find themselves being outplayed by the Germans, and their dominance merited the goal which Johnson found after 18 minutes. Chiellini was unable to clear a low-cross into the area, which Raffael then dispatched for Johnson who swept home.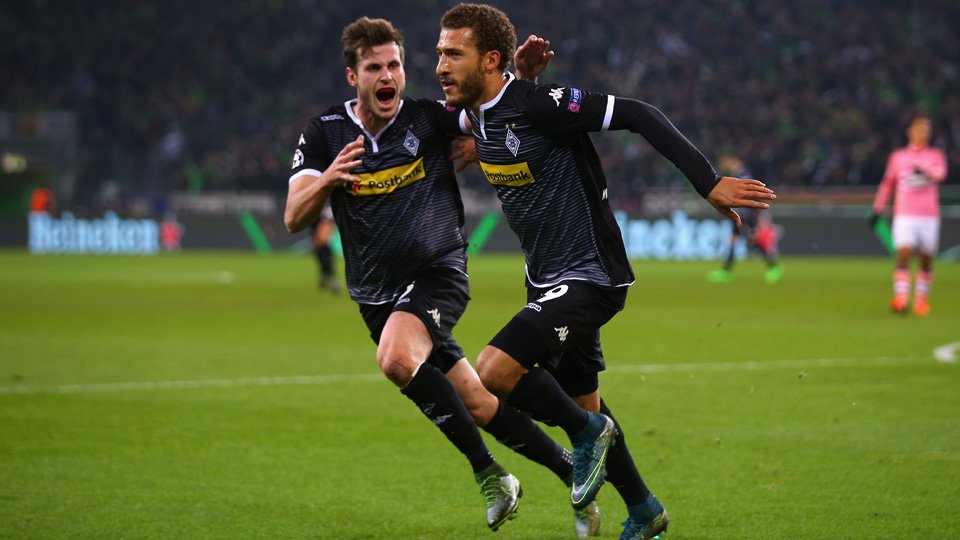 Image: Sports Illustrated
The Italians soon began to rally and demonstrate the character that carried them to last season's final. Stephan Lichtsteiner, a month after heart surgery, scored a spectacular volley after Pogba set him up.
On the stroke of the half-time whistle, the Frenchman lobbed it over to him out wide in the box where he drilled it low into the bottom left corner. Hernanes was sent off 8 minutes into the second half to really make things tough for the Serie A champions, but they stayed resolute to get the draw and qualify for the last 16.
Nacho capitalises on blunder as Real scrape game Paris
Real Madrid 1-0 Paris Saint Germain
Real Madrid were lucky to walk away with all three points after Nacho scored from a Kevin Trapp error to give Los Blancos the win against a PSG side who really put up a fight and were arguably the better but not more successful team on the evening.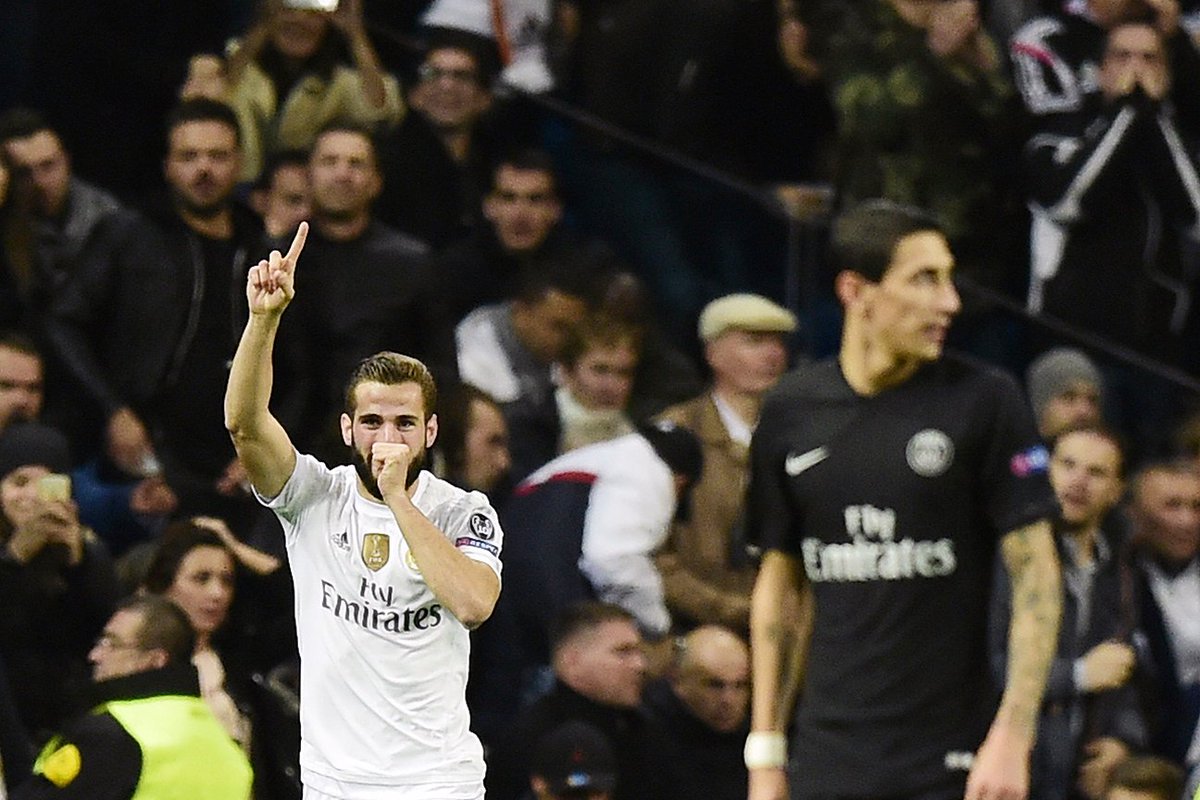 Image: ESPN FC
With fans in attendance at the Bernabeu eager to see a game much more lively than the first meeting at the Parc des Princes, Real Madrid fed off the early energy as Ramos' cross caused some trouble - before there was more trouble for Aurier and Isco, the latter left busted open after a clash of heads in the area.
Soon enough though it was the Parisiens' midfield which began to pull the strings, opening opportunities for Di Maria and Matuidi but none would get the breakthrough.
Somewhat against the run off play, Nacho would give Los Blancos an unexpected lead after sneaking it past Trapp from a close angle in the aftermath of Silva blocking Kroos' attempt with Kevin Trapp making a blunder, darting off his line to leave a lot of space in behind.
Edinson Cavani was at the fury of his teammates and fans when given a great opportunity through on goal but he lacked composure and scuffed it wide without getting a convincing connection on the ball.
Ángel Di María signalled the fight that the French still had in them, playing some rather wonderful football, as the Argentine hit the crossbar with a free-kick.
But with fans quickly filing out of the Bernabeu, Madrid's fate was sealed. While it wasn't convincing, they qualified to the knockouts with two games to spare.
Astana hold Atlético in early Kazak kick-off
Astana 0-0 Atlético Madrid
Kazakhstan was the place to be for an early start to week four of the Champions League, but goals would not be seen as Astana held firm to take a point from Atlético Madrid in a rather dull affair.
Roger Canas scuffed his lines in what was a huge opportunity to bring a first Champions League victory to Kazakhstan, coming closest for the hosts as his header off Kethevoama's cross flew over the woodwork, after Shomko forced Oblak to make an early save in the opening exchanges.
Image: UEFA
But it wasn't soon before Diego Simeone's men began to display the type of football which helped them demolish the same opposition a fortnight ago in Madrid. Fernando Torres managed to get through on goal when Astana's back-line were caught wandering, but the Spaniard's search for a 100th Atletico goal would continue when he placed his shot wide after Juanfran played him through. Koke rattled the woodwork with a free-kick attempt in the closest chance of the game to end the half.
As the time progressed, Astana grew more open to the possibility of a draw against the former Spanish champions with keeper Eric saving a shot from outside the area after Griezmann dragged his attempt wide, securing the point and pushing their tally to 2, while Atletico were halted but still in a comfortable position.
Around Europe
The rest of the action
PSV 2-0 Wolfsburg: PSV Eindhoven catapulted back into the hunt for qualoifcation as they replicated Wolfsburg's win a fortnight ago with a 2-0 win for themselves. Locadia was influential throughout the evening, while de Jong finished off the job with a sublime chip to put all of the group back into the melting pot.
Benfica 2-1 Galatasaray: Benfica dealt the Turks another setback as Jonas and Luisão gave them the edge in a quite dramatic and noteworthy meeting.
And finally
The verdict on the evening
Another prescription of blood-pumping football around Europe, well at least in the games which weren't played earlier in Kazakhstan.
The less said about the goalless draw between Atletico and Astana the better, but that will be easily overran by the quality in the rest of the entertainment.
Manchester City may have finally seen their fate make a turn for better ways as they secure Champions League qualification with two games to spare—a stark difference from their previous campaigns, and with their team revitalised, they blew away Sevilla in a tough trip to Spain.
Real Madrid meanwhile got over the line in perhaps less convincing fashion, but they got the job done. PSG shouldn't be too worried off a Shakhtar performance which destroyed Malmo since they are well behind, and they definitely outplayed Madrid so the future should bode well.
Speaking of Shakhtar, this is the team that many expected to see. They had become synonymous for group stage bludgeoning after bludgeoning in the past, but it was a while before they showed it this year. When they did, their time may have ran out.
Manchester United will be aware that work remains behind the scenes to bring creative football back to Old Trafford but it was a step in the right direction. Their turnaround could be a bit of a slowburner.
Arguably one of the most heartfelt moments of the night is Stephan Lichsteiner's equaliser for Juventus, marking his battle from heart surgery to put The Old Lady on the brink of qualification.
Well it's another night to remember. The action doesn't stop there, more to come tomorrow!