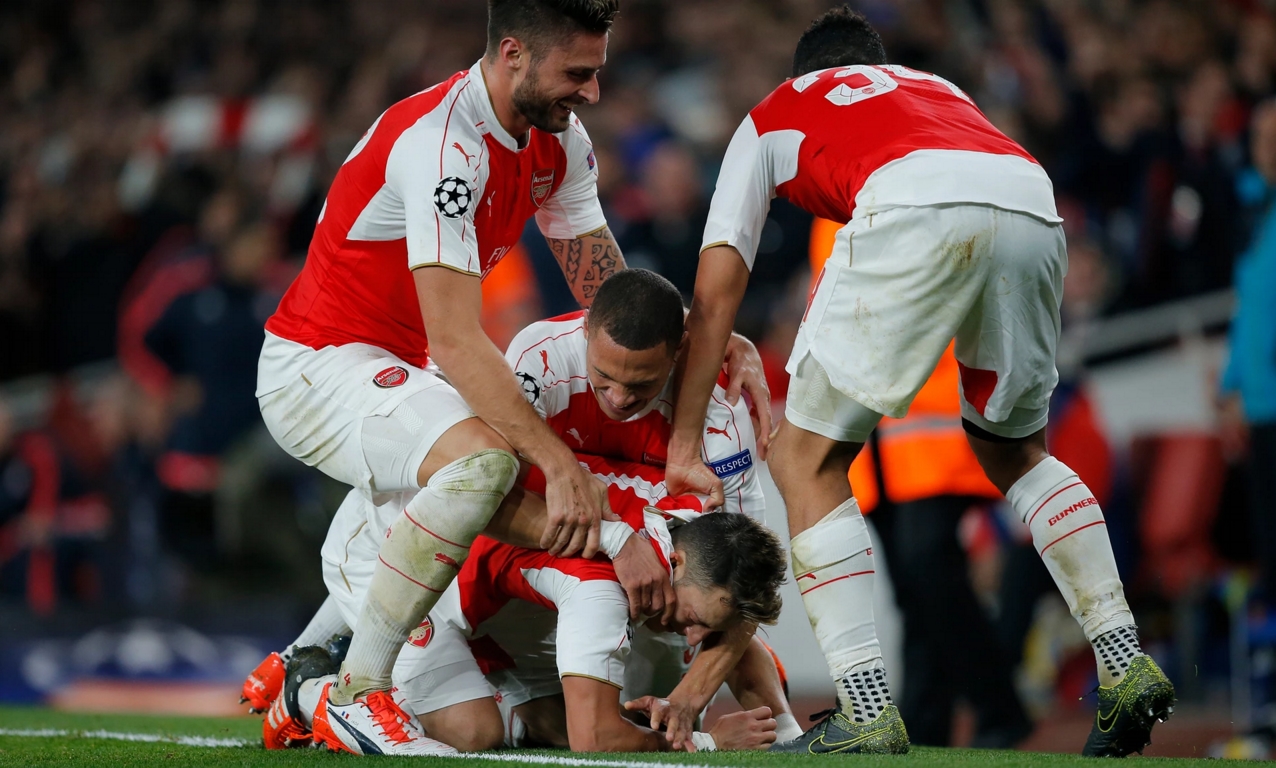 Image: Tom Jenkins / The Guardian
Matchweek three of the Champions League had plenty of drama reserved as Arsenal's slaying of Bayern Munich and an eight-goal thriller between Roma and Leverkusen catapulted to the headlines.
There was joy for Barcelona as the reigning champions brushed aside Borisov while Zenit outclassed Lyon. Reigning English champions had a dull night out in Ukraine with a goalless draw against Kiev.
Here, we run down all the action, with analysis for the UEFA Champions League football from Tuesday 20 October 2015.
Arsenal slay the Bavarians
Arsenal 2-0 Bayern Munich
Olivier Giroud and Mesut Özil gave Arsenal's Champions League campaign the lift-off it needed as their goals helped the Gunners to an astonishing victory over Bayern Munich at the Emirates.
The world was gasping in awe of Manuel Neuer's goalkeeping talents as he denied Theo Walcott with a truly incredible save, pushing away his header with rapid reactions.
But his opposite number was also on flying form, as Petr Čech thwarted Thiago Alcántara from mid-range, keeping Arsenal in the game even though the Germans were dominating possession to the sound of the drums of Bayern fans, with some missing the first few minutes of the game to protest about the high ticket prices at the Emirates Stadium.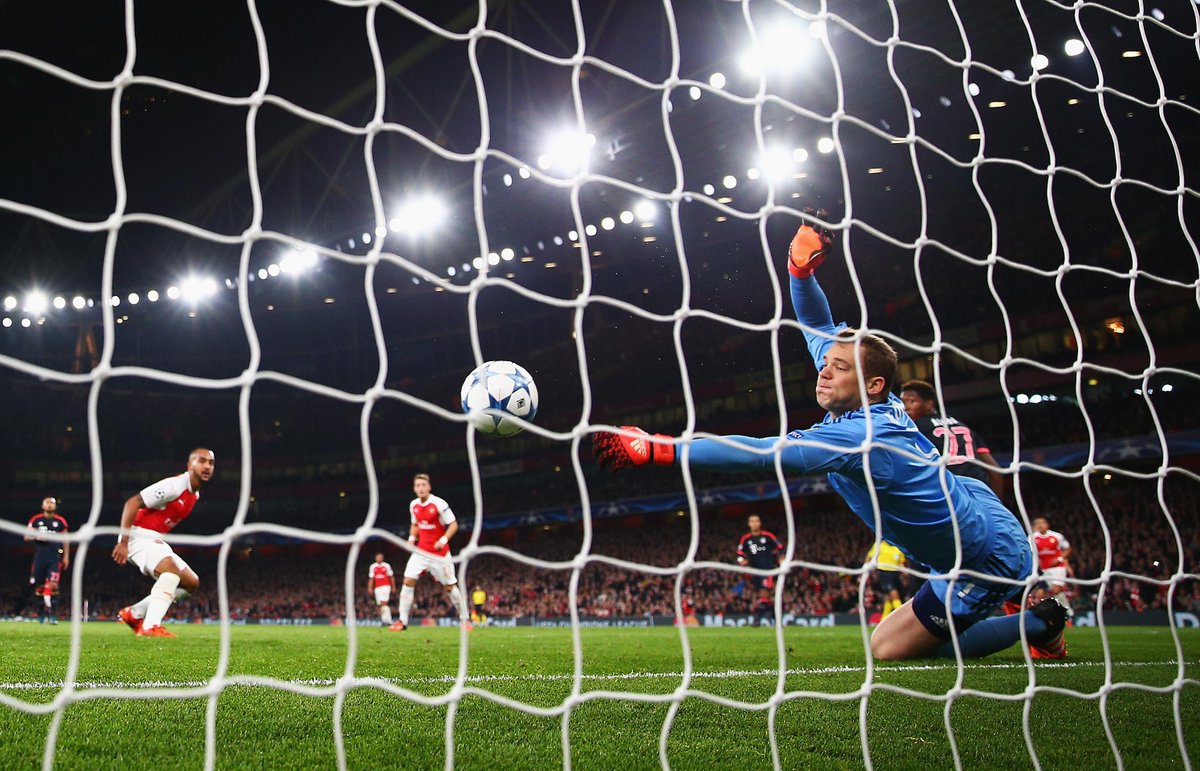 Image: UEFA
Pep Guardiola's men continued to press, and the stats were surrendered to the visitors. But, as the game progressed, Arsenal held their own more and more progressively, beginning to pose a larger threat.
A super sub could be defined no better than Olivier Giroud. Having been substituted on just two minutes earlier, the Frenchman guided in Santi Cazorla's free-kick after Manuel Neuer made a hash of it by coming out to collect it and completely miss the ball, sparking euphoria in North London.
Demonstrating the fight that Arsenal had in them, the striker then made a crucial tackle to stop a counter, before Robert Lewandowski scuffed his lines in a huge attempt to break the hearts of Gooners in the capital, waiting too long to pull the trigger and trying to draw a penalty from Koscielny, but the Frenchman dealt with the ball accordingly.
Then, goal-line referees would seal the deal. Héctor Bellerín ran into the box and played it across to Mesut Özil, whose shot was clawed away by Neuer before Oxlade-Chamberlain missed a sitter with his shot going well over the bar. That wouldn't matter as the fifth official on the goalline would rule it a goal to Özil, giving the Gunners a two-goal lead against the invincible Germans.
Soon after, the final whistle would blow and jubilation was the mutual emotion at the Emirates—they had slayed the Bavarians.
Roma and Leverkusen cancel out comebacks in thriller
Bayer Leverkusen 4-4 Roma
Bayer Leverkusen and Roma both walked away with a point after eight goals were scored in a quite truly remarkable clash at the BayArena, featuring comebacks from two goals behind by both sides.
Roma's European malaise appeareed to be continuing from the outset when Torosidis conceded a penalty after Çalhanoğlu's cross struck his hand. Calm, cool and collected, Javier Hernández stepped up to the spot and swept it to the left corner past Szczęsny.
Things went from bad to worse for the Italians while the BayArena occupants continued a soaring start just a few minutes later. Chicharito got his second goal as Çalhanoğlu put him through on goal, and thanks in part to some shambolic defending from Roma, the Mexican was in space to finish at ease and double the hosts' lead.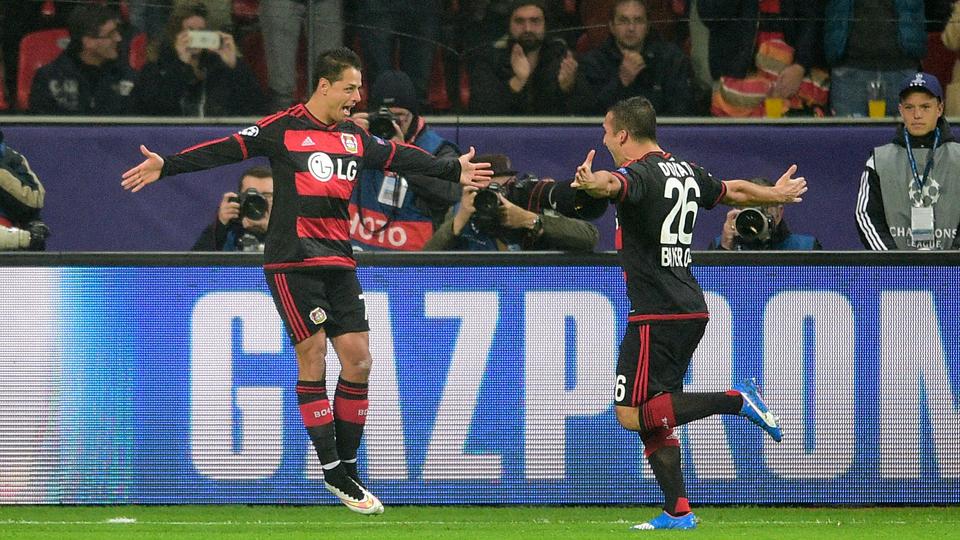 Image: Sports Illustrated
Desparately in search for inspiration, Roma were thankful to their captain as De Rossi pegged none back. After a corner came out to Manolas, he headed it on towards the skipper and he placed it into goal to reinstate the fight in Germany.
Emulating Leverkusen's striker, De Rossi then got a second goal for himself too. He got something on to Pjanić's free-kick, after Naingollan was fouled in the final third, directing it towards goal and levelling things up incredibly.
Roma were not settling for the draw either. From a few metres outside the area, Pjanić unleashed a rocket into the top corner from a free-kick as Roma took the lead—having trailed by two in the previous half.
Intending to run away with the game, Iago Falque struck the crossbar with his headed attempt. But the winger would get his goal sooner than he thought, shooting past Leno after Gervinho squared it across the box for him to give Roma a two-goal lead with around twenty minutes from time.
There would be no home fans exiting early however. Just as Roma came back from two goals behind, Leverkusen would do the same - and it started in stunning fashion as Kampl scored his first Champions League goal as he rattled the woodwork before leading it up by heading it past Szczęsny.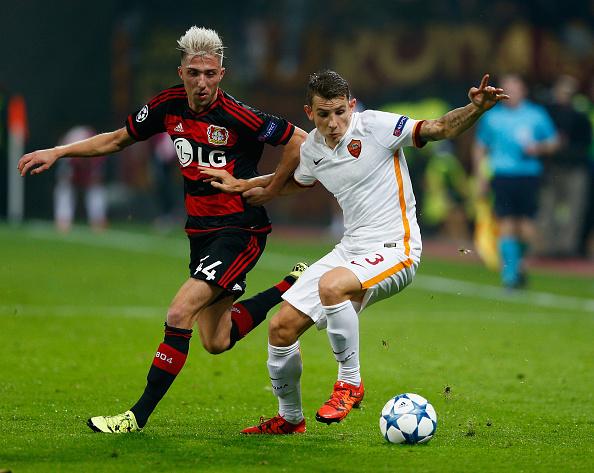 Image: GOAL
The BayArena was rapturous just two minutes after as Mehemdi levelled things to make it four goals apiece. Wendell set him up for a simplistic finish—and for the eighth and final goal of the game, leaving it tied at 4-4.
A point is well-earned for both, an absolutely cracking 90 minutes of football. One that will take its place among the classics of the season.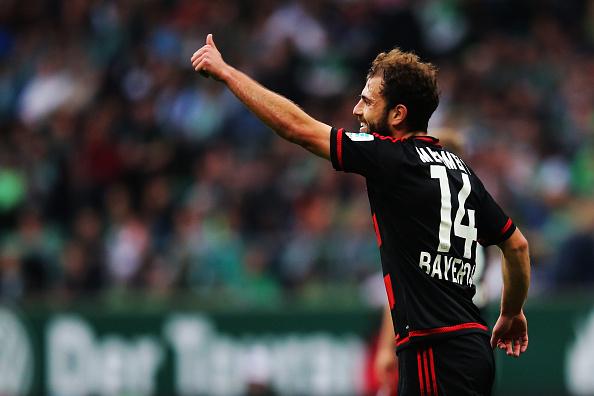 Image: GOAL
Rakitic brace assisted by Neymar as Barça
break Borisov
BATE Borisov 0-2 Barcelona
Ivan Rakitic was assisted by Neymar on two occasions as Barcelona eventually went on to cruise past BATE Borisov to keep their bid to retain the Champions League on steady tracks.
Barcelona set the tone early in Belarus by controlling all of the play and even causing some hearts to race as Neymar arrowed a shot on target for the Catalans. His teammate Ivan Rakitić came even closer when his header was a whisker wide from the crossbar, leaving Luis Enrique's men frustrated at the interval having sustained a period of pressure, but not being able to break the resistance of the opposition.
Whatever team tactics were discussed in the changing rooms over the fifteen-minute break would work swiftly for the Spaniards. Neymar did excellently to set up Ivan Rakitić who then unleashed an unstoppable strike from more than 30 yards, swerving well out of reach from the keeper and giving the champions a hard-fought lead.
With Borisov reeling, the Blaugrana took the game by storm through another similar pattern. Yet again, Neymar set up his Croatian teamate
Rakitić
, with a through ball in to the area allowing the midfielder to chip it over the keeper and put Barça on the home straight to a victory on the road in Europe.
Blues linger over Ukraine as Chelsea draw a blank
Dynamo Kyiv 0-0 Chelsea
Jose Mourinho's Chelsea endured a frustrating night at the NSC Olimpiyskiy as they fought to a dull goalless draw with Dynamo Kyiv.
Chelsea were looking very likely to find the breakthrough when Eden Hazard rattled the post, but both sides would go into the half-time break on level terms.
Willian wasn't able to continue his free-kick scoring streak either, but he certainly came close, as the Brazilian struck the crossbar. Other than that it was a quite breathless meeting, and the Ukranians and Englishmen left with a point.
Hulk stars as Zenit outclass Lyon
Zenit 3-1 Lyon
Hulk's sublime individual goal highlighted Zenit's pummeling of Lyon as he, Dzyuba and Danny got on the scoresheets in St. Petersburg.
Dzyuba steered Zenit into an early lead after just two minutes as Shatov played it through to him, for a sharp turn before putting it into the bottom right corner. He could have found his secoond at the half-hour mark had it not been for some hesitation after Hulk found him in ample space.
The French exploded out of the blocks to start the second half and Lacazette was the man to put them back in the game, scoring an intricate backheel flick after Jallet volleyed it towards his teammate.
Things would not be level for long when Hulk burst through before letting fly from 30 yards before his shot swerved into the left-hand corner to sink Lyon.
Zenit secured it at the end when Shatov played in Danny for a simple finish in the area, as the Russians flew high.
Around Europe
The best of the action
Porto 2-1 Maccabi Tel Aviv: Porto put two past Maccabi Tel Aviv as Aboubakar and Brahimi pushed the Portugese to the top of their group after overcoming some adversity from the visitors who started brightly.
Valencia 2-1 Gent: Gent's hopes of reaching the knockouts in their first Champions League campaign are on the verge of ending after Valencia benefited from two own goals to get the victory after they were level.
Dinamo Zagreb 0-1 Olympiakos: Ideye Brown's sensational strike was the difference as Olympiakos got another away win this time against Dinamo Zagreb.
And finally
A conclusive run down of the night
Arsenal's stunning win over Bayern Munich will definitely reserve the most places in the morning headlines and for the right reasons—but you cannot overlook the thriller between Roma and Leverkusen.
These two teams replicated one another's fightback, it was quite remarkable watching it all unfold. Pjanić and Çalhanoğlu were the architects throughout the contest, but the resilience shown by all players was admirable throughout the game. As it looks like, there won't be space for both, so expect them to come out fighting tooth and nail to save their chances.
Why it's looking unlikely is due to Barcelona's performance. Ivan
Rakitić
's double decided the fate against Borisov, after being inspired by Neymar's role as playmaker. It showed the wide range of outlets that the Catalans have at their disposal, options of which can carry them forward to retaining the title.
Bayern Munich would have something to say about that but not if their performance against Arsenal is concerned. While all credit is due to Wenger's troops for a great display, and one where they never gave up even if being overwhelmed by pressure and possession. Those two p's did not beat them today, they fought it well. It's just what they needed.
As week three begins, there were some dull meetings but things are really in the melting point now.