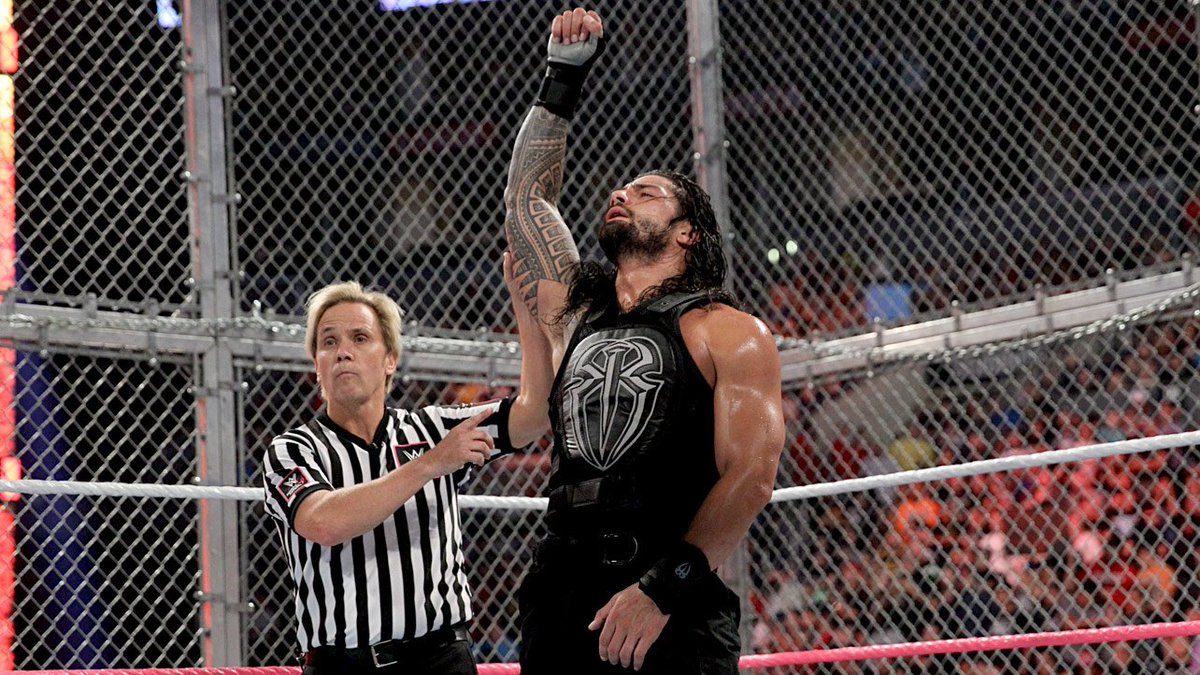 During the latter part of his days with highly-successful stable The Shield to the early period of his solo career, WWE fans launched vicious verbal attacks on a perhaps demoralized, disheartened and dejected Roman Reigns.
Many will shift the majority of the blame on WWE writers for pushing Reigns way too soon in his career as he was still ripe in the ring, on the microphone and ultimately, connecting with the audience.
He was joked about as a result of his inexperience on the big stage against elite opposition, and fans often made resemblances to John Cena's "five moves of doom" joke. Fans rioted, booed the roof off every arena they entered when Reigns was present.
Royal Rumble 2015 was up there with one of the worst crowd reactions, as Reigns slung Rusev over the top rope to seal a WWE title showdown with "The Beast" Brock Lesnar at WrestleMania, a sudden cauldron of boos and negativity surrounded the 30-year old and even the arrival of his cousin and highly-prolific WWE legend The Rock wasn't enough to combat the abuse.
But, in many ways, Reigns' victory at the Royal Rumble was blessing in disguise as it allowed him to perhaps analyse why so many fans had been rejecting him but more importantly, come up with an answer to silence those critics.
Subsequently, he did just that. In a brutal, unforgiving encounter with Brock Lesnar in the main event of WrestleMania 31, Reigns showcased one of his best ever performances. Multiple F5's, earth-shattering German Suplexes were just small components from Lesnar's arsenal, in which actually helped materialize a fantastic and enjoyable main event where Reigns' offense, storytelling and selling solidified him as tough, determined and respectable superstar.
WrestleMania 31 was in many ways the beginning of something big for Roman Reigns - his performance at the Grandest Stage of Them All left those same fans who viciously attacked him months prior, baffled as to why they put so much effort into abusing the same man who went toe-to-toe with Brock Lesnar and elevated himself onto a whole new level.
Afterwards, when Seth Rollins became WWE champion, attention was slowly extracted out of Reigns as he spent large amounts of time with Dean Ambrose. But even then during that long period away from the main event, he was developing his ring and microphone work every week.
The 30-year old, born in Pensacola, Florida, began feuding with the eerie character that is Bray Wyatt. He has developed as a character massively, and the WWE Universe have slowly witnessed the crowd hero that he has become. Reigns vs Wyatt was a classic hero vs villain encounter, where fans chose sides and ultimately, gained even more respect for the performance the former Shield member showcased.
Reigns deserves great credit. He's finally beginning to fulfill the potential that many fans and even legends see in him.

— #TeamLesnar. (@LesnarSupport) October 26, 2015
Battered and bruised inside Hell in a Cell, Reigns was a vital component in providing what many branded the match of the night at WWE's brutal pay-per-view. The fans had witnessed the development of the technical side to his game, but he continued to amaze them with a barbaric war against Bray Wyatt.
Reigns had been tossed into the cell wall, slammed through a wooden table, battered by a steel chair countless times and sent into pure agony with a plethora of blows by the kendo stick. It was one of the most brutal Hell in a Cell matches in recent memory, and one which measured The Samoan's progress perfectly.
But, it's not just Reigns' in-ring abilities that have piqued the attention of the WWE Universe. He has vastly improved his promo work over the last couple of months, and having time away from the main event spotlight to develop more has worked a treat.
WWE were undoubtedly at fault for pushing Reigns far too quick in such an inconvenient time where his development as a superstar in all aspects were concerned, but they have seemingly made amends now.
Reigns' program with Bray Wyatt has been the perfect measuring stick for his progress over the last six months, and he passed with flying colours.
Roman Reigns the single most improved wrestler of 2015. Nobody deserves to be WWE champion right now more than he does.

— D.C. (@DarrenConnolly_) October 27, 2015
To make an even more accurate conclusion of his progress - ask yourself the question of - would he be able to hold his own in one of the most brutal Hell in a Cell matches in recent memory, and would the fans have appreciated and got behind him this much a year ago?
I think we both know the answer.
Roman Reigns is now being rewarded for his amazing improvement in 2015 at Survivor Series where he locks horns with former Shield brother Seth Rollins for the WWE World Heavyweight Championship.
The Samoan has looked fantastic in just about every match that he's had in the past few months against superstars who are arguably inferior to Rollins' in-ring abilities.
The WWE champion can wrestle, talk, sell a feud and more importantly, elevate those who challenge for the richest prize in the business.
Whether Reigns becomes WWE champion is a different matter - he just deserves a great deal of praise for the way he has persevered through tough times and still battled through the tunnel a humble, hard-working and respectful superstar.