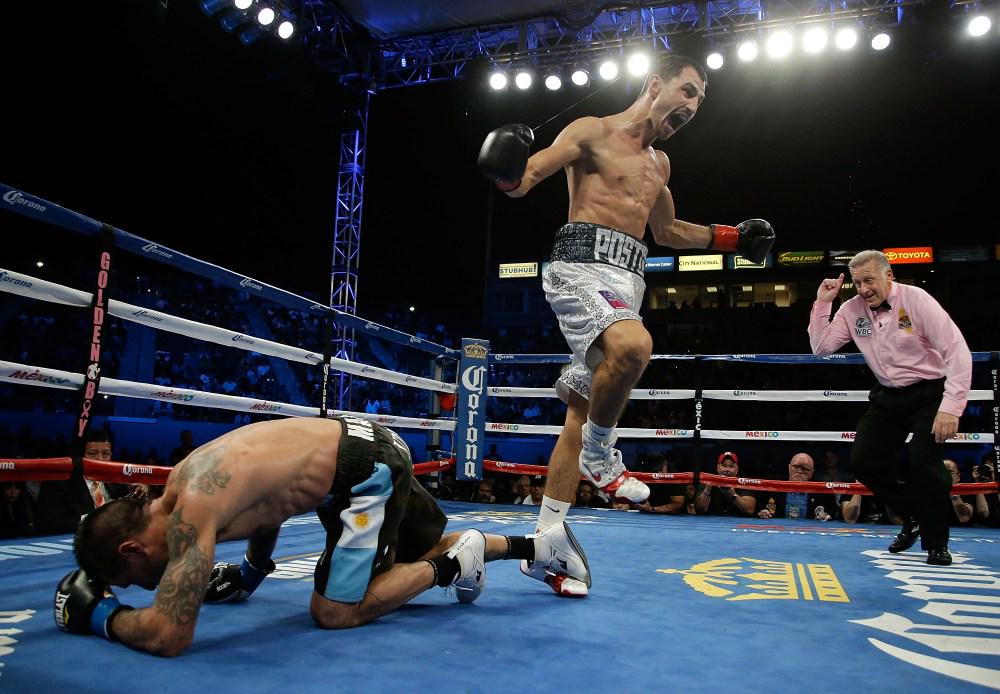 It was the general consensus that either Lucas Matthysse (37-4, 34 KO) was going to knock out Viktor Postol (28-0, 12 KO) or that the taller, longer, and busier Postol would outwork Matthysse en route to a decision.
Matthysse is no longer at his peak; his skills have eroded. Look no further back than his match with John Molina, Jr. The height and reach of Molina, who is smaller in dimension than Postol, gave Matthysse problems. At least then, Matthysse was landing a jab. Against Provodnikov, Matthysse was very busy with his jab and straight right hand – albeit, against a smaller Provodnikov who came forward with little defense.
Back to a larger opponent in Postol and the jab was non-existent from Matthysse. The game plan seemed to be for Matthysse to land the left hook. However, Matthysse's left hook was a lead left hook at distance, not prefaced with footwork, a jab, or a straight right hand.
Already in round one, Matthysse's immediate response to Postol's holding tactic was to punch Postol to the back of his head, which seemed to be done intentionally to discourage Postol's holding. By round six, the referee was explicit in allowing Matthysse to punch Postol to the back of the head in response to the holding, going so far as to state that a knockout from a punch to the back of the head would be deemed legal.
Postol was more comfortable with Matthysse's power in round two and was more active to seize the round.
Matthysse became progressively more inactive as Postol's movement did not allow him to set himself to throw punches. Clearly from past tapes of Matthysse, Postol also recognized that Matthysse was frozen by combination punches and used first-initiative volume punching to keep Matthysse on the defensive.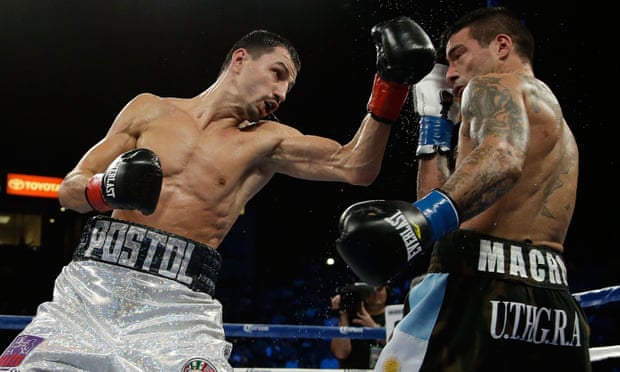 An opportunity came for Matthysse when he landed a right hand which staggered Postol thirty seconds into the round. But Postol was given a chance to recover as action was stopped due to Postol having headbutted Matthysse.
Matthysse was spun full circle from a right hand to the temple in the eighth round which saw him falling into the ropes. This was partly due to his having been off balance prior to being hit.
The end came when Matthysse reached with a jab and got countered by a right hand directly to his eye that caused a knockdown with twelve seconds left. Fully aware, Matthysse stayed on one knee and declined to get up. In a post-fight interview, Matthysse stated that he was fine but felt a pop in his left eye and did not want to continue on the grounds that he wanted to protect his eye.
Matthysse's footwork was very slow on the whole and his balance poor. He was not in proper range when throwing his left hook. And there was no head movement whatsoever.
All night, it was the right hand of Postol that did the damage: straight right hands to the head, right hooks to the body, and right uppercuts when Matthysse was lazy and inactive on the inside. But it was the jab of Postol that controlled the distance.
In a very predictable scenario, Viktor Postol wins the WBC Junior Welterweight title, crushing the planned mega-fight between Matthysse and Manny Pacquiao. The talk now is for Postol to be Terence Crawford's biggest challenge.