WRITTEN BY SEAN BROWN
Image: Standard.co.uk
As José's Chelsea danced in the jubilation of supporters and adulation of pundits alike back in May, "he's reduced the age, he's won the league, and it's a far, far stronger squad," Sky Sport's ace Gary Neville said on the subsequent Monday Night Football as he brilliantly illustrated the turnover Mourinho has conducted since his comeback to West London, it was evident that Mourinho was arguably on the precipice of creating a dynasty with his second core of players at Chelsea, a second-generation masterpiece.
So far, it's been a hollow dynasty.
Why have Chelsea deteriorated by this extent? Is it because of the underperforming players? Is it because of the lack of summer activity? Or is Mourinho to blame?
All of those questions cannot be answered, but, yes, if there's one person to blame most, it's Mourinho.
If Mourinho's frustrated by the lack of goalscoring, a measure of blame should be given to the strikers, or annoyed by Chelsea's awful defending, but add that to the tactics. The Blues' boss continues to deploy 4-2-3-1 with Cesc Fabregas, almost defensively handicapped, in the pivot—Chelsea have been largely overrun and, at times, bullied in midfield this season as a consequence.
Image: SkySports.com
If Fabregas is to continue deeper, more ammunition is needed; Mourinho needs to put an extra body in midfield. A change in tactics would seem paramount for Mourinho to maximize the talent at his disposal, but not only that, potentially save his employment, too.
Mourinho's no stranger to 4-3-3. He used it to great effect in his first tenure in West London, with the midfield trio consisting of Michael Essien, Frank Lampard and Claud Makelele. Makelele was the glue of Chelsea's 2004/05 and 2005/06 PL triumphs. His presence in front of Mourinho's stout back four allowed box-to-box engines—Lampard and Michael Essien—the ability to maraud from midfield. An anchor in the 4-3-3, his position was aptly dubbed "The Makelele Role". Lampard was mostly given the freedom to make the runs that helped him become Chelsea's all-time leading goalscorer.
While Essien and Makelele have long since departed Stamford Bridge, and Frank Lampard currently playing his football in New York, the Blues have the personnel to make 4-3-3 work again.
Nemanja Matić possesses an accommodating left boot, terrific field awareness and a nose for danger—just like Makelele, though the French international was right-footed—and Matic's game is perfectly suited to being Chelsea's regista.
Image: Ghana News
Aforementioned Cesc Fábregas, not exactly himself this season, is not a pivot player; the Spanish international serving in holding-midfield has put Mourinho's football ethics in grave peril. Fábregas, at times, has looked handicapped in the 4-2-3-1, often having to keep an eye on the opposition's roaming midfielders and tracking back instead of marauding forward from midfield.
Oscar—who has proven rather versatile but cannot get a start—does not have to play as "No. 10" to be effective; although, seeing the Brazilian international on the wing is like seeing a whale on a beach.
In order to play Fábregas and Oscar together—in optimal positions—Mourinho could omit the "No. 10" and play two retreated midfielders. Consequently, the space vacated by the "No. 10" would give Chelsea's wingers and strikers more space to operate without clogging space above the 18-yard box—a source of constant frustration over the past three seasons and at West Ham on Saturday afternoon, too.
Matić would anchor, sit deeper than his midfield colleagues, collect balls from his centre-backs and initiate attacks. Fábregas and Oscar can do a lot of running, stretching the midfield horizontally and vertically to create options for the pass.
For the two central midfielders, Ramires and Oscar could even serve as lynchpins. Either there to stifle opponents or launch attacks with their respective attacking options. And let's not forget the ever-committed John Obi Mikel. Alternatives.
Image: OneFootball.com
The notion a team of Chelsea's quality need two holding midfielders against the likes West Brom or Newcastle is rather embarrassing. The idea has become a norm because former boss Andre Villas-Boas was too prideful to play a lower block with his defensive line—rendering another body in midfield necessary.
Something the Blues have in spades are world-class wingers. A return to the 4-3-3 should make Eden Hazard, Willian and Pedro & Co. the resounding focal point of Stamford Bridge's attack.
Image: Standard.co.uk
When playing against lesser competition, teams tend to sit back and defend. Going through the midst of nine bodies—then beating a goalkeeper—proves difficult (see 2013/14). When building out from the back in a 4-3-3, Chelsea's midfield would find three main attacking options, two wingers and a striker. As playing through flanks proves more effective against parked buses, losing "No. 10" gives Chelsea no option but the best one. In a 4-2-3-1, wingers cutting inside, the "No. 10" holding and the "No. 9" prowling—added with holding midfielders venturing forward—creates a virtual traffic jam. Another pro of 4-3-3 and con of 4-2-3-1.
Pre-Mourinho, Hazard, Oscar and Mata were relatively quiet in the defensive third of the pitch. Once the Portuguese arrived, players who did not fit the mould were sold but others have adopted their manager's defensive mindedness. The determination to track back and assist their full-backs should be more than enough to offset a loss in the pivot—especially with three central midfielders.
It can also benefit under-scrutiny Diego Costa. Removing the central-attacking midfielder, with wingers wide, leaves the 18-yard box as the striker's domain.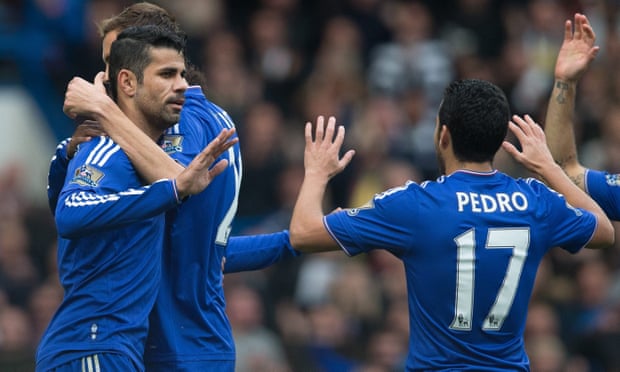 Image: TheGuardian.com
The west London outfit set the Premiership's goals-in-a-season in 2009/10—leading to their fourth title success.
The Blues' formation you ask? Ancelotti's 4-3-3.
Suggesting in one formation lies to key in long-term success is ridiculous. Managers need the flexibility to change their systems game-to-game, moment-to-moment, but each side needs an overriding set of principles that determine their play.
Chelsea, while being defensively stout, have failed to build an offensive ethic since Ancelotti was fired in 2011. With Mourinho and his players scrapping in 15th position, and a CL spot becoming less and less likely, the time is now for an alteration in tactics and to lay a foundation for prolonged offensive continuity.
Coincidentally, the 4-3-3—which Mourinho can implement rather simply—gives each of these tenants their best opportunity at success.
Image: SkySports.com