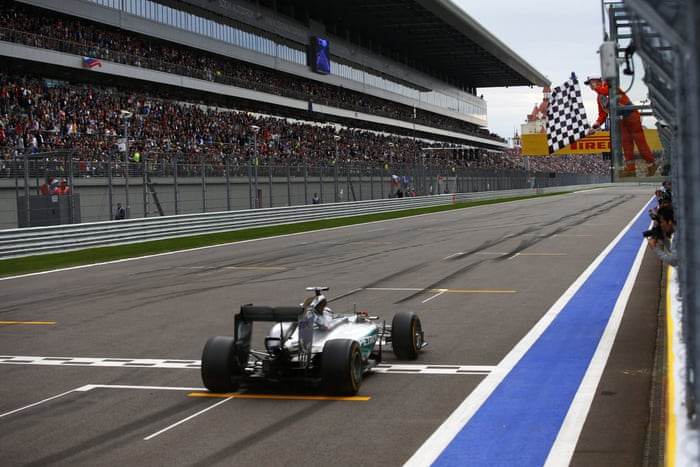 Mercedes' Lewis Hamilton moved a step closer to emulating Ayrton Senna's world championship record with a dominant win as pole sitter Nico Rosberg retired early in Sochi.
Lewis Hamilton dominated from the front with Sebastian Vettel and Sergio Perez completing the podium positions.
Pole sitter Nico Rosberg retired early in the race due to a failed throttle damper and painfully watched his world championship hopes fade away.
Valtteri Bottas, on course for a podium, was taken out on the final lap by Kimi Raikkonen, who fell to fifth and allowed Force India underdog Sergio Perez secure a rare podium.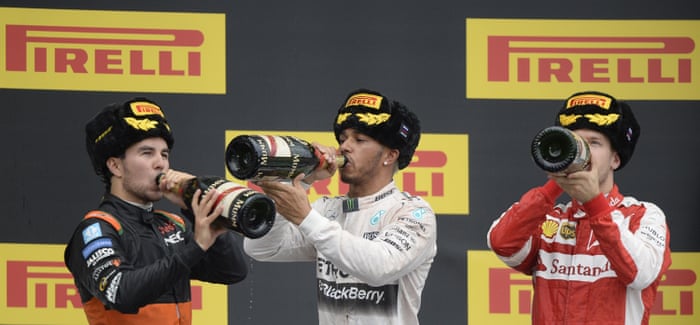 18 turns, and two long DRS zones with acres of space to maneuver an overtake - the teams were planning a one-stop race on a
Starting grid...
1) Rosberg 2) Hamilton 3) Bottas 4) Vettel 5) Raikkonen 6) Hulkenberg 7) Perez 8) Grosjean 9) Verstappen 10) Ricciardo
11) Kvyat 12) Nasr 13) Button 14) Maldonado 15) Massa 16) Ericsson 17) Stevens 18) Merhi 19) Alonso 20) Sainz
Pole position man Nico Rosberg held the pack up to maintain as much tyre temperature as possible, as a screech of engines rallied up the pit straight ready to park into their grid slot.
The Silver Arrows, followed by Bottas and Vettel, dashed away and acres of space on the Sochi main straight allowed Hamilton to secure a slip-stream tucked behind teammate Rosberg. Blistering towards Turn 1, the German race leader held his own on the inside and kept an ambitious Hamilton at bay on the outside. The Brit increased his pursuit of Rosberg but backed off on all occasions and bided his time for another opportunity.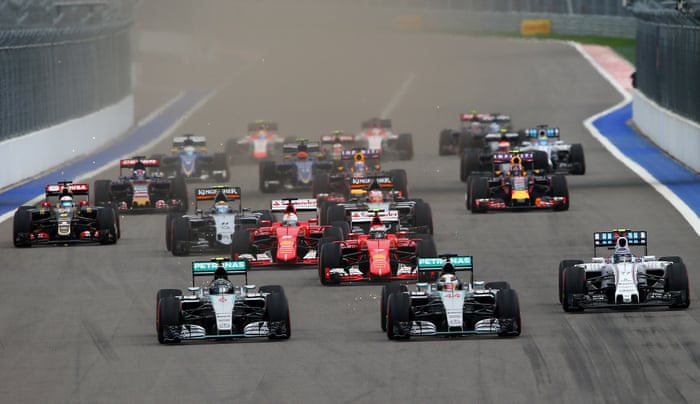 Further down the field, however, chaos occurred as Hulkenburg clumsily spun on the artificial grass and unwillingly dragged Ericsson and Verstappen into his own problem. 18-year old Verstappen was tagged during his exit from the crash scene, picking up a rear left puncture to his frustration. Ericsson, however, failed to clear the chaos and crashed out of the race along with Hulkenburg; the task of avoiding the Force India too big to achieve.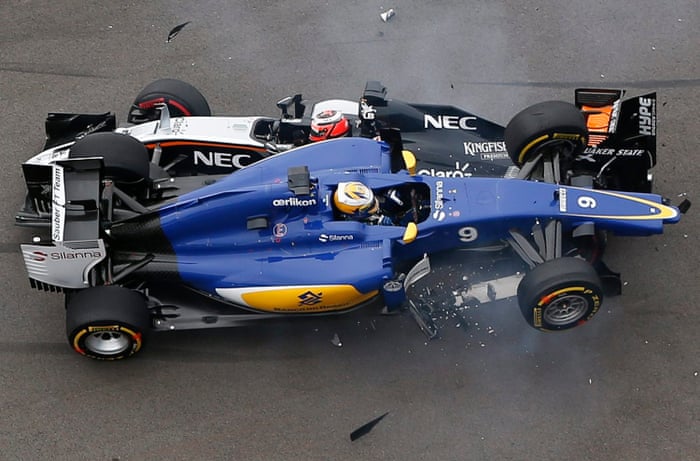 Before the safety car interrupted on the first lap, Alonso and Raikkonen both enjoyed success as the former climbed from 19th to 14th, while the latter put himself on a podium place from fifth but would soon be sent back to reality as the speed and power of Valtteri Bottas' straight line speed accompanied by the Mercedes engine allowed him to blitz past his compatriot and into third.
Raikkonen, who made a swift start, began to slowly fall back and after losing out to Bottas, he would soon find himself battling with teammate Sebastian Vettel - however just managing to retain his fourth place.
Many were emphasising the importance of a Nico Rosberg victory if he wanted to keep his hopes of world title glory alive - however an agonizing fault in his throttle. He began to severely slow down; allowing his rival Lewis Hamilton to breeze past into the lead. The German's woes continued on what turned out to be his inlap, as Bottas also capitalized on his fault and pounced into third.
The German eventually nursed his car back to the pitlane, but his pit crew were unable to resolve the issue and they wheeled the broken Silver Arrow into the garage.
Rosberg retired from the race and his world championship hopes were dashed, but that wasn't the only thing dashed. The barrier at Turn 3 took the full force of Romain Grosjean's colossal crash - the Frenchman ran over the marbles, lost his rear end and struck the barrier with full force. Good luck for the upcoming season, Haas F1 team.
"Tomorrow morning it's going to be a little bit sore but I can be very happy with the safety in F1. Here I am. I feel sorry for the guys because there is going to be a lot of work on the car.
"We need to understand what happened. You do realise quite early that you can't do anything any more so you leave the steering wheel and get muscles as strong as you can. I was glad when I opened my eyes, I was fine.
"I am very thankful we have made some progress with technology."
"Pastor, confirming that Romain is absolutely fine. He walked away, no problem," says Maldonado's race engineer. Always a huge relief to see a driver walk away unhurt.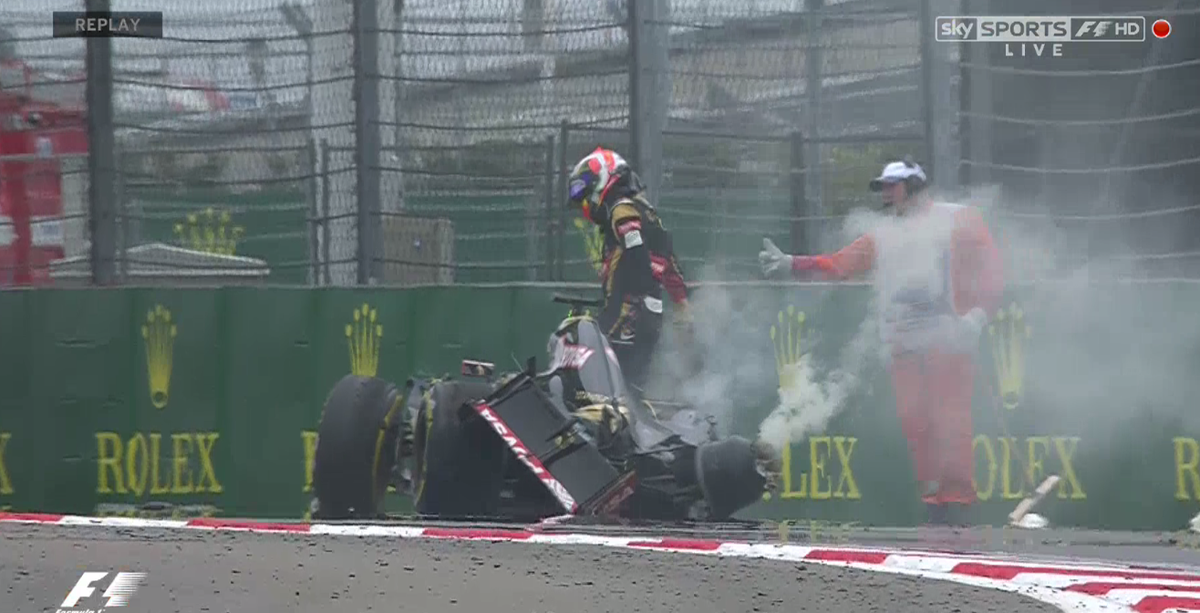 Rosberg's view on the technical fault and his world championship hopes
"F1 is pretty incredible sometimes how tough it is. After a great start, leading the race and feeling confident. Straight after the safety car the pedal broke. It was quite dangerous. Definitely not a nice way to end the day.
"The championship is more difficult of course but I am never going to win a championship like that when normal things break.
"But I will come back, keep pushing, keep attacking and try to win in Texas."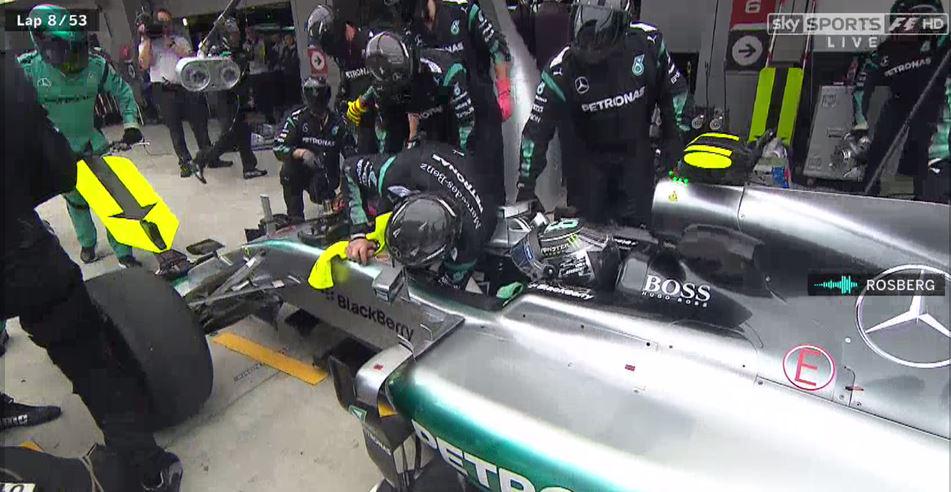 Rosberg retires from the race in Sochi. Image: Sky Sports
The battle for fifth place began to heat up; Bottas and Raikkonen exchanged positions with the latter initially swooping past his compatriot into Turn 4 but Bottas immediately clawed his place back before keeping the Finnish man at bay for a second time.
Sochi race circuit was officially seen as a retirement magnet; Daniel Ricciardo retired from the race due to a suspension problem, as reported to his team.
Lewis Hamilton crossed the finish line to officially claim his 42nd race victory in F1 - but it was soon devastation for William's Valtteri Bottas.
Scorching down the straight, approaching the bend, Raikkonen took an almighty but stupendous gamble and launched an almost impossible move. With hardly any room to maneuver, he forced his Ferrari into the corner and took out Bottas who turned in on him. The Williams man spun into the barrier, while Raikkonen suffered damage to his car with sparks visualizzing. Perez stormed past on worn out tyres to take third!