Image: SciFighting.com
Demetrious "Mighty Mouse" Johnson has been pretty much flawless during his reign atop the Flyweight division. Of course, the only blemish—where the 125 lbs kingpin was pushed to the limit—came from John Dodson. At UFC 191, they go at it again, a rematch from the greatest title fight in the division.
That stands at the top of the bill of a card that also features a Heavyweight fight several years in the making, a Strawweight prospect continuing her rise and a collision between two lethal Light Heavyweights.
Giving you all the insights, from the fights on the feet to the ground, the strong and the weak points, TheSportMatrix.com's resident expert, MMA Genius breaks down UFC 191: Johnson vs. Dodson.
"12 Gauge" Paige VanZant vs. Alex "Astro Girl" Chambers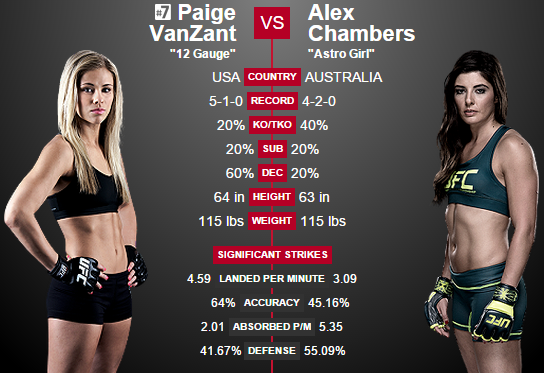 Graphic: UFC.com
VanZant is coming into this fight with huge momentum after dominating veteran Felice Herrig with rather ease. VanZant does not stop attacking in the cage, whether it be from on top or off her back. Her standup game isn't the best by any means, but her clinch game, top game, and relentless pace is very hard to keep up with.
Chambers, on the other hand, hasn't necessarily looked to good in her UFC career. She was submitted by Aisling Daly in the first round and was being dominated by Kailin Curran for 2 rounds until pulling out an armbar victory in an amazing comeback. That win showed she is in the fight till the end and wont give up. Chambers does have decent takedowns, but she has showed inconsistency.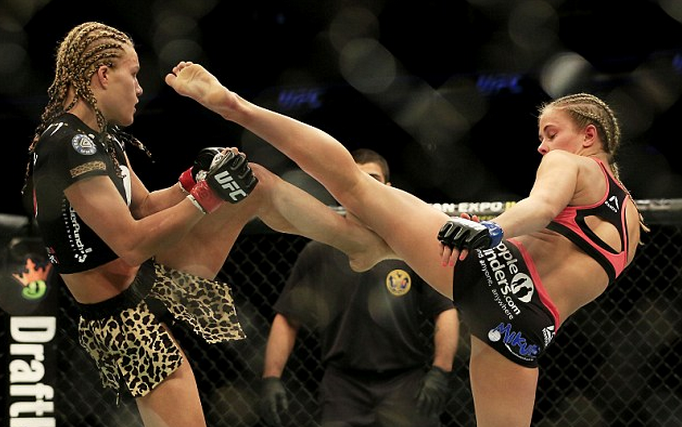 Image: Getty Images
In an Invicta fight vs. Esquibel she got on top, took the back, and got a choke. In the Daly fight she got on top and showed terrible head position and lead to her being reversed and submitted and then she submits Curran after getting pieced up for 2 rounds.
Prediction: VanZant via unanimous decision
All in all, VanZant is just the better fighter plain and simple. She is better in every aspect, operates at way higher pace, and has the drive. Chambers is mostly always on the defensive in her fights. The betting line may be off a bit because anything can happen in these women fights, but VanZant should be able to walk away with a decisive victory.
Jan Blachowicz vs. Corey "Beastin 25/8" Anderson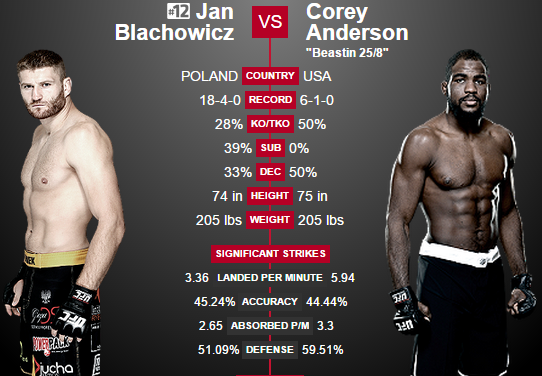 Graphic: UFC.com
Poland's Jan Blachowicz looks to climb the pile at 205 lbs as he faces Corey Anderson, an American with just seven fights worth of expeience under his belt.
Striking
There really isn't too much footage on Blachowicz besides his 2 UFC fights, but he is definitely a capable powerful striker. Jan's best weapon is probably his left kick whether it be to the body or head. He landed a left body kick on Illir Latifi which pretty much shut his body down.
In the Manuwa fight, we got to see him vs. another powerful puncher and Jan seemed very hesitant at times and continually backed up and let Maunwa push the pace. He only threw one punch at a time as well.
His jab was definitely on point, but his output was very low. Anderson, on the other hand, is a very young martial artist compared to Jan, and his standup is steadily improving. He has very good hand speed and a higher output than Jan, but in his most recent fight with Gian Villante he absorbed some brutal leg kicks.
Now Jan really doesn't throw outside leg kicks but he will occasionally throw some inside ones, but I definitely think he will try to use Villante's game plan. Although Villante was landing those kicks, Corey was definitely getting the better of the punching exchanges in that fight. I don't think Corey has the power to really hurt Jan but he can definitely outstrike him and use the threat of the takedown to keep him guessing. All in all, I give Jan a edge in power and with his kicks, but I think Corey has slightly faster hands and throws more volume.
Image: UFC.com
Grappling
Anderson is a division 3 runner up in wrestling and has some very good takedowns when he actually decides to wrestle. We haven't seen Jan on the mat in the UFC but I don't see him being able to take Anderson down.
Jan got repeatedly pushed against the fence vs. Manuwa and kind of just accepted the position a lot. Manuwa attempted a few takedowns but he isn't on Corey's level when it comes to wrestling.
The only question is will Corey Anderson decide to use his wrestling more in this fight? Corey does train with Team Frankie Edgar and hopefully they will tell him to push Jan against that fence and wrestle. I am sure Jan is capable of competing in these areas with Corey but we just haven't seen it. He does have 7 submissions on his record with his last one coming in 2011.
Image: Sherdog.com
Gameplans
Blachowicz: Leg kicks, stuff takedowns, land power shots
Anderson: Movement, volume striking, takedowns, outwork him
Prediction: Anderson via unanimous decision
This fight is very close, but I think Anderson will outwork him. I think Jan will land some hard strikes but Anderson will grind against the fence get some takedowns and outstrike him on the feet on route to a close decision victory.
Anthony "Rumble" Johnson vs. Jimi "The Poster Boy" Manuwa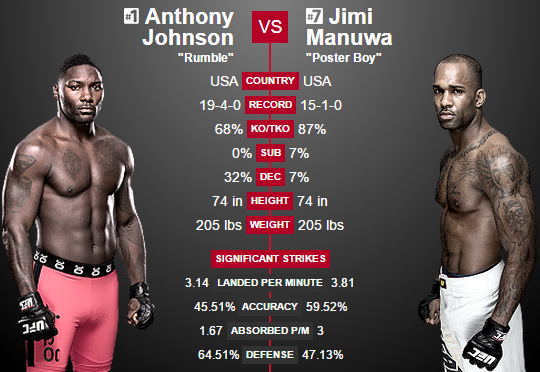 Graphic: UFC.com
Notable wins
Johnson: Arlovski, Gustafsson, Davis, Nogueira, Branch
Manuwa: Blachowicz, Kingsbury
Average fight time
Johnson: 6:46
Manuwa: 9:12
Strengths
Johnson: Big Power, high kicks, offensive wrestling, chin, takedown defense
Manuwa: Power, knees in the clinch, distance control
Weaknesses
Johnson: Off his back, submission defense
Manuwa: Takedown defense
Striking
There is no secret that Rumble is one of the scariest offensive strikers in MMA. He has ridiculous power and can end any man's night with one blow. Rumble has power to beat heavyweights as he has rocked and dropped Arlovski in a heavyweight bout and that fight was nearly stopped in the first round.
Alexander Gustafsson also felt this power very early as Rumble finished him with some brutal punches in a little over 2 minutes. Rumble has never really been in any type of danger striking wise in his career and he has never been finished with strikes.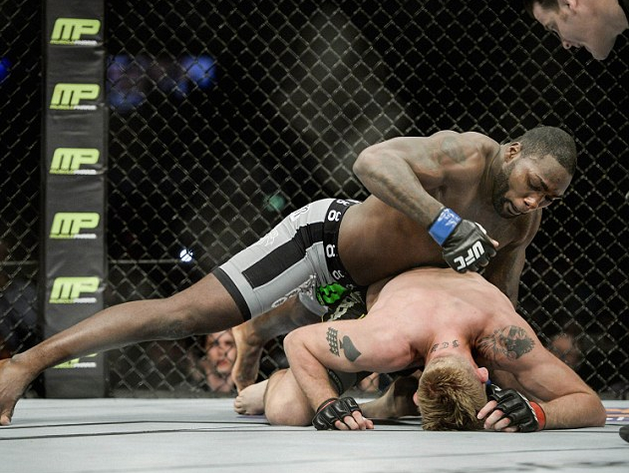 Image: Reuters
Manuwa is also a very powerful striker that has an excellent left hook and knees. He doesn't necessarily have that type of crippling power like Johnson but if he catches you clean, you will definitely have some problems. Manuwa also showed some excellent knees in the clinch in the Blachowicz fight.
Manuwa will have to get in close range to pull this off which always a scary thing, but to be quite honest I think Rumble will be moving forward. Manuwa has been finished in his lone loss to Alex Gustaffson, and in that fight he was definitely more hesitant than he normally is due to the standup skills of Alex.
All in all, Rumble has more power, more fluid combos, faster hands, and harder kicks. With that being said, Manuwa can compete and Rumble should respect his power, but advantage to Rumble.
Image: SkySports.com
Grappling
Johnson is a junior college national wrestling champion, but the weakness in his game has always been slowing down and getting grinded on and eventually submitted. Now that is against world class wrestlers like Daniel Cormier and Josh Koscheck for example. Rumble actually has good takedowns chooses to go that route in fights. Manuwa rarely shoots takedowns as well and I highly doubt he can take Rumble down.
Rumble has extremely fast hips, and this was evident in the Phil Davis fight as he stuffed every last takedown from a D1 national champion. Another thing is that Neil Melanson has taken over the grappling coach duties at the Blackzillians, so I expect Johnson has improved his defense if he happens to end up on his back.
Image: Getty Images
Manuwa was taken down quite a bit in his Kingsbury fight and the Gustaffson but he showed he knows how to get up. Neither guy is a submission threat and I don't see much of this fight happening on the mat, but I think Rumble has the advantage in the wrestling department.
Gameplans
Johnson: Stay in his face, land the power shot, stuff takedowns
Manuwa: Survive the first round, clinch knees, gas him out
Prediction: Johnson via second round TKO
I like Johnson in this fight mainly due to Manuwa not having a threatening takedown threat. I think he'll be forced to strike with Johnson, and Johnson can take a shot his strikes with no issues. I think it will be exciting for how long it lasts, but Rumble will find a home for one of those punches or high kicks.
Andrei "The Pitbull" Arlovski vs. Frank Mir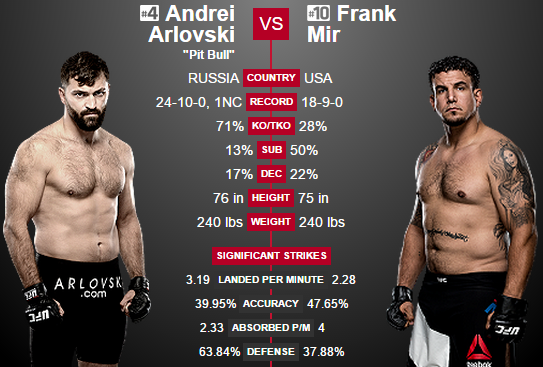 Graphic: UFC.com
Notable wins
Arlovski: Werdum, Browne, Rothwell, Nelson, Silva
Mir: Lesnar, Nogueira (x2), Nelson, Silva, Duffee, Kongo, Cro Cop
Average fight time
Arlovski: 6:51
Mir: 5:30
Strengths
Arlovski: Straight and overhand right, agility,experience, sub defense
Mir: Elite submissions, overhand left, experience
Weaknesses
Arlovski: Exposing chin in flurries
Mir: Head movement, speed
Striking
Arlovski is a very agile heavyweight and he has always had exceptional hand speed and technical boxing skills along with some nice leg kicks. He has very good in and out movement along with lateral movement and definitely has that one punch KO power.
Arlovski at one point in his career was having trouble taking punches but seems to have gotten through that stretch. Andrei is very tough to handle when he has someone hurt and starts to throw in flurries. He has even added a weird backfist that we saw in the Browne fight which allows him to really throw guys off in big exchanges.
Image: FOXSports.com
With all that being said, Andrei has been caught several times in his career in these flurries. Dating back to his fight with Tim Sylvia at UFC 59, Andrei had him hurt but rushed in and got caught leading him to get finished.
When he fought Fedor he had Fedor stunned against the ropes and went in for a flying knee, but ate a right hand and hit the deck and was finished. We also saw this in the Browne fight when Andrei had him hurt and Browne caught Andrei coming in but Browne was so rocked himself to capitalize. Andrei has to be careful and smart if he hurts Frank because we know things can end quickly at heavyweight.
Frank Mir has come a long in his standup game. When he first came to the UFC he had an orthodox stance and rarely even tried to utilize any standup skills. We saw the birth of his skills in the first Nogueira fight when he came out in a southpaw stance. His overhand left and right uppercut have always have been good. Frank rarely uses kicks and in comparison to Andrei is definitely slower and less agile.
Image: Getty Images
Throughout his career Frank has had troubles with guys that move well and have excellent right hands like JDS, Carwin, Overeem, and Cormier for example. He can be slow with his head movement at times but lately is showing that he is improving. He showed he can bang with a young bull in Todd Duffee in his last fight and his always adding to his game. All in all, I think Andrei has a big speed advantage, better kicks, movement, and power in his fist. This doesn't mean Mir can't catch Andrei, but Andrei is the better striker.
Grappling
Mir is easily top the top jiu jitsu artist at Heavyweight along with Fabricio Werdum. Mir was the first guy to submit Nogueira and broke his arm. Mir is better off his back than on top in my opinion, but Andrei rarely shoots for takedowns.
We have seen Mir's sub skills plenty of times even dating back when he submitted Roberto Travern, a 6th degree black belt and multiple time bjj world champion. Mir has even pulled off inside shoulder locks in the octagon as well. Andrei has never been submitted in his career and only has 3 submission wins in his career in 24 wins. He is a master of sambo but he likes to keep fights standing.
Image: USA TODAY Sports
Andrei also has exceptional takedown defense, in fact he has defended 85% of the shots attempted on him. Frank Mir doesn't have the best takedowns at this point in his career either. All in all, you have to give the edge to Mir as we have seen pull off some incredible submissions in the octagon. If he can somehow take Andrei down, we shall see if he can be the first to tap him out.
Gameplans
Arlovski: In & out movement, straight right hand, takedown defense
Mir: Patience, get this fight on the mat, counter overhand left
Prediction: Arlovski via first round TKO
I think if Andrei takes his time he will eventually find a home for a straight or overhand right. I don't think Frank will be able to take him down and Andrei will continue his impressive run.
Demetrious "Mighty Mouse" Johnson vs. John "The Magician" Dodson
UFC Flyweight Championship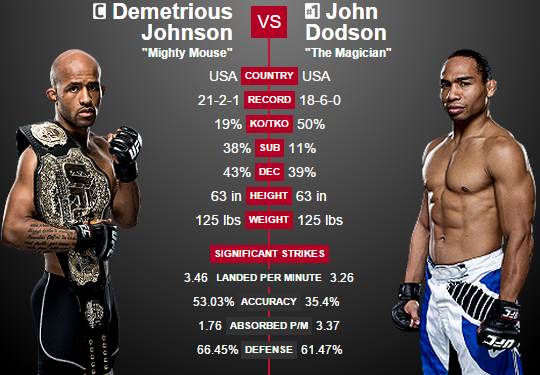 Graphic: UFC.com
Notable wins
Johnson: J.Benavidez(2x), J.Dodson, J.Moraga, K.Horiguchi, I.McCall, M.Torres
Dodson: J.Moraga(2x), J.Formiga, Z.Makovs.ky
Strengths
Johnson: Well roundedness, cardio, pressure, composure, IQ, quickness and speed
Dodson: Power, speed and explosiveness, takedown defense
Weaknesses
Johnson: None at 125 lbs
Dodson: Cardio in late rounds
Image: BlackSportsOnline.com
Striking
John Dodson is definitely the most powerful striker in the division and is probably one of a few guys that close the show with one punch. Dodson has crazy athleticism and closes distance remarkably and we saw in the first fight with Johnson that he could catch him with counters as DJ was coming in. Dodson is very good at feints as well. He can set you up by throwing a fake body shot and coming over the top with a left hand.
With all that being said in Dodson's last fight he didn't seem himself as he was coming off an injury. He did get outstruck by Makovs.ky in a fight that I personally thought he lost. Another thing Dodson's output in the first fight considerably slowed down in the championship rounds due to him putting so much into his shots early in the fights.
Image: MixedMartialArts.com
Demetrious Johnson is an excellent, technical striker that can keep you guessing by switching his stance and being out of the way in time for counters. DJ is exceptionally good in the clinch, he beat Dodson up bad when the fight was in close and drained him and significantly outstruck him.
All in all, Dodson has more power and may slightly be a better counter puncher, but as this fight gets in the third round and on he will slow down and Johnson will be able to turn the heat up just like the first fight. Johnson is just more accurate, gets hit less, and is just more proficient.
Grappling
In the first fight Johnson was not able to take down Dodson unless it was against the cage as Dodson's hips are incredibly fast. Dodson stuffs 88% of the takedowns attempted on him.
Johnson can take him down against the fence but probably not in the middle of the cage. Dodson does have some underrated takedowns but I don't think he will try to use them in this fight.
Image: Getty Images
Dodson is not a submission threat, but Johnson surely is as we have seen some beautiful armbars in the Moraga and Horiguchi fights. When DJ gets on top he never stops attacking until the fight is over which means you can never take a break on the mat. Johnson definitely has the edge on the mat.
Gameplans
Dodson: Counter left hand, catch him coming in, stuff the takedowns
Johnson: Nonstop attacking, takedowns, drain him in the late rounds
Prediction: Johnson via unanimous decision.
Johnson always excels in rematches and I don't think anything will be different. I think Dodson may win the first round but DJ will win the last 4 and be dominant. His pressure will just be too much to handle.
Preliminary predictions
Felder via TKO

Lineker via decision

Andrade via decision

Collard via TKO

Stallings via decision

Silva via decision
Image: MMA Junkie
Demetrious Johnson has a huge chance to catapult himself and the division in to the true spotlight under the action in Las Vegas. We're all set for UFC 191—who will walk away with the Flyweight crown?