It's been yet another weekend to remember in the ever-changing sporting world, from nations vying to stake their claim as the best rugby team on the planet, to a dramatic grand prix in the Singapore night sky and beyond.
We break down the best of the sport in the weekend's headlines (19-20 September 2015) with all the news and views—this is The Weekend Review on TheSportMatrix.com.
The pinnacle of rugby kicks off with a bang
Twickenham Stadium was a raucous cauldron as the Three Lions got the Rugby World Cup up and running with an eventually hard-fought victory over Fiji. Proceeding a quite stunning opening ceremony—large rugby balls galore—England sported the rose with pride as the hosts raced to an early lead. But with the referee's work load increasing with a number of reviewed tries and fouls, the Fijians would get a shout back in the game, forcing their opponents to really "Carry Them Home", take a 35-11 win and gain maximum points from their first pool fixture.
Image: France24.com
It most certainly was a "Super Saturday" when the tournament got into full swing with four fixtures the day after. Jubilant celebrations were more than justified as Georgia edged Tonga, resolutely defending onto Gorgodze and Tkhilaishvili's tries, before Canada could do anything but defend when Ireland trampled over them with a swashbuckling 50-7 victory to really heat up the tournament.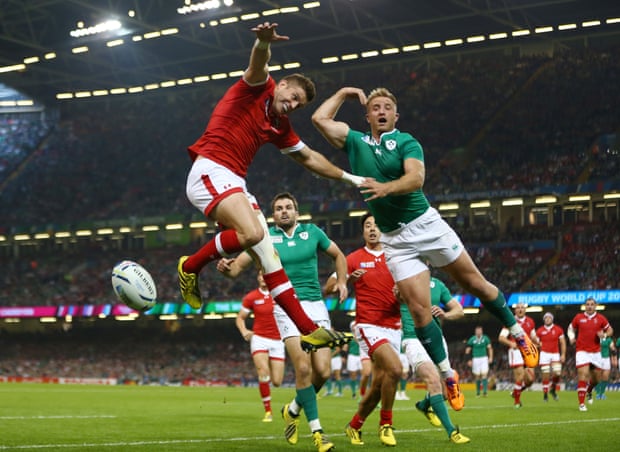 Image: TheGuardian.com
Japan then went on to pull of one of the biggest upsets the history of rugby union as they scratched and clawed their way to a miraculous win over South Africa. South African coach Heyneke Meyer apologised to fans following the defeat which really typified what went wrong, as Karne Hesketh scored in the final minute to win a thriller in Brighton. To end a dramatic day, France and Italy locked horns, but thanks in part to a kicking clinic from Frederic Michalak, the French would end up trampling Italy, teaching the young Italians a lesson or two with a 19 point outing in his return from injury.
Image: ChannelNewsAsia.com
Samoa punished an error-making USA side to get their campaign off to a winning note on Sunday's first game, with Nanai-Williams the cornerstone of the victory. Then, further intensifying the tournament, another home nation would destroy the visitors as Wales ignited the Millenium Stadium with a huge 54-9 win over Uruguay. Scoring eight tries, the Welsh were put in control early on thanks to a hat-trick from Cory Allen. And finally, reigning champions New Zealand survived a scare from Argentina—along with 2 yellow cards—as they came back from trailing at half-time to put aside the Pumas. It's certainly been a memorable start to what is poised to be an extraordinary rugby world cup.
Image: Yahoo
A turning point in the Premier League season?
Once again the English top flight reminded us to expect the unexpected as perennial contenders Chelsea and Manchester City endured contrasting fates in week six. The Blues—who were coming off a sluggish start to their title defence—continued where they left off in their domination of Maccabi Tel Aviv in the Champions League a few days prior, by overcoming Arsenal in a bad-blooded and controversial affair at Stamford Bridge.
Diego Costa was in the spotlight once again for his loose-cannon; appearing to hit Koscielny mid-air forcing an altercation with Gabriel, grinding the gears of the Brazilian and eventually getting him sent off for a second yellow. A man down, and Chelsea pounced on the deprived Gunners, with Zouma heading past Cech. After Cazorla was then dismissed, this time unprovoked, the hosts secured the points, leaving Arsenal bewildered.
Manchester City meanwhile saw their 100% record come tumbling down as West Ham United became the first team to score against them in their Premier League campaign and go one step further with a huge win at the Etihad Stadium. An early long range strike from Victor Moses would stun the Citizens, before Sakho doubled the lead at half-time. Kevin De Bruyne got one back, but Pellegrini's men slumped to a loss.
Elsewhere in the Premier League, Anthony Martial continued to pay off his price tag with a classy brace against Southampton as the Red Devils held on after a comeback away at St. Mary's. Juan Mata added to the scoring tally after Pelle's double sunk some doubt. Speaking of doubt, that will resonate in the minds of Liverpool as, despite Daniel Sturridge starting, the Reds were held to a 1-1 draw against Norwich City at Anfield. Danny Ings found the goal to give them the lead, but Russell Martin equalised to get a point back for the Canaries. Tottenham meanwhile dug deep to scrape past Crystal Palace in a nail-biting contest, while Swansea and Everton's meeting finished goalless.
Murray ends Britain's long wait for Davis Cup final
Great Britain reached their first Davis Cup final since 1978 as Andy Murray tore through Bernard Tomic, carrying the hopes of the nation and igniting them further. Even with a bad back, as he admitted post-match, the Scotsman stood tall in Glasgow, with a 7-5, 6-3, 6-2 win.
Last time they won the Davis Cup was well back in 1936 with Fred Perry leading the team. They head to Belgium this time with Andy Murray carrying the hopes to end the wait for another triumph.
Vettel victorious back on his stomping ground of Singapore
Sebastian Vettel once again prevailed on his beloved Singapore track as Championship leader Lewis Hamilton retired on a hectic evening near south Malaysia. The Mercedes' driver suffered a power outage and was forced to quit—the first time this season—while there were other delays when an intruder got on to the track.
The German was really on top form, with a 3 second leverage after the inaugural lap, and really solidifying his lead as Ferrari looked unstoppable on the day. The moment that overshadowed the whole race though was when a man was seen running and then stumbling on the track in lap 37. He was arrested by police and found to be a 27-year-old, while the FIA demanded a full report from track officials after the safety scare.
Dazzling Dortmund roll on while Messi's magic returns against Levante and Totti reaches monumental milestone
There was plenty of football across Europe to feast on over the weekend too, as Roma legend Francesco Totti scored his 300th goal for the Italians in a 2-2 draw with Sassuolo. A stable constant in a changing Serie A environment, tributes poured in following an extraordinary moment for the striker.
Elsewhere in Italy, last season's champions Juventus got back on track with a win over Genoa who were reduced to 10-men. It was another step in the right direction for the Turin side who had struggled from the start, but followed up a win against Manchester City in the Champions League in the week with a solid display.
In Germany, Borussia Dortmund made it 11 wins out of 11 in all competitions this season as they trampled past Bayer Leverkusen in what was said to be their toughest challenge to date. Hofmann grabbed a goal, while Aubameyang scored from the spot to lift the yellow and black clad side ahead of Bayern on goal difference, the Bavarians also being perfect with a win over Darmstadt.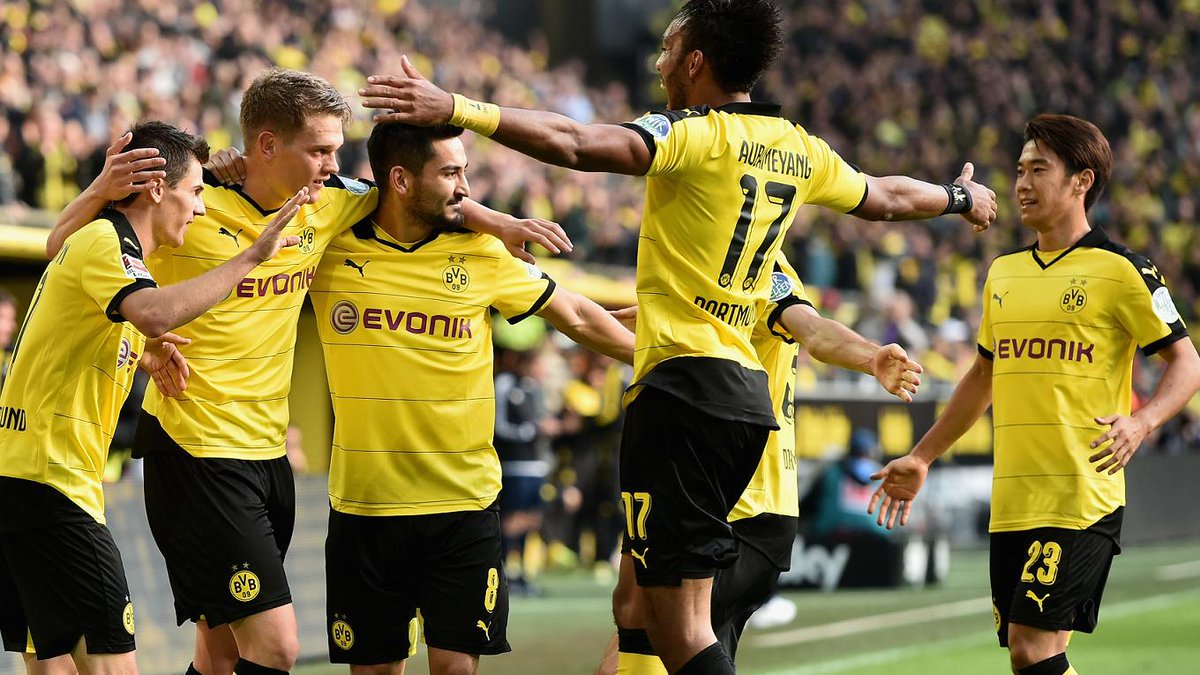 Image: DFB
Lionel Messi bagged two goals as Barcelona overcame a goalless first period to put four past Levante at the Nou Camp. Karim Benzema meanwhile kept up Real Madrid's chase, with his goal helping them edge Granada.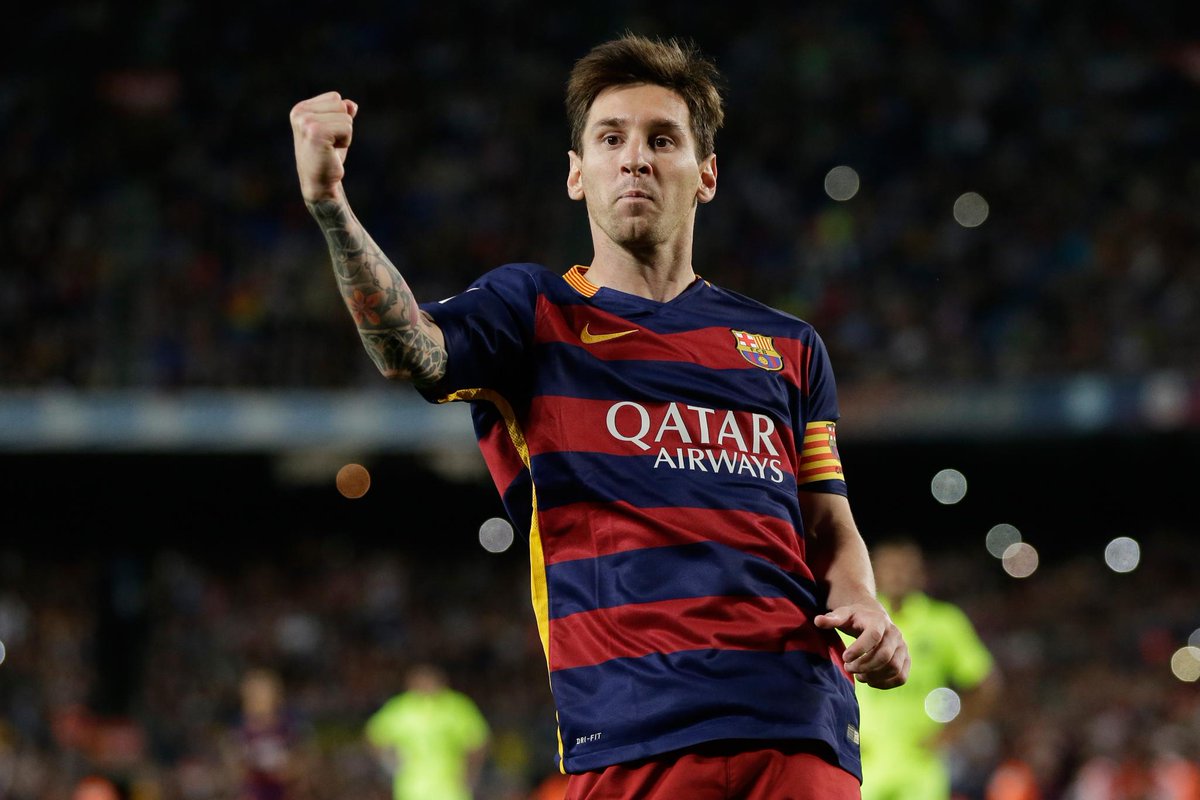 Image: SportsCenter
Brady blitzes Bills, Steelers destroy 49ers in week two of NFL season
Tom Brady was at his very best once again as the reigning NFL champions New England Patriots got the victory away at the home of the Buffalo Bills. The Patriots' talisman threw 466 yards passing to silence Orchard Park, and more of the same as the Patriots once again proved too much for the Bills to handle.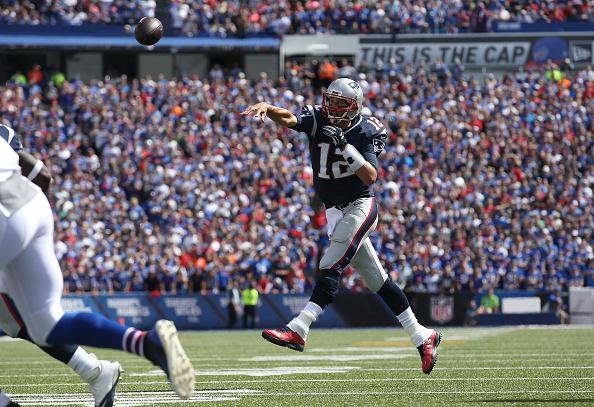 Image: ESPN
Pittsburgh Steelers tore the San Fransico 49ers to shreds with a thumping 43-18 win at home as Roethlisberger and co. found points quickly and easily en route to the win to make a huge statement, with the quarter-back throwing for 369 yards, including 3 touchdown passes.
Other results included the Falcons ousting the Giants while Cowboys beat the Eagles 20-10.
Rollins hangs on to title, but a Big Red problem rises
With every title on the line, and as promised, the complexion of the WWE certainly changed at Night of Champions in Houston, Texas. John Cena, Kevin Owens and Charlotte walked away with the Intercontinental, United States and Divas' Championships respectively, while Kane came back to haunt Seth Rollins after he outlasted Sting in a classic.
The path ahead for the Architect does not look so bright now after Kane made a haunting appearance.
That of course was after he had received a Brogue Kick at the hands of Sheamus. Just as the Irishman was arrowing in on capturing the title, the Demon would rise, and take both men out of the equation.
It's another weekend to remember! The sport continues to come thick and fast..