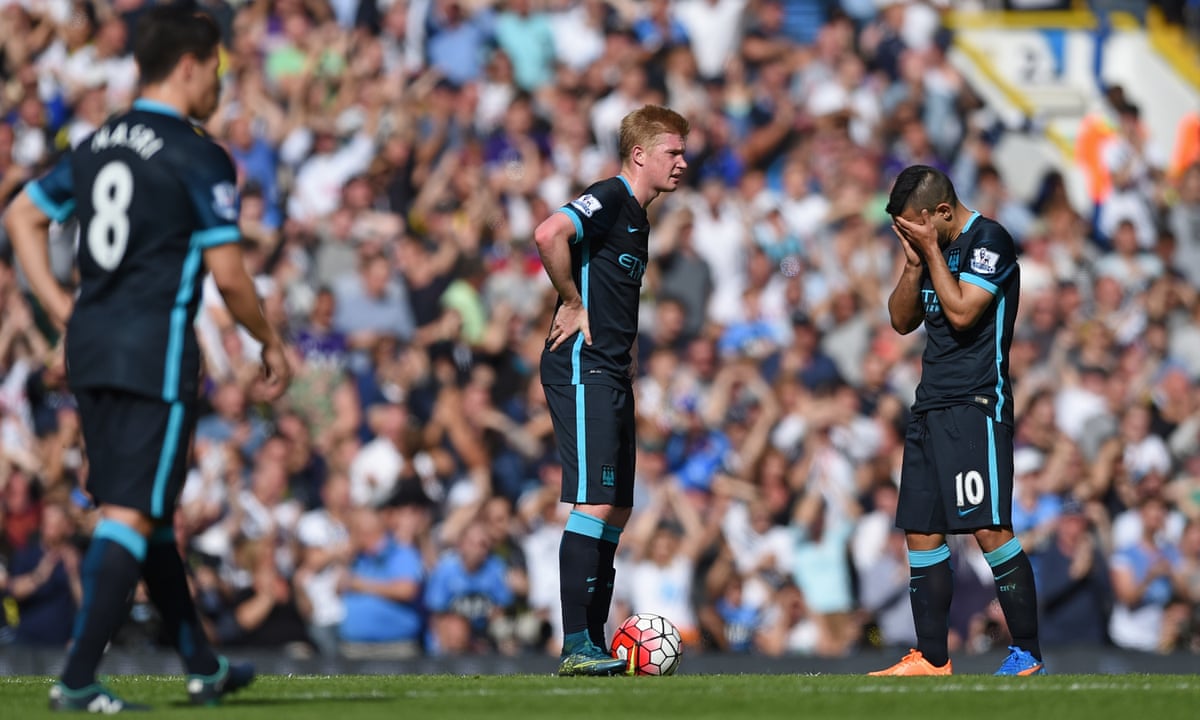 Image: The Guardian
Amassing a juggernaut to kickstart the campaign in emphatic fashion, few could stop Manchester City when they came rolling out of the blocks. That made the Citizens' heavy defeat to Tottenham Hotspur all the more surprising.
In spite of Kevin De Bruyne's swift counter-attacking goal to open the scoring in White Hart Lane, a couple of debatable goals along with Lamela and Alderweireld finding the net saw the Sky Blues received their biggest defeat since 2008.
While they boast unparalleled depth, the absences of Joe Hart, Vincent Kompany and David Silva left a scattering of voids that weren't filled in week seven's early kickoff. Replacing the English keeper was Willy Caballero—and the Argentine had a tough day, while making the head-scratching decision to race off his line from a corner allowing Alderweireld to head Spurs in front.
Meanwhile, with City's skipper out of the equation, Otamendi and Demichelis were the central defenders. It didn't work. Along with Sagna and Kolarov, they attempted a total of 15 tackles on the day, only winning 2 of them, according to Squawka.
Seemingly stuck in the mud, their back-line looked shades different from the setup which kept five straight clean sheets in an ideal start to the season. At a number of points last season, Kompany's absence may have been a good thing for City—but with him undergoing a resurgence to his finest form of late, they looked lost.
£55 million signing Kevin De Bruyne definitely brought a fresh dynamic to the squad, and his opener—which added another goal to his growing tally—justified that. But the Belgian and his teammates still lacked one thing which had helped them blitz past previous opposition.
They lacked the spark of creativity. They lacked David Sil anva. A calf issue ruled the silky Spaniard out of the squad to play Tottenham, and they certainly missed him. His value to the club is certainly astronomical, the link-up with Aguero and other forwards make goals readily available.
Kompany and Silva were also missing the week prior. That was a home loss to West Ham United. They've now lost two straight. Their Champions League hopes aren't bright at this moment in time either after suffering a group stage loss to Juventus.
Losing your captain and integral defender, along with your playmaker is reason to believe Manchester City aren't on a downwards spiral. But blaming injuries, no matter how your luck goes, is not what title contenders do.
Yaya Toure seemed revitalized as Manchester City trail blazed to five out of five wins. The Ivorian was nowhere to be seen against Spurs however. Performances like that could blight the Citizens, they must stay consistent no matter the circumstances.
Fortunate for Manuel Pellegrini, Chelsea only gained a point of ground on them when they drew to Newcastle United. Failing to capitalise on that meant their biggest challengers for the title made the loss less of an impact on the table—but are Chelsea their biggest contenders?
Or are Manchester United the team to beat? After all, they are the ones standing at the top of the table after seven weeks. Looking at how they cruised past Sunderland could be the evolution of a new worry for City, one they may not have even saw coming.
The sooner their core players return is the sooner City can get back to business. For now, it's a waiting game, but too much playing of that game could become a concern. At this moment in time, City remain in the centre of the title race. Whether or not that lasts remains to be seen.
More:
Two sides to the coin as Chelsea draw away at Newcastle