LIVE REPORTING BY MMA GENIUS AND NISAR KHAN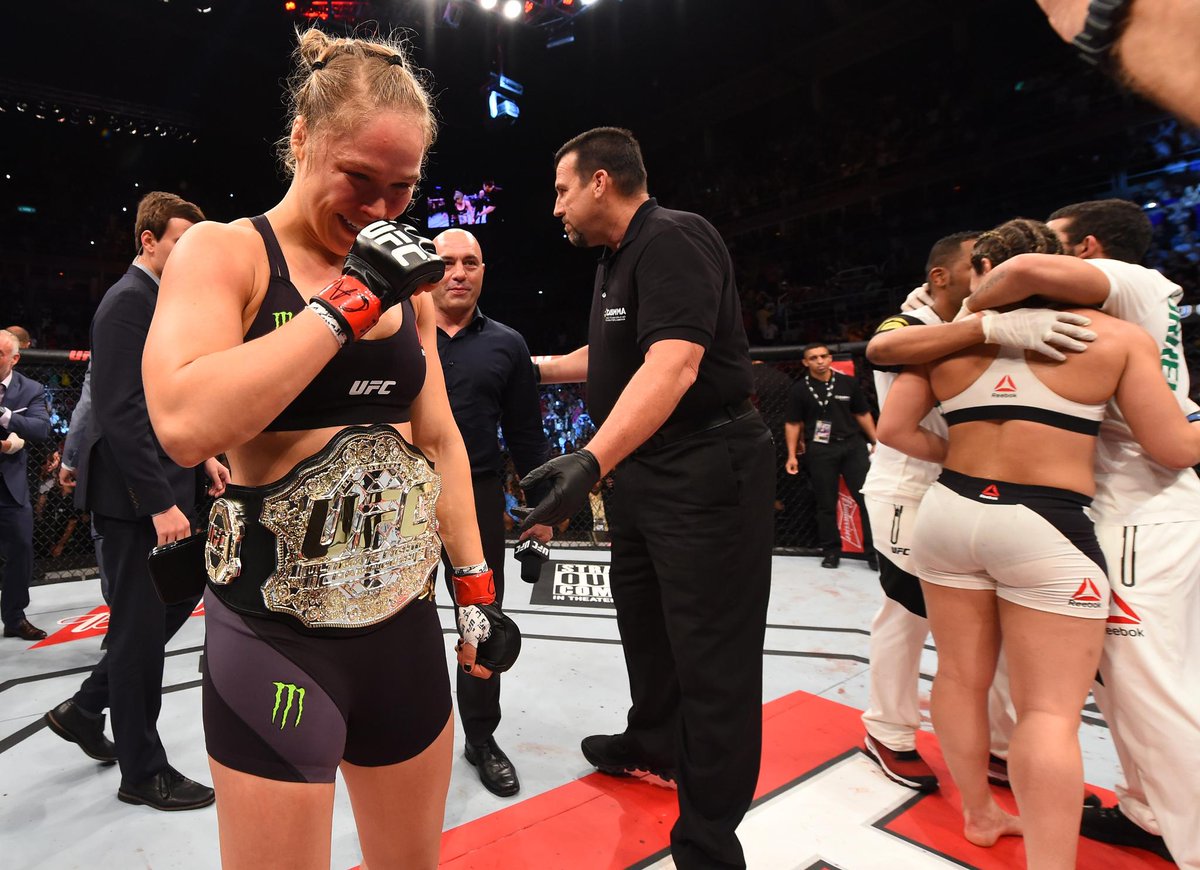 Image: SportsCenter
Ronda Rousey needed just 34 seconds on enemy soil, and with that the night was done. Bethe Correia laid flattened, while the world was once again amazed at how "Rowdy" made it look so easy.
Not afraid to match home-backed Correia on the feet, she took a few shots coming in but the inevitable would soon occur. As the Brazilian tumbled back on to her feet, Rousey was there to meet her, landing cleanly to the temple and one on the way down. It was all over, emphatically.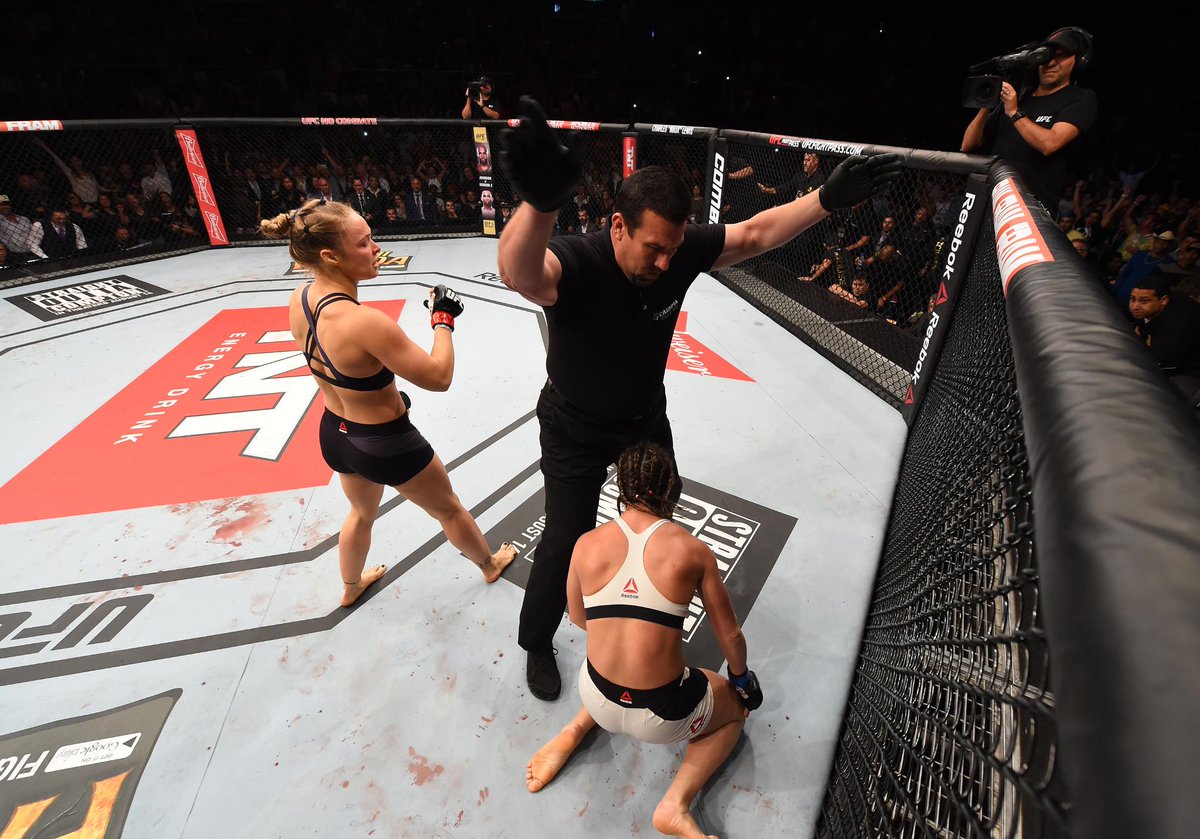 Image: SportsCenter
To begin the night, Claudia Gadelha set her sights on a rematch with the reigning Women's Strawweight Champion Joanna Jędrzejczyk after a convincing performance to put away Jessica Aguilar. Winning all three rounds, she rallied for the rematch following the triumph, busting the nose of Aguilar, controlling range and proving her worth as the next title challenger.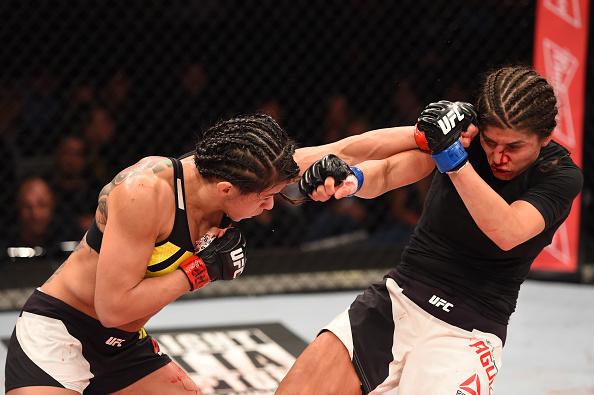 Image: Getty Images
A determined, rejuvenated Antonio Silva knocked off feared Australian Heavyweight contender Soa Palelei early in the second round of their clash. With both men coming in just under the sizable weight limit, the cage fencing was under immense pressure as "Hulk" forced "Bigfoot" up against the fence, landing an eventual takedown. Perhaps Palelei never recovered from the barrage that concluded the round, since he walked into a mammoth uppercut, followed by a knee, and a few more punches that crumbled him to the ground giving Silva the victory.
— TheSportMatrix (@TheSportMatrix) August 2, 2015
Another Heavyweight giant, and this time, a real giant, the tallest fighter in UFC history in fact, also managed to get in the win column. Stefan Struve prevailed over Minotauro Nogueira over the course of three rounds for a unanimous decision win. Despite early clinching, the Brazilian legend was unable to really control the fight with the chasm in reach proving in favour of the "Skyscraper". But, as he would refer to post fight, he was not fighting a normal human; for a normal human would have crumbled to the ground at the time when a right high-kick cracked over the skull, and so on, and so forth. Nogueira made it out to the end, but it was easily in favour of Big Nog. There was much respect throughout, as Struve acknowledged his inspiration from his opponent, lifting him up for the crowd to salute him.
Image: Jason Silva / USA TODAY Sports
Then came a pair of finale fights to conclude season 4 of The Ultimate Fighter Brazil. In the Bantamweight contest, Reginaldo Vieira and Dileno Lopes went all out in a thrilling fight to the finish with the former prevailing by decision. Submission trouble was evident early for both, with an exchange in Guillotines but none would be locked in. Wild exchanges, it was a war of attrition at times, but neither let up and Vieira went on to win the contract. In the Lightweight final, Glaico Franca prevailed over Fernando Bruno with a late submission.
Image: Jason Silva / USA TODAY Sports
In a rematch from a classic, Shogun Rua was once again victorious over "Little Nog" in a spirited comeback where the former Light Heavyweight Champion was on the verge of being knocked out at the hands of a relentless barrage from Nogueira. Things simmered down in the subsequent frame, but Rua was in survival mode in the third once more stuck in a Guillotine. He eventually escaped, and did enough to win that round, and ultimately, the fight.
Image: MMA Fighting
But the night certainly belongs to Ronda Rousey. No matter how much improvement we have seen her make on previous occasions, this differential seemed even greater, her hands have been made into striking forces from scratch, she's an athlete to cherish witnessing.
Image: MMA Fighting
As it happened