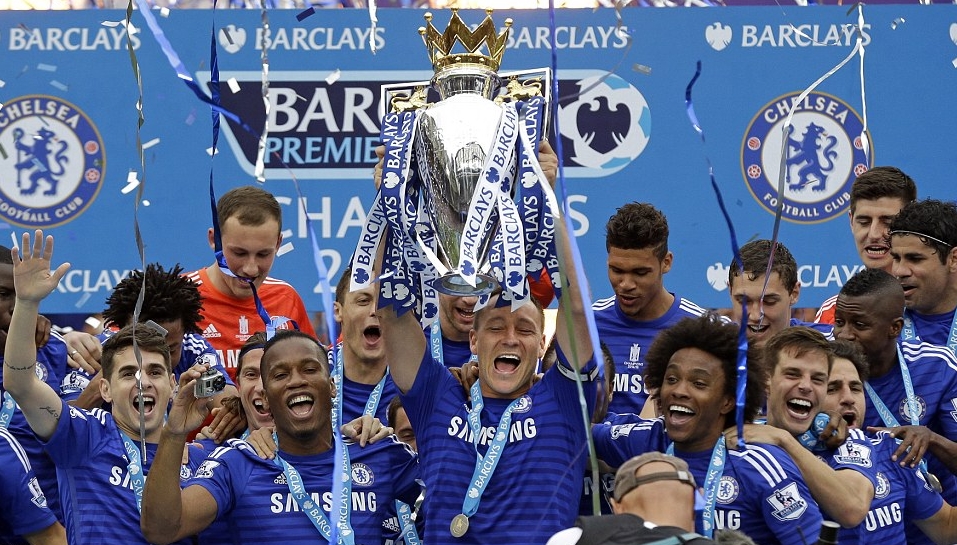 Image: AP
Chelsea climbed to the pinnacle of English football in 2014/15 but will find it much harder to stay atop their contemporaries in the 2015/16 season.
It's closer than ever; Manchester City trailed by eight points last season, and their swoop of former Liverpool winger Raheem Sterling illustrates the Cityzens readiness to supplement an already lethal plethora of attacking talent. Manchester United's flurry of activity in the transfer market has put them in pole position to wrest the title off the Blues this coming campaign, while Arsenal and Liverpool have strengthened measurably too.
Chelsea haven't exactly set the world alight with their transfer business so far, bringing in only one relatively big-name player alongside a backup and a prospect.
Image: TheNational.ae
Radamel Falcao rarely looked anything other than ill-suited to the particular demands of the Premier League playing for Louis van Gaal's Manchester United last season—Jose Mourinho, however, clearly believes he can assist the Colombian in rediscovering the form that made him so imperious during his spells at Atletico Madrid and Porto. Falcao is expected to feature heavily in this forthcoming campaign.
Goalkeeper Asmir Begovic and Kennedy have also been recruited, but will play less significant roles.
Here, TheSportMatrix delves into the major tactical talking points and ask the most pertinent questions ahead of the anticipated 2015/16 season, pondering how Jose Mourinho will select his Chelsea side and who the key players will be.
1. 4-2-3-1 Go-to Formation?
As Bert Lance once said, "If it ain't broke, don't fix it."
Chelsea's International Champions Cup campaign imparted about how Mourinho intends to play in 2015/16, and the 4-2-3-1 formation was constantly implemented in that tournament. Cesc Fabregas alongside Nemanja Matic in the pivot, Hazard on the left, Willian on
the right and Oscar as the No. 10 behind Diego Costa.
With Nemanja Matic rightly anchored in place as Mourinho's trusted lieutenant in front of his back four, and Spaniard Cesc Fabregas stationed in Chelsea's double pivot alongside the Serbian more often than not, the flexibility of 4-2-3-1 and the reliability of the pivot right behind provides the interchangeable trio of Hazard, Oscar and Willian the opportunity to wreak havoc at will.
It especially provides Cesc Fabregas the freedom of proceeding forward into a more prominent role if there's a pressing need for it.
Cesc breaking into the No. 10 space from deep last campaign was soon replicated once Oscar ran out of batteries. Sliding the Spaniard centrally debatably increases his effectiveness—Fabregas cannot conduct the play like he does from deeper, he cannot moderate tempo as well, but gives the West Londoners thrust in an advanced position.
Oscar has been inculpated for not functioning like Fabregas, but that's not necessarily true—the Brazilian, by the same token, renders more energy and hustle in attacking areas. After all, he's rightly the undisputed No.10.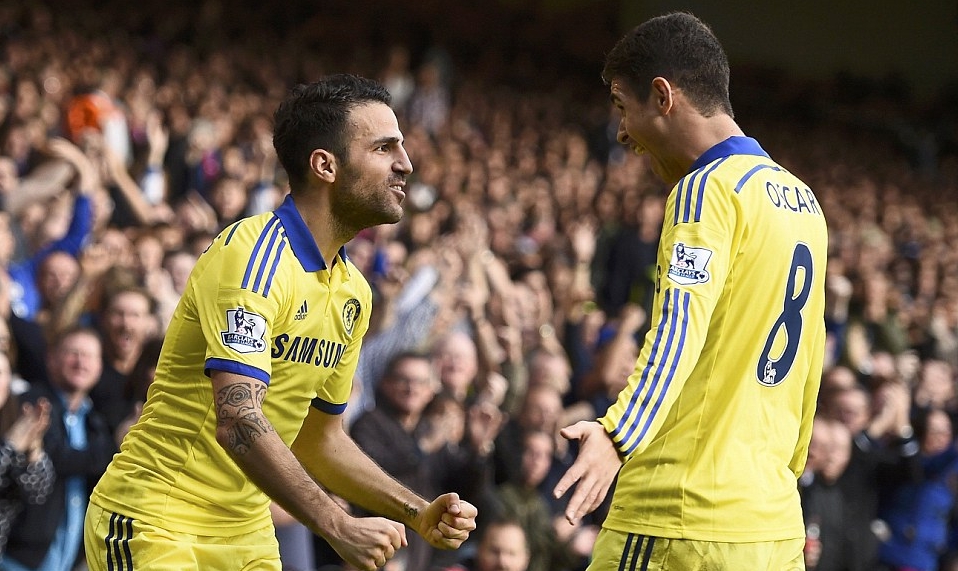 Image: Reuters
It's a remarkably similar outlook to the type of side Mourinho crafted with Los Blancos in his time in Spain, utilising an all-round striker, an inside forward from the left and a shuttler (Nemanja Matic) from midfield.
2. Or 4-3-3?
If you turn back the clock six years, Chelsea were on the precipice of arguably their greatest domestic campaign. The 2009-10 season saw 103 goals scored en route to a third Premier League title and the sixth FA Cup added to Stamford Bridge's trophy cabinet.
Manager Carlo Ancelotti finding Didier Drogba and Frank Lampard at the peak of their powers—both physical and cerebral—surely helped (as each scored 29 and 22 goals respectively), but the Blues possessing an offensive identity under the Italian was the main factor in their success.
The Blues have since won the 2015 Premier League, rather comfortably, but the football played after Christmas was nowhere near as compelling as Ancelotti's.
Chelsea have already reestablished their preeminence, but they should hearken back to a staple founded under Mourinho in his first stint (2004-2007) at Stamford Bridge—culminating in their 2009/10 double campaign: 4-3-3.
Image: Standard.co.uk
Lost due to managerial upheaval and the squad's construction or lack thereof (namely the ageing of Lampard and the arrival of attacking-midfield talent), Chelsea's 4-3-3 was deactivated and the ubiquitous 4-2-3-1 was installed.
Mourinho's first Chelsea period saw Lampard and Terry already on the roster, but Claudio Ranieri left the Portuguese manager another gift: Claude Makelele.
The French international was the glue of Chelsea's 2004/05 and 2005/06 domestic dominance. His presence in front of Mourinho's back four allowed box-to-box—Lampard and Essien—the ability to maraud from midfield. An anchor in the 4-3-3, his position was aptly dubbed the "Makelele Role."
Were the 2015/16 rendition of Chelsea Football Club to adopt the 4-3-3, Nemanja Matic would be the prime candidate to reprise the Frenchman's role. Possessing an accommodating left boot, terrific field awareness and a nose for danger—Matic can serve as the first-choice thespian.
Image: Telegraph.co.uk
'Boring, boring Chelsea' echoed around the Emirates Stadium on April 26 as the champions-elect took another stride towards the Premier League title. It's fair to say nobody apart from some Chelsea supporters were enamoured by the Blues offensively post-Christmas last season.
If it ain't broke, don't fix it, right? Discarding the 4-2-3-1 formation altogether would be futile at the very least; it's not broke, don't repair it.
Mourinho has the choice of either 4-2-3-1 or 4-3-3 if we're judging by his second stint as Chelsea manager: the 4-2-3-1 has predominately been employed (so far), while 4-3-3 has chiefly been used against the bigger sides, in order to occupy the three-man midfield that plug right in front of the back four. It'll be interesting to find out which formation Mourinho mostly opts for next season.
3. Frailties?
Arsene Wenger finally exorcised his Jose Mourinho hoodoo on Sunday as his Arsenal side contained their fierce London rivals to record the manager's very first victory over his Portuguese adversary.
Alex Oxlade-Chamberlain scored the only goal for the Gunners in what was an unsurprisingly surly affair. The 21-year-old starlet ducked inside past full-back Cesar Azpilicueta and lashed an incredible left-footed strike into the top corner; Thibaut Courtois was left helpless as the ball nearly took the net off behind him in sunny London.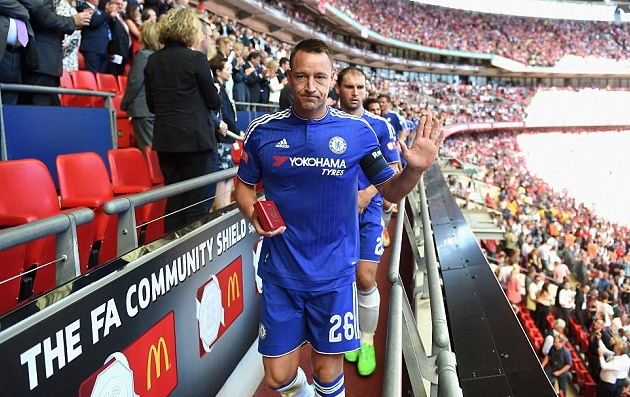 Image: Getty Images
It was stellar tactical organization from the Gunners—rather Mourinho-esque—Arsene Wenger's side deserved victory in English football's traditional curtain-raiser. It's their second relevant trophy inside four months after a well-documented barren spell, and the murmurs in North London suggest we're witnessing something very special in the making.
In truth, Chelsea did not appear all that bad—Mourinho's side created a handful of chances, just failed to convert—but this defeat summarizes the Blues' frailties as they approach the defence of their Premier League title.
Had it not been for Eden Hazard blazing his shot over the bar inside the Arsenal box and Ramires misplacing his header, we'd be talking about a different game altogether.
Chelsea have stood still in the transfer market. Considerable criticism has rightfully been levelled at Jose Mourinho for his and owner Roman Abramovich's lack of operation so far.
While many might dwell on the obligatory compliance with UEFA's Financial Fair Play regulations—the Blues look well-placed in that respect compared to the likes of Manchester City and Arsenal.
Image: Telegraph.co.uk
Chelsea's decision to stand still, not address their problems in the transfer market is appearing increasingly short-sighted as they continue to look defensively and offensively frail.
Eden Hazard's burden was alleviated as Mourinho plumped for Cesc Fabregas and Diego Costa last summer. But Fabregas' post-Christmas holiday theory and Costa's niggling hamstring injury shoulders the weight right back on Hazard—he can't do it all himself.
Most of all, Mourinho needed a dynamic, imaginative midfielder to take the burden off Hazard and add more thrust in attacking areas. He hasn't; he's up the creek.
The Blues kick off their Premier League title defence against buoyant Swansea City on Sky Sport's Saturday Night Football. Pre-season friendlies are no other than an exercise in refining tactics and improving fitness, but Chelsea must be better than previous weeks versus Garry Monk's dangerous Swansea.
4. Falcao-Costa Reunification
The logic behind Chelsea acquiring Radamel Falcao is clear: They needed a striking replacement for Didier Drogba. They need to comply with UEFA's Financial Fair Play regulations—and, ultimately—they are wagering "the old" Falcao will somehow resurrect himself in a gamble they can easily afford.
It's almost easy to forget there was once a time Diego Costa played second fiddle to the Colombian while at Atletico Madrid.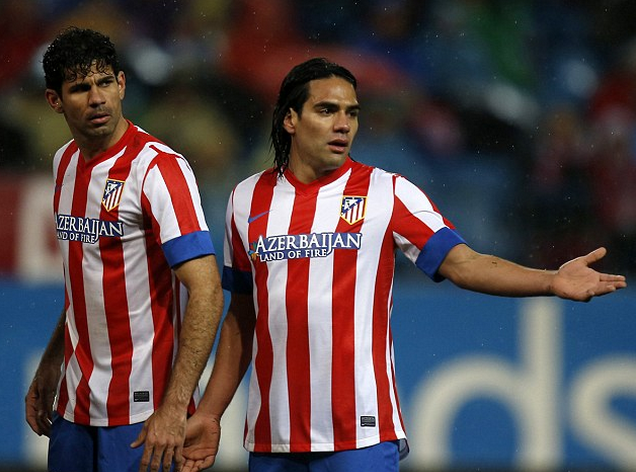 Image: Reuters
The duo wreaked havoc under Diego Simeone when partnered together, forming a telepathic bond, and the former was perfectly fine using his abilities to chiefly facilitate goals, not necessarily to score them.
Costa was either utilized from a wide position opposite Arda Turan or alongside Falcao in a 4-4-2 playing for Atleti. Falcao's first instinct has always been the same: channel-run to split the full-back and the central defender. The Colombian, structurally, can run in behind the defence and stretch play vertically, proven in his years in Spain.
"El Tigre" is a striker in the mould of Chelsea legend Didier Drogba—Falcao is far from a like-for-like fit when it comes to the former Blues man, but there are similarities in their approaches.
Similar to Drogba, Falcao is a considerable physical presence who can mix things up—bullying defenders or bypassing them with a flash of skill. Well, that used to be the case.
His lack of form for Manchester United last season would appear to be multi-factorial. The most likely culprit would be the lengthy lay off he faced after being undone by injury—specifically a ruinous ruptured anterior cruciate ligament in his left knee—and the impact the injury itself had on his physicality.
He has seemingly lost the electric burst of pace he once possessed, which made him such a threat on the counter-attack subsequently.
Image: Standard.co.uk
Of course, if Falcao did get back to his best, or even, say, 75 percent of his best, there's the option to buy the Colombian from Monaco at the end of this season if the player can rediscover the scoring touch that once made him the most feared striker on the continent.
Falcao on loan is risk-free for Mourinho. It will be a huge test of the Portuguese's fabled man-management skills regardless, and in an ideal scenario, Mourinho clearly sees the Colombian rediscovering his old swagger and becoming both a foil and viable alternative to Diego Costa.
The reunification of the intricately-coiffured rebel and the valiant warrior has been glossed over this summer, and if Falcao is to reimpose even 75 percent of his thunder next season—the deadly pair we once witnessed at Atletico Madrid will need to be in force.
5. Mourinho Tactics?
Chelsea's pragmatism personifies manager Jose Mourinho's ability as a master of preparation. He sees style of play situationally and according to the opponent. He developed this adaptability at the start of his professional coaching career as Bobby Robson's interpreter and scout at Sporting Lisbon and Barcelona.
Against the bigger sides, Mourinho's Chelsea enjoy absorbing pressure in a low block from sides that prefer keeping possession. It's either two or three midfielders that clog the middle, and chiefly Eden Hazard and Willian drop further back in order to prevent wide isolation.
They frustrate opponents by decelerating the tempo and disheveling any rhythm in the strategy commonly called "parking the bus"—popularized as a descriptor of Mourinho's resilient style.
Image: ESPNFC.com
In general, Mourinho has two ways of playing—one when he is the favourite and the other in close/underdog games (against the bigger sides). His approach against the big sides is very flexible, on occasions he presses high, on occasions he can drop completely deep. But definitely always defence-first and always accompanied by the objective of scoring first. Against smaller sides his approach is more consistent and easier to interpret—here's a relatively precise emulation of how the Portuguese plays against smaller sides:
Mentality: Control

Fluidity: Rigid

Shorter Passing

Close Down More

Higher Tempo
GK - Courtois - Goalkeeper (Defend)
DR - Ivanovic - Full-Back (Attack)
DCR - Terry - Central Defender (Defend) [Close Down Less]
DCL - Cahill - Central Defender (Defend) [Close Down Less]
DL - Azpilicueta - Full-Back (Support)
MR - Willian - Wide Midfielder (Support) [Cut Inside, Dribble More, More Risky Passes]
MCR - Fabregas - Roaming Playmaker (Support)
MCL - Matic - Central Midfielder (Defend) [Close Down Less]
ML - Hazard - Wide Midfielder (Attack) [Cut Inside, More Risky Passes, More Selfishness]
AMC - Oscar - Attacking Midfielder (Support) [More Pressing]
ST - Diego Costa - Runner In Behind (Attack)
Control gives you an adventurous mentality setting with already fairly high tempo, pressing and passing settings. Mourinho likes his sides to play fast, quick football with a reasonable amount of pressing from the outset against smaller sides.
There's a consensus of coaches in modern football that prefer pressing and possession, fluent, fluid football (tiki-taka) then there's an alternative strand of thought, one that does not engage high up the field but prefers to sit deep and thwart the opposition.
Jose Mourinho remains a master at the latter. The brilliance of the tactic means that it does not even require exemplary performances from all of Chelsea's players for it to function.
Reactive sides—Germany in the 2014 World Cup, for instance—can still play thrilling and aesthetically pleasing football. They allowed their opponent's long spells with the ball, before picking them off. Again and again their opponent's attacks bedraggled and Die Mannschaft stormed forward on the break, awesome in their pace and muscularity.
Image: SkySports.com
It's fairly clear that the theories about his sides' defensiveness against rivals are unelaborated. His effectiveness, however, cannot be questioned. Against all of his major rivals, Mourinho enjoys a superior win percentage than the collective attained by the host of coaches who succeeded him from 2007-2013. This win percentage also translates into trophies, with the 1.67 per season he earned in his first stint, higher than the one per campaign achieved by his successors.
The Portuguese boss has already insisted that his personal differences with owner Roman Abramovich have been well and truly mended after his acrimonious exit in 2007, so history is not doomed to repeat itself, with the gulf in ideologies between manager and owner proving an abyss too large to traverse.

His biggest decision tactically last season came after the shambolic 5-3 defeat to Spurs on New Year's Day and just the power of the alphabet separated the Blues and Manchester City. Mourinho had seen his side playing too openly, too complacently on the night, hence the winning formula was introduced. Chelsea closed up shop, played on the counter and, like they had before Christmas, proved too good for the rest.
It would come as no surprise if Mourinho once again implemented a more vigilant approach next season. He desires back-to-back league titles, he loves being the best. Free-flowing football in the first half of the 2014/15 campaign, he wasn't going to get into a slugging peer and let the Premier League slip away from his reach; if they are obliged to amend their approach next year, Mourinho's tactics will be the exact same as the latter stages of last season.
There is my tactical breakdown for Chelsea in 2015/16. How do YOU think the Premier League Champions will line up tactically next season? Will they retain the title? Be heard in the comment box section down below!