BY MIKEY, NISAR AND SEAN
How will Chelsea begin their title-defending campaign?

Image: Chelsea-News.co
After a long summer's wait, the glory, the grandeur and the magnificence of the Barclays Premier League descends upon us once again. As clubs prepare to make a statement on the all-so-vital opening weekend, and new signings get knee-deep into the thick of the action in the most competitive league in the world, there's a lot of thinking to do.
Of course, it's not just the managers who are up all night trying to crack the code for how a particular match will go. Because this season, a triumvirate of TheSportMatrix's football writers will be offering their weekly predictions and insights into fixtures.
Manchester City are in search of another prosperous, title-winning campaign.

Image:
League table predictions
How it works
There are three writers involved in the weekly predictions: Mikey, Sean and Nisar.
For each fixture that they predict, there will be three points on offer. One point will be awarded for choosing the correct outcome of the game, such as predicting the winning team or predicting a draw. The two other points will be based on the scoreline, one for each side, so if someone gets half of the scoreline correct, they are awarded one point, and if they get the whole scoreline correct, they are awarded two points, along with the third point for getting the outcome of the match correct. There is also a bonus, if anyone gets the table completely right, they will be awarded 50 points.
Each week the points will be updated and the winner is obvious: Whoever gets the most points at the end of the season is the winner.
So without further ado, we get started with the opening weekend of the Barclays Premier League season...
Manchester United vs. Tottenham Hotspur
Saturday 8 August 2015, 12:45pm BST
Old Trafford awaits as Manchester United unveil their star summer acquisitions against a Tottenham Hotspur side in search for revitalization. It's one of the most tantalizing opening games in recent memory, and there's no better place for either side to make a big statement and kick on for the rest of the campaign.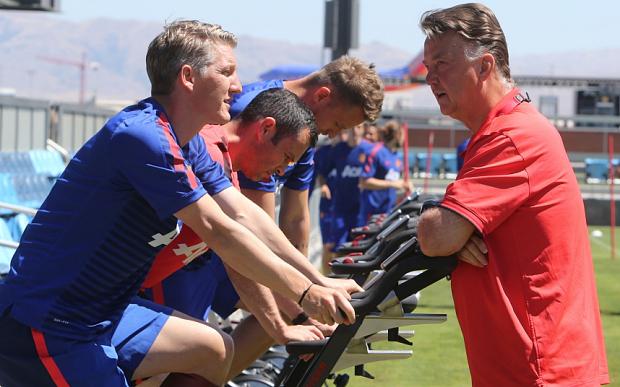 Image: The Guardian
Mikey: Manchester United 2-0 Tottenham Hotspur
I believe with the quality signings Louis van Gaal has brought in and with their extensive improvements as a team, United will ease past Tottenham.
Nisar: Manchester United 3-1 Tottenham Hotspur
Old Trafford will welcome a host of new, world-class talents and while Tottenham Hotspur have gained a few signatures, along with dispatching of a plethora of other players, they won't be able to stop the barrage that Louis van Gaal's side will bring. Even if they do open the scoring, they won't walk away with any points on the day.
Sean: Manchester United 2-2 Tottenham Hotspur
Manchester United have all that quality at their disposal and perhaps they're the finished article, but Spurs pose a dangerous threat.
Image: SkySports.com
Chelsea vs. Swansea City
Saturday 8 August 2015, 5:30pm BST
Garry Monk can find no harder challenge to live up to his prior, breakthrough season when the reigning Champions begin their title defence in front of a partisan army of Blues on Saturday night's feature game. Jose Mourinho may meet his match in terms of managing credibility, but during the game he'll be far more focused in ensuring that Chelsea make a statement to start the season.
Image: GOAL.com
Mikey: Chelsea 2-1 Swansea City
With the visitors looking promising for a potential top six position, they will certainly give Chelsea a run for their money, but still expect the class of Jose Mourinho's team to emerge victorious.
Nisar: Chelsea 2-1 Swansea City
It'll be suitable if the London contingent place the memory of their five-goal thrashing of the Welsh side in January at the back of their minds, since this game surely won't be the same. January was part of the Swans' evolution, but since then they've flourished, and will make things tough for a Chelsea side who could be figured out. Not that this may project the rest of the season, but the opening to their title-defence will be difficult.
Sean: Chelsea 2-0 Swansea City
Garry Monk's philosophy has revitalized Swansea City since taking over in 2014 and many would argue that Swansea could pull a shock in the first Saturday Night Football of the 2015/16 season, but then you have to consider the quality The Blues have at their disposal.
Image: TheSun.co.uk
Arsenal vs. West Ham United
Sunday 9 August 2015, 1:30pm BST
An all-London affair kicks of Sunday's action in the English top flight, as Arsenal look to finally get their hands on the title against a West Ham side under new tutelage of Slaven Bilic, taking over from Sam Allardyce, who departed at the end of a relatively disappointing run for the Clarets. Oozing quality, the Emirates' faithful will watch on eagerly as Arsenal look to replicate their classy performances from last season onto a more frequent and even more ruthless occurrence this time round—but with the Hammers having signed plenty of players in the window, how will they fare?
Image: Boston Herald
Mikey:
Arsenal 3-2 West Ham United
I think Arsenal will grab all three points, but in a rough-ride against the promising side that the Hammers are. While Wenger's attack looks dangerous, their defence isn't as great so I'm expecting to see some goals from the away side in a courageous defeat.
Nisar: Arsenal 3-0 West Ham United
Even though West Ham have strengthened in the window, and while Dimitri Payet aims to run things, it'll be a more fluent Arsenal who will pick up from where they left off last time round. I'm expecting one of those classy performances where Wenger's men fire on all cylinders, and everything clicks together.
Sean: Arsenal 1-0 West Ham United
A London derby that has proved to be fierce in the past, Slaven Bilic will be looking for his first Premier League triumph under The Hammers - bound to be a tightly-contested affair nonetheless. 1-0 to The Gunners.
Image: Independent
Stoke City vs. Liverpool
Sunday 8 August 2015, 4:00pm BST
Last time Stoke City faced Liverpool in the Premier League was the very last day of the previous season. The result? A shocking 6-1 victory for the Potters as they humiliated their opponents on Steven Gerrard's final game in a Reds' shirt. Since then, Stoke's persistence in the transfer window has worked well, but so has Liverpool's—with the departure of Sterling, they have acquired Benteke, Firmino and other talents, and it'll be intriguing to see how they matchup in the weekend's late afternoon showcase.
Image: Mirror.co.uk
Mikey: Stoke City 1-1 Liverpool
Mark Hughes' Stoke will be seeking even more improvements after another solid 9th place, but despite thrashing their opening day opponents 6-1 last season, Stoke face a tough task against a vastly improved Liverpool side. It will be a very tight match, and one I think will end in both sides taking a point.
Sean: Stoke City 0-2 Liverpool
Summer recruitment Roberto Firmino is conceivably a ready-made replacement for Raheem Sterling, and I think the Brazilian will shine on his debut by bagging a brace. 2-0 to The Reds.
Nisar: Stoke City 1-2 Liverpool
Even though Nathaniel Clyne is on board, and defence doesn't appear to plague the Reds as it once did, they could leak a goal to Hughes' team early on. With that being said, the work in the transfer window has been far more of an impact this time round; buying players that are well on their way to fulfilling potential, rather than waiting for it. Christian Benteke could thrive and if so, which seems likely, Liverpool will battle back to take 3 points from the hosts, and much needed revenge in the process.
Image: SportsMole.co.uk
West Bromwich Albion vs. Manchester City
Monday 9 August 2015, 8:00pm GMT
Concluding the Premier League kickoff weekend is a trip to the Hawthorns for Manchester City, where they can prove that the title is not too much a far-fetched ambition. It won't be easy though, as they could be staring down a potential banana skin in West Bromwich Albion, a side who are in their element at home and can shock anyone. This will be more than just a litmus test for the Citizens, Tony Pulis side could really derail their hopes.
Image: Mirror.co.uk
Mikey: West Bromwich Albion 1-2 Manchester City
I think this match will prove to be closer than many anticipate, as Tony Pulis' men are expecting a strong season and hope to gain at least a point in their first game. Man City, with their new recruitment's and quality in Aguero, Silva, Kompany, should edge past the Baggies but it certainly won't be easy.
Sean: West Bromwich Albion 0-2 Manchester City
Nisar: West Bromwich Albion 1-3 Manchester City
You can never count out the Baggies at home, and that's exactly why I expect them to score past this City side. The problem for them is that their opponents will outscore them. Sterling could plant the roots for a successful career in the sky blue strip, perhaps by catalysing or scoring goals himself. Some tweaks and it'll work, Manchester City, after a bit of a struggle, should take this game.
Other games
With 3pm kickoffs and a non-televised Sunday lunchtime meeting between Newcastle and Southampton, there's plenty more action to feast on, and here are predictions:
Mikey
Bournemouth 2-1 Aston Villa

Everton 1-0 Watford

Leicester City 1-3 Sunderland

Norwich City 1-1 Crystal Palace

Newcastle 2-1 Southampton
Nisar
Bournemouth 1-1 Aston Villa

Everton 2-0 Watford

Leicester City 1-0 Sunderland

Norwich City 0-2 Crystal Palace

Newcastle 0-2 Southampton
Sean
Bournemouth 0-0 Aston Villa

Everton 1-2 Watford

Leicester City 1-2 Sunderland

Norwich City 1-3 Crystal Palace

Newcastle 2-0 Southampton
Ready to go
So, there's our football writers' predictions for the opening weekend of the Barclays Premier League season. Gear up, it should be another campaign to remember, and this weekend, all the questions will be answered—including who will be the best at predicting the fixtures. Enjoy the season, everyone.