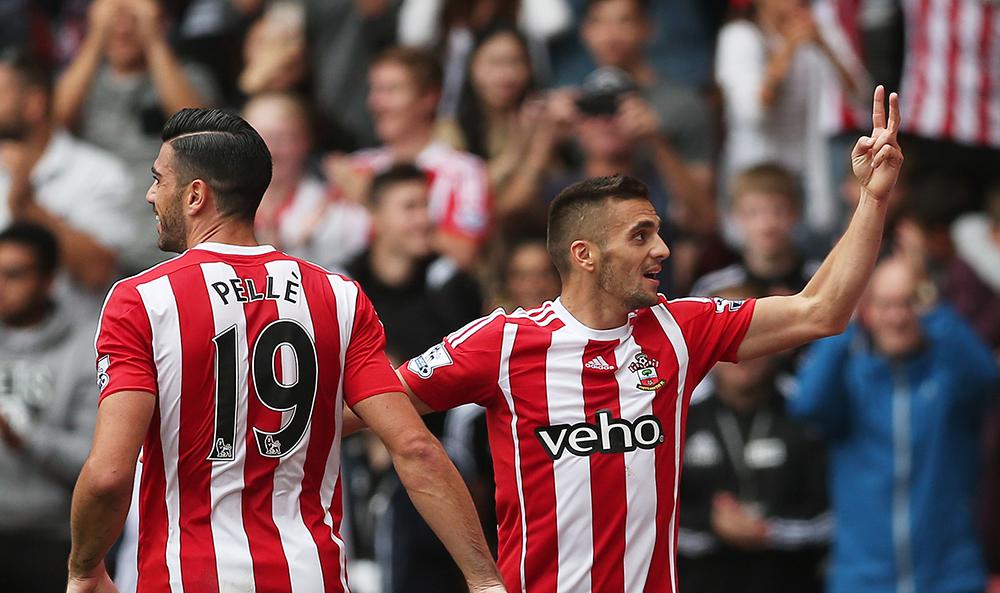 Southampton 3 - 0 Norwich City
Graziano Pelle (45'), Dusan Tadic (64', 67')
Barclays Premier League
Sunday 30 August 2015
1:30pm BST Kick-off
St. Mary's Stadium, Southampton, England.
Referee: Jonathan Moss
Gameweek #4
Dusan Tadic scored a superb brace in the space of three minutes for Southampton who got their season up and running and inflicted a first away loss in 8 months for Alex Neil.
Ronald Koeman's team were desperate to acquire their first victory of the season, while Norwich seeked a pleasant surprise on their return to St. Mary's just 5 years after both sides drew 2-2 in a League One game.
Anticipating a long-ball to control, Pelle was bundled over from behind and won a free-kick. Ward-Prowse stepped up and struck fantastically at goal; the ball quickly swerving to the top right corner but John Ruddy moved across his line well to parry out at full stretch. The English youngster couldn't have hit it any better. Moments later, Fonte's left-footed shot from close range blootered high over the crossbar after Tadic's cross from the left.
Both sides contested in an end-to-end game early on; Norwich replying to Southampton's early string of chances with Jerome and Redmond countering with pace but their attacks fell to nothing due to lack of movement once options for them went dry. You can't waste time in Premier League football - Southampton cut out the move and cleared the ball.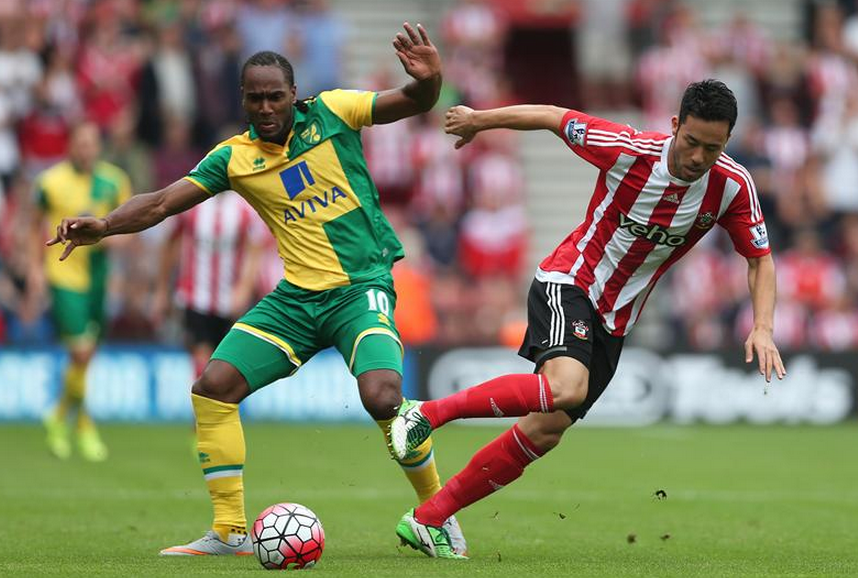 Then, it was the Saints' turn to attack but Bassong holding Pelle hostage at the back post paid dividend as Koeman's star striker was unable to lose him and acquire any solid contact on Ward-Prowse's delivery.
Mane had arguably been the most active player early in the game and then on the right; dinking inside onto his left foot he stabbed a curling shot at goal - however it lacked power and real accuracy - allowing Ruddy to smother down low. Moments following that attack, Redmond's dangerous delivery was put to waste by who Jerome failed to acquire any contact on his header, and then the former's shot outside the area was blocked.
One of Southampton's big chances occurred half an hour into the game; Mane lobbed a cross into the middle and Pelle did well to cushion the ball down to Tadic on the left, who controlled, dribbled forward and lashed the ball down low just past the far post.
Targett exchanged passes with Mane down the left; allowing the latter to scorch down the left and fire a cross into the middle. He did, but it swayed past every player until Cedric arrived on the scene whose powerful cross into the area was deflected out for a corner, in which resulted in nothing.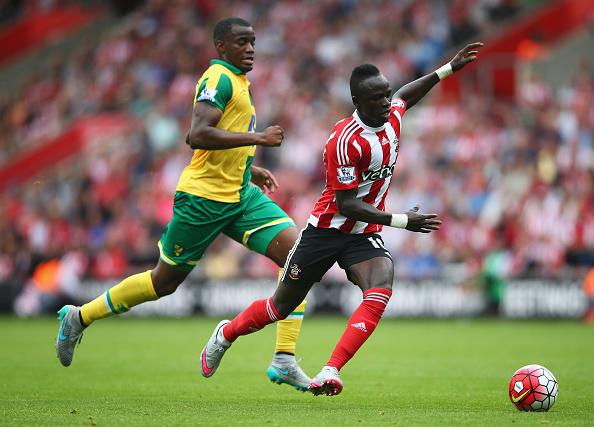 Then, just minutes after the half an hour mark, Alex Neil's nightmare scenario turned into reality as the already-booked Steven Whittaker blatantly held Pelle back from a counter attack - provoking a second yellow from the referee to officially dismiss the 31-year old Scot. A player of his experience, away at Southampton with the game all level, you'd think after already being on a yellow card he'd have thought about his actions a lot more than he clearly did.
Norwich were robbed out of possession on the far right - allowing Mane to latch onto his teammates' through ball - getting in behind his marker to pick out Pelle at the near post who got on the right side of Martin to meet the pass and fire past Ruddy at close range. It was sloppy from Norwich, who could have easily avoided a goal like that.
Alex Neil was hoping to bring his players into the dressing rooms at half time with another 45 minutes of holding on to 0-0 remaining, but their hopes were in tatters with the finger most definitely being pointed at Steven Whittaker.
Ronald Koeman introduced the injury-plagued Jay Rodriguez in the second half with clear intent of doubling his team's lead, and Pelle almost did but just missed the timing of his header.
The Saints looked dangerous in every attack, with Mane continuing to torment the back line. Dipping in and out, he dinked past his marker and fired a low shot at goal - Ruddy saved well.
The Southampton speedster was showing everyone why Manchester United put their interest in him - slotting a low cross through to Tadic arriving from the left - who fired home with speed, power and precision to wrap the game up for Koeman's side.
Mane and Cedric were both proving to be a nuisance for Norwich and they continued to - linking up on the right until Cedric's cross found Pelle, who planted a header at goal, only for Ruddy's excellent save to be ruled out with Tadic's tapping in at close range - completing his three-minute scoring spree.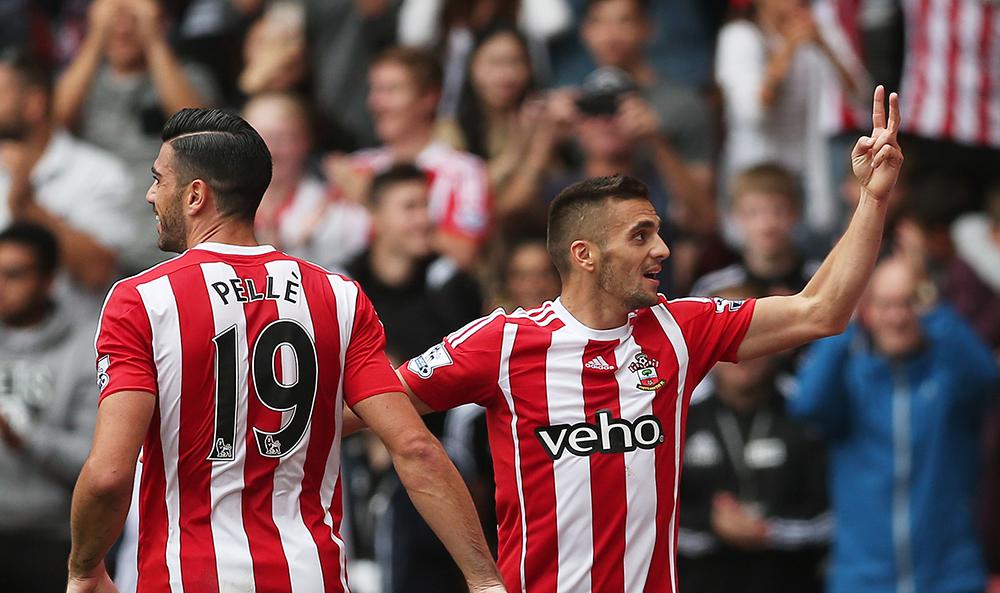 Alex Neil brought Bradley Johnson on to try and respond to that blitzing, but regardless of his impressive scoring record, it seemed a too bigger mountain to climb for Norwich.
Southampton were relentless even in the final stages, with Rodriguez's shot just narrowly going wide of goal. The injury-plagued 26-year old looked impressive during his second-half spell on the pitch.
Alex Neil brought on Gary Hooper for the fatigued Cameron Jerome who, had struggled for the majority of the game up front. That could, perhaps should, be an area for the Norwich boss to investigate.
In the late stages, Bradley Johnson fired a superb strike at goal, slowly swaying towards the right but Stekelenburg got down well - parrying away until the rebound was then sliced wide of goal.
Ronald Koeman's side got themselves up and running with a first league win, and a very well deserved one too. Dusan Tadic was undoubtedly a Man of the Match candidate, but mine goes to the speedy Sadio Mane who created chance after chance for Southampton.
Their fans face an anxious wait leading up to Transfer Deadline Day.
More:
Latest Premier League coverage