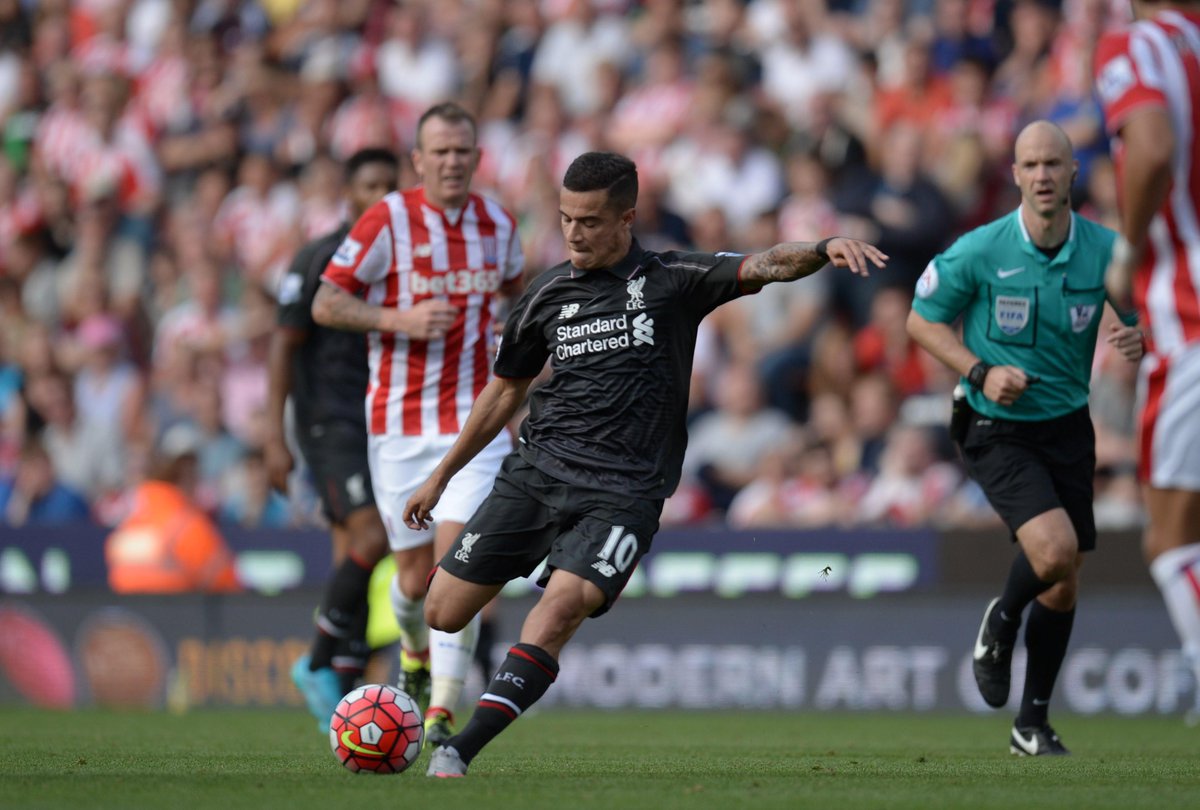 Stoke City 0 - 1 Liverpool
Coutinho (86')
4:00pm BST Kick-off
Britannia Stadium, Stoke, England.
Philippe Coutinho scored an outstanding 86th minute winner for Liverpool to snatch all three points away from Stoke on a day of redemption following their 6-1 defeat in May.
Stoke team: Butland; Johnson, Cameron, Muniesa, Pieters; Van Ginkel, Whelan, Adam; Walters, Biram Diouf, Afellay.
Liverpool team: Mignolet; Clyne, Skrtel, Lovren, Gomez; Milner, Henderson; Ibe, Coutinho, Lallana; Benteke.
Liverpool broke out of the blocks hurriedly; Coutinho linked up with Lallana outside the area until the move was eventually broken down testament to Stoke's solid back line.
Stoke replied moments later, however, as the raucous Britannia grew even more deafening, a quick throw-in allowed Walters to dribble high up the right byline but the home side were unable to challenge Mignolet as Adam's half-volley was mishit.
Neither side were truly able to acquire the initiative, but it didn't soften the tempo as a riled up Stoke aggressively lunged in on challenges. The Potters' left side of the field dealt with the fast, attacking and youthful presence of Ibe and Clyne, with the latter keen to bomb forward on the overlap.
Despite their inferior in pure quality, Stoke were pressing forward with real intent early on. Former Barcelona man Afellay executed a cheeky flick through to his teammate but Skrtel seized the initiative with a sharp slide tackle.
Well, if the 6-1 hammering on the final day of last season told us anything, it wasn't a bad start for Liverpool who were handling the physical presence of the Potters well, but also looking sharp up front. Lallana, Ibe and Coutinho's all developed a great understanding with their quick link-up play, and the towering Benteke would inject his presence onto the scene too.
That link-up play resulted in Lallana's right-footed curler being parried away by Jack Butland in goal, who is filling the void left by Chelsea's Asmir Begovic. A cheeky one-two off the corner piqued Stoke's attention, but the move never developed into anything dangerous.
Many began to wonder that now with Benteke's physical presence and reputation of planting headers home for fun, Rodgers would implement a wider style of play in order to whip crosses into the middle and capitalize on the Belgian's height and strength. The early stages of the game didn't suggest that, but Benteke was heavily involved in the build-up play.
Despite their superiority in strength and pressurizing up front, Stoke hadn't unleashed as many shots as they would have initially preferred. Mignolet was almost a standing observer, but as was Butland at the other end. Very, very evenly match in the opening half an hour.
Even if the away side were unable to seize the advantage early on, it was still a huge victory for them after thirty minutes considering they were already an embarrassing five goals down around that time in May.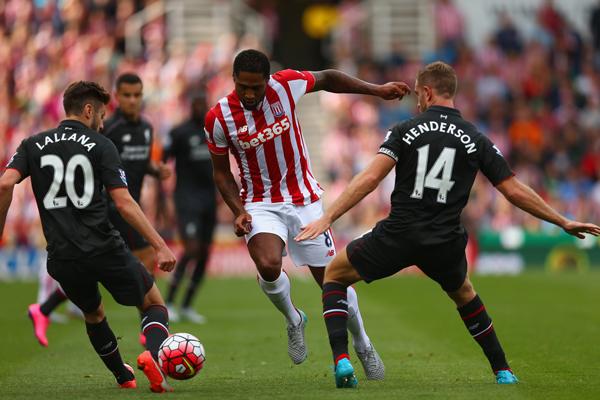 The home crowd, after a substantial amount of time, jumped off their seats in anticipation as Stoke pounded forward in a dangerous counter attack. Initially, Walters prevailed in a mid-air duel with Liverpool's newly-recruited left-back Joe Gomez, and the veteran blistered forward. After slipping a smart pass through to Van Ginkel, the Dutchman then did well not only to retain ball possession, but fire a low grass-cutter across the box. It arrived at the left side, but a scramble on the ball allowed Glen Johnson to take a shot at goal, but his almost left-footed lob just bundled over goal.
Many were eager to ascertain the improvement of Liverpool's defence after summer recruitment's of Nathaniel Clyne and Joe Gomez, and in all honesty they were rock solid throughout the first half. The home side exposed a few gaps now and then, but Skrtel and Lovren especially blocked out any ground assaults or covered air duels from Stoke's favoured route of launching crosses into the box.
The first half quickly concluded with both sides remaining strapped in a stalemate. Stoke's biggest chance occurred when Johnson agonizingly lobbed over goal, while Lallana's curling effort at goal was The Reds' biggest moment of the half which epitomized their new style of launching long balls forward and using Benteke'e height and superiority in the air to create chances.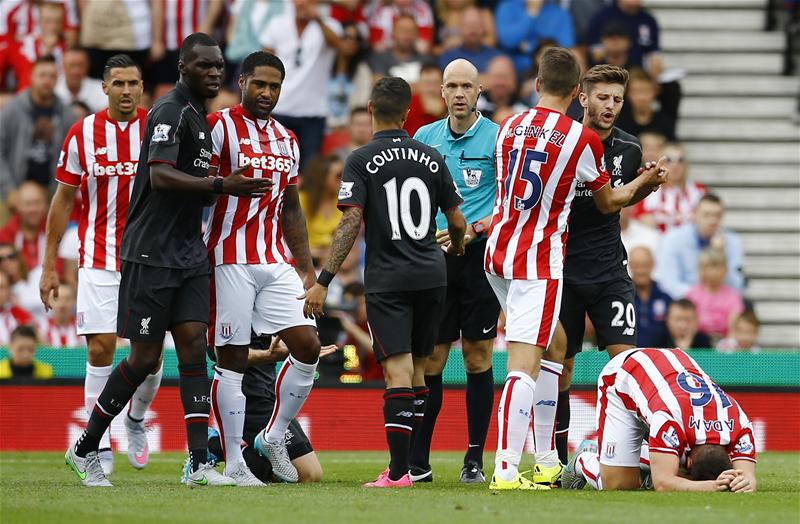 Liverpool opened the second half with more intent; Lallana scampered through the middle, then to the right, but Benteke's would scupper his shot off the Englishman's cross.
As previously mentioned by TheSportMatrix president
Nisar Khan
, the Reds were maneuvering the ball around the pitch beatifically. Clyne and Ibe linked up, then Coutinho injected some pace and found Benteke. Sure, they didn't always test Butland in goal but it epitomized their improvement as a unit following the departure of Raheem Sterling and injury-doubted Daniel Sturridge.
Rodgers' men looked almost a different side; flourishing under the quick build-up play. Ibe retrieved possession, then sprayed a through pass to Clyne on the edge of the six yard box. The former Southampton right-back's cross was neatly blocked, and Stoke would just about clear the corner.
It became apparent in the second half that an injection of pace and attacking was needed to break the unbearable deadlock.
Stoke had been incredibly quiet throughout the opening 15 minute span of the second half, but suddenly went tantalizingly close to breaking the deadlock. Adam whipped in a free-kick from the right, and Diouf's small toe to the ball was excellently parried away by Mignolet; testament to the Belgian goalkeeper's fantastic reflexes.
After the flourishing Stoke attack but without a goal, Liverpool roared up the other end and menaced once again. Ibe and Milner began to form a superb partnership, with each players exchanging roles as provider. Ibe fed Milner through on the right, but a hard block sent the ball bundling out for a corner in which Butland, at full stretch, would deny Skrtel's header.
Both sides replied to each other's attacks, and in one case Liverpool almost found their moment to break the deadlock when a lovely anticipated lob over the Stoke defence picked out Henderson charging into the box. Stupidly, though, the captain decided to lash it across goal instead of shooting.
With less than 20 minutes remaining, Coutinho diverted to the left in a smart move that enabled him to see more of the ball and then cut into the middle on his right foot. Moments later, Liverpool went close to breaking the deadlock as Benteke scampered forward but two markers remained tight and squeezed the Belgian out of possession.
Walters picked out Johnson on the right, then the right-back found the former again who laid off the ball to Van Ginkel but his shot pummeled against yet another Liverpool body in the way. Their defending had almost been immaculate.
The game just began to open up after both teams made their respective substitutions; Stoke almost broke the unbearable deadlock as Diouf planted a header at goal but Mignolet impressively tipped his effort over the bar.
After 85 minutes of hard, cagey football, a piece of magic finally occurred. Coutinho picked up possession just past the half-way line, turned past and lost his marker. Then, blistering towards goal, the Brazilian took a touch to his right and unleashed an unstoppable thunderbolt straight past Butland into the net.
Despite not living up to their usual standards, it was still a brilliant result for Liverpool especially since they have capitalized on Arsenal's loss and Chelsea's draw. Brendad Rodgers and his team now look forward to hosting Bournemouth at Anfield next Monday.
More:
Arsenal vs. West Ham United report