Manchester United 1 - 0 Tottenham Hotspur
Kyle Walker (Own Goal 22')
12:45pm BST Kick-off
Old Trafford, Manchester, England.
Manchester United kicked off the Barclays Premier League season with a narrow victory over Tottenham Hotspur as Kyle Walker's own goal split the two sides at Old Trafford.
Far from a thrilling game, fitness was withdrawn from both teams and when Rooney was tackled by his compatriot Walker in the box, the ball would trickle into goal and late attempts by Pochettino's side were in vain.
More:
United's victory as it happened
Getting the ball rolling were the North Londoners, who looked to settle into a rhythm with fluent possession. Opening exchanges saw little action on either goal, as both sides elected to calmly approach the game. When Tottenham did find space however, they came ever so close to making it count, as Harry Kane—situated about 5 yards from the box—found the run of his teammate Christian Eriksen. The Dane controlled well with his head before attempting to lob it over Sergio Romero, only to put a little too much power on it as it ended up on the roof of goal.
Looking to pick up from where he left off last season, Harry Kane remained a very potent threat to a Manchester United back-line still trying to organise themselves. The Englishman, who scored 21 goals in the previous campaign, was finding space to run around the parameters of the area, seeing his shot blocked by Daley Blind, seeing Toby Alderweireld subsequently unsuccessful with his header in the corner.
Louis van Gaal's men were hardly being played out of the park, but it was his counterpart's side who were looking comfortable and controlled. Memphis Depay had a scattering of sparks but the problem was that he and the other attacking players in red were being heavily restricted by a firm defence and consistent possession in the middle of the pitch. It remained at a cruise-control pace, but that would soon change.
Ultimately, all of Tottenham's control wouldn't count when the hosts made good use of a rare chance to go forward. Their new number 7 Depay started the burst down the right wing, and lurking at point-blank range was Wayne Rooney. The Englishman received the ball, but was hesitant to pull the trigger immediately. Instead, an onrushing Kyle Walker would go to challenge his compatriot, only to direct the ball into his own net, gifting the lead to the opposition.
One single abandonment of their game plan had allowed an attack and eventually the goal, and it made Spurs' heads drop after. With the impetus now on United, a free-kick in decent territory was fired into the wall by Juan Mata, before coming back out to Depay whose strike was beaten away. For the remainder of the first period, both sides elected to take the pace down a notch and get to the interval.
Jonathan Moss finally got to use his whistle from the get-go in the second half with intensity being ramped up for the second half. But once again there were gaps in the back for Tottenham, as Memphis Depay's nifty footwork opened up for a shot which fizzed over the crossbar and into the stands.
One-way traffic was not on the prescription no longer, however. After venturing into the box but being blocked out, Christian Eriksen's dangerous ball was cut out by Romero. With Bastian Schweinsteiger preparing to make his induction into the league, Ashley Young once again tapped into his very best wingers instinct, pouncing on a deflection, cutting in and firing the ball past a sea of legs into the hands of a grateful Michel Vorm.
End-to-end stuff at a pace much slower than the phrase describes, Nacer Chadli couldn't weave his way in and out of the plethora of defenders and was dispossessed. He would soon be beaten to the ball by Romero in another threat, which would only charge spirits of Spurs to push forward and find a late equaliser.
Following a sluggish period, where United crowded the attacking box to kill off the game, and Rooney's free kick went well over, Tottenham finally did what they needed to do much earlier; Eriksen forced another save, Kane moved around dangerously, but none would be enough.
As stoppage time dwindled down, Tottenham's efforts grew more futile and restlessness was eventually ended by the sounding off the full-time whistle as Manchester United got their season off to winning ways.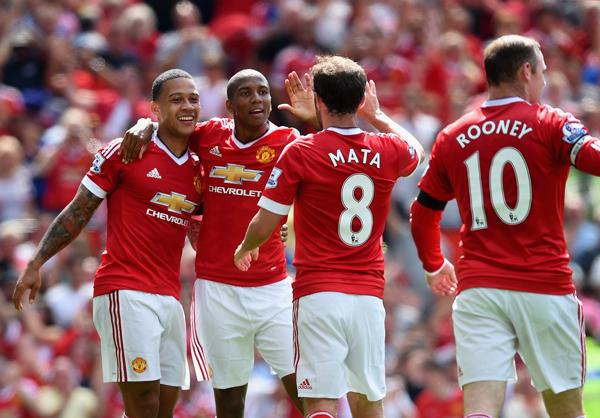 Image: PremierLeague.com
Comment:
Work to do for both sides following game