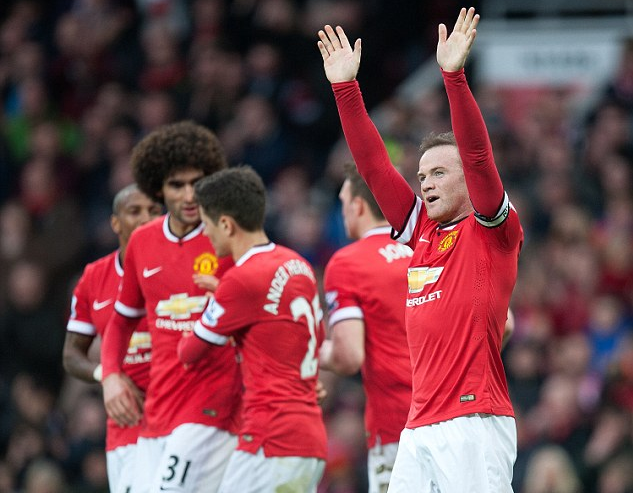 Image: Ian Hodgson
Manchester United are finally getting to grips with the understanding of Louis van Gaal's philosophy, and preseason has further empathized that. But, the question remains of how the Red Devils will line up and what tactics they will employ.
After an encouraging preseason last year, Manchester United were all set to bounce back and disregard the era of David Moyes that saw them descend to a loathsome seventh place.

However, despite the build up of promise to Louis van Gaal's intriguing reign as manager, they were disastrously halted by an impeccable Swansea performance at Old Trafford.

United's performance gradually improved, but there was still masses of work to do. David De Gea unarguably saved van Gaal's side uncountable points with his magnificent form all season, but the top new signings of Angel di Maria and Falcao had hugely dipped and United faced a crisis in quality.

While they emphatically triumphed over Man City and Tottenham at Old Trafford, toppled Liverpool on Merseyside, United's form took another dip as Tony Pulis' West Brom exposed an appalling performance; snatching all three points from the Red Devils in a 0-1 victory.

United's final game was against Hull City at the KC Stadium, who were fighting for their lives in the relegation battle. In another flat performance, van Gaal's men were unable to secure victory and slumped to a depressing 0-0 draw.

Despite completing the season objective and qualifying for the Champions League, United's performances still lacked quality that was so strongly remembered under Sir Alex Ferguson.
After the slowly-improving season with United becoming more comfortable and fonder with Louis van Gaal's possession philosophy, the Red Devils foresee a trophy-winning campaign with more first team and depth-adding signings.

Dutchman Van Gaal was consistently examining the best and most suitable formation for his United side last season. The 3-5-2 formation was scrapped due to a string of poor performances, but results began to take a turn for the better once the 63-year old manager implemented the 4-4-3 formation.

In a recent interview, the United boss confirmed he prefers and will use the 4-3-3 formation heading into the new Premier League season.

The big million dollar question is still loitering around; just who will van Gaal select for the opening game and who will miss the cut after his preseason studying? I will take a look at the options and provide my personal lineup to face Tottenham on the opening weekend.
Goalkeeper: Sergio Romero

28-year old goalkeeper Romero continued to build his stock throughout the World Cup last year; contributing to his national side's success which saw them reach the final but only just lose out to Germany.

Romero penned a three-year contract at Old Trafford, with the choice to renew for a further year if necessary.

The Argentine has reunited with Louis van Gaal following the pair's stint at AZ, and with David De Gea showcasing a string of miscued performances during preseason, Romero deserves to get the nod and prove what he can do between the sticks.
Right back: Darmian

The newly-recruited right back Darmian has impressed many during preseason with his slick play on the right hand side of the field; a position United had previously failed to truly bolster since Gary Neville's departure.

The fluidity and versatile nature to Darmian's game has been missed severely, and he is bringing much-needed quality to the side not only going forward but tracking back too.

Although manager Louis van Gaal said Darmian would play second fiddle to Valencia, he has undoubtedly been playing much better football than what his Ecuadorian team-mate did throughout most of last season.

After an impressive start to Darmian's career at United, it's a no-brainer for manager Louis van Gaal to start the Italian.
Right centre back: Chris Smalling

Although the England international didn't get representative game time during the preseason tour of America, he is United's best centre back by a long stretch.
Smalling is a defender who can showcase an excellent, controlled way of organisation and discipline at the back, but his sometimes reckless nature and misunderstandings overshadow the shining talent he really is.
Louis van Gaal, on the other hand, has previously expressed his disapproval of starting players with a lack of match rhythm and that is unfortunately the case with Smalling heading into the new Premier League season.
Despite this issue, the 25-year old still remains the better and more reliable choice of defender than Phil Jones who still has plenty to learn and is often a liability at the back. Smalling proved he can assert his authority over attacking opposition last season, and even though he doesn't have strong match rhythm, he would still be the favorable choice over Jones at the heart of United's defence.
Left centre back: Daley Blind
Last summer's £18.7m signing, Daley Blind, was filling in for left-footed absentees in the LCB slot during preseason. The Dutchman is a natural defensive midfielder and that proved itself during a string of shaky games at the back alongside Phil Jones.
Although the vision and reading of Blind is excellent, his positioning as a central defender lets him down and prevents him from molding into a solid CB partner.
Louis van Gaal has expressed his desire to start those with a left foot in the LCB position, and with Marcos Rojo still yet to gain match rhythm, the Dutchman's only choice to fit that slot would be Blind so he will most likely get the nod to play against Tottenham.
Left back: Luke Shaw

Ever since his big switch from St Mary's to Old Trafford, Luke Shaw just hasn't been able to activate his stunning form under Mauricio Pochettino to Louis van Gaal's first team.
Injuries and fitness were the 20-year old's biggest enemy during his first season at Old Trafford, but it now seems his promising from towards the end of last season has transferred through to preseason and Shaw may be able to showcase his brilliant skills and justify the substantial fee United paid for him.
Shaw has picked up vital match rhythm during United's tour of America, and it remains a no-brainer that Louis van Gaal will select him to start against Tottenham.
Right central midfielder: Michael Carrick
Following on from one of his most consistent seasons in a red jersey, Michael Carrick should rightfully earn himself a starting place against Tottenham Hotspur.
The 34-year old remains a substantial, proficient component in Manchester United's machination as a side looking to reach the top of England's pinnacle of football. Carrick is a vital part of Louis van Gaal's midfield; implementing a much-needed defensive strategy to United's game.
The former England international persistently protects the back four; asserting his solid frame to dispossess opponents in the middle of the park.
Carrick's football continues to grow strength-to-strength, even at 34 years of age. He deserves to start against Tottenham.
Left central midfielder: Morgan Schneiderlin
Arguably one of United's best signings thus far in the summer; Morgan Schneiderlin continues to bolster his football in such quality surroundings.
The Frenchman enjoyed a successful spell on the tour of America; showcasing his talents which brought him to Old Trafford in the first place. Schneiderlin scored within five minutes of his United debut against Club America and further impressed throughout the remainder of his appearances.
Schneiderlin's marking is sublime, and has "pocketed" many top stars who wouldn't have been expected to be pocketed. He has strength, tenacity and composure and will be a fantastic midfield partner for Michael Carrick should he start against Tottenham.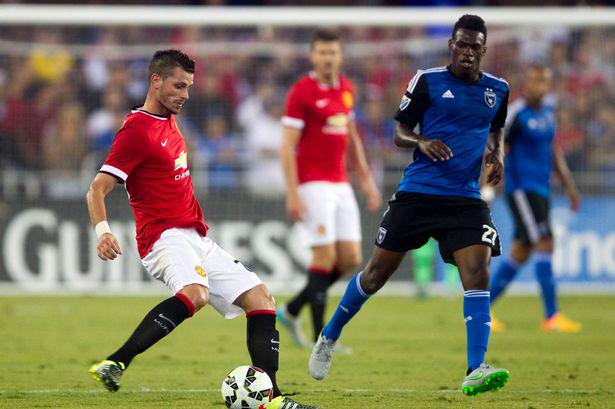 Right wing: Juan Mata

The dazzling Spaniard will be looking to extend his terrific form from last year into this season, and it all starts on the opening weekend against Tottenham.
Mata found success and impressively picked up his form playing on the right wing; showcasing his creative talents against Liverpool where he scored two goals. One of which, was a sublime overhead kick. The Spanish sensation has the ability to open up defences and string tight passes through the defence of the opposition.
Now, with Memphis Depay injecting pace and energy into the United first team, Mata can coexist and exchange link-ups with the Dutchman as part of the machination of Louis van Gaal's football.
Central attacking midfielder: Memphis Depay
Following his £25m switch from Dutch heavyweights PSV to Old Trafford earlier in the summer, 21-year old Depay has showcased his mesmerizing talents on Manchester United's tour of America.
The Dutchman has injected new life into the attacking nature of United's game; blistering forward and creating space between the defenders exemplifies his confidence as a player. Louis van Gaal's possession philosophy mostly involved in the football meeting at player's feet in attempts to slowly open up defences. Depay, who not only runs in between defences can start attacks and feed his fellow teammates in for golden opportunities to strike home.
Many have criticized United's style of slow, methodical build up play but now with Depay fans can expect to see injections of pace, creativity and a true eye for goal which has recently rewarded him with the prestigious No. 7 shirt. It's the logical choice to unleash the flying Dutchman on Tottenham.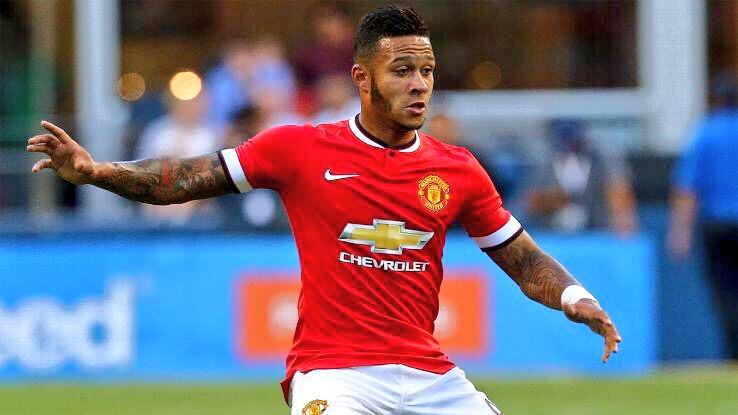 Recently signing a new three-year contract extension at Old Trafford, Young has evidently grabbed his career by the scruff of the neck and launched it onto a whole new level.
Louis van Gaal's good will to hand Young appearances after appearances were rewarded with consistent performances from a man everyone thought was finished after a dismal season under David Moyes. However, under more experienced and quality leadership he has crept skyrocketed his stock as a player and it's been a marvelous revolution for the 30-year old.
Young likes to blister down the left and launch crosses into the area, but has even been a huge help to left-back Luke Shaw tracking back which is testament to his attitude and sensational workrate as a player. He is expected to link up with Memphis Depay, who also carries a solid workrate and scorching pace. The left winger, Young, and central attacker Depay will be vital to Wayne Rooney who will require pace around him if he continues to play the lone striker role.
Finally, the most logical choice as striker, Wayne Rooney. With the summer departures of Robin van Persie and Radamel Falcao, two gaps have been left in the attacking department which has left manager Louis van Gaal with the safer option to invest or take a huge gamble and stick with Rooney who doesn't have enough quality behind him itching for a place up front.
James Wilson is still progressing as a player himself, and if Rooney was to get injured at one point then it would be a risk relying on the former doing United's business up top. Many feel another striker is needed at Old Trafford, but recent indications have suggested Louis van Gaal is satisfied in taking the risk of hoping Rooney stays fit for the majority of the season.
United evidently score less goals last season than they did in past campaigns and with the energetic Depay, creative Mata and rumoured arrival of Pedro, Wayne Rooney is sure set to blossom and potentially have one of his finest seasons at Old Trafford.
That's the predicted lineup for a plethora of games throughout the season, but it remains a mystery how Louis van Gaal will implement his tactics onto the pitch.
Starting with the newly-recruited Darmian, the Italian is expected to assist Juan Mata on United's right flank as part of his attacking abilities. He is very quick and agile; meaning he can provide overlaps throughout games. That is only his attacking game, however. Antonio Valencia wasn't a legitimate right-back and always seemed uncomfortable doing its job. Darmian will offer plethora's more protection at the back and shield the six-yard box which sees talents such as Eden Hazard, Alexis Sanchez do their damage.
Switching to the midfield with Michael Carrick and Morgan Schneiderlin; the two defensive midfielders will also offer more protection to perhaps a still shaky United defence but also string passes through the middle to Depay, or long balls to Mata and Young on the flanks.
Louis van Gaal's possession philosophy is set to take an advanced role and with players understanding it more by the day, Carrick and Schneiderlin will be key components in implementing the manager's style of play. They will dictate the pace and tempo of the match, then look for openings which Depay, Mata and Young should all provide in their respective positions.
Schneiderlin has been picked out as a defensive midfielder who can not only assist during attacking sequences, but also play a substantial part of shielding the back four. The Frenchman has a superb ability to prevail in aerial duels but also stand firm against the opposition with a 13pt number of tackles last season.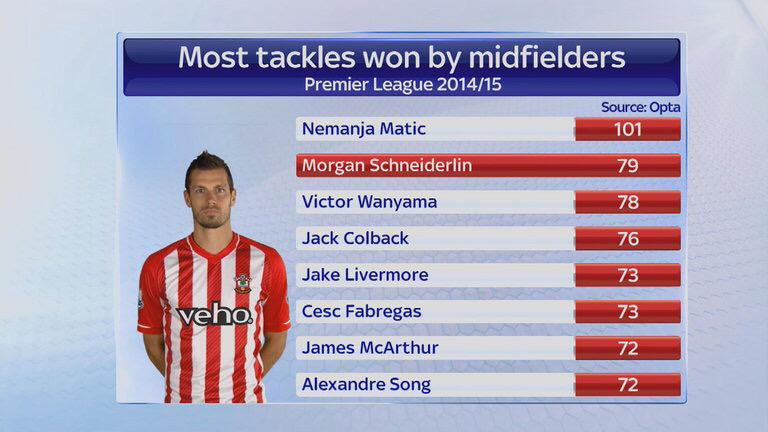 Juan Mata, on the right wing is expected to coexist with Memphis Depay in a plethora of attacking moves this season. While the Spaniard doesn't carry the pace many managers want in a right winger, he can cut inside and slip passes through small gaps and create openings.
Michael Carrick and Morgan Schneiderlin may feed Depay, who can then accelerate towards the defence and look to assist Wayne Rooney or go for glory himself. Either way, while defenders are cramped around Depay, it allows Mata to create space and get behind the back line. The Spaniard is a very clinical finisher which has gone unseen in recent seasons and if he can lose markers who are already occupied by what Depay is doing, it could only take one attempt at goal to open the scoring.
Ashley Young, like last season will continue his route down the left wing and this time with the backup and overlapping of the pacey and much improved Luke Shaw. The two Englishman have spoken of their fantastic relationship at United, and last season it was evident the understanding continuously improved. Short, exchanging passes while one enters the six yard box should be expected between Young and Shaw who will look to pick out a red jersey in the area.
One of those red jerseys will be Wayne Rooney, lurching in the box looking to seize the opportunity. The 30-year old will have plenty of pace at each side; making it easier to find space instead of having to try and open up attacks with slow, "at your feet" football. The possession philosophy could work a treat with Depay, Mata and Young coexisting in a three-way attacking line.