Luke Campbell dropped Tommy Coyle on the canvas countless times on his way to a stunning 10th round knockout to earn bragging rights in Hull.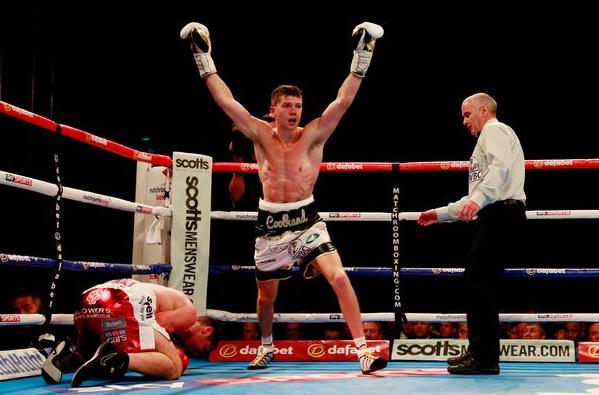 Luke Campbell dropped Tommy Coyle on the canvas countless times on his way to a stunning 10th round knockout to earn bragging rights in Hull.
The city of Hull were abuzz as two of their finest fighters finally locked horns after months of hype and trash-talk.
The gameplan in the Coyle corner became apparent; grind Campbell down onto the ropes and attack the body with combinations.
Campbell dropped Coyle in just the second round courtesy of a crunching left hook to the body. Wincing in pain and gasping for breath, Coyle bravely made it back to his feet and survived the round.
It was nothing short of a mismatch from the start, as Campbell continued to pick Coyle off who was just relentlessly charging in looking for the right hand.
During the middle rounds, Campbell became even more comfortable despite being pushed backwards onto the ropes constantly. The heart and guys of Coyle showed, and he launched forward yet again with more hooks to the body. Many of those, however, were blocked by Campbell.
After charging forward in yet another unsuccessful attempt to spring a surprise, Coyle was nailed with a sickening left to the body. He fell to the canvas in pure pain, but with the raucous Hull crowd and heart full of desire he continued fighting until a vicious barrage of right and lefts in the corner put him down once again.
The referee took a close look at Coyle, but allowed him to continue despite the fact he was severely hurt. Campbell chased him around the ring, and the Hull man backed up on the ropes and crumbled to the floor once again after Campbell's hurtful shots to the head and body.
Unbelievably making it back to his feet, Coyle was to be halted in the tenth and Campbell and his team embraced in front a phenomenal Hull crowd.
Rose avenges loss over Jones on points
Blackpool's Rose started sharply; pumping the jab and pushing Jones backwards but if anything he would just be looking to survive the first round without any drama.
In the second, Jones caught Rose off guard like their previous fight and a barrage of right hooks, left hooks and uppercut stormed through 'The Lion's guard. With a bloody nose, he grit his teeth and offloaded an assault of his own.
The crowd were riled up, and by the mid-rounds Rose began to take control and assert his dominance. Despite sometimes being dragged into a brawl on the inside, he pushed Jones back and peppered him with a strong jab.
Uppercuts from Jones split open the guard of Rose time after time, but he was unable to truly rock him and force big openings.
As the fight progressed, Rose began to dominate and tee off almost whenever he wanted to. Jones, with a big heart however just wouldn't go away and attempted to grind Rose down on the inside.
In the final round, Jones and trainer Abel Sanchez knew a knockout was required if they wanted victory. However, the American was unable to stop Rose after a huge rally in the twelfth and the fight went to the scorecards.
Rose was announced the winner on a wide unanimous decision, thus avenging his knockout defeat earlier in the year.
Cornerman interrupts Burns' comeback fight
Ricky Burns' return to the ring after a gutsy defeat against Omar Figueroa in May ending in controversy after opponent Prince Ofotsu's trainer threw the towel in after five rounds.
After unexpectedly dominating the scheduled eight-rounder, Burns regularly caught Ofotsu with solid right hooks, followed up by winding shots to the body.
The former two-weight world champion Burns looked fairly impressive on his road to big domestic fights in the lightweight division.
After four rounds, it became apparent that the Scot was in total control and Ofotsu was unable to assert any dominance into the fight. The visitor's cornerman made it extremely clear; if his fighter didn't pull himself back into the fight he would throw the towel in.
The next round, after Ofotsu seemingly failed to assert himself into the fight, his cornerman threw the towel in and ended the fight. Ofotsu was frustrated, and it was justified as he hardly took the amount of damage to suggest he should have been pulled out of the ring.
Whyte crushes Costa Jr in one round
Dillian Whyte continued his collision course to a heavyweight showdown against Anthony Joshua with a crushing first round knockout of Irineu Beato Costa Jr.
After pumping the big jab early on, Whyte nailed his Brazilian opponent with a straight right and left hook; sending Costa flat on his back.
Despite bravely making it back to his feet, another thunderous shot from Whyte put him straight back down to the canvas. Although it appeared he controversially 'dived', the legs were gone and the referee wasted no time in halting proceedings.
Ward coasts to points win over Blanco
The undefeated fighter based in Essex opened proceedings well; tucked behind his jab and offloaded some sharp, cutting shots onto his opponent, Blanco, who had only accepted the fight one week prior.
During the middle rounds, Ward began to slow down which may have been due to unnecessary energy burning off from his constantly maneuvering around the ring. It was a simple amateur trait that needed addressing, but nonetheless Blanco hardly implemented a style into the fight that would trouble Ward.
Later into proceedings, Blanco did however begin to open up the defences of Ward with some sharp combinations. Mixtures of the jab-straight right and left hooks halted the unbeaten champion and briefly disrupted his early momentum.
At 40 years of age, Blanco proved he still had ambition but it wasn't enough on the night as Ward coasted to a wide unanimous decision win.