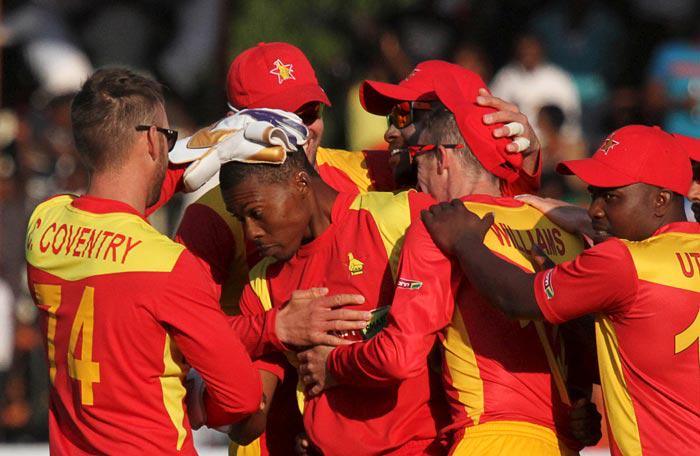 Image: Express Sports
After facing uninterrupted defeats against the guests, Zimbabwe end the tour by leveling the T20 series as they clinch the 2nd Match by 10 runs.

Zimbabwe in the matches prior to this did get ample amount of chances to place their hands on victory when the momentum of the game was indeed inclined towards them but they couldn't seize the opportunity & let the guests take it away in the end.
But this time it was the matter to save their pride & not let the team & natives down.
For the first time in this tour, Zimbabwe defended the target & this decision at the toss proved to be successful for them.
The opening duo - Masakadza & Chibhabha got their team a good start though the former lost his wicket without providing much support to the latter.
It was Chibhabha alone who stood on the 22 yard space & kept adding runs to the total with help in little measures from Williams.
Had he got stronger partners at the other end, Zimbabwe's total would have been a solid one.
Mohit Sharma & Bhuvneshwar Kumar roped in couple of wickets each though their economies remained average.
Image: ESPN
It was a low scoring game as compared to the debut T20 of the series.
146 had to be chased which was not a big task considering the decent batting lineup Team India possesses.
But much unlike the pre conceived notions, Zimbabwe began their attack from the very first over itself sending back Captain Rahane on a mere 4.
Thereafter Vijay & Uthappa started building a partnership & getting runs for the team but soon the former also lost his wicket.
India were loosing on their strengths & despite some efforts from Binny & Samson they eventually failed to reach the target which was set on board.
Cremer proved to be the hero for the team who chipped in 3 wickets & that too of the biggies.
Taking into account the absence of the players who form the heart of Indian Cricket team, this fresh squad did a great job throughout under Rahane no matter the level of opponents
.
For Zimbabwe it was certainly not what they would have wanted in the One Days but at the end they saved themselves from getting Whitewashed completely.