Image: FOXSports.com
Thanks in part to the polarising qualities of Conor McGregor, the Octagon was under the microscope of a watchful world on Saturday night. It delivered.
"Delivered" may not provide UFC 189 with the fitting narration it deserves. Five thrilling finishes over the course of an unbelievable main card seemed to bound no limits—there was plenty of hype, but all was justified if not exceeded on a magical July night on the Vegas strip.
Not only were fans ushered into the sport by the unique situations cultivated from the buildup to the fight entertained, but it's most likely they'll watch the sport a lot more often now with the doors opened from Conor McGregor's second-round stoppage of Chad Mendes in the main event.
Step aside boxing. UFC just showed how you justify hype - and more. #UFC189

— Nisar (@iNisarKhan) July 12, 2015
Matchmaking can only go so far in producing wonderful cards. Joe Silva certainly can influence the flow of a pay-per-view event, but as every combat sports promoter and fan will be aware of, things don't always go to plan. UFC 189 didn't just go to plan, it smashed expectations.
Prospects in Almeida, a resurgence in Nelson, Stephens getting the exposure in a thriller, Lawler establishing himself as champion and McGregor living up to the hype—the night was a perfect combination.
For the biggest card in UFC history to put up an argument as one of the best—not just in the organization, but in all combat sports—when the dust had settled gives UFC the initiative to become the single standalone sport for fights and the focal point of pay-per-view buys.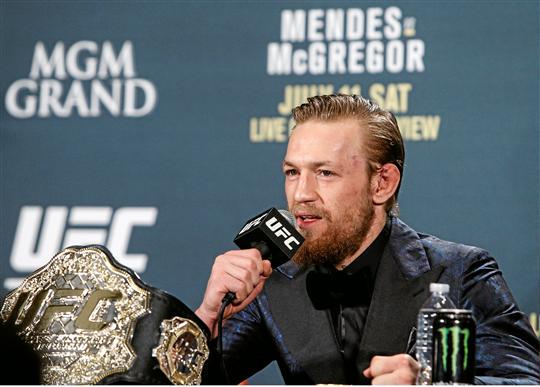 Image: Balls.ie
The countless links between a supposed demise of boxing and UFC's rise are rather off the mark; boxing is hardly "dead", perhaps the Fight of the Century ignited a boom in the quality of other fights—it's just that UFC is surging ahead of the pack for now, exemplified by a thrilling event on July 11.
With strong knockout and fight of the year candidates emerging from the MGM Grand, UFC 189 was certainly the best event in recent memory. And that was being talked about even before the main-event where Conor McGregor proved himself.
They got the exposure, and they ran with it. UFC 189 will go down as the best event to date in the organization and maybe one of the best in combat sports history. This is the turning point in fight sports.
More:
McGregor realises dream