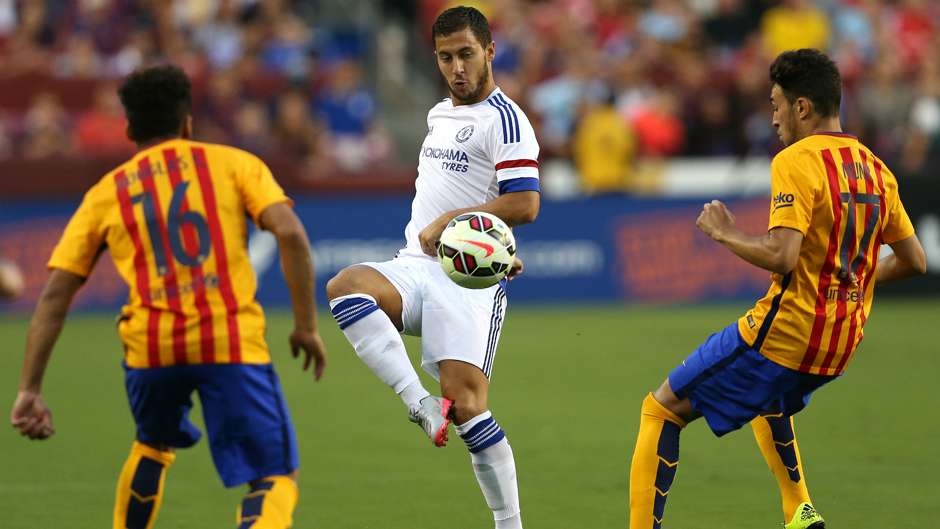 Jose Mourinho was looking for inspiration in a tightly-contested affair, and after Eden Hazard effortlessly dribbled through a flurry of yellow shirts from 12 yards, more specifically the defending La Liga and Champions League holders in Washington to put his side ahead within ten minutes on the clock—it was inevitable the brilliant Belgian's overall contribution was going to be the telling factor.
Although, friendlies do not have much relevance in modern football, this wonderful goal did. Hazard danced his way through four Barcelona bodies, equipping trademark skill and upper-body strength, before coolly slotting it past helpless goalkeeper Marc-Andre ter Stegen.
Barcelona's illustrious and iconic No. 10, Lionel Messi, was absent for the 2-2 exhibition—but Hazard piqued the perusal of supporters in the American capital by pulling an individual piece of magic out of the proverbial hat in front of nearly 80,000 people.
The Belgian rascal's opener against Barcelona was of the highest quality—parading poise, precision, balance, skill, and boldness to dance his way past Barcelona bodies and coolly slot it past goalkeeper Marc-Andre ter Stegen.
Image: Eurosport
Hazard was the nimble-fingered rhythm guitarist for Chelsea last season, who formulated gorgeous melodies for fun. The 24-year-old received miscellaneous personal accolades for his spellbinding performances week-in, week-out for The Blues, notably amassing the illustrious PFA Footballer Of The Year award.
And it would be the most transparent indication yet that Hazard was heading for the iconic Ballon d'Or trophy in the future.
Of course, the difficulty at the moment is supplanting Lionel Messi and Cristiano Ronaldo, two players who have served to raise the bar—and perhaps redefine the criteria—for winners of the most prestigious individual prize in football.
Hazard, 24, certainly has the age on his side, and he is certainly in the discussion about the world's best players. The Belgian romances his audiences like no other player in the Premier League. In full flow, Chelsea's diminutive starlet is a sight to behold. He teases hapless back-lines from the off, ducking and diving, weaving in and out of space, evading tackles.
He's a magician—equipping his sublime skill to facilitate goals for his side, week-in, week-out.
Alongside the likes of Paul Pogba and Neymar, Hazard looks well-placed to ascend to the throne when Ronaldo, and, eventually Messi, succumb to the inevitabilities of age.
Hazard's contribution last season was purely incredible. The 24-year-old was hailed for his goals, 19 for Chelsea in 51 appearances, and his 12 assists, but the stats only provide some detail in the bigger picture of Hazard's brilliance. He spearheaded the dazzling Chelsea attack in 2014/15, and pioneered delirious skill, nervelessness, technique and boldness on a consistent basis.
He scored or assisted against Manchester City, Arsenal, Spurs, Manchester United and The Saints in that evolutionary 2014/15 season. Hazard furnished brilliant performances against the division's best sides—and his extraordinary record encompassing his remarkable campaign explains why he's more than capable of amassing the iconic gold trophy in the future.
The Belgian international will pursue his chase of more glory for his side, but his yearned first Ballon d'Or will surely be on the horizon.
After such an ascendant, peripatetic and rebellious recent campaign from Hazard - it would only be inevitable if the brilliant Belgian built on this, by registering an even better campaign next season, with the Ballon d'Or trophy firmly in sight.
Image: PA
More:
Football news, views and rumours