Image: John Walton / PA
As the massive Scottish contingent triumphantly sung 'Gary, Gary, Gary, Gary Anderson' around the 02 in London whilst the man himself led 10-7, he comfortably dispatched double top, wrapping up the victory and adding the prestigious Premier League trophy to his array of titles. Sky Sport's pundit Wayne Mardle felt Anderson's triumph was 'richly deserved' and declared that he's unquestionably the man to beat; an abundance concurred, suddenly elevating a fascinating consultation among plenty observers about whether he is the greatest or not.
Gary Anderson's Premier League triumph all them weeks ago appeared to have been one of the best in his career so far. Regardless of his egocentric, self-centered and condescending orientation, or a periodical immature provocation, it's the sign of a born-winner. Currently enjoying
an unprecedented spell of glory in his career, he became only the second player, beside Phil Taylor, to win both the PDC World Championship and Premier League titles, successively. History in the making.
A tight and narrow 10-9 victory against Dave Chisnall in the semi-final was a fantastic result for Anderson. But, a very dissimilar Anderson lined up to the oche on many instances. It was nothing like the metamorphosis and delicate Scotsman
we have witnessed revolutionize the sport recently. In fact, it was reminiscent of the old Gary Anderson, lacking enthusiasm and restraint - he faced a familiar adversity. Although the acknowledgement of the difficulties he faced whilst he trailed 6-4 at the break proved significant on the final outcome of the semi-final, it still remains a residual problem for the 44-year-old, and it is becoming a recurrence.
Image: PDC-Darts.co.uk
For Anderson, this is a major necessity. A problem, that has elevated many predicament situations in recent years. You'd have thought after many years of issues with this particular obstacle which has hindered progression of any real consequence, he'd have obliterated it from his game - but somewhat imprudently he has not - an improbable situation we may be facing here, is that Anderson has reached the culmination of his qualities.
The above is seemingly impertinent though, after a spectacular 11-7 spectacle against World Number One Michael van Gerwen in the final later that night. The ascendancy to preponderance continued for Gary Anderson over the rest, and one great endorsement in that game was how he did not falter under pressure - showing composure when it mattered most. It was the complete opposite from the semi-final, maybe that 'problem' is just an infrequent necessity. Nevertheless, it can be an exasperating nuisance and Anderson must prudently eradicate
it from his game if he is to have the upper hand over his indistinguishable comrades such as Michael van Gerwen, Adrian Lewis and Phil Taylor in the future.
Should Anderson extirpate his ongoing problem by the emergence of the 2016 World Championship in December, he may enter the biggest tournament on the darting calendar as rather perspicuous favorite for many purposes. Not only does Anderson manifest equanimity under appreciable pressure, he's arguably the best player on the planet concerning double finishes. His seemingly ceaseless complication somehow does not include this anymore, but nonetheless, 'The Flying Scotsman' spontaneously executes a sequence of dubious double finishes.
High scoring
It's comparatively easy to comprehend. If you're ineffectual and incapable of producing high-scoring finishes, eventually, you will reach a compromise with yourself, encountering
the inconsolable certitude of how you will never really be applicable in any way as a professional darts player.
Sufficiently, you could envisage a tranquil and phlegmatic life for the future, as you're frequently away from the darting media's discernment because you do not opposition anybody typically great; you may choose this rout because you feel a deep repugnance for the media, or you may not, but it comes with a burden either way. Overwhelmed with guilt, when you perceive of the fact you're a professional and an assumed role model for younger darting hopefuls. And when you don't function like a role model, you make a profusion of auspicious elder and adolescent hopefuls lose fate in their ability, and ultimately compel them to abandon all their ambitions.
Image: Sportal
You're a professional and may be earning bundles of cash, so a large profusion wouldn't contemplate it as relevant or consequential - but it still doesn't make people such as myself disregard the fact that you're a miserably inadequate precedent. And you're not a role model because, basically, if you're not successful, an utter catastrophe, you do not set a moderately acceptable example for the aforementioned younger hopefuls.
Sure, perhaps some could perceive you as an inspiration for trying exceedingly hard; yet by some you may be regarded as a failure. Either way, it's an interpret situation, although that's not the point here.
So, why aren't you successful.
A principal characteristic in darts is the proficiency of producing high-scoring finishes; if you can't fabricate that specific attribute, it's almost like it's game over right away. Obviously, it'll sound somewhat idiosyncratic at first, however, if you're a consistent observer of the game of darts - you will straightforwardly comprehend the point. Basically, if you don't buy a ticket, you won't win the raffle. It's the exact same as that, to put it to a much more simple extent.
The World Cup Of Darts in Frankfurt, Germany concluded this past Sunday - a star-studded semi-final line-up produced bundles of entertainment, although only seven of the eight representatives of their country, respectively, doing exactly that in an encouraging respect. The one and only exception was 5-time World Champion Raymond van Barneveld, and the amount of mediocrity and inadequacy involved in both performances was quite ignominious for a player of his stature. His credence and body language didn't look particularly pleasant either, especially ineffectual of producing high-scoring finishes throughout both games. Holland exited the competition in the semi-final after whitewashing England 3-0 in the final the previous year, which exemplifies how influential and predominant this quality really is.
: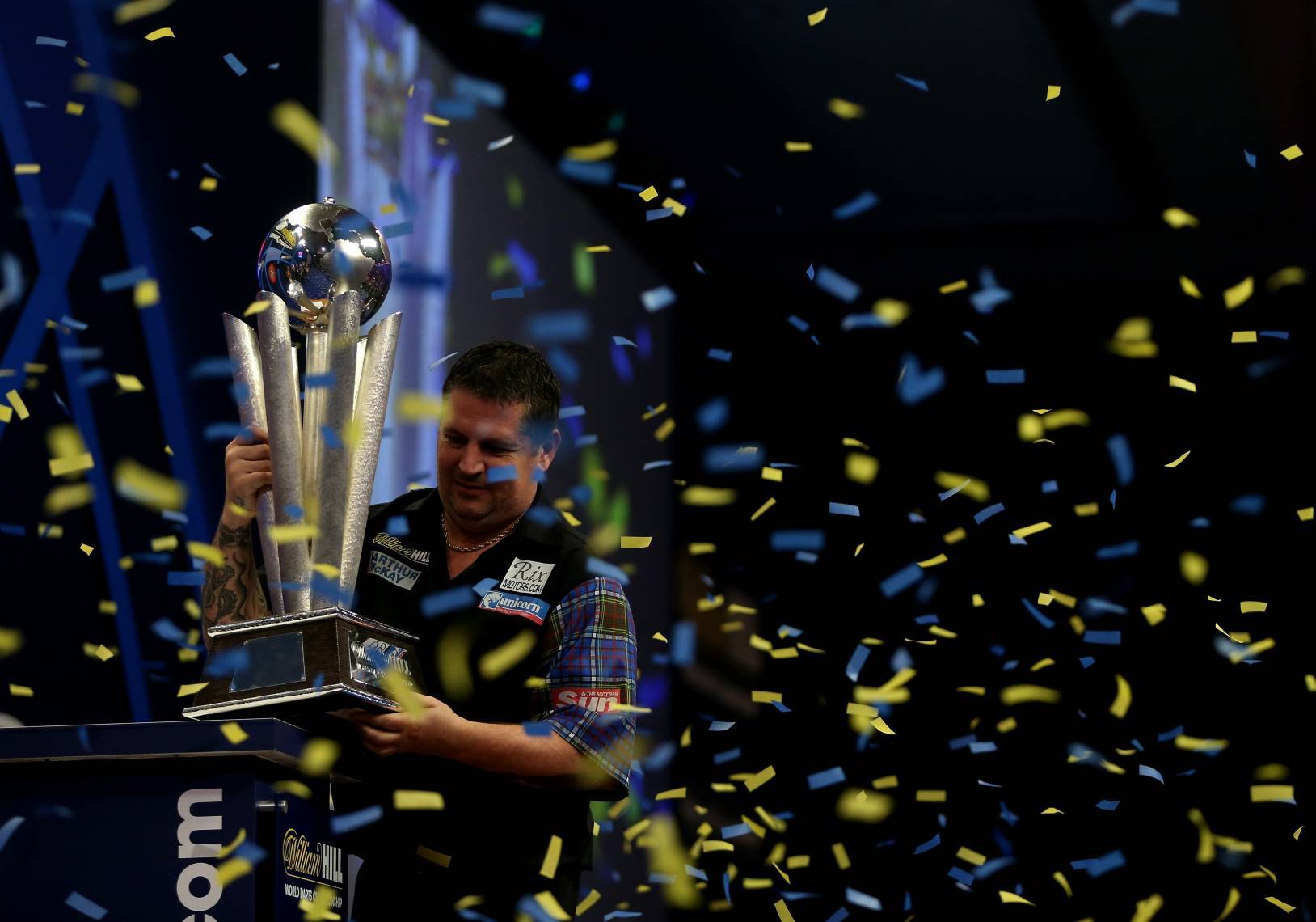 Image: EveningExpress.co.uk
Anderson obviously possess that aspect, with it being particularly fundamental as he joined an exclusive band of players to have won darts' most prestigious and distinguished title with his narrow 7-6 victory over Phil Taylor at Alexandra Palace on January 4 - making his name down amongst the sport's greats. A rejuvenated man, but still a rather temperamental character in his drastic changes of mood, primarily dissatisfaction and immaturity.
One of the sport's most naturally gifted throwers and a seemingly effortless hitter of 180s, Anderson enjoyed a renaissance throughout 2014 and 2015 before returning to the sport's elite top three, capping an incredible 24 months that included World Championship and Premier League glory. The frightening reality for the rest is that this is just the beginning for Anderson, he's unequivocally capable of offering supplementary improvement to his ever-enhancing game. The rise of Gary Anderson may not be over yet.
Follow on Twitter
@BigGameTactics