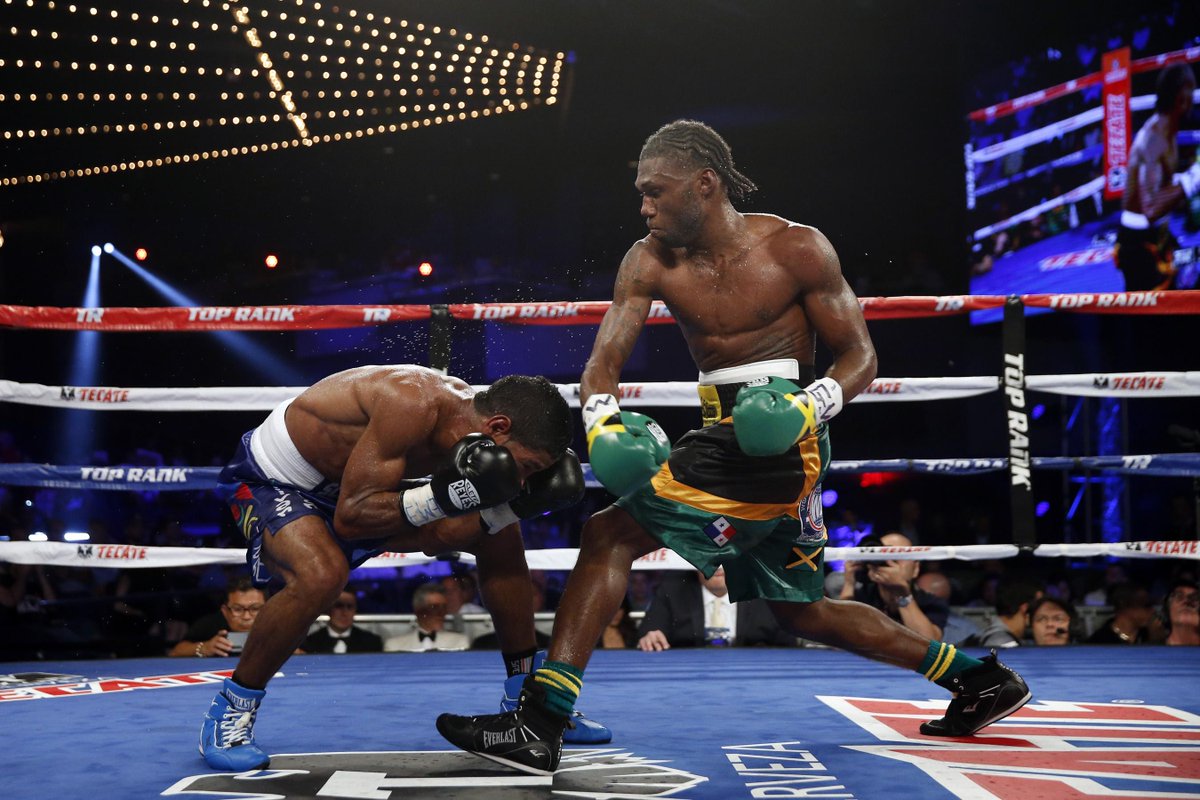 Image: HBO Boxing
An improved card for HBO on Saturday night. At least for a day, we were not whetted with overwhelming mismatches, not on paper anyway. The main attractions were old competitors from the amateurs, Nicholas Walters and Miguel Marriaga, where the winner would be featherweight champion preluding a unification with other champion, Vasyl Lomachenko. Lightweight prospect Felix Verdejo clashed with Ivan Najera. All competitors were undefeated.
The main event between Walters and Marriaga began at a pedestrian pace. Since each respected the other's power, neither looked to fully engage early, landing mainly jabs and left hooks. Walters caught a break in round four when he appeared to be hurt by an overhand right from Marriaga that sent him into the ropes. Marriaga followed it with a left hook to the body that was low, prompting a warning from the referee as Walters recovered. Walters returned the favor in round eight when he tagged Marriaga with several overhand rights of his own toward the end of the round. Walters was effected by a right from Marriaga in the twelfth as well.
Outside of those shining moments, Walters controlled the fight with his jab and left hook to the body. It was obvious that Marriaga was worn down from the abuse to the right side of his body. Marriaga, whose favorite punch is his left hook to the body, because of Walters' command of distance, was only reasonably successful with the overhand right. Conversely, Walters, who floored Nonito Donaire with his right hand, was the left hooker. The one signature right from Walters came in the ninth when he rolled with a right hand from Marriaga, which grazed off of his left shoulder, to counter with his own right sending Marriaga down to the canvas.
— HBOboxing (@HBOboxing) June 14, 2015
Walters won a comfortable unanimous decision but did not maintain his WBA Featherweight title, having failed to make weight. On the night, Walters was nine pounds heavier than Marriaga. Lomachenko's team has already shown a disinterest in having anything to do with Walters if not for a title. Moreover, Lomachenko seems obstinate in avoiding having to relive being undersized for an opponent.
Felix Verdejo debuted on HBO against Ivan Najera in the co-main event. In actuality, this was indeed a mismatch as Najera was too small and too slow to be competitive with Verdejo who won every round. Verdejo showed a complete repertoire: - power in either hand, quickness of the hands and feet, and the full gamut of punch variety. The negatives: questionable defense, exchanging, and inaccuracy when throwing full power. There were occasions when Najera seemed done, but Verdejo missed wildly when going for the finish, always allowing Najera to recover. Caught up in their fetish for caveman boxing, where the goal is getting hit in order to hit, none of the HBO commentators criticized Verdejo for his lack of defense, preferring only to salivate over the claim that Felix Trinidad would have gotten the knockout.
In the final round, Verdejo was buzzed from a right hand as soon as he switched to southpaw in order to show off, again emphasizing his lack of defense. Having won every round, Verdejo chose to trade with his opponent who was desperate for a knockout.
I commend HBO for a more competitive card overall.
More:
Lara brushes aside Rodriguez