Juventus 1 - 3 Barcelona
Ivan Rakitic (4'), Alvaro Morata (55'), Luis Suarez (68'), Neymar (97')
UEFA Champions League
Saturday 6 June 2015
7:45pm BST Kick-off
Olympiastadion, Berlin, Germany.
Referee: Cüneyt Çakır
Final
Luis Suarez cancelled out Alvaro Morata's equaliser to make history and score a wonderful treble for Barcelona, who toppled Juventus 2-1 in a close, competitive contest in Berlin.
Allegri's game-plan seemed to try squeeze Barcelona, and pile the pressure on early. Morata would hassle Mascherano until the Frenchman helplessly bundled possession out of play.
Juventus' positive start to the game was soon torn to shreds, when a sizzling Barcelona attack blew them away. Neymar swerved inside the area, fed who Iniesta strode forward, slipped to Rakitic in the centre and the Croatian sweetly struck home on his weaker foot. It was simply exquisite play, from a side worthy of the label "best football team in Europe."
Despite being a goal down, nothing could've possibly kept Juventus quiet while moving forward. Vidal had a chance to potentially level the score, latching onto Morata's cleverly worked piece of play but his shot blootered over the crossbar.
The last time Gianluigi Buffon featured in a Berlin final was 9 nine years ago for Italy, and he was on supreme form. Against such elite opposition, he needed to replicate that form tonight and he started by superbly denying Alves of doubling the Catalans's lead. Messi drifted down the right, but the Brazilian was unable to convert the chance.
Minutes later, left-back Jordi Alba's shot just inside the penalty area was put over the bar, after another piece of exquisite play caught the Old Lady out.
Surprisingly, after taking a devastating blow early on, Juventus began to grow into the game as it proceeded. More chances fell for the strike-force, and one almost levelled things
up as Pique stuck a leg out to deny Pogba's cross from reaching Morata at the back post.
Suarez had a relatively quiet first half, but whenever the Uruguayan struck at goal, Buffon was tested. The Italian stopped a sweet curling shot, but was almost caught out by the least of margins when Suarez toe-poked a whisker wide of the post.
For sure, Barcelona inserted their magical play into the game and proved why they were such overwhelming favourites. However, after Rakitic opened the scoring for the Catalans, they took their foot off the pedal and gave Juventus a feeling the game was still there for the taking.
The Spanish heavyweights opened second half proceedings with real intent; Messi linked up with Suarez on the edge of the box, and the Argentine drifted onto the left side until firing his shot wide.
Juventus would then display some sensational football and peg Barcelona back. Marchisio cleverly back-heeled, which eventually saw Tevez's shot parried by Buffon, but slotted home by Morata who was present on the scene to score a massive equaliser.
Juventus began to smell blood, and looked increasingly dangerous moving forward. Tevez almost doubled his side's lead, but Ter Stegen only had to watch the Argentine's shot blooter over the bar from just outside the area.
If there was any hope of a Juventus win, Suarez seemingly cancelled it out on 68 minutes.
Messi broke down the middle with his blistering pace leaving the Old Lady for dead. He drilled a shot at goal, but Buffon could only palm away to Suarez who latched onto the ball and tucked home from close range.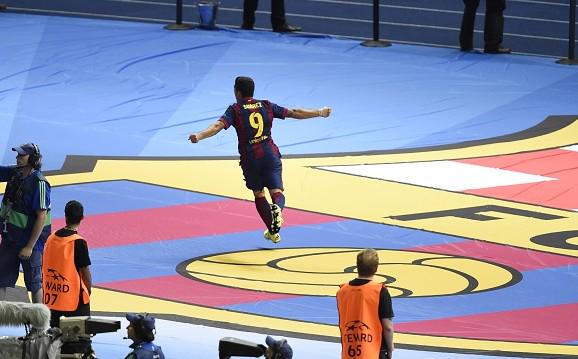 Barcelona looked to have the game all but sealed after Suarez's goal, and Neymar thought he trebled their lead but his header was ruled out due to the ball glancing off his arm into the net. Hard lines for the young Brazilian.
For his final Barcelona appearance, Xavi replaced Iniesta in what his 151st Champions League appearance.
Late on, the Italians switched formations, put three at the back and piled bodies forward in an attempt to score and what surely would've stunned Barcelona for a second time.
Sadly for them, they couldn't do anything and due to the amount of players thrown forward, Barcelona crippled them on the counter attack. Neymar blistered forward, fed Suarez in the middle who approached the penalty area, assisted Neymar who slotted home on his left to well and truly seal a memorable win for Barcelona.
More:
Champions League final as it happened